Abstract
Categorically distinct basic drives (for example, for social versus feeding behaviour1,2,3) can exert potent influences on each other; such interactions are likely to have important adaptive consequences (such as appropriate regulation of feeding in the context of social hierarchies) and can become maladaptive (such as in clinical settings involving anorexia). It is known that neural systems regulating natural and adaptive caloric intake, and those regulating social behaviours, involve related circuitry4,5,6,7, but the causal circuit mechanisms of these drive adjudications are not clear. Here we investigate the causal role in behaviour of cellular-resolution experience-specific neuronal populations in the orbitofrontal cortex, a major reward-processing hub that contains diverse activity-specific neuronal populations that respond differentially to various aspects of caloric intake8,9,10,11,12,13 and social stimuli14,15. We coupled genetically encoded activity imaging with the development and application of methods for optogenetic control of multiple individually defined cells, to both optically monitor and manipulate the activity of many orbitofrontal cortex neurons at the single-cell level in real time during rewarding experiences (caloric consumption and social interaction). We identified distinct populations within the orbitofrontal cortex that selectively responded to either caloric rewards or social stimuli, and found that activity of individually specified naturally feeding-responsive neurons was causally linked to increased feeding behaviour; this effect was selective as, by contrast, single-cell resolution activation of naturally social-responsive neurons inhibited feeding, and activation of neurons responsive to neither feeding nor social stimuli did not alter feeding behaviour. These results reveal the presence of potent cellular-level subnetworks within the orbitofrontal cortex that can be precisely engaged to bidirectionally control feeding behaviours subject to, for example, social influences.
Relevant articles
Open Access articles citing this article.
Suzanne D. Lanooij

,

Ulrich L. M. Eisel

…

Martien J. H. Kas

Molecular Psychiatry Open Access 20 July 2022

Qiang Li

,

Sha Liu

…

Yong Xu

Brain Imaging and Behavior Open Access 18 February 2022
Access options
Subscribe to Nature+
Get immediate online access to Nature and 55 other Nature journal
Subscribe to Journal
Get full journal access for 1 year
$199.00
only $3.90 per issue
All prices are NET prices.
VAT will be added later in the checkout.
Tax calculation will be finalised during checkout.
Buy article
Get time limited or full article access on ReadCube.
$32.00
All prices are NET prices.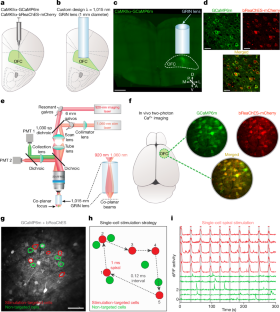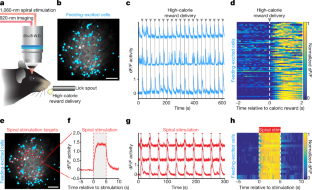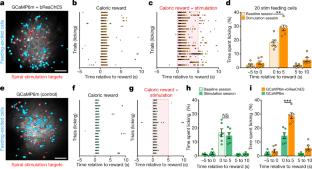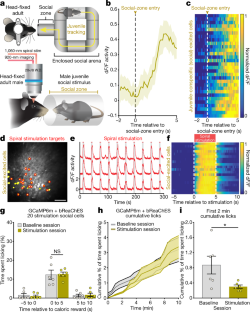 Data availability
The data that support the finding of this study are available upon request from the corresponding author.
References
Caglar-Nazali, H. P. et al. A systematic review and meta-analysis of 'Systems for Social Processes' in eating disorders. Neurosci. Biobehav. Rev. 42, 55–92 (2014).

Higgs, S. & Thomas, J. Social influences on eating. Curr. Opin. Behav. Sci. 9, 1–6 (2016).

Mason, W. A., Saxon, S. V. & Sharpe, L. G. Preferential responses of young chimpanzees to food and social rewards. Psychol. Rec. 13, 341–345 (1963).

Behrens, T. E. J., Hunt, L. T., Woolrich, M. W. & Rushworth, M. F. S. Associative learning of social value. Nature 456, 245–249 (2008).

Kennedy, D. P. & Adolphs, R. The social brain in psychiatric and neurological disorders. Trends Cogn. Sci. 16, 559–572 (2012).

Via, E. et al. Abnormal social reward responses in anorexia nervosa: an fMRI study. PLoS ONE 10, e0133539 (2015).

Kelley, A. E., Baldo, B. A., Pratt, W. E. & Will, M. J. Corticostriatal–hypothalamic circuitry and food motivation: integration of energy, action and reward. Physiol. Behav. 86, 773–795 (2005).

Gutierrez, R., Carmena, J. M., Nicolelis, M. A. L. & Simon, S. A. Orbitofrontal ensemble activity monitors licking and distinguishes among natural rewards. J. Neurophysiol. 95, 119–133 (2006).

Tremblay, L. & Schultz, W. Relative reward preference in primate orbitofrontal cortex. Nature 398, 704–708 (1999).

Padoa-Schioppa, C. & Assad, J. A. The representation of economic value in the orbitofrontal cortex is invariant for changes of menu. Nat. Neurosci. 11, 95–102 (2008).

O'Doherty, J. P., Deichmann, R., Critchley, H. D. & Dolan, R. J. Neural responses during anticipation of a primary taste reward. Neuron 33, 815–826 (2002).

Jones, J. L. et al. Orbitofrontal cortex supports behavior and learning using inferred but not cached values. Science 338, 953–956 (2012).

Keiflin, R., Reese, R. M., Woods, C. A. & Janak, P. H. The orbitofrontal cortex as part of a hierarchical neural system mediating choice between two good options. J. Neurosci. 33, 15989–15998 (2013).

Watson, K. K. & Platt, M. L. Social signals in primate orbitofrontal cortex. Curr. Biol.22, 2268–2273 (2012).

Azzi, J. C. B., Sirigu, A. & Duhamel, J.-R. Modulation of value representation by social context in the primate orbitofrontal cortex. Proc. Natl Acad. Sci. USA 109, 2126–2131 (2012).

Zhang, F. et al. Red-shifted optogenetic excitation: a tool for fast neural control derived from Volvox carteri. Nat. Neurosci. 11, 631–633 (2008).

Kim, C. K., Adhikari, A. & Deisseroth, K. Integration of optogenetics with complementary methodologies in systems neuroscience. Nat. Rev. Neurosci. 18, 222–235 (2017).

Yizhar, O. et al. Neocortical excitation/inhibition balance in information processing and social dysfunction. Nature 477, 171–178 (2011).

Prakash, R. et al. Two-photon optogenetic toolbox for fast inhibition, excitation and bistable modulation. Nat. Methods 9, 1171–1179 (2012).

Rickgauer, J. P., Deisseroth, K. & Tank, D. W. Simultaneous cellular-resolution optical perturbation and imaging of place cell firing fields. Nat. Neurosci. 17, 1816–1824 (2014).

Carrillo-Reid, L., Yang, W., Bando, Y., Peterka, D. S. & Yuste, R. Imprinting and recalling cortical ensembles. Science 353, 691–694 (2016).

Packer, A. M., Russell, L. E., Dalgleish, H. W. P. & Häusser, M. Simultaneous all-optical manipulation and recording of neural circuit activity with cellular resolution in vivo. Nat. Methods 12, 140–146 (2015).

Grosenick, L., Marshel, J. H. & Deisseroth, K. Closed-loop and activity-guided optogenetic control. Neuron 86, 106–139 (2015).

Chen, T.-W. et al. Ultrasensitive fluorescent proteins for imaging neuronal activity. Nature 499, 295–300 (2013).

Lin, J. Y., Knutsen, P. M., Muller, A., Kleinfeld, D. & Tsien, R. Y. ReaChR: a red-shifted variant of channelrhodopsin enables deep transcranial optogenetic excitation. Nat. Neurosci. 16, 1499–1508 (2013).

Kim, C. K. et al. Simultaneous fast measurement of circuit dynamics at multiple sites across the mammalian brain. Nat. Methods 13, 325–328 (2016).

Rajasethupathy, P. et al. Projections from neocortex mediate top-down control of memory retrieval. Nature 526, 653–659 (2015).

Carmichael, S. t. & Price, J. l. Connectional networks within the orbital and medial prefrontal cortex of macaque monkeys. J. Comp. Neurol. 371, 179–207 (1996).

Kahnt, T., Chang, L. J., Park, S. Q., Heinzle, J. & Haynes, J.-D. Connectivity-based parcellation of the human orbitofrontal cortex. J. Neurosci. 32, 6240–6250 (2012).

Paxinos, G. & Franklin, K. B. J. The Mouse Brain in Stereotaxic Coordinates 2nd edn (Elsevier, Amsterdam, Netherlands, 2004).

Felzenszwalb, P. F., Girshick, R. B., McAllester, D. & Ramanan, D. Object detection with discriminatively trained part-based models. IEEE Trans. Pattern Anal. Mach. Intell. 32, 1627–1645 (2010).

Wöhr, M. et al. Lack of parvalbumin in mice leads to behavioral deficits relevant to all human autism core symptoms and related neural morphofunctional abnormalities. Transl. Psychiatry 5, e525 (2015).

Selimbeyoglu, A. et al. Modulation of prefrontal cortex excitation/inhibition balance rescues social behavior in CNTNAP2-deficient mice. Sci. Transl. Med. 9, eaah6733 (2017).

Gunaydin, L. A. et al. Natural neural projection dynamics underlying social behavior. Cell 157, 1535–1551 (2014).

Walsh, J. J. et al. 5-HT release in nucleus accumbens rescues social deficits in mouse autism model. Nature 560, 589–594 (2018).

Mukamel, E. A., Nimmerjahn, A. & Schnitzer, M. J. Automated analysis of cellular signals from large-scale calcium imaging data. Neuron 63, 747–760 (2009).

Clack, N. G. et al. Automated tracking of whiskers in videos of head fixed rodents. PLOS Comput. Biol. 8, e1002591 (2012).

Reimer, J. et al. Pupil fluctuations track fast switching of cortical states during quiet wakefulness. Neuron 84, 355–362 (2014).

Ye, L. et al. Wiring and molecular features of prefrontal ensembles representing distinct experiences. Cell 165, 1776–1788 (2016).
Acknowledgements
We thank members of the Deisseroth laboratory for input and discussions, and particularly A. Crow for assistance with microscopy-related tasks. K.D. is supported by the Defense Advanced Research Projects Agency Neuro-FAST program, National Institute of Mental Health, National Institute on Drug Abuse, National Science Foundation, the Simons Foundation, the Tarlton Foundation, the Wiegers Family Fund, the Nancy and James Grosfeld Foundation, the H.L. Snyder Medical Foundation, and the Samuel and Betsy Reeves Fund. This work was also supported by HHWF (J.H.J.), NIDA (C.K.K.), Simons LSRF fellowship (J.H.M.), NSF GRFP (M.R.) and NIDDK (L.Y.).
Reviewer information
Nature thanks M. Krashes and the other anonymous reviewer(s) for their contribution to the peer review of this work.
Ethics declarations
Competing interests
The authors declare no competing interests.
Additional information
Publisher's note: Springer Nature remains neutral with regard to jurisdictional claims in published maps and institutional affiliations.
Extended data figures and tables
Supplementary information
About this article
Cite this article
Jennings, J.H., Kim, C.K., Marshel, J.H. et al. Interacting neural ensembles in orbitofrontal cortex for social and feeding behaviour. Nature 565, 645–649 (2019). https://doi.org/10.1038/s41586-018-0866-8
Received:

Accepted:

Published:

Issue Date:

DOI: https://doi.org/10.1038/s41586-018-0866-8
Comments
By submitting a comment you agree to abide by our Terms and Community Guidelines. If you find something abusive or that does not comply with our terms or guidelines please flag it as inappropriate.