Abstract
Introns are ubiquitous features of all eukaryotic cells. Introns need to be removed from nascent messenger RNA through the process of splicing to produce functional proteins. Here we show that the physical presence of introns in the genome promotes cell survival under starvation conditions. A systematic deletion set of all known introns in budding yeast genes indicates that, in most cases, cells with an intron deletion are impaired when nutrients are depleted. This effect of introns on growth is not linked to the expression of the host gene, and was reproduced even when translation of the host mRNA was blocked. Transcriptomic and genetic analyses indicate that introns promote resistance to starvation by enhancing the repression of ribosomal protein genes that are downstream of the nutrient-sensing TORC1 and PKA pathways. Our results reveal functions of introns that may help to explain their evolutionary preservation in genes, and uncover regulatory mechanisms of cell adaptations to starvation.
Access options
Subscribe to Journal
Get full journal access for 1 year
$199.00
only $3.83 per issue
All prices are NET prices.
VAT will be added later in the checkout.
Rent or Buy article
Get time limited or full article access on ReadCube.
from$8.99
All prices are NET prices.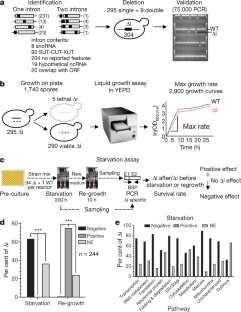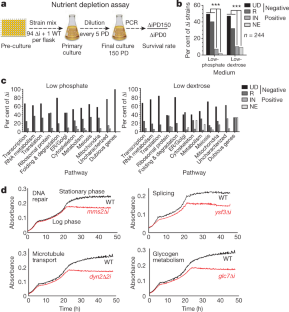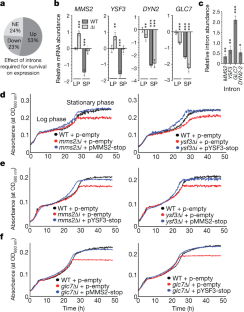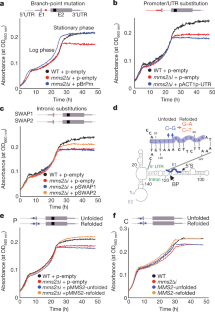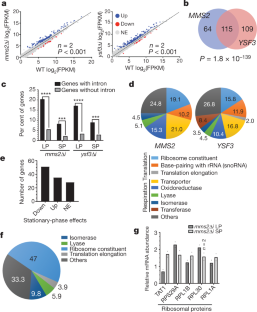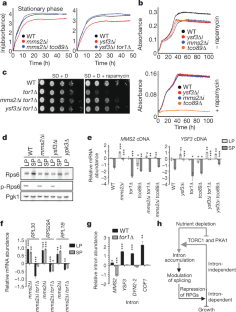 Data availability
Supplementary Data are available online. Additional data generated in this study have been submitted to the NCBI Gene Expression Omnibus (GEO; https://www.ncbi.nlm.nih.gov/geo) under the accession number GSE111056. All strains are available upon request.
References
1.

Irimia, M. & Roy, S. W. Origin of spliceosomal introns and alternative splicing. Cold Spring Harb. Perspect. Biol. 6, a016071 (2014).

2.

Jo, B. S. & Choi, S. S. Introns: the functional benefits of introns in genomes. Genomics Inform. 13, 112–118 (2015).

3.

Neuvéglise, C., Marck, C. & Gaillardin, C. The intronome of budding yeasts. C. R. Biol. 334, 662–670 (2011).

4.

Hooks, K. B., Delneri, D. & Griffiths-Jones, S. Intron evolution in Saccharomycetaceae. Genome Biol. Evol. 6, 2543–2556 (2014).

5.

Hartung, F., Blattner, F. R. & Puchta, H. Intron gain and loss in the evolution of the conserved eukaryotic recombination machinery. Nucleic Acids Res. 30, 5175–5181 (2002).

6.

Spingola, M., Grate, L., Haussler, D. & Ares, M. Jr. Genome-wide bioinformatic and molecular analysis of introns in Saccharomyces cerevisiae. RNA 5, 221–234 (1999).

7.

Parenteau, J. et al. Deletion of many yeast introns reveals a minority of genes that require splicing for function. Mol. Biol. Cell 19, 1932–1941 (2008).

8.

Cox, J. S. & Walter, P. A novel mechanism for regulating activity of a transcription factor that controls the unfolded protein response. Cell 87, 391–404 (1996).

9.

Gray, J. V. et al. "Sleeping beauty": quiescence in Saccharomyces cerevisiae. Microbiol. Mol. Biol. Rev. 68, 187–206 (2004).

10.

Munding, E. M., Shiue, L., Katzman, S., Donohue, J. P. & Ares, M. Jr. Competition between pre-mRNAs for the splicing machinery drives global regulation of splicing. Mol. Cell 51, 338–348 (2013).

11.

González, A. & Hall, M. N. Nutrient sensing and TOR signaling in yeast and mammals. EMBO J. 36, 397–408 (2017).

12.

Martin, D. E., Soulard, A. & Hall, M. N. TOR regulates ribosomal protein gene expression via PKA and the Forkhead transcription factor FHL1. Cell 119, 969–979 (2004).

13.

Peter, G. J., Düring, L. & Ahmed, A. Carbon catabolite repression regulates amino acid permeases in Saccharomyces cerevisiae via the TOR signaling pathway. J. Biol. Chem. 281, 5546–5552 (2006).

14.

de Souza, S. J., Long, M. & Gilbert, W. Introns and gene evolution. Genes Cells 1, 493–505 (1996).

15.

Pleiss, J. A., Whitworth, G. B., Bergkessel, M. & Guthrie, C. Rapid, transcript-specific changes in splicing in response to environmental stress. Mol. Cell 27, 928–937 (2007).

16.

Sikorski, R. S. & Hieter, P. A system of shuttle vectors and yeast host strains designed for efficient manipulation of DNA in Saccharomyces cerevisiae. Genetics 122, 19–27 (1989).

17.

Boeke, J. D., Trueheart, J., Natsoulis, G. & Fink, G. R. 5-Fluoroorotic acid as a selective agent in yeast molecular genetics. Methods Enzymol. 154, 164–175 (1987).

18.

Yofe, I. et al. Accurate, model-based tuning of synthetic gene expression using introns in S. cerevisiae. PLoS Genet. 10, e1004407 (2014).

19.

Gietz, R. D. & Woods, R. A. Transformation of yeast by lithium acetate/single-stranded carrier DNA/polyethylene glycol method. Methods Enzymol. 350, 87–96 (2002).

20.

Ito, H., Fukuda, Y., Murata, K. & Kimura, A. Transformation of intact yeast cells treated with alkali cations. J. Bacteriol. 153, 163–168 (1983).

21.

Zakian, V. A. & Scott, J. F. Construction, replication, and chromatin structure of TRP1 RI circle, a multiple-copy synthetic plasmid derived from Saccharomyces cerevisiae chromosomal DNA. Mol. Cell. Biol. 2, 221–232 (1982).

22.

Rose, M. D., Winston, F. & Hieter, P. Methods in Yeast Genetics: A Laboratory Course Manual (Cold Spring Harbor Laboratory, Cold Spring Harbor, 1990).

23.

Sambrook, J., Fritsch, E. F. & Maniatis, T. Molecular Cloning: A Laboratory Manual, 2nd edition (Cold Spring Harbor Laboratory, Cold Spring Harbor, 1989).

24.

Brosseau, J. P. et al. High-throughput quantification of splicing isoforms. RNA 16, 442–449 (2010).

25.

Klinck, R. et al. Multiple alternative splicing markers for ovarian cancer. Cancer Res. 68, 657–663 (2008).

26.

González, A. et al. TORC1 promotes phosphorylation of ribosomal protein S6 via the AGC kinase Ypk3 in Saccharomyces cerevisiae. PLoS ONE 10, e0120250 (2015).

27.

Rubin, G. M. Preparation of RNA and ribosomes from yeast. Methods Cell Biol. 12, 45–64 (1975).

28.

Toussaint, M. et al. A high-throughput method to measure the sensitivity of yeast cells to genotoxic agents in liquid cultures. Mut. Res. 606, 92–105 (2006).

29.

Huberman, J. A., Spotila, L. D., Nawotka, K. A., el-Assouli, S. M. & Davis, L. R. The in vivo replication origin of the yeast 2μm plasmid. Cell 51, 473–481 (1987).

30.

Wellinger, R. J., Wolf, A. J. & Zakian, V. A. Saccharomyces telomeres acquire single-strand TG1-3 tails late in S phase. Cell 72, 51–60 (1993).

31.

Boudreault, S. et al. Global profiling of the cellular alternative RNA splicing landscape during virus–host interactions. PLoS ONE 11, e0161914 (2016).

32.

Trapnell, C. et al. Differential analysis of gene regulation at transcript resolution with RNA-seq. Nat. Biotechnol. 31, 46–53 (2013).

33.

Deschamps-Francoeur, G., Boivin, V., Abou Elela, S. & Scott, M. S. CoCo: RNA-seq read assignment correction for nested genes and multimapped reads. Preprint at https://www.biorxiv.org/content/early/2018/11/29/477869 (2018).

34.

Love, M. I., Huber, W. & Anders, S. Moderated estimation of fold change and dispersion for RNA-seq data with DESeq2. Genome Biol. 15, 550 (2014).

35.

Ferreira, J. A. The Benjamini–Hochberg method in the case of discrete test statistics. Int. J. Biostat. 3, 11 (2007).

36.

Liu, Y. et al. XBSeq2: a fast and accurate quantification of differential expression and differential polyadenylation. BMC Bioinformatics 18, 384 (2017).

37.

Nagalakshmi, U. et al. The transcriptional landscape of the yeast genome defined by RNA sequencing. Science 320, 1344–1349 (2008).

38.

Chaowanathikhom, M., Nuchnoi, P. & Palasuwan, D. Significance of 3′ UTR and pathogenic haplotype in glucose-6-phosphate deficiency. Lab. Med. 48, 73–88 (2017).

39.

Zuker, M. Mfold web server for nucleic acid folding and hybridization prediction. Nucleic Acids Res. 31, 3406–3415 (2003).

40.

Agresti, A. A survey of exact inference for contingency tables. Stat. Sci. 7, 131–153 (1992).
Acknowledgements
This work was supported by NSERC and a Research Chair in RNA Biology and Cancer Genomics (S.A.E.). We thank M. Ares Jr for discussion and for providing the yeast strains used in Extended Data Fig. 3e; R. Wellinger, B. Chabot and M. Scott for critical reading of the manuscript; and C. Nour Abou Chakra for reviewing the statistical analyses. Sequencing libraries were prepared by the Université de Sherbrooke RNomics Platform and sequenced in the Centre of Applied Genomics (Toronto).
Reviewer information
Nature thanks S. Montgomery and the other anonymous reviewer(s) for their contribution to the peer review of this work.
Ethics declarations
Competing interests
The authors declare no competing interests.
Additional information
Publisher's note: Springer Nature remains neutral with regard to jurisdictional claims in published maps and institutional affiliations.
Extended data figures and tables
Supplementary information
This file contains gel source data for Figure 6d
This file contains Supplementary Tables S1-S7.
About this article
Cite this article
Parenteau, J., Maignon, L., Berthoumieux, M. et al. Introns are mediators of cell response to starvation. Nature 565, 612–617 (2019) doi:10.1038/s41586-018-0859-7
Received:

Accepted:

Published:

Issue Date:
Comments
By submitting a comment you agree to abide by our Terms and Community Guidelines. If you find something abusive or that does not comply with our terms or guidelines please flag it as inappropriate.