Abstract
The increasing prevalence of diabetes has resulted in a global epidemic1. Diabetes is a major cause of blindness, kidney failure, heart attacks, stroke and amputation of lower limbs. These are often caused by changes in blood vessels, such as the expansion of the basement membrane and a loss of vascular cells2,3,4. Diabetes also impairs the functions of endothelial cells5 and disturbs the communication between endothelial cells and pericytes6. How dysfunction of endothelial cells and/or pericytes leads to diabetic vasculopathy remains largely unknown. Here we report the development of self-organizing three-dimensional human blood vessel organoids from pluripotent stem cells. These human blood vessel organoids contain endothelial cells and pericytes that self-assemble into capillary networks that are enveloped by a basement membrane. Human blood vessel organoids transplanted into mice form a stable, perfused vascular tree, including arteries, arterioles and venules. Exposure of blood vessel organoids to hyperglycaemia and inflammatory cytokines in vitro induces thickening of the vascular basement membrane. Human blood vessels, exposed in vivo to a diabetic milieu in mice, also mimic the microvascular changes found in patients with diabetes. DLL4 and NOTCH3 were identified as key drivers of diabetic vasculopathy in human blood vessels. Therefore, organoids derived from human stem cells faithfully recapitulate the structure and function of human blood vessels and are amenable systems for modelling and identifying the regulators of diabetic vasculopathy, a disease that affects hundreds of millions of patients worldwide.
Access options
Subscribe to Journal
Get full journal access for 1 year
$199.00
only $3.90 per issue
All prices are NET prices.
VAT will be added later in the checkout.
Tax calculation will be finalised during checkout.
Rent or Buy article
Get time limited or full article access on ReadCube.
from$8.99
All prices are NET prices.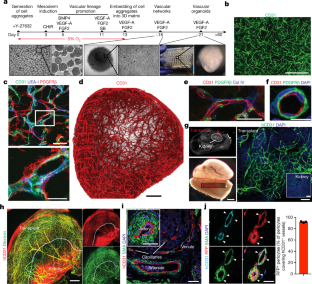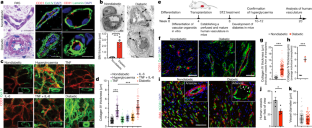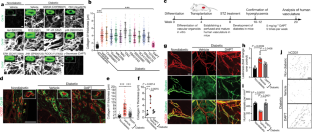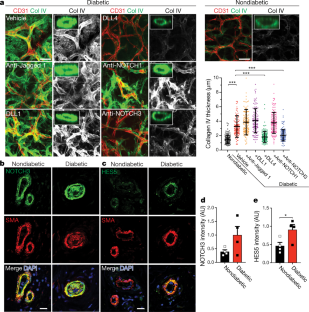 References
1.

WHO. Global Report on Diabetes (WHO, 2016).

2.

Bianchi, E. et al. Age and diabetes related changes of the retinal capillaries: an ultrastructural and immunohistochemical study. Int. J. Immunopathol. Pharmacol. 29, 40–53 (2016).

3.

Roy, S., Ha, J., Trudeau, K. & Beglova, E. Vascular basement membrane thickening in diabetic retinopathy. Curr. Eye Res. 35, 1045–1056 (2010).

4.

Fowler, M. J. Microvascular and macrovascular complications of diabetes. Clin. Diabetes 29, 116–122 (2011).

5.

Eelen, G., de Zeeuw, P., Simons, M. & Carmeliet, P. Endothelial cell metabolism in normal and diseased vasculature. Circ. Res. 116, 1231–1244 (2015).

6.

Warmke, N., Griffin, K. J. & Cubbon, R. M. Pericytes in diabetes-associated vascular disease. J. Diabetes Complicat. 30, 1643–1650 (2016).

7.

Orlova, V. V. et al. Functionality of endothelial cells and pericytes from human pluripotent stem cells demonstrated in cultured vascular plexus and zebrafish xenografts. Arterioscler. Thromb. Vasc. Biol. 34, 177–186 (2014).

8.

Orlova, V. V. et al. Generation, expansion and functional analysis of endothelial cells and pericytes derived from human pluripotent stem cells. Nat. Protoc. 9, 1514–1531 (2014).

9.

Kusuma, S. et al. Self-organized vascular networks from human pluripotent stem cells in a synthetic matrix. Proc. Natl Acad. Sci. USA 110, 12601–12606 (2013).

10.

Chan, X. Y. et al. Three-dimensional vascular network assembly from diabetic patient-derived induced pluripotent stem cells. Arterioscler. Thromb. Vasc. Biol. 35, 2677–2685 (2015).

11.

Kusuma, S. & Gerecht, S. Derivation of endothelial cells and pericytes from human pluripotent stem cells. Methods Mol. Biol. 1307, 213–222 (2014).

12.

Cheung, C., Bernardo, A. S., Trotter, M. W. B., Pedersen, R. A. & Sinha, S. Generation of human vascular smooth muscle subtypes provides insight into embryological origin-dependent disease susceptibility. Nat. Biotechnol. 30, 165–173 (2012).

13.

Patsch, C. et al. Generation of vascular endothelial and smooth muscle cells from human pluripotent stem cells. Nat. Cell Biol. 17, 994–1003 (2015).

14.

Ren, X. et al. Engineering pulmonary vasculature in decellularized rat and human lungs. Nat. Biotechnol. 33, 1097–1102 (2015).

15.

James, D. et al. Expansion and maintenance of human embryonic stem cell-derived endothelial cells by TGFβ inhibition is Id1 dependent. Nat. Biotechnol. 28, 161–166 (2010).

16.

Samuel, R., Duda, D. G., Fukumura, D. & Jain, R. K. Vascular diseases await translation of blood vessels engineered from stem cells. Sci. Transl. Med. 7, 309rv6 (2015).

17.

Potente, M., Gerhardt, H. & Carmeliet, P. Basic and therapeutic aspects of angiogenesis. Cell 146, 873–887 (2011).

18.

Samuel, R. et al. Generation of functionally competent and durable engineered blood vessels from human induced pluripotent stem cells. Proc. Natl Acad. Sci. USA 110, 12774–12779 (2013).

19.

Swift, M. R. & Weinstein, B. M. Arterial-venous specification during development. Circ. Res. 104, 576–588 (2009).

20.

Pickup, J. C., Chusney, G. D., Thomas, S. M. & Burt, D. Plasma interleukin-6, tumour necrosis factor α and blood cytokine production in type 2 diabetes. Life Sci. 67, 291–300 (2000).

21.

Wellen, K. E. & Hotamisligil, G. S. Inflammation, stress, and diabetes. J. Clin. Invest. 115, 1111–1119 (2005).

22.

Li, L., Qian, L. & Yu, Z. Q. Serum angiopoietin-2 is associated with angiopathy in type 2 diabetes mellitus. J. Diabetes Complicat. 29, 568–571 (2015).

23.

Lieb, W. et al. Clinical and genetic correlates of circulating angiopoietin-2 and soluble Tie-2 in the community. Circ. Cardiovasc. Genet. 3, 300–306 (2010).

24.

Lim, H. S., Lip, G. Y. H. & Blann, A. D. Angiopoietin-1 and angiopoietin-2 in diabetes mellitus: relationship to VEGF, glycaemic control, endothelial damage/dysfunction and atherosclerosis. Atherosclerosis 180, 113–118 (2005).

25.

Soriguer, F. et al. Apelin levels are increased in morbidly obese subjects with type 2 diabetes mellitus. Obes. Surg. 19, 1574–1580 (2009).

26.

Knudsen, S. T. et al. Increased plasma concentrations of osteoprotegerin in type 2 diabetic patients with microvascular complications. Eur. J. Endocrinol. 149, 39–42 (2003).

27.

Lai, A. K. W. & Lo, A. C. Y. Animal models of diabetic retinopathy: summary and comparison. J. Diabetes Res. 2013, 106594 (2013).

28.

Soler, M. J., Riera, M. & Batlle, D. New experimental models of diabetic nephropathy in mice models of type 2 diabetes: efforts to replicate human nephropathy. Exp. Diabetes Res. 2012, 616313 (2012).

29.

Qaseem, A., Humphrey, L. L., Sweet, D. E., Starkey, M. & Shekelle, P. Oral pharmacologic treatment of type 2 diabetes mellitus: a clinical practice guideline from the American College of Physicians. Ann. Intern. Med. 156, 218–231 (2012).

30.

Carmeliet, P. Angiogenesis in health and disease. Nat. Med. 9, 653–660 (2003).

31.

Thomson, J. A. et al. Embryonic stem cell lines derived from human blastocysts. Science 282, 1145–1147 (1998).

32.

Bagley, J. A., Reumann, D., Bian, S., Lévi-Strauss, J. & Knoblich, J. A. Fused cerebral organoids model interactions between brain regions. Nat. Methods 14, 743–751 (2017).

33.

Hockemeyer, D. et al. Efficient targeting of expressed and silent genes in human ESCs and iPSCs using zinc-finger nucleases. Nat. Biotechnol. 27, 851–857 (2009).

34.

Chen, G. et al. Chemically defined conditions for human iPSC derivation and culture. Nat. Methods 8, 424–429 (2011).

35.

Agu, C. A. et al. Successful generation of human induced pluripotent stem cell lines from blood samples held at room temperature for up to 48 hr. Stem Cell Reports 5, 660–671 (2015).

36.

Ishikawa, F. et al. Development of functional human blood and immune systems in NOD/SCID/IL2 receptor γ chainnull mice. Blood 106, 1565–1573 (2005).

37.

Boxerman, J. L., Schmainda, K. M. & Weisskoff, R. M. Relative cerebral blood volume maps corrected for contrast agent extravasation significantly correlate with glioma tumor grade, whereas uncorrected maps do not. AJNR Am. J. Neuroradiol. 27, 859–867 (2006).

38.

Schindelin, J. et al. Fiji: an open-source platform for biological-image analysis. Nat. Methods 9, 676–682 (2012).

39.

Varnum-Finney, B. et al. Immobilization of Notch ligand, Delta-1, is required for induction of Notch signaling. J. Cell Sci. 113, 4313–4318 (2000).

40.

Noguera-Troise, I. et al. Blockade of Dll4 inhibits tumour growth by promoting non-productive angiogenesis. Nature 444, 1032–1037 (2006).

41.

Schoppmann, S. F. et al. Telomerase-immortalized lymphatic and blood vessel endothelial cells are functionally stable and retain their lineage specificity. Microcirculation 11, 261–269 (2004).

42.

Ran, F. A. et al. Genome engineering using the CRISPR–Cas9 system. Nat. Protoc. 8, 2281–2308 (2013).

43.

Kuleshov, M. V. et al. Enrichr: a comprehensive gene set enrichment analysis web server 2016 update. Nucleic Acids Res. 44, W90–W97 (2016).

44.

Chen, E. Y. et al. Enrichr: interactive and collaborative HTML5 gene list enrichment analysis tool. BMC Bioinformatics 14, 128 (2013).

45.

Haemmerle, M. et al. Enhanced lymph vessel density, remodeling, and inflammation are reflected by gene expression signatures in dermal lymphatic endothelial cells in type 2 diabetes. Diabetes 62, 2509–2529 (2013).
Acknowledgements
We thank all members of our laboratories for constructive critiques and expert advice; N. Fellner (VBCF) for electron microscopy; A. Kavirayani, M. Zeba, T. Engelmaier, J. Klughofer, and A. Piszczek for histology services; G. Michlits and M. Hubmann (U. Elling group) for help with single-guide RNA design and for sharing plasmids; C. Czepe (VBCF) for help with next-generation sequencing experiments; N. A. Calcutt (Department of Pathology, University of California, San Diego) for providing the samples of different rodent models of diabetes; and R. Coward (Department of Nephrology, University of Bristol) for advice on the composition of the diabetogenic medium. The work was supported by the Intramural Research Program of the NHLBI (G.C. and M.B.). J.M.P. is supported by grants from IMBA, the Austrian Ministry of Sciences, the Austrian Academy of Sciences, an ERC Advanced Grant and an Era of Hope Innovator award.
Reviewer information
Nature thanks R. Cubbon, T. Takebe and the other anonymous reviewer(s) for their contribution to the peer review of this work.
Ethics declarations
Competing interests
A patent application related to this work has been filed. IMBA is in the process of applying for a patent application covering vascular organoid technology that lists R.A.W., D.K. and J.M.P. as inventors.
Additional information
Publisher's note: Springer Nature remains neutral with regard to jurisdictional claims in published maps and institutional affiliations.
Extended data figures and tables
Supplementary information
About this article
Cite this article
Wimmer, R.A., Leopoldi, A., Aichinger, M. et al. Human blood vessel organoids as a model of diabetic vasculopathy. Nature 565, 505–510 (2019). https://doi.org/10.1038/s41586-018-0858-8
Received:

Accepted:

Published:

Issue Date:
Comments
By submitting a comment you agree to abide by our Terms and Community Guidelines. If you find something abusive or that does not comply with our terms or guidelines please flag it as inappropriate.