Abstract
Oligodendrocytes wrap nerve fibres in the central nervous system with layers of specialized cell membrane to form myelin sheaths1. Myelin is destroyed by the immune system in multiple sclerosis, but myelin is thought to regenerate and neurological function can be recovered. In animal models of demyelinating disease, myelin is regenerated by newly generated oligodendrocytes, and remaining mature oligodendrocytes do not seem to contribute to this process2,3,4. Given the major differences in the dynamics of oligodendrocyte generation and adaptive myelination between rodents and humans5,6,7,8,9, it is not clear how well experimental animal models reflect the situation in multiple sclerosis. Here, by measuring the integration of 14C derived from nuclear testing in genomic DNA10, we assess the dynamics of oligodendrocyte generation in patients with multiple sclerosis. The generation of new oligodendrocytes was increased several-fold in normal-appearing white matter in a subset of individuals with very aggressive multiple sclerosis, but not in most subjects with the disease, demonstrating an inherent potential to substantially increase oligodendrocyte generation that fails in most patients. Oligodendrocytes in shadow plaques—thinly myelinated lesions that are thought to represent remyelinated areas—were old in patients with multiple sclerosis. The absence of new oligodendrocytes in shadow plaques suggests that remyelination of lesions occurs transiently or not at all, or that myelin is regenerated by pre-existing, and not new, oligodendrocytes in multiple sclerosis. We report unexpected oligodendrocyte generation dynamics in multiple sclerosis, and this should guide the use of current, and the development of new, therapies.
Relevant articles
Open Access articles citing this article.
Irene Molina-Gonzalez

,

Veronique E. Miron

&

Jack P. Antel

Communications Biology Open Access 19 November 2022

Mable Lam

,

Koji Takeo

…

J. Bradley Zuchero

Nature Communications Open Access 23 September 2022

Lili Quan

,

Akiko Uyeda

&

Rieko Muramatsu

Inflammation and Regeneration Open Access 02 March 2022
Access options
Subscribe to Nature+
Get immediate online access to Nature and 55 other Nature journal
Subscribe to Journal
Get full journal access for 1 year
$199.00
only $3.90 per issue
All prices are NET prices.
VAT will be added later in the checkout.
Tax calculation will be finalised during checkout.
Buy article
Get time limited or full article access on ReadCube.
$32.00
All prices are NET prices.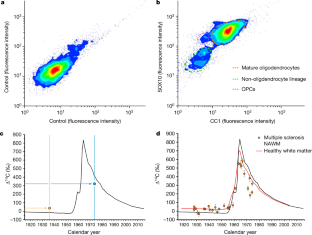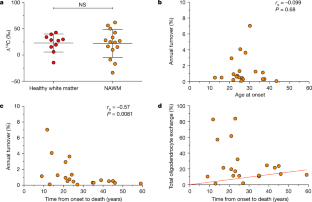 References
Nave, K. A. & Werner, H. B. Myelination of the nervous system: mechanisms and functions. Annu. Rev. Cell Dev. Biol. 30, 503–533 (2014).

Crawford, A. H. et al. Pre-existing mature oligodendrocytes do not contribute to remyelination following toxin-induced spinal cord demyelination. Am. J. Pathol. 186, 511–516 (2016).

Tripathi, R. B., Rivers, L. E., Young, K. M., Jamen, F. & Richardson, W. D. NG2 glia generate new oligodendrocytes but few astrocytes in a murine experimental autoimmune encephalomyelitis model of demyelinating disease. J. Neurosci. 30, 16383–16390 (2010).

Zawadzka, M. et al. CNS-resident glial progenitor/stem cells produce Schwann cells as well as oligodendrocytes during repair of CNS demyelination. Cell Stem Cell 6, 578–590 (2010).

Yeung, M. S. et al. Dynamics of oligodendrocyte generation and myelination in the human brain. Cell 159, 766–774 (2014).

McKenzie, I. A. et al. Motor skill learning requires active central myelination. Science 346, 318–322 (2014).

Gibson, E. M. et al. Neuronal activity promotes oligodendrogenesis and adaptive myelination in the mammalian brain. Science 344, 1252304 (2014).

Sampaio-Baptista, C. & Johansen-Berg, H. White matter plasticity in the adult brain. Neuron 96, 1239–1251 (2017).

Frisén, J. Neurogenesis and gliogenesis in nervous system plasticity and repair. Annu. Rev. Cell Dev. Biol. 32, 127–141 (2016).

Spalding, K. L., Bhardwaj, R. D., Buchholz, B. A., Druid, H. & Frisén, J. Retrospective birth dating of cells in humans. Cell 122, 133–143 (2005).

Levin, I. et al. Observations and modelling of the global distribution and long-term trend of atmospheric 14CO2. Tellus 62, 26–46 (2010).

Bergmann, O. et al. Evidence for cardiomyocyte renewal in humans. Science 324, 98–102 (2009).

Spalding, K. L. et al. Dynamics of hippocampal neurogenesis in adult humans. Cell 153, 1219–1227 (2013).

Ernst, A. et al. Neurogenesis in the striatum of the adult human brain. Cell 156, 1072–1083 (2014).

Salehpour, M., Håkansson, K. & Possnert, G. Small sample accelerator mass spectrometry for biomedical applications. Nucl. Instrum. Methods Phys. Res. B 361, 43–47 (2015).

Beer, A. et al. Tissue damage within normal appearing white matter in early multiple sclerosis: assessment by the ratio of T1- and T2-weighted MR image intensity. J. Neurol. 263, 1495–1502 (2016).

Sim, F. J., Zhao, C., Penderis, J. & Franklin, R. J. The age-related decrease in CNS remyelination efficiency is attributable to an impairment of both oligodendrocyte progenitor recruitment and differentiation. J. Neurosci. 22, 2451–2459 (2002).

Shields, S. A., Gilson, J. M., Blakemore, W. F. & Franklin, R. J. Remyelination occurs as extensively but more slowly in old rats compared to young rats following gliotoxin-induced CNS demyelination. Glia 28, 77–83 (1999).

Franklin, R. J. M. & Ffrench-Constant, C. Regenerating CNS myelin — from mechanisms to experimental medicines. Nat. Rev. Neurosci. 18, 753–769 (2017).

Lucchinetti, C. et al. A quantitative analysis of oligodendrocytes in multiple sclerosis lesions. A study of 113 cases. Brain 122, 2279–2295 (1999).

Romanelli, E. et al. Myelinosome formation represents an early stage of oligodendrocyte damage in multiple sclerosis and its animal model. Nat. Commun. 7, 13275 (2016).

Blakemore, W. F. & Keirstead, H. S. The origin of remyelinating cells in the central nervous system. J. Neuroimmunol. 98, 69–76 (1999).

Kuhlmann, T. et al. Differentiation block of oligodendroglial progenitor cells as a cause for remyelination failure in chronic multiple sclerosis. Brain 131, 1749–1758 (2008).

Chang, A., Tourtellotte, W. W., Rudick, R. & Trapp, B. D. Premyelinating oligodendrocytes in chronic lesions of multiple sclerosis. N. Engl. J. Med. 346, 165–173 (2002).

Hughes, E. G., Kang, S. H., Fukaya, M. & Bergles, D. E. Oligodendrocyte progenitors balance growth with self-repulsion to achieve homeostasis in the adult brain. Nat. Neurosci. 16, 668–676 (2013).

Nunes, M. C. et al. Identification and isolation of multipotential neural progenitor cells from the subcortical white matter of the adult human brain. Nat. Med. 9, 439–447 (2003).

Ransohoff, R. M. Animal models of multiple sclerosis: the good, the bad and the bottom line. Nat. Neurosci. 15, 1074–1077 (2012).

Benthuysen, J. R., Carrano, A. C. & Sander, M. Advances in β cell replacement and regeneration strategies for treating diabetes. J. Clin. Invest. 126, 3651–3660 (2016).

Jäkel, S. et al. Altered human oligodendrocyte heterogeneity in multiple sclerosis. Nature https://doi.org/10.1038/s41586-019-0903-2 (2019).

Cui, Q. L. et al. Sublethal oligodendrocyte injury: a reversible condition in multiple sclerosis? Ann. Neurol. 81, 811–824 (2017).

Giovannoni, G. et al. Brain health: time matters in multiple sclerosis. Mult. Scler. Relat. Disord. 9 (suppl. 1), S5–S48 (2016).

Popescu, B. F. G. & Lucchinetti, C. F. Pathology of demyelinating diseases. Ann.Rev. Pathol. 7, 185–217 (2012).

Trapp, B. D. et al. Axonal transection in the lesions of multiple sclerosis. N. Engl. J. Med. 338, 278–285 (1998).

Li, H., Cuzner, M. L. & Newcombe, J. Microglia-derived macrophages in early multiple sclerosis plaques. Neuropathol. Appl. Neurobiol. 22, 207–215 (1996).

van der Valk, P. & de Groot, C. J. A. Staging of multiple sclerosis (MS) lesions: pathology of the time frame of MS. Neuropathol. Appl. Neurobiol. 26, 2–10 (2000).

Bö, L., Geurts, J. J. G., Mörk, S. J. & van der Valk, P. Grey matter pathology in multiple sclerosis. Acta Neurol. Scand. 183, 48–50 (2006).

Cai, Z. et al. Optimized digital counting colonies of clonogenic assays using ImageJ software and customized macros: comparison with manual counting. Int. J. Radiat. Biol. 87, 1135–1146 (2011).

Choudhry, P. High-throughput method for automated colony and cell counting by digital image analysis based on edge detection. PLoS ONE 11, e0148469 (2016).
Acknowledgements
We thank S. Giatrellis and M. Toro for flow cytometry and K. Håkansson and P. Senneryd for accelerator mass spectrometry sample preparation. This study was supported by the Swedish Research Council, the Swedish Cancer Foundation, Tobias Stiftelsen, SSF, Knut och Alice Wallenbergs Stiftelse, the ERC and Torsten Söderberg Foundation. Tissue samples and associated clinical and neuropathological data were supplied by the Multiple Sclerosis Society Tissue Bank, funded by the Multiple Sclerosis Society of Great Britain and Northern Ireland, registered charity 207495. We also thank B. D. Trapp and R. Dutta, Lerner Research Institute, Cleveland Clinic, Cleveland, USA and the Netherlands Brain Bank, Netherlands Institute for Neuroscience, Amsterdam, for providing tissue.
Reviewer information
Nature thanks K. Nave and the anonymous reviewer(s) for their contribution to the peer review of this work.
Ethics declarations
Competing interests
The authors declare no competing interests.
Additional information
Publisher's note: Springer Nature remains neutral with regard to jurisdictional claims in published maps and institutional affiliations.
Extended data figures and tables
Supplementary information
This file contains Supplementary Tables 1-12 and an analysis of cell dynamics in multiple sclerosis white matter
About this article
Cite this article
Yeung, M.S.Y., Djelloul, M., Steiner, E. et al. Dynamics of oligodendrocyte generation in multiple sclerosis. Nature 566, 538–542 (2019). https://doi.org/10.1038/s41586-018-0842-3
Received:

Accepted:

Published:

Issue Date:

DOI: https://doi.org/10.1038/s41586-018-0842-3
Comments
By submitting a comment you agree to abide by our Terms and Community Guidelines. If you find something abusive or that does not comply with our terms or guidelines please flag it as inappropriate.