Abstract
The fast-growing field of bioelectronic medicine aims to develop engineered systems that can relieve clinical conditions by stimulating the peripheral nervous system1,2,3,4,5. This type of technology relies largely on electrical stimulation to provide neuromodulation of organ function or pain. One example is sacral nerve stimulation to treat overactive bladder, urinary incontinence and interstitial cystitis (also known as bladder pain syndrome)4,6,7. Conventional, continuous stimulation protocols, however, can cause discomfort and pain, particularly when treating symptoms that can be intermittent (for example, sudden urinary urgency)8. Direct physical coupling of electrodes to the nerve can lead to injury and inflammation9,10,11. Furthermore, typical therapeutic stimulators target large nerve bundles that innervate multiple structures, resulting in a lack of organ specificity. Here we introduce a miniaturized bio-optoelectronic implant that avoids these limitations by using (1) an optical stimulation interface that exploits microscale inorganic light-emitting diodes to activate opsins; (2) a soft, high-precision biophysical sensor system that allows continuous measurements of organ function; and (3) a control module and data analytics approach that enables coordinated, closed-loop operation of the system to eliminate pathological behaviours as they occur in real-time. In the example reported here, a soft strain gauge yields real-time information on bladder function in a rat model. Data algorithms identify pathological behaviour, and automated, closed-loop optogenetic neuromodulation of bladder sensory afferents normalizes bladder function. This all-optical scheme for neuromodulation offers chronic stability and the potential to stimulate specific cell types.
Relevant articles
Open Access articles citing this article.
Atharva Sahasrabudhe

,

Laura E. Rupprecht

…

Polina Anikeeva

Nature Biotechnology Open Access 22 June 2023
Access options
Access Nature and 54 other Nature Portfolio journals
Get Nature+, our best-value online-access subscription
$29.99 / 30 days
cancel any time
Subscribe to this journal
Receive 51 print issues and online access
$199.00 per year
only $3.90 per issue
Rent or buy this article
Prices vary by article type
from$1.95
to$39.95
Prices may be subject to local taxes which are calculated during checkout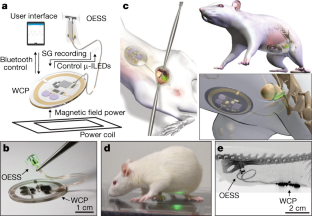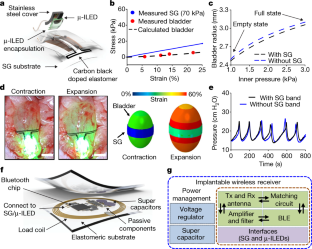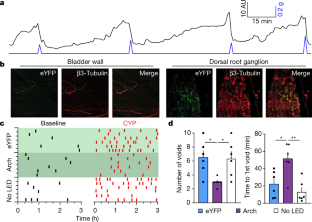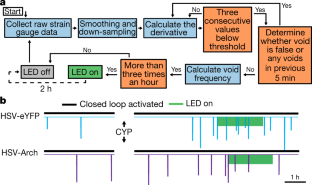 Data availability
The data that support the findings of this study are either provided in the source data or are available from the corresponding authors upon reasonable request. iOS code is available at https://github.com/noh21/bladder_cloc.
References
Birmingham, K. et al. Bioelectronic medicines: a research roadmap. Nat. Rev. Drug Discov. 13, 399–400 (2014).

Cameron, T. Safety and efficacy of spinal cord stimulation for the treatment of chronic pain: a 20-year literature review. J. Neurosurg. 100, 254–267 (2004).

De Ferrari, G. M. et al. Chronic vagus nerve stimulation: a new and promising therapeutic approach for chronic heart failure. Eur. Heart J. 32, 847–855 (2011).

de Groat, W. C. & Tai, C. Impact of bioelectronic medicine on the neural regulation of pelvic visceral function. Bioelectron. Med. 2015, 25–36 (2015).

Famm, K., Litt, B., Tracey, K. J., Boyden, E. S. & Slaoui, M. Drug discovery: a jump-start for electroceuticals. Nature 496, 159–161 (2013).

Janknegt, R. A. et al. Long-term effectiveness of sacral nerve stimulation for refractory urge incontinence. Eur. Urol. 39, 101–106 (2001).

Siegel, S. W. et al. Long-term results of a multicenter study on sacral nerve stimulation for treatment of urinary urge incontinence, urgency-frequency, and retention. Urology 56, 87–91 (2000).

Kavvadias, T., Huebner, M., Brucker, S. Y. & Reisenauer, C. Management of device-related complications after sacral neuromodulation for lower urinary tract disorders in women: a single center experience. Arch. Gynecol. Obstet. 295, 951–957 (2017).

del Valle, J. & Navarro, X. Interfaces with the peripheral nerve for the control of neuroprostheses. Int. Rev. Neurobiol. 109, 63–83 (2013).

Rossini, P. M. et al. Double nerve intraneural interface implant on a human amputee for robotic hand control. Clin. Neurophysiol. 121, 777–783 (2010).

Yoshida, K., Farina, D., Akay, M. & Jensen, W. Multichannel intraneural and intramuscular techniques for multiunit recording and use in active prostheses. Proc. IEEE 98, 432–449 (2010).

Miftahof, R. & Nam, H. G. Biomechanics of the Human Urinary Bladder (Springer, 2013).

Mattis, J. et al. Principles for applying optogenetic tools derived from direct comparative analysis of microbial opsins. Nat. Methods 9, 159–172 (2012).

Zerboni, L. et al. Herpes simplex virus 1 tropism for human sensory ganglion neurons in the severe combined immunodeficiency mouse model of neuropathogenesis. J. Virol. 87, 2791–2802 (2013).

DeBerry, J. J. et al. Differential regulation of bladder pain and voiding function by sensory afferent populations revealed by selective optogenetic activation. Front. Integr. Nuerosci. 12, 5 (2018).

Beaudry, H., Daou, I., Ase, A. R., Ribeiro-da-Silva, A. & Séguéla, P. Distinct behavioral responses evoked by selective optogenetic stimulation of the major TRPV1+ and MrgD+ subsets of C-fibers. Pain 158, 2329–2339 (2017).

Boada, M. D. et al. Fast-conducting mechanoreceptors contribute to withdrawal behavior in normal and nerve injured rats. Pain 155, 2646–2655 (2014).

Iyer, S. M. et al. Virally mediated optogenetic excitation and inhibition of pain in freely moving nontransgenic mice. Nat. Biotechnol. 32, 274–278 (2014).

Iyer, S. M. et al. Optogenetic and chemogenetic strategies for sustained inhibition of pain. Sci. Rep. 6, 30570 (2016).

Li, B. et al. A novel analgesic approach to optogenetically and specifically inhibit pain transmission using TRPV1 promoter. Brain Res. 1609, 12–20 (2015).

Montgomery, K. L. et al. Wirelessly powered, fully internal optogenetics for brain, spinal and peripheral circuits in mice. Nat. Methods 12, 969–974 (2015).

Towne, C., Montgomery, K. L., Iyer, S. M., Deisseroth, K. & Delp, S. L. Optogenetic control of targeted peripheral axons in freely moving animals. PLoS One 8, e72691 (2013).

ClinicalTrials.Gov. RST-001 phase I/II trial for advanced retinitis pigmentosa. https://ClinicalTrials.gov/show/NCT02556736 (2018).

ClinicalTrials.Gov. Dose-escalation study to evaluate the safety and tolerability of GS030 in subjects with retinitis pigmentosa. https://ClinicalTrials.gov/show/NCT03326336 (2018).

Gutierrez, C. A. & Meng, E. Low-cost carbon thick-film strain sensors for implantable applications. J. Micromech. Microeng. 20, 095028 (2010).

Lu, N., Lu, C., Yang, S. & Rogers, J. Highly sensitive skin-mountable strain gauges based entirely on elastomers. Adv. Funct. Mater. 22, 4044–4050 (2012).

Damaser, M. S. & Lehman, S. L. Does it matter, the shape of the bladder? Neurourol. Urodyn. 12, 277–280 (1993).

Korkmaz, I. & Rogg, B. A simple fluid-mechanical model for the prediction of the stress-strain relation of the male urinary bladder. J. Biomech. 40, 663–668 (2007).

Kelly, P. Mechanics Lecture Notes: An introduction to Solid Mechanics. http://homepages.engineering.auckland.ac.nz/~pkel015/SolidMechanicsBooks/index.html, 185–194 (2018).

Ren, Y., Qi, H., Chen, Q. & Ruan, L. Thermal dosage investigation for optimal temperature distribution in gold nanoparticle enhanced photothermal therapy. Int. J. Heat Mass Transfer 106, 212–221 (2017).

Samineni, V. K. et al. Fully implantable, battery-free wireless optoelectronic devices for spinal optogenetics. Pain 158, 2108–2116 (2017).

Bhattacharya, A. & Mahajan, R. L. Temperature dependence of thermal conductivity of biological tissues. Physiol. Meas. 24, 769–783 (2003).

Liu, J., Zhu, L. & Xu, L. X. Studies on the three-dimensional temperature transients in the canine prostate during transurethral microwave thermal therapy. J. Biomech. Eng. 122, 372–379 (2000).

Uvin, P. et al. The use of cystometry in small rodents: a study of bladder chemosensation. J. Vis. Exp. 66, e3869 (2012).

Andersson, K. E., Soler, R. & Füllhase, C. Rodent models for urodynamic investigation. Neurourol. Urodyn. 30, 636–646 (2011).

Samineni, V. K. et al. Optogenetic silencing of nociceptive primary afferents reduces evoked and ongoing bladder pain. Sci. Rep. 7, 15865 (2017).

Park, S. I. et al. Soft, stretchable, fully implantable miniaturized optoelectronic systems for wireless optogenetics. Nat. Biotechnol. 33, 1280–1286 (2015).

Valtcheva, M. V. et al. Surgical extraction of human dorsal root ganglia from organ donors and preparation of primary sensory neuron cultures. Nat. Protocols 11, 1877–1888 (2016).

Lai, H. et al. Animal models of urologic chronic pelvic pain syndromes: findings from the multidisciplinary approach to the study of chronic pelvic pain research network. Urology 85, 1454–1465 (2015).

Parsons, B. A. & Drake, M. J. in Urinary Tract. Handbook of Experimental Pharmacology (eds Andersson, K. E. & Michel, M.) 15–43 (Springer, Berlin, 2011).

Crock, L. W. et al. Central amygdala metabotropic glutamate receptor 5 in the modulation of visceral pain. J. Neurosci. 32, 14217–14226 (2012).
Acknowledgements
We acknowledge the generosity of the donor families, as well as Mid-America Transplant for making the studies of human sensory neurons possible. J. Lemen provided instrumental help during human DRG surgical extractions. We thank J. Sinn-Hanlon for the illustrations, L. Strong for technical assistance with the CT imaging, S. Vogt for technical support and C. Morgan for early input on the project. This work was funded by an NIH Director's Transformative Research Award TR01 NS081707 (R.W.G. and J.A.R.), an NIH SPARC Award via the NIBIB of the NIH U18 EB021793 (R.W.G. and J.A.R.), R01 NS42595 (R.W.G.), NRSA F32 DK115122 (A.D.M.), the McDonnell Center for Cellular and Molecular Neurobiology Postdoctoral Fellowship (A.D.M.), K01 DK115634 (V.K.S.), the Urology Care Foundation Research Scholars Program and Kailash Kedia Research Scholar Endowment (V.K.S.), NSF Grant 1635443 (Y.H.), the Ryan Fellowship and the Northwestern University International Institute for Nanotechnology (Y.X.), T32 DA007261 (L.A.M.), T32 DK108742 (K.W.M.), T32 GM 108539 (B.A.C.), Washington University BioSURF Fellowship (P.S.) DK082315 (H.H.L.) and K08 DK094964 (H.H.L.).
Reviewer information
Nature thanks T. Chai, C. Moritz, E. Roche and S. Zderic for their contribution to the peer review of this work.
Ethics declarations
Competing interests
J.A.R. and R.W.G. are co-founders of Neurolux, a company that manufactures wireless optoelectronic devices. The device described here uses similar technology, but is distinct from the current Neurolux portfolio.
Additional information
Publisher's note: Springer Nature remains neutral with regard to jurisdictional claims in published maps and institutional affiliations.
Extended data figures and tables
Supplementary information
This table contains a summary of all statistical parameters and results.
About this article
Cite this article
Mickle, A.D., Won, S.M., Noh, K.N. et al. A wireless closed-loop system for optogenetic peripheral neuromodulation. Nature 565, 361–365 (2019). https://doi.org/10.1038/s41586-018-0823-6
Received:

Accepted:

Published:

Issue Date:

DOI: https://doi.org/10.1038/s41586-018-0823-6
Comments
By submitting a comment you agree to abide by our Terms and Community Guidelines. If you find something abusive or that does not comply with our terms or guidelines please flag it as inappropriate.