Abstract
Recent exoplanet studies have revealed that the orbital planes of planets are not always aligned with one another or with the equatorial plane of the central star. The misalignment has been ascribed to gravitational scattering by giant planets and/or companion stars1,2,3 or to fly-bys in stellar cluster environments4. Alternatively, the misalignment could be natal: that is, such planets were born in a warped protostellar disk5,6. Warped disk structures have been reported in some transition disks and protoplanetary disks7,8, but not in the earlier stages of protostar evolution, although such a possibility is suggested by outflow morphology9,10. Here we report millimetre-wavelength dust continuum observations of the young embedded protostar IRAS 04368+2557 in the protostellar core L1527 at a distance11 of 137 parsecs; the protostar's disk is almost edge-on12,13,14,15,16. The inner and outer parts of the disk have slightly different orbital planes, connected at 40 to 60 astronomical units from the star, but the disk has point symmetry with respect to the position of the protostar. We interpret it as a warped disk that is rotationally supported. Because there is no evidence for a companion source17,18, the warped structure must be due to either anisotropic accretion of gas with different rotational axes, or misalignment of the rotation axis of the disk with the magnetic field direction.
Access options
Subscribe to Journal
Get full journal access for 1 year
$199.00
only $3.90 per issue
All prices are NET prices.
VAT will be added later in the checkout.
Rent or Buy article
Get time limited or full article access on ReadCube.
from$8.99
All prices are NET prices.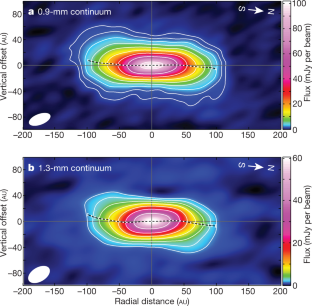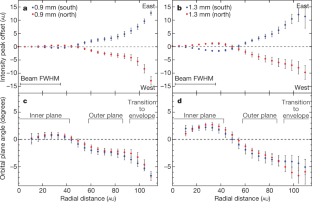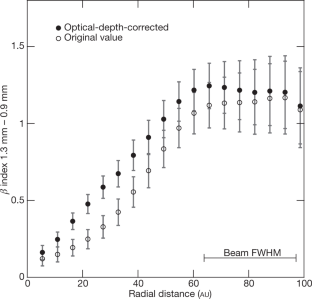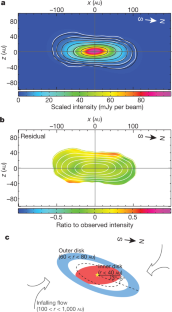 References
1.

Huber, D. et al. Stellar spin-orbit misalignment in a multiplanet system. Science 342, 331–334 (2013).

2.

Benomar, O., Masuda, K., Shibahashi, H. & Suto, Y. Determination of three-dimensional spin–orbit angle with joint analysis of asteroseismology, transit lightcurve, and the Rossiter–McLaughlin effect: cases of HAT-P-7 and Kepler-25. Publ. Astron. Soc. Jpn 66, 94 (2014).

3.

Wahhaj, Z. et al. The inner rings of β Pictoris. Astrophys. J. 584, L27–L31 (2003).

4.

Bate, M. R., Lodato, G. & Pringle, J. E. Chaotic star formation and the alignment of stellar rotation with disc and planetary orbital axes. Mon. Not. R. Astron. Soc. 401, 1505–1513 (2010).

5.

Batygin, K. A primordial origin for misalignments between stellar spin axis and planetary orbit. Nature 491, 418–420 (2012).

6.

Lai, D. Star–disc–binary interactions in protoplanetary disc systems and primordial spin–orbit misalignments. Mon. Not. R. Astron. Soc. 440, 3532–3544 (2014).

7.

Hashimoto, J. et al. Direct imaging of fine structures in giant planet-forming regions of the protoplanetary disk around AB Aurigae. Astrophys. J. 729, L17 (2011).

8.

Marino, S., Perez, S. & Casassus, S. Shadows cast by a warp in the HD 142527 protoplanetary disk. Astrophys. J. 798, L44 (2015).

9.

Codella, C. et al. The ALMA view of the protostellar system HH212. The wind, the cavity, and the disk. Astron. Astrophys. 568, L5 (2014).

10.

Ciardi, A. & Hennebelle, P. Outflows and mass accretion in collapsing dense cores with misaligned rotation axis and magnetic field. Mon. Not. R. Astron. Soc. 409, L39–L43 (2010).

11.

Torres, R. M., Loinard, L., Mioduszewski, A. J. & Rodriguez, L. F. VLBA determination of the distance to nearby star-forming regions. II. Hubble 4 and HDE 283572 in Taurus. Astrophys. J. 671, 1813–1819 (2007).

12.

Tobin, J. et al. A ~0.2-solar-mass protostar with a Keplerian disk in the very young L1527 IRS system. Nature 492, 83–85 (2012).

13.

Sakai, N. et al. Change in the chemical composition of infalling gas forming a disk around a protostar. Nature 507, 78–80 (2014).

14.

Tobin, J. et al. Modeling the resolved disk around the class 0 protostar L1527. Astrophys. J. 771, 48 (2013).

15.

Ohashi, N. et al. Formation of a Keplerian disk in the infalling envelope around L1527 IRS: transformation from infalling motions to Kepler motions. Astrophys. J. 796, 131 (2014).

16.

Oya, Y. et al. Geometric and kinematic structure of the outflow/envelope system of L1527 revealed by subarcsecond-resolution observation of CS. Astrophys. J. 812, 59 (2015).

17.

Aso, Y. et al. ALMA observations of the protostar L1527 IRS: probing details of the disk and the envelope structures. Astrophys. J. 849, 56 (2017).

18.

Sakai, N. et al. Vertical structure of the transition zone from infalling rotating envelope to disc in the class 0 protostar, IRAS04368+2557. Mon. Not. R. Astron. Soc. 467, L76–L80 (2017).

19.

Beckwith, S. V. W. & Sargent, A. I. Particle emissivity in circumstellar disks. Astrophys. J. 381, 250–258 (1991).

20.

Alves, F. O. et al. Molecular outflow launched beyond the disk edge. Astron. Astrophys. 603, L3 (2017).

21.

Yen, H.-W. et al. ALMA observations of infalling flows toward the Keplerian disk around the class I protostar L1489 IRS. Astrophys. J. 793, 1 (2014).

22.

Sakai, N., Sakai, T., Hirota, T. & Yamamoto, S. Distributions of carbon-chain molecules in L1527. Astrophys. J. 722, 1633–1643 (2010).

23.

Shakura, N. I. & Sunyaev, R. A. Black holes in binary systems. Observational appearance. Astron. Astrophys. 24, 337–355 (1973).

24.

Lee, C-F. et al. First detection of equatorial dark dust lane in a protostellar disk at submillimeter wavelength. Sci. Adv. 3, e1602935 (2017).

25.

Sakai, N. et al. A chemical view of protostellar-disk formation in L1527. Astrophys. J. 791, L38 (2014).

26.

Casassus, S. et al. An inner warp in the DoAr 44 T Tauri transition disc. Mon. Not. R. Astron. Soc. 477, 5104–5114 (2018).

27.

Min, M., Stolker, T., Dominik, C. & Benisty, M. Connecting the shadows: probing inner disk geometries using shadows in transitional disks. Astron. Astrophys. 604, L10 (2017).
Acknowledgements
We thank Y. Suto, C. Chandler, Y. Aikawa, C. Ceccarelli and B. Lefloch for valuable discussions. This Letter makes use of ALMA data. ALMA is a partnership of ESO (representing its member states), NSF (USA) and NINS (Japan), together with NRC (Canada), NSC and ASIAA (Taiwan), and KASI (Republic of Korea), in cooperation with the Republic of Chile. The Joint ALMA Observatory is operated by ESO, AUI/NRAO and NAOJ. This work was supported by JSPS KAKENHI grants 25108005, 16H03964 and 18H05222.
Reviewer information
Nature thanks C. Codella and the other anonymous reviewer(s) for their contribution to the peer review of this work.
Ethics declarations
Competing interests
The authors declare no competing interests.
Additional information
Publisher's note: Springer Nature remains neutral with regard to jurisdictional claims in published maps and institutional affiliations.
Extended data figures and tables
About this article
Cite this article
Sakai, N., Hanawa, T., Zhang, Y. et al. A warped disk around an infant protostar. Nature 565, 206–208 (2019). https://doi.org/10.1038/s41586-018-0819-2
Received:

Accepted:

Published:

Issue Date:
Comments
By submitting a comment you agree to abide by our Terms and Community Guidelines. If you find something abusive or that does not comply with our terms or guidelines please flag it as inappropriate.