Abstract
Clonal expansion in aged normal tissues has been implicated in the development of cancer. However, the chronology and risk dependence of the expansion are poorly understood. Here we intensively sequence 682 micro-scale oesophageal samples and show, in physiologically normal oesophageal epithelia, the progressive age-related expansion of clones that carry mutations in driver genes (predominantly NOTCH1), which is substantially accelerated by alcohol consumption and by smoking. Driver-mutated clones emerge multifocally from early childhood and increase their number and size with ageing, and ultimately replace almost the entire oesophageal epithelium in the extremely elderly. Compared with mutations in oesophageal cancer, there is a marked overrepresentation of NOTCH1 and PPM1D mutations in physiologically normal oesophageal epithelia; these mutations can be acquired before late adolescence (as early as early infancy) and significantly increase in number with heavy smoking and drinking. The remodelling of the oesophageal epithelium by driver-mutated clones is an inevitable consequence of normal ageing, which—depending on lifestyle risks—may affect cancer development.
Access options
Subscribe to Journal
Get full journal access for 1 year
$199.00
only $3.90 per issue
All prices are NET prices.
VAT will be added later in the checkout.
Rent or Buy article
Get time limited or full article access on ReadCube.
from$8.99
All prices are NET prices.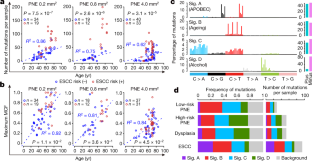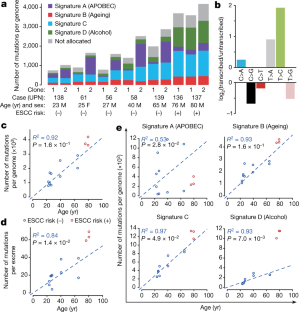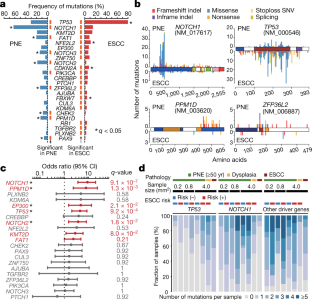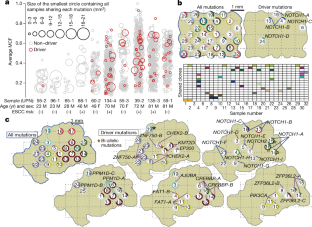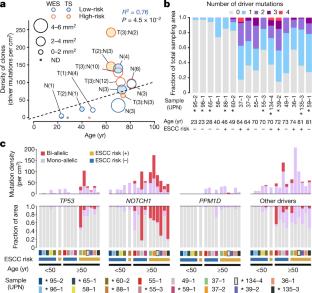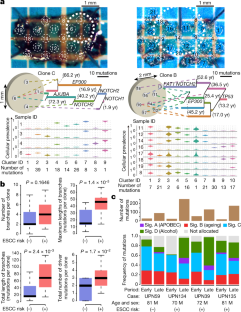 Data availability
All the WES, WGS and SNP array data have been deposited in the European Genome-Phenome Archive (http://www.ebi.ac.uk/ega/) under accession numbers EGAS00001003008, EGAS00001003281 and EGAS00001003331, respectively. Data for Figures and Extended Data Figures are available as Source Data. All other data are available from the corresponding author on reasonable request.
References
1.

Greaves, M. & Maley, C. C. Clonal evolution in cancer. Nature 481, 306–313 (2012).

2.

McGranahan, N. & Swanton, C. Clonal heterogeneity and tumor evolution: past, present, and the future. Cell 168, 613–628 (2017).

3.

Gerlinger, M. et al. Intratumor heterogeneity and branched evolution revealed by multiregion sequencing. N. Engl. J. Med. 366, 883–892 (2012).

4.

Cooper, C. S. et al. Analysis of the genetic phylogeny of multifocal prostate cancer identifies multiple independent clonal expansions in neoplastic and morphologically normal prostate tissue. Nat. Genet. 47, 367–372 (2015).

5.

Jaiswal, S. et al. Age-related clonal hematopoiesis associated with adverse outcomes. N. Engl. J. Med. 371, 2488–2498 (2014).

6.

Genovese, G. et al. Clonal hematopoiesis and blood-cancer risk inferred from blood DNA sequence. N. Engl. J. Med. 371, 2477–2487 (2014).

7.

Martincorena, I. et al. Universal patterns of selection in cancer and somatic tissues. Cell 171, 1029–1041 (2017).

8.

Martincorena, I. et al. High burden and pervasive positive selection of somatic mutations in normal human skin. Science 348, 880–886 (2015).

9.

Pickens, A. & Orringer, M. B. Geographical distribution and racial disparity in esophageal cancer. Ann. Thorac. Surg. 76, S1367–S1369 (2003).

10.

Enzinger, P. C. & Mayer, R. J. Esophageal cancer. N. Engl. J. Med. 349, 2241–2252 (2003).

11.

Matejcic, M., Gunter, M. J. & Ferrari, P. Alcohol metabolism and oesophageal cancer: a systematic review of the evidence. Carcinogenesis 38, 859–872 (2017).

12.

Ishiguro, S. et al. Effect of alcohol consumption, cigarette smoking and flushing response on esophageal cancer risk: a population-based cohort study (JPHC study). Cancer Lett. 275, 240–246 (2009).

13.

Katada, C. et al. Alcohol consumption and multiple dysplastic lesions increase risk of squamous cell carcinoma in the esophagus, head, and neck. Gastroenterology 151, 860–869.e7 (2016).

14.

Tian, D. et al. Multifocal accumulation of p53 protein in esophageal carcinoma: evidence for field cancerization. Int. J. Cancer 78, 568–575 (1998).

15.

Chai, H. & Brown, R. E. Field effect in cancer–an update. Ann. Clin. Lab. Sci. 39, 331–337 (2009).

16.

Sawada, G. et al. Genomic landscape of esophageal squamous cell carcinoma in a Japanese population. Gastroenterology 150, 1171–1182 (2016).

17.

Cancer Genome Atlas Research Network. Integrated genomic characterization of oesophageal carcinoma. Nature 541, 169–175 (2017).

18.

Chang, J. et al. Genomic analysis of oesophageal squamous-cell carcinoma identifies alcohol drinking-related mutation signature and genomic alterations. Nat. Commun. 8, 15290 (2017).

19.

Gao, Y. B. et al. Genetic landscape of esophageal squamous cell carcinoma. Nat. Genet. 46, 1097–1102 (2014).

20.

Qin, H. D. et al. Genomic characterization of esophageal squamous cell carcinoma reveals critical genes underlying tumorigenesis and poor prognosis. Am. J. Hum. Genet. 98, 709–727 (2016).

21.

Alexandrov, L. B. et al. Signatures of mutational processes in human cancer. Nature 500, 415–421 (2013).

22.

Totoki, Y. et al. Trans-ancestry mutational landscape of hepatocellular carcinoma genomes. Nat. Genet. 46, 1267–1273 (2014).

23.

Blokzijl, F. et al. Tissue-specific mutation accumulation in human adult stem cells during life. Nature 538, 260–264 (2016).

24.

Lawrence, M. S. et al. Mutational heterogeneity in cancer and the search for new cancer-associated genes. Nature 499, 214–218 (2013).

25.

Bulavin, D. V. et al. Inactivation of the Wip1 phosphatase inhibits mammary tumorigenesis through p38 MAPK-mediated activation of the p16Ink4a–p19Arf pathway. Nat. Genet. 36, 343–350 (2004).

26.

Hori, M. et al. Cancer incidence and incidence rates in Japan in 2009: a study of 32 population-based cancer registries for the Monitoring of Cancer Incidence in Japan (MCIJ) project. Jpn. J. Clin. Oncol. 45, 884–891 (2015).

27.

Demehri, S., Turkoz, A. & Kopan, R. Epidermal Notch1 loss promotes skin tumorigenesis by impacting the stromal microenvironment. Cancer Cell 16, 55–66 (2009).

28.

Li, Z. S. & Li, Q. The latest 2010 WHO classification of tumors of digestive system. Zhonghua Bing Li Xue Za Zhi 40, 351–354 (2011).

29.

Yoshida, K. et al. Frequent pathway mutations of splicing machinery in myelodysplasia. Nature 478, 64–69 (2011).

30.

Kataoka, K. et al. Aberrant PD-L1 expression through 3′-UTR disruption in multiple cancers. Nature 534, 402–406 (2016).

31.

Shiraishi, Y. et al. An empirical Bayesian framework for somatic mutation detection from cancer genome sequencing data. Nucleic Acids Res. 41, e89 (2013).

32.

Suzuki, H. et al. Mutational landscape and clonal architecture in grade II and III gliomas. Nat. Genet. 47, 458–468 (2015).

33.

Thorvaldsdóttir, H., Robinson, J. T. & Mesirov, J. P. Integrative Genomics Viewer (IGV): high-performance genomics data visualization and exploration. Brief. Bioinform. 14, 178–192 (2013).

34.

Nannya, Y. et al. A robust algorithm for copy number detection using high-density oligonucleotide single nucleotide polymorphism genotyping arrays. Cancer Res. 65, 6071–6079 (2005).

35.

Yamamoto, G. et al. Highly sensitive method for genomewide detection of allelic composition in nonpaired, primary tumor specimens by use of affymetrix single-nucleotide-polymorphism genotyping microarrays. Am. J. Hum. Genet. 81, 114–126 (2007).

36.

Yoshizato, T. et al. Genetic abnormalities in myelodysplasia and secondary acute myeloid leukemia: impact on outcome of stem cell transplantation. Blood 129, 2347–2358 (2017).

37.

Mermel, C. H. et al. GISTIC2.0 facilitates sensitive and confident localization of the targets of focal somatic copy-number alteration in human cancers. Genome Biol. 12, R41 (2011).

38.

Carter, S. L. et al. Absolute quantification of somatic DNA alterations in human cancer. Nat. Biotechnol. 30, 413–421 (2012).

39.

Shiraishi, Y., Tremmel, G., Miyano, S. & Stephens, M. A simple model-based approach to inferring and visualizing cancer mutation signatures. PLoS Genet. 11, e1005657 (2015).

40.

Blokzijl, F., Janssen, R., Van Boxtel, R. & Cuppen, E. MutationalPatterns: an integrative R package for studying patterns in base substitution catalogues. Preprint at https://www.biorxiv.org/content/early/2016/08/30/071761 (2016).

41.

Roth, A. et al. PyClone: statistical inference of clonal population structure in cancer. Nat. Methods 11, 396–398 (2014).

42.

Viechtbauer, W. Conducting meta-analyses in R with the metafor package. J. Stat. Softw. 36, 1–48 (2010).
Acknowledgements
We thank the Ministry of Education, Culture, Sports, Science and Technology for support (grant references: hp150232 and 15H05909), together with many other funding bodies and individuals (Supplementary Note 1).
Reviewer information
Nature thanks F. Ciccarelli, B. Lehner and the other anonymous reviewer(s) for their contribution to the peer review of this work.
Ethics declarations
Competing interests
The authors declare no competing interests.
Additional information
Publisher's note: Springer Nature remains neutral with regard to jurisdictional claims in published maps and institutional affiliations.
Extended data figures and tables
Supplementary information
This file contains Supplementary Methods 1-2 and Supplementary Note 1, which contains the acknowledgements.
This file contains Supplementary Tables 1-10.
About this article
Cite this article
Yokoyama, A., Kakiuchi, N., Yoshizato, T. et al. Age-related remodelling of oesophageal epithelia by mutated cancer drivers. Nature 565, 312–317 (2019). https://doi.org/10.1038/s41586-018-0811-x
Received:

Accepted:

Published:

Issue Date:
Comments
By submitting a comment you agree to abide by our Terms and Community Guidelines. If you find something abusive or that does not comply with our terms or guidelines please flag it as inappropriate.