Abstract
Environmental cues profoundly affect cellular plasticity in multicellular organisms. For instance, exercise promotes a glycolytic-to-oxidative fibre-type switch in skeletal muscle, and cold acclimation induces beige adipocyte biogenesis in adipose tissue. However, the molecular mechanisms by which physiological or pathological cues evoke developmental plasticity remain incompletely understood. Here we report a type of beige adipocyte that has a critical role in chronic cold adaptation in the absence of β-adrenergic receptor signalling. This beige fat is distinct from conventional beige fat with respect to developmental origin and regulation, and displays enhanced glucose oxidation. We therefore refer to it as glycolytic beige fat. Mechanistically, we identify GA-binding protein α as a regulator of glycolytic beige adipocyte differentiation through a myogenic intermediate. Our study reveals a non-canonical adaptive mechanism by which thermal stress induces progenitor cell plasticity and recruits a distinct form of thermogenic cell that is required for energy homeostasis and survival.
Access options
Subscribe to Journal
Get full journal access for 1 year
$199.00
only $3.90 per issue
All prices are NET prices.
VAT will be added later in the checkout.
Rent or Buy article
Get time limited or full article access on ReadCube.
from$8.99
All prices are NET prices.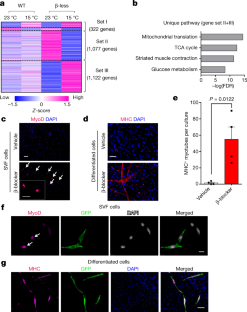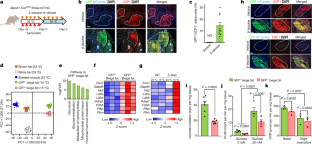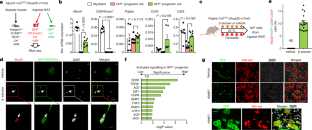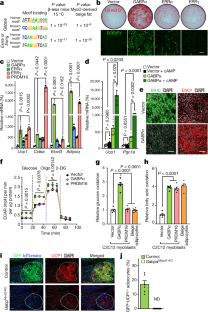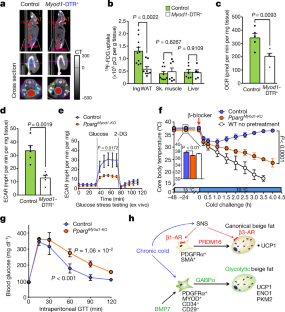 Data availability
RNA-seq datasets generated in this study are available at ArrayExpress under the following accession codes: E-MTAB-4526 (adipose tissues in β-less mice), E-MTAB-4528 (skeletal muscle in β-less mice), E-MTAB-6392 (Myod1+-derived beige fat), E-MTAB-7175 (BAT, WAT and skeletal muscle), E-MTAB-6441 (Myod1+-derived progenitors), and E-MTAB-7164 (myoblasts). The datasets in the present study are available from the corresponding author upon request.
References
1.

Collins, S. β-adrenoceptor signaling networks in adipocytes for recruiting stored fat and energy expenditure. Front. Endocrinol. 2, 102 (2011).

2.

Seale, P. et al. Prdm16 determines the thermogenic program of subcutaneous white adipose tissue in mice. J. Clin. Invest. 121, 96–105 (2011).

3.

Ikeda, K. et al. UCP1-independent signaling involving SERCA2b-mediated calcium cycling regulates beige fat thermogenesis and systemic glucose homeostasis. Nat. Med. 23, 1454–1465 (2017).

4.

Cohen, P. et al. Ablation of PRDM16 and beige adipose causes metabolic dysfunction and a subcutaneous to visceral fat switch. Cell 156, 304–316 (2014).

5.

Sharp, L. Z. et al. Human BAT possesses molecular signatures that resemble beige/brite cells. PLoS ONE 7, e49452 (2012).

6.

Wu, J. et al. Beige adipocytes are a distinct type of thermogenic fat cell in mouse and human. Cell 150, 366–376 (2012).

7.

Lidell, M. E. et al. Evidence for two types of brown adipose tissue in humans. Nat. Med. 19, 631–634 (2013).

8.

Shinoda, K. et al. Genetic and functional characterization of clonally derived adult human brown adipocytes. Nat. Med. 21, 389–394 (2015).

9.

Yoneshiro, T. et al. Recruited brown adipose tissue as an antiobesity agent in humans. J. Clin. Invest. 123, 3404–3408 (2013).

10.

van der Lans, A. A. et al. Cold acclimation recruits human brown fat and increases nonshivering thermogenesis. J. Clin. Invest. 123, 3395–3403 (2013).

11.

Hanssen, M. J. et al. Short-term cold acclimation improves insulin sensitivity in patients with type 2 diabetes mellitus. Nat. Med. 21, 863–865 (2015).

12.

Arch, J. R. Challenges in β3-adrenoceptor agonist drug development. Ther. Adv. Endocrinol. Metab. 2, 59–64 (2011).

13.

Bachman, E. S. et al. βAR signaling required for diet-induced thermogenesis and obesity resistance. Science 297, 843–845 (2002).

14.

Ye, L. et al. Fat cells directly sense temperature to activate thermogenesis. Proc. Natl Acad. Sci. USA 110, 12480–12485 (2013).

15.

Razzoli, M. et al. Stress-induced activation of brown adipose tissue prevents obesity in conditions of low adaptive thermogenesis. Mol. Metab. 5, 19–33 (2016).

16.

Sanchez-Gurmaches, J. & Guertin, D. A. Adipocytes arise from multiple lineages that are heterogeneously and dynamically distributed. Nat. Commun. 5, 4099 (2014).

17.

Berry, D. C., Jiang, Y. & Graff, J. M. Mouse strains to study cold-inducible beige progenitors and beige adipocyte formation and function. Nat. Commun. 7, 10184 (2016).

18.

Rodeheffer, M. S., Birsoy, K. & Friedman, J. M. Identification of white adipocyte progenitor cells in vivo. Cell 135, 240–249 (2008).

19.

Tseng, Y. H. et al. New role of bone morphogenetic protein 7 in brown adipogenesis and energy expenditure. Nature 454, 1000–1004 (2008).

20.

Heinz, S. et al. Simple combinations of lineage-determining transcription factors prime cis-regulatory elements required for macrophage and B cell identities. Mol. Cell 38, 576–589 (2010).

21.

Yang, Z. F., Drumea, K., Mott, S., Wang, J. & Rosmarin, A. G. GABP transcription factor (nuclear respiratory factor 2) is required for mitochondrial biogenesis. Mol. Cell. Biol. 34, 3194–3201 (2014).

22.

Mootha, V. K. et al. Errα and Gabpa/b specify PGC-1α-dependent oxidative phosphorylation gene expression that is altered in diabetic muscle. Proc. Natl Acad. Sci. USA 101, 6570–6575 (2004).

23.

Gantner, M. L., Hazen, B. C., Eury, E., Brown, E. L. & Kralli, A. Complementary roles of estrogen-related receptors in brown adipocyte thermogenic function. Endocrinology 157, 4770–4781 (2016).

24.

Jaworski, A., Smith, C. L. & Burden, S. J. GA-binding protein is dispensable for neuromuscular synapse formation and synapse-specific gene expression. Mol. Cell. Biol. 27, 5040–5046 (2007).

25.

Lee, Y. H., Petkova, A. P., Mottillo, E. P. & Granneman, J. G. In vivo identification of bipotential adipocyte progenitors recruited by β3-adrenoceptor activation and high-fat feeding. Cell Metab. 15, 480–491 (2012).

26.

Vishvanath, L. et al. Pdgfrβ+ mural preadipocytes contribute to adipocyte hyperplasia induced by high-fat-diet feeding and prolonged cold exposure in adult mice. Cell Metab. 23, 350–359 (2016).

27.

Long, J. Z. et al. A smooth muscle-like origin for beige adipocytes. Cell Metab. 19, 810–820 (2014).

28.

Kajimura, S., Spiegelman, B. M. & Seale, P. Brown and beige fat: physiological roles beyond heat generation. Cell Metab. 22, 546–559 (2015).

29.

Nedergaard, J. & Cannon, B. UCP1 mRNA does not produce heat. Biochim. Biophys. Acta 1831, 943–949 (2013).

30.

Kazak, L. et al. A creatine-driven substrate cycle enhances energy expenditure and thermogenesis in beige fat. Cell 163, 643–655 (2015).

31.

Hasegawa, Y. et al. Repression of adipose tissue fibrosis through a PRDM16–GTF2IRD1 complex improves systemic glucose homeostasis. Cell Metab. 27, 180–194 (2018).

32.

Nishijo, K. et al. Biomarker system for studying muscle, stem cells, and cancer in vivo. FASEB J. 23, 2681–2690 (2009).

33.

Jung, S. et al. In vivo depletion of CD11c+ dendritic cells abrogates priming of CD8+ T cells by exogenous cell-associated antigens. Immunity 17, 211–220 (2002).

34.

Buch, T. et al. A Cre-inducible diphtheria toxin receptor mediates cell lineage ablation after toxin administration. Nat. Methods 2, 419–426 (2005).

35.

Liisberg Aune, U., Ruiz, L. & Kajimura, S. Isolation and differentiation of stromal vascular cells to beige/brite cells. J. Vis. Exp. (2013).

36.

Ohno, H., Shinoda, K., Spiegelman, B. M. & Kajimura, S. PPARγ agonists induce a white-to-brown fat conversion through stabilization of PRDM16 protein. Cell Metab. 15, 395–404 (2012).

37.

Trapnell, C. et al. Differential analysis of gene regulation at transcript resolution with RNA-seq. Nat. Biotechnol. 31, 46–53 (2013).

38.

Tripathi, S. et al. Meta- and orthogonal integration of influenza "OMICs" data defines a role for UBR4 in virus budding. Cell Host Microbe 18, 723–735 (2015).
Acknowledgements
We thank Y. Seo, S. Haldar, S. Burden and C. Keller for sharing their reagents and technical advice. This work was supported by the NIH (DK97441, DK112268, and DK108822) and the Edward Mallinckrodt Jr. Foundation to S.K., and AR060868 and AR061002 to A.B.
Reviewer information
Nature thanks A. Pfeifer and the other anonymous reviewer(s) for their contribution to the peer review of this work.
Ethics declarations
Competing interests
The authors declare no competing interests.
Additional information
Publisher's note: Springer Nature remains neutral with regard to jurisdictional claims in published maps and institutional affiliations.
Extended data figures and tables
Supplementary information
This file contains Supplementary Table 1, which contains a list of primer sequences used for qRT-PCR and Supplementary Figure 1, which contains the uncropped western blot films in Extended Fig.7c and 7f.
SVF cells isolated from the inguinal WAT of Myod-CreERT2 reporter mice following β-blocker treatment. Myod-derived cells formed GFP+ (green) myotubes and actively twitched even under pro-adipogenic conditions. Scale bar=100µm.
About this article
Cite this article
Chen, Y., Ikeda, K., Yoneshiro, T. et al. Thermal stress induces glycolytic beige fat formation via a myogenic state. Nature 565, 180–185 (2019). https://doi.org/10.1038/s41586-018-0801-z
Received:

Accepted:

Published:

Issue Date:
Comments
By submitting a comment you agree to abide by our Terms and Community Guidelines. If you find something abusive or that does not comply with our terms or guidelines please flag it as inappropriate.