Abstract
Animals and humans display two types of response to noxious stimuli. The first includes reflexive defensive responses that prevent or limit injury; a well-known example of these responses is the quick withdrawal of one's hand upon touching a hot object. When the first-line response fails to prevent tissue damage (for example, a finger is burnt), the resulting pain invokes a second-line coping response—such as licking the injured area to soothe suffering. However, the underlying neural circuits that drive these two strings of behaviour remain poorly understood. Here we show in mice that spinal neurons marked by coexpression of TAC1Cre and LBX1Flpo drive coping responses associated with pain. Ablation of these spinal neurons led to the loss of both persistent licking and conditioned aversion evoked by stimuli (including skin pinching and burn injury) that—in humans—produce sustained pain, without affecting any of the reflexive defensive reactions that we tested. This selective indifference to sustained pain resembles the phenotype seen in humans with lesions of medial thalamic nuclei1,2,3. Consistently, spinal TAC1-lineage neurons are connected to medial thalamic nuclei by direct projections and via indirect routes through the superior lateral parabrachial nuclei. Furthermore, the anatomical and functional segregation observed at the spinal level also applies to primary sensory neurons. For example, in response to noxious mechanical stimuli, MRGPRD- and TRPV1-positive nociceptors are required to elicit reflexive and coping responses, respectively. Our study therefore reveals a fundamental subdivision within the cutaneous somatosensory system, and challenges the validity of using reflexive defensive responses to measure sustained pain.
Relevant articles
Open Access articles citing this article.
Fang Guo

,

Yu Du

…

Shi-Hong Zhang

Neuroscience Bulletin Open Access 05 March 2022

Maggie W. Waung

,

Kayla A. Maanum

…

Elyssa B. Margolis

Nature Communications Open Access 09 February 2022

Daniel E. Russ

,

Ryan B. Patterson Cross

…

Ariel J. Levine

Nature Communications Open Access 29 September 2021
Access options
Subscribe to Nature+
Get immediate online access to Nature and 55 other Nature journal
Subscribe to Journal
Get full journal access for 1 year
$199.00
only $3.90 per issue
All prices are NET prices.
VAT will be added later in the checkout.
Tax calculation will be finalised during checkout.
Buy article
Get time limited or full article access on ReadCube.
$32.00
All prices are NET prices.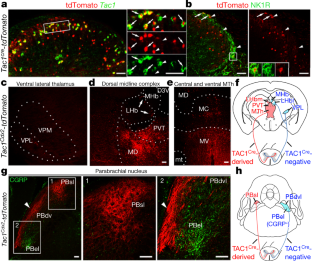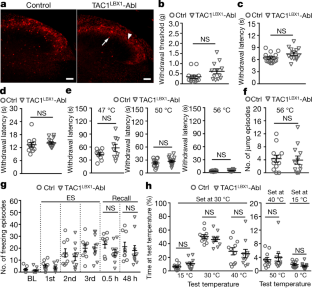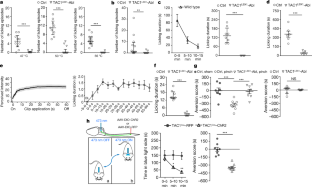 Data availability
All data are contained in the main text or Supplementary Materials or are available from the corresponding author upon reasonable request. The anterograde tracing data are from the Allen Brain Atlas website (http://connectivity.brain-map.org/).
References
Mark, V. H., Ervin, F. R. & Yakovlev, P. I. Stereotactic thalamotomy III. The verification of anatomical lesion sites in the human thalamus. Arch. Neurol. 8, 528–538 (1963).

Young, R. F. et al. Gamma knife thalamotomy for the treatment of persistent pain. Stereotact. Funct. Neurosurg. 64, 172–181 (1995).

Price, D. D. Central neural mechanisms that interrelate sensory and affective dimensions of pain. Mol. Interv. 2, 392–403, 339 (2002).

Gutierrez-Mecinas, M. et al. Preprotachykinin A is expressed by a distinct population of excitatory neurons in the mouse superficial spinal dorsal horn including cells that respond to noxious and pruritic stimuli. Pain 158, 440–456 (2017).

Todd, A. J. Neuronal circuitry for pain processing in the dorsal horn. Nat. Rev. Neurosci. 11, 823–836 (2010).

Bourane, S. et al. Identification of a spinal circuit for light touch and fine motor control. Cell 160, 503–515 (2015).

Head, H. & Holmes, H. J. Sensory disturbances from cerebral lesions. Brain 34, 102–154 (1911).

Han, S., Soleiman, M. T., Soden, M. E., Zweifel, L. S. & Palmiter, R. D. Elucidating an affective pain circuit that creates a threat memory. Cell 162, 363–374 (2015).

Rodriguez, E. et al. A cranio-facial-specific monosynaptic circuit enables hieghtened affective pain. Nat. Neurosci. 20, 1734–1743 (2017).

Yahiro, T., Kataoka, N., Nakamura, Y. & Nakamura, K. The lateral parabrachial nucleus, but not the thalamus, mediates thermosensory pathways for behavioural thermoregulation. Sci. Rep. 7, 5031 (2017).

Mu, D. et al. A central neural circuit for itch sensation. Science 357, 695–699 (2017).

Oh, S. W. et al. A mesoscale connectome of the mouse brain. Nature 508, 207–214 (2014).

Duan, B. et al. Identification of spinal circuits transmitting and gating mechanical pain. Cell 159, 1417–1432 (2014).

Bourane, S. et al. Gate control of mechanical itch by a subpopulation of spinal cord interneurons. Science 350, 550–554 (2015).

Melzack, R. & Wall, P. D. Pain mechanisms: a new theory. Science 150, 971–979 (1965).

Duan, B., Cheng, L. & Ma, Q. Spinal circuits transmitting mechanical pain and itch. Neurosci. Bull. 34, 186–193 (2018).

Arenas, O. M. et al. Activation of planarian TRPA1 by reactive oxygen species reveals a conserved mechanism for animal nociception. Nat. Neurosci. 20, 1686–1693 (2017).

Vandewauw, I. et al. A TRP channel trio mediates acute noxious heat sensing. Nature 555, 662–666 (2018).

Ward, L., Wright, E. & McMahon, S. B. A comparison of the effects of noxious and innocuous counterstimuli on experimentally induced itch and pain. Pain 64, 129–138 (1996).

Cavanaugh, D. J. et al. Distinct subsets of unmyelinated primary sensory fibers mediate behavioral responses to noxious thermal and mechanical stimuli. Proc. Natl Acad. Sci. USA 106, 9075–9080 (2009).

Zylka, M. J., Rice, F. L. & Anderson, D. J. Topographically distinct epidermal nociceptive circuits revealed by axonal tracers targeted to Mrgprd. Neuron 45, 17–25 (2005).

Cavanaugh, D. J. et al. Restriction of transient receptor potential vanilloid-1 to the peptidergic subset of primary afferent neurons follows its developmental downregulation in nonpeptidergic neurons. J. Neurosci. 31, 10119–10127 (2011).

Malin, S. et al. TRPV1 and TRPA1 function and modulation are target tissue dependent. J. Neurosci. 31, 10516–10528 (2011).

Cheng, L. et al. Identification of spinal circuits involved in touch-evoked dynamic mechanical pain. Nat. Neurosci. 20, 804–814 (2017).

Adriaensen, H., Gybels, J., Handwerker, H. O. & Van Hees, J. Nociceptor discharges and sensations due to prolonged noxious mechanical stimulation—a paradox. Hum. Neurobiol. 3, 53–58 (1984).

Schmidt, R., Schmelz, M., Torebjörk, H. E. & Handwerker, H. O. Mechano-insensitive nociceptors encode pain evoked by tonic pressure to human skin. Neuroscience 98, 793–800 (2000).

Schmelz, M., Schmid, R., Handwerker, H. O. & Torebjörk, H. E. Encoding of burning pain from capsaicin-treated human skin in two categories of unmyelinated nerve fibres. Brain 123, 560–571 (2000).

Cobos, E. J. & Portillo-Salido, E. 'Bedside-to-bench' behavioral outcomes in animal models of pain: beyond the evaluation of reflexes. Curr. Neuropharmacol. 11, 560–591 (2013).

Borsook, D., Hargreaves, R., Bountra, C. & Porreca, F. Lost but making progress—where will new analgesic drugs come from? Sci. Transl. Med. 6, 249sr3 (2014).

LeDoux, J. E. & Pine, D. S. Using neuroscience to help understand fear and anxiety: a two-system framework. Am. J. Psychiatry 173, 1083–1093 (2016).

Niederkofler, V. et al. Identification of serotonergic neuronal modules that affect aggressive behavior. Cell Rep. 17, 1934–1949 (2016).

Britz, O. et al. A genetically defined asymmetry underlies the inhibitory control of flexor–extensor locomotor movements. eLife 4, e04718 (2015).

Liu, Y. et al. VGLUT2-dependent glutamate release from nociceptors is required to sense pain and suppress itch. Neuron 68, 543–556 (2010).

Lou, S., Duan, B., Vong, L., Lowell, B. B. & Ma, Q. Runx1 controls terminal morphology and mechanosensitivity of VGLUT3-expressing C-mechanoreceptors. J. Neurosci. 33, 870–882 (2013).

Knowlton, W. M., Bifolck-Fisher, A., Bautista, D. M. & McKemy, D. D. TRPM8, but not TRPA1, is required for neural and behavioral responses to acute noxious cold temperatures and cold-mimetics in vivo. Pain 150, 340–350 (2010).

Brenner, D. S., Golden, J. P. & Gereau, R. W., IV. A novel behavioral assay for measuring cold sensation in mice. PLoS ONE 7, e39765 (2012).

Pogorzala, L. A., Mishra, S. K. & Hoon, M. A. The cellular code for mammalian thermosensation. J. Neurosci. 33, 5533–5541 (2013).

Green, B. G. et al. Evaluating the 'Labeled Magnitude Scale' for measuring sensations of taste and smell. Chem. Senses 21, 323–334 (1996).

Bartoshuk, L. M. et al. Valid across-group comparisons with labeled scales: the gLMS versus magnitude matching. Physiol. Behav. 82, 109–114 (2004).

Green, B. G. & Schoen, K. L. Thermal and nociceptive sensations from menthol and their suppression by dynamic contact. Behav. Brain Res. 176, 284–291 (2007).

LaMotte, R. H., Shimada, S. G., Green, B. G. & Zelterman, D. Pruritic and nociceptive sensations and dysesthesias from a spicule of cowhage. J. Neurophysiol. 101, 1430–1443 (2009).

Sikand, P., Shimada, S. G., Green, B. G. & LaMotte, R. H. Sensory responses to injection and punctate application of capsaicin and histamine to the skin. Pain 152, 2485–2494 (2011).

Kleinlogel, S. et al. Ultra light-sensitive and fast neuronal activation with the Ca2+-permeable channelrhodopsin CatCh. Nat. Neurosci. 14, 513–518 (2011).

Kwan, K. Y. et al. TRPA1 contributes to cold, mechanical, and chemical nociception but is not essential for hair-cell transduction. Neuron 50, 277–289 (2006).

Story, G. M. et al. ANKTM1, a TRP-like channel expressed in nociceptive neurons, is activated by cold temperatures. Cell 112, 819–829 (2003).

Bautista, D. M. et al. TRPA1 mediates the inflammatory actions of environmental irritants and proalgesic agents. Cell 124, 1269–1282 (2006).

Wang, S. et al. Phospholipase C and protein kinase A mediate bradykinin sensitization of TRPA1: a molecular mechanism of inflammatory pain. Brain 131, 1241–1251 (2008).

Bartley, E. J. & Fillingim, R. B. Sex differences in pain: a brief review of clinical and experimental findings. Br. J. Anaesth. 111, 52–58 (2013).

Doehring, A. et al. Effect sizes in experimental pain produced by gender, genetic variants and sensitization procedures. PLoS ONE 6, e17724 (2011).

Giesler, G. J. Jr, Yezierski, R. P., Gerhart, K. D. & Willis, W. D. Spinothalamic tract neurons that project to medial and/or lateral thalamic nuclei: evidence for a physiologically novel population of spinal cord neurons. J. Neurophysiol. 46, 1285–1308 (1981).

Benabid, A. L. & Jeaugey, L. Cells of the rat lateral habenula respond to high-threshold somatosensory inputs. Neurosci. Lett. 96, 289–294 (1989).

Abdel Samad, O. et al. Characterization of two Runx1-dependent nociceptor differentiation programs necessary for inflammatory versus neuropathic pain. Mol. Pain 6, 45 (2010).

Kiasalari, Z. et al. Identification of perineal sensory neurons activated by innocuous heat. J. Comp. Neurol. 518, 137–162 (2010).

Chen, C. L. et al. Runx1 determines nociceptive sensory neuron phenotype and is required for thermal and neuropathic pain. Neuron 49, 365–377 (2006).
Acknowledgements
We thank Z. J. Huang, M. J. Zylka, M. Hoon, S. M. Dymecki and the Allen Brain Institute/the Jackson Laboratory for genetically modified mice; A. I. Basbaum, A. V. Apkarian and C. J. Woolf for constructive discussions; and Y. Liu and Z. He for viral reagents. The work was supported by National Institutes of Health grants to Q.M. (R01 DE018025) and to Q.M. and M.G. (R01 NS086372), a Wellcome Trust grant to Q.M. (200183/Z/15/Z), and a Research Fellowship (326726541) from the German Research Foundation (DFG) to N.M.M.
Reviewer information
Nature thanks F. Wang and the other anonymous reviewer(s) for their contribution to the peer review of this work.
Ethics declarations
Competing interests
The authors declare no competing interests.
Additional information
Publisher's note: Springer Nature remains neutral with regard to jurisdictional claims in published maps and institutional affiliations.
Extended data figures and tables
Supplementary information
The ventral surface of the left hindpaw skin was pinched by an alligator clip. Note the repetitive licking behavior in this control mouse.
About this article
Cite this article
Huang, T., Lin, SH., Malewicz, N.M. et al. Identifying the pathways required for coping behaviours associated with sustained pain. Nature 565, 86–90 (2019). https://doi.org/10.1038/s41586-018-0793-8
Received:

Accepted:

Published:

Issue Date:

DOI: https://doi.org/10.1038/s41586-018-0793-8
Keywords
Sustained Pain

Lateral Parabrachial Nucleus

MrgprD

Skin Pinch

Generalized Labelled Magnitude Scale (GLMS)
Comments
By submitting a comment you agree to abide by our Terms and Community Guidelines. If you find something abusive or that does not comply with our terms or guidelines please flag it as inappropriate.