Abstract
Cytokine release syndrome (CRS) is a life-threatening complication of several new immunotherapies used to treat cancers and autoimmune diseases1,2,3,4,5. Here we report that atrial natriuretic peptide can protect mice from CRS induced by such agents by reducing the levels of circulating catecholamines. Catecholamines were found to orchestrate an immunodysregulation resulting from oncolytic bacteria and lipopolysaccharide through a self-amplifying loop in macrophages. Myeloid-specific deletion of tyrosine hydroxylase inhibited this circuit. Cytokine release induced by T-cell-activating therapeutic agents was also accompanied by a catecholamine surge and inhibition of catecholamine synthesis reduced cytokine release in vitro and in mice. Pharmacologic catecholamine blockade with metyrosine protected mice from lethal complications of CRS resulting from infections and various biotherapeutic agents including oncolytic bacteria, T-cell-targeting antibodies and CAR-T cells. Our study identifies catecholamines as an essential component of the cytokine release that can be modulated by specific blockers without impairing the therapeutic response.
Access options
Subscribe to Journal
Get full journal access for 1 year
$199.00
only $3.90 per issue
All prices are NET prices.
VAT will be added later in the checkout.
Rent or Buy article
Get time limited or full article access on ReadCube.
from$8.99
All prices are NET prices.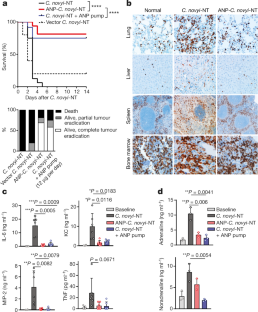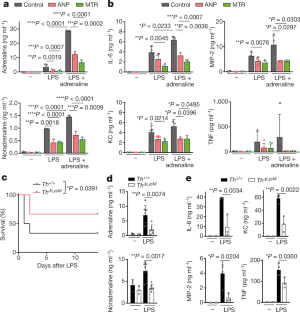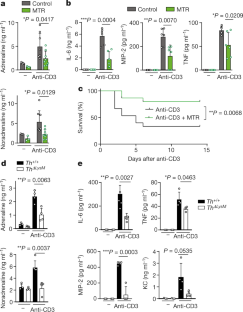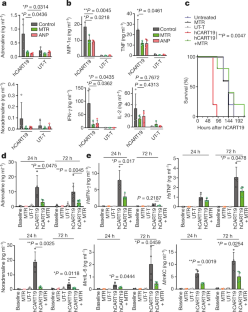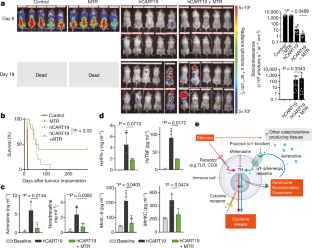 Data availability
Source Data are provided for Figs. 1a, 2c, 3c, 4c, 5b and Extended Data Figs. 1a, 2a, b, 3a, b, 5a, 6a, 7a, 7d, 9h and 10d. The remaining datasets generated during this study are available from the corresponding authors on reasonable request. Unique materials such as the C. novyi strains are available on request to the corresponding authors. The transgenic mouse models and mouse CART constructs used in the study are made available through the original publishing authors.
References
1.

van der Poll, T., van de Veerdonk, F. L., Scicluna, B. P. & Netea, M. G. The immunopathology of sepsis and potential therapeutic targets. Nat. Rev. Immunol. 17, 407–420 (2017).

2.

Hansel, T. T., Kropshofer, H., Singer, T., Mitchell, J. A. & George, A. J. The safety and side effects of monoclonal antibodies. Nat. Rev. Drug Discov. 9, 325–338 (2010).

3.

Rommelfanger, D. M. et al. The efficacy versus toxicity profile of combination virotherapy and TLR immunotherapy highlights the danger of administering TLR agonists to oncolytic virus-treated mice. Mol. Ther. 21, 348–357 (2013).

4.

Maude, S. L., Barrett, D., Teachey, D. T. & Grupp, S. A. Managing cytokine release syndrome associated with novel T cell-engaging therapies. Cancer J. 20, 119–122 (2014).

5.

Parker, B. S., Rautela, J. & Hertzog, P. J. Antitumour actions of interferons: implications for cancer therapy. Nat. Rev. Cancer 16, 131–144 (2016).

6.

Agrawal, N. et al. Bacteriolytic therapy can generate a potent immune response against experimental tumors. Proc. Natl Acad. Sci. USA 101, 15172–15177 (2004).

7.

Peters van Ton, A. M., Kox, M., Abdo, W. F. & Pickkers, P. Precision immunotherapy for sepsis. Front. Immunol. 9, 1926 (2018).

8.

Weber, G. F. et al. Interleukin-3 amplifies acute inflammation and is a potential therapeutic target in sepsis. Science 347, 1260–1265 (2015).

9.

Vollmar, A. M. The role of atrial natriuretic peptide in the immune system. Peptides 26, 1086–1094 (2005).

10.

Kuehne, S. A. & Minton, N. P. ClosTron-mediated engineering of Clostridium. Bioengineered 3, 247–254 (2012).

11.

Burke, J. R. et al. BMS-345541 is a highly selective inhibitor of I kappa B kinase that binds at an allosteric site of the enzyme and blocks NF-kappa B-dependent transcription in mice. J. Biol. Chem. 278, 1450–1456 (2003).

12.

Johnson, J. D. et al. Catecholamines mediate stress-induced increases in peripheral and central inflammatory cytokines. Neuroscience 135, 1295–1307 (2005).

13.

Flierl, M. A. et al. Phagocyte-derived catecholamines enhance acute inflammatory injury. Nature 449, 721–725 (2007).

14.

Shaked, I. et al. Transcription factor Nr4a1 couples sympathetic and inflammatory cues in CNS-recruited macrophages to limit neuroinflammation. Nat. Immunol. 16, 1228–1234 (2015).

15.

Clausen, B. E., Burkhardt, C., Reith, W., Renkawitz, R. & Förster, I. Conditional gene targeting in macrophages and granulocytes using LysMcre mice. Transgenic Res. 8, 265–277 (1999).

16.

Zheng, J. H. et al. Two-step enhanced cancer immunotherapy with engineered Salmonella typhimurium secreting heterologous flagellin. Sci. Transl. Med. 9, eaak9537 (2017).

17.

Surbatovic, M. et al. Cytokine profile in severe Gram-positive and Gram-negative abdominal sepsis. Sci. Rep. 5, 11355 (2015).

18.

Sevmis, S. et al. OKT3 treatment for steroid-resistant acute rejection in kidney transplantation. Transplant. Proc. 37, 3016–3018 (2005).

19.

Neelapu, S. S. et al. Chimeric antigen receptor T-cell therapy - assessment and management of toxicities. Nat. Rev. Clin. Oncol. (2017).

20.

Giavridis, T. et al. CAR T cell-induced cytokine release syndrome is mediated by macrophages and abated by IL-1 blockade. Nat. Med. 24, 731–738 (2018).

21.

Norelli, M. et al. Monocyte-derived IL-1 and IL-6 are differentially required for cytokine-release syndrome and neurotoxicity due to CAR T cells. Nat. Med. 24, 739–748 (2018).

22.

Gill, S. et al. Preclinical targeting of human acute myeloid leukemia and myeloablation using chimeric antigen receptor-modified T cells. Blood 123, 2343–2354 (2014).

23.

Ninomiya, S. et al. Tumor indoleamine 2,3-dioxygenase (IDO) inhibits CD19-CAR T cells and is downregulated by lymphodepleting drugs. Blood 125, 3905–3916 (2015).

24.

Wunderlich, M. et al. A xenograft model of macrophage activation syndrome amenable to anti-CD33 and anti-IL-6R treatment. JCI Insight 1, e88181 (2016).

25.

Flierl, M. A. et al. Upregulation of phagocyte-derived catecholamines augments the acute inflammatory response. PLoS One 4, e4414 (2009).

26.

Bao, J. Y., Huang, Y., Wang, F., Peng, Y. P. & Qiu, Y. H. Expression of α-AR subtypes in T lymphocytes and role of the α-ARs in mediating modulation of T cell function. Neuroimmunomodulation 14, 344–353 (2007).

27.

Jackson, C. R. et al. Retinal dopamine mediates multiple dimensions of light-adapted vision. J. Neurosci. 32, 9359–9368 (2012).

28.

Corrodi, H. & Hanson, L. C. Central effects of an inhibitor of tyrosine hydroxylation. Psychopharmacologia 10, 116–125 (1966).

29.

Bettegowda, C. et al. The genome and transcriptomes of the anti-tumor agent Clostridium novyi-NT. Nat. Biotechnol. 24, 1573–1580 (2006).

30.

Lofton, C. E., Newman, W. H. & Currie, M. G. Atrial natriuretic peptide regulation of endothelial permeability is mediated by cGMP. Biochem. Biophys. Res. Commun. 172, 793–799 (1990).

31.

Zhang, X., Goncalves, R. & Mosser, D. M. The isolation and characterization of murine macrophages. Curr. Protoc. Immunol. https://doi.org/10.1002/0471142735.im1401s83 (2008).

32.

Rittirsch, D., Flierl, M. A. & Ward, P. A. Harmful molecular mechanisms in sepsis. Nat. Rev. Immunol. 8, 776–787 (2008).

33.

Berahovich, R. et al. FLAG-tagged CD19-specific CAR-T cells eliminate CD19-bearing solid tumor cells in vitro and in vivo. Front. Biosci. 22, 1644–1654 (2017).

34.

Davila, M. L., Kloss, C. C., Gunset, G. & Sadelain, M. CD19 CAR-targeted T cells induce long-term remission and B cell aplasia in an immunocompetent mouse model of B cell acute lymphoblastic leukemia. PLoS One 8, e61338 (2013).

35.

Lee, J., Sadelain, M. & Brentjens, R. Retroviral transduction of murine primary T lymphocytes. Methods Mol. Biol. 506, 83–96 (2009).
Acknowledgements
We thank N. Minton, C. Brayton, K. Kammers, D. Pardoll, Z. Li, E. Watson, C. Thoburn, S. Roy and N. Forbes-McBean for scientific and technical support. This work was supported by NINDS R25NS065729 (V.S.), NCI 1K08CA230179-01 (V.S.), Francis S. Collins Scholar Program (V.S.), DHART-SPORE IN4689861JHU (V.S.), 1R03CA178118-01A1 (R.-Y.B.), BVD (S.Z, R.-Y.B.), the Virginia and D.K. Ludwig Fund for Cancer Research (N.P., K.W.K., B.V., S.Z.), the BKI at Johns Hopkins, and CA062924 (S.Z.).
Reviewer information
Nature thanks K. Tracey and the anonymous reviewer(s) for their contribution to the peer review of this work.
Ethics declarations
Competing interests
A patent application on CRS prevention listing V.S., R.-Y.B., G.J.R., K.W.K., N.P., S.Z. and B.V. as co-inventors has been provisionally filed by Johns Hopkins University. Under a licensing agreement between BVD Inc. and Johns Hopkins University, K.W.K., B.V. and S.Z. are entitled to a share of royalties managed by Johns Hopkins University. B.V., K.W.K. and NP are members of the Scientific Advisory Board of Sysmex and are founders of PapGene and Personal Genome Diagnostics. B.V. is also an advisor to Camden Partners. The terms of all these arrangements are managed by Johns Hopkins University in accordance with its conflict of interest policies. P.B.R. serves on Merck's board of directors.
Additional information
Publisher's note: Springer Nature remains neutral with regard to jurisdictional claims in published maps and institutional affiliations.
Extended data figures and tables
Supplementary information
About this article
Cite this article
Staedtke, V., Bai, R., Kim, K. et al. Disruption of a self-amplifying catecholamine loop reduces cytokine release syndrome. Nature 564, 273–277 (2018). https://doi.org/10.1038/s41586-018-0774-y
Received:

Accepted:

Published:

Issue Date:
Keywords
Cytokine Release Syndrome (CRS)

Atrial Natriuretic Peptide

Spore Injection

Epinephrine Detection

Luminal Entry
Comments
By submitting a comment you agree to abide by our Terms and Community Guidelines. If you find something abusive or that does not comply with our terms or guidelines please flag it as inappropriate.