Abstract
Although the hippocampus is known to be important for declarative memory, it is less clear how hippocampal output regulates motivated behaviours, such as social aggression. Here we report that pyramidal neurons in the CA2 region of the hippocampus, which are important for social memory, promote social aggression in mice. This action depends on output from CA2 to the lateral septum, which is selectively enhanced immediately before an attack. Activation of the lateral septum by CA2 recruits a circuit that disinhibits a subnucleus of the ventromedial hypothalamus that is known to trigger attack. The social hormone arginine vasopressin enhances social aggression by acting on arginine vasopressin 1b receptors on CA2 presynaptic terminals in the lateral septum to facilitate excitatory synaptic transmission. In this manner, release of arginine vasopressin in the lateral septum, driven by an animal's internal state, may serve as a modulatory control that determines whether CA2 activity leads to declarative memory of a social encounter and/or promotes motivated social aggression.
Relevant articles
Open Access articles citing this article.
Tsung-Chih Tsai

,

Yi-Syuan Fang

…

Kuei-Sen Hsu

Journal of Biomedical Science Open Access 10 July 2022

James W. Fawcett

,

Marianne Fyhn

…

Barbara A. Sorg

Molecular Psychiatry Open Access 27 June 2022

Antoine Besnard

&

Felix Leroy

Molecular Psychiatry Open Access 18 May 2022
Access options
Subscribe to Nature+
Get immediate online access to the entire Nature family of 50+ journals
Subscribe to Journal
Get full journal access for 1 year
$199.00
only $3.90 per issue
All prices are NET prices.
VAT will be added later in the checkout.
Tax calculation will be finalised during checkout.
Buy article
Get time limited or full article access on ReadCube.
$32.00
All prices are NET prices.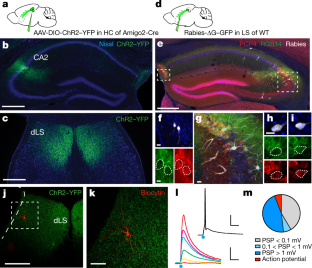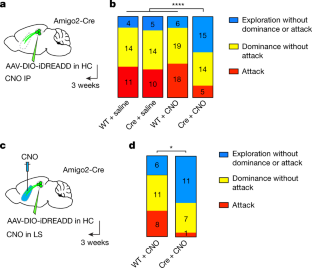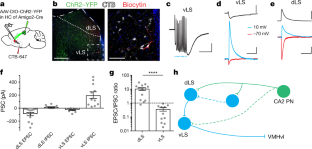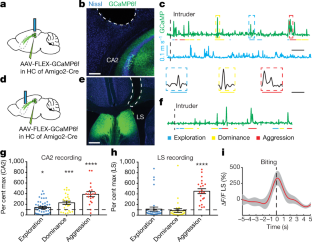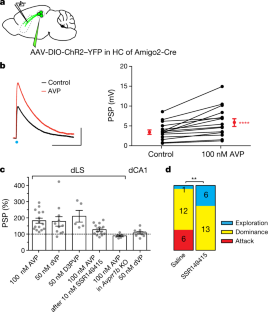 Data availability
All analysed data supporting this study are presented in the form of graphs. All raw records used in the analysis are available from the corresponding author in response to reasonable requests.
References
Anderson, D. J. Circuit modules linking internal states and social behaviour in flies and mice. Nat. Rev. Neurosci. 17, 692–704 (2016).

Hashikawa, K., Hashikawa, Y., Falkner, A. & Lin, D. The neural circuits of mating and fighting in male mice. Curr. Opin. Neurobiol. 38, 27–37 (2016).

Lin, D. et al. Functional identification of an aggression locus in the mouse hypothalamus. Nature 470, 221–226 (2011).

Falkner, A. L., Grosenick, L., Davidson, T. J., Deisseroth, K. & Lin, D. Hypothalamic control of male aggression-seeking behavior. Nat. Neurosci. 19, 596–604 (2016).

Brady, J. V. & Nauta, W. J. H. Subcortical mechanisms in emotional behavior: affective changes following septal forebrain lesions in the albino rat. J. Comp. Physiol. Psychol. 46, 339–346 (1953).

Wong, L. C. et al. Effective modulation of male aggression through lateral septum to medial hypothalamus projection. Curr. Biol. 26, 593–604 (2016).

Risold, P. Y. & Swanson, L. W. Chemoarchitecture of the rat lateral septal nucleus. Brain Res. Brain Res. Rev. 24, 91–113 (1997).

Risold, P. Y. & Swanson, L. W. Connections of the rat lateral septal complex. Brain Res. Brain Res. Rev. 24, 115–195 (1997).

Zhou, T. et al. History of winning remodels thalamo-PFC circuit to reinforce social dominance. Science 357, 162–168 (2017).

Williamson, C. M., Lee, W. & Curley, J. P. Temporal dynamics of social hierarchy formation and maintenance in male mice. Anim. Behav. 115, 259–272 (2016).

Lorente De Nó, R. Studies on the structure of the cerebral cortex. II. Continuation of the study of the ammonic system. J. Psychol. Neurol. 46, 113–177 (1934).

Dudek, S. M., Alexander, G. M. & Farris, S. Rediscovering area CA2: unique properties and functions. Nat. Rev. Neurosci. 17, 89–102 (2016).

Hitti, F. L. & Siegelbaum, S. A. The hippocampal CA2 region is essential for social memory. Nature 508, 88–92 (2014).

Stevenson, E. L. & Caldwell, H. K. Lesions to the CA2 region of the hippocampus impair social memory in mice. Eur. J. Neurosci. 40, 3294–3301 (2014).

Young, W. S., Li, J., Wersinger, S. R. & Palkovits, M. The vasopressin 1b receptor is prominent in the hippocampal area CA2 where it is unaffected by restraint stress or adrenalectomy. Neuroscience 143, 1031–1039 (2006).

Pagani, J. H. et al. Role of the vasopressin 1b receptor in rodent aggressive behavior and synaptic plasticity in hippocampal area CA2. Mol. Psychiatry 20, 490–499 (2015).

Cui, Z., Gerfen, C. R. & Young, W. S. III Hypothalamic and other connections with dorsal CA2 area of the mouse hippocampus. J. Comp. Neurol. 521, 1844–1866 (2013).

Alonso, J. R. & Frotscher, M. Organization of the septal region in the rat brain: a Golgi/EM study of lateral septal neurons. J. Comp. Neurol. 286, 472–487 (1989).

Allaman-Exertier, G., Reymond-Marron, I., Tribollet, E. & Raggenbass, M. Vasopressin modulates lateral septal network activity via two distinct electrophysiological mechanisms. Eur. J. Neurosci. 26, 2633–2642 (2007).

Evans, P. R., Lee, S. E., Smith, Y. & Hepler, J. R. Postnatal developmental expression of regulator of G protein signaling 14 (RGS14) in the mouse brain. J. Comp. Neurol. 522, 186–203 (2014).

Kohara, K. et al. Cell type-specific genetic and optogenetic tools reveal hippocampal CA2 circuits. Nat. Neurosci. 17, 269–279 (2014).

Tamamaki, N., Abe, K. & Nojyo, Y. Three-dimensional analysis of the whole axonal arbors originating from single CA2 pyramidal neurons in the rat hippocampus with the aid of a computer graphic technique. Brain Res. 452, 255–272 (1988).

Meira, T. et al. A hippocampal circuit linking dorsal CA2 to ventral CA1 critical for social memory dynamics. Nat. Commun. 9, 4163 (2018).

Koolhaas, J. M. et al. The resident-intruder paradigm: a standardized test for aggression, violence and social stress. J. Vis. Exp. 4367, e4367 (2013).

Blanchard, R. J. & Blanchard, D. C. Aggressive behavior in the rat. Behav. Biol. 21, 197–224 (1977).

Takahashi, A., Quadros, I. M., de Almeida, R. M. M. & Miczek, K. A. in Current Topics in Behavioral Neurosciences vol. 12 (eds Cryan, J. & Reif, A.) 73–138 (Springer, Berlin, 2011).

Toth, M., Fuzesi, T., Halasz, J., Tulogdi, A. & Haller, J. Neural inputs of the hypothalamic "aggression area" in the rat. Behav. Brain Res. 215, 7–20 (2010).

Swanson, L. W. & Cowan, W. M. The connections of the septal region in the rat. J. Comp. Neurol. 186, 621–655 (1979).

Ugolini, G. Advances in viral transneuronal tracing. J. Neurosci. Methods 194, 2–20 (2010).

Lee, H. et al. Scalable control of mounting and attack by Esr1+ neurons in the ventromedial hypothalamus. Nature 509, 627–632 (2014).

Hashikawa, K. et al. Esr1+ cells in the ventromedial hypothalamus control female aggression. Nat. Neurosci. 20, 1580–1590 (2017).

Connor, J. L. & Lynds, P. G. Mouse aggression and the intruder-familiarity effect: evidence for multiple-factor determination c57bl. J. Comp. Physiol. Psychol. 91, 270–280 (1977).

Szenczi, P., Bánszegi, O., Groó, Z. & Altbäcker, V. Development of the social behavior of two mice species with contrasting social systems. Aggress. Behav. 38, 288–297 (2012).

Smith, A. S., Williams Avram, S. K., Cymerblit-Sabba, A., Song, J. & Young, W. S. Targeted activation of the hippocampal CA2 area strongly enhances social memory. Mol. Psychiatry 21, 1137–1144 (2016).

Gal, C. S.-L. et al. An overview of SSR149415, a selective nonpeptide vasopressin V1b receptor antagonist for the treatment of stress-related disorders. CNS Drug Rev. 11, 53–68 (2006).

Blanchard, R. J. et al. AVP V1b selective antagonist SSR149415 blocks aggressive behaviors in hamsters. Pharmacol. Biochem. Behav. 80, 189–194 (2005).

Okuyama, T., Kitamura, T., Roy, D. S., Itohara, S. & Tonegawa, S. Ventral CA1 neurons store social memory. Science 353, 1536–1541 (2016).

Nakazawa, K. et al. Requirement for hippocampal CA3 NMDA receptors in associative memory recall. Science 297, 211–218 (2002).

Wersinger, S. R., Ginns, E. I., O'Carroll, A.-M., Lolait, S. J. & Young, W. S., III. Vasopressin V1b receptor knockout reduces aggressive behavior in male mice. Mol. Psychiatry 7, 975–984 (2002).

Berndt, A. et al. High-efficiency channelrhodopsins for fast neuronal stimulation at low light levels. Proc. Natl Acad. Sci. USA 108, 7595–7600 (2011).

Urban, D. J. & Roth, B. L. DREADDs (designer receptors exclusively activated by designer drugs): chemogenetic tools with therapeutic utility. Annu. Rev. Pharmacol. Toxicol. 55, 399–417 (2015).

Chen, T.-W. et al. Ultrasensitive fluorescent proteins for imaging neuronal activity. Nature 499, 295–300 (2013).

Callaway, E. M. & Luo, L. Monosynaptic circuit tracing with glycoprotein-deleted rabies viruses. J. Neurosci. 35, 8979–8985 (2015).

Renier, N. et al. Mapping of brain activity by automated volume analysis of immediate early genes. Cell 165, 1789–1802 (2016).

Leroy, F., Brann, D. H., Meira, T. & Siegelbaum, S. A. Input-timing-dependent plasticity in the hippocampal CA2 region and its potential role in social memory. Neuron 95, 1089–1102.e5 (2017).

Kikusui, T. in Pheromone Signaling. Methods in Molecular Biology (ed. Touhara, K.) 307–318 (Humana, Totowa, 2013).

Lerner, T. N. et al. Intact-brain analyses reveal distinct information carried by SNc dopamine subcircuits. Cell 162, 635–647 (2015).

Gunaydin, L. A. et al. Natural neural projection dynamics underlying social behavior. Cell 157, 1535–1551 (2014).

Kohl, J. et al. Functional circuit architecture underlying parental behaviour. Nature 556, 326–331 (2018).

Watson, C. & Paxinos, G. Paxinos and Franklin's the Mouse Brain in Stereotaxic Coordinates 4th edn (Academic, 2012).

Swanson, L. W., Sawchenko, P. E. & Cowan, W. M. Evidence that the commissural, associational and septal projections of the regio inferior of the hippocampus arise from the same neurons. Brain Res. 197, 207–212 (1980).
Acknowledgements
We thank N. Renier, the Rockefeller imaging center and the laboratories of F. Polleux and T. Jessell for their help in creating Supplementary Video 1. We also thank R. Bruno, L. Herbaut and the members of the Siegelbaum laboratory for discussions. This work was supported by the R01 MH104602 and R01 MH106629 from NIH (S.A.S.), PD/BD/113700/2015 from the Portuguese Foundation for Science and Technology (T.M.), 5TL1TR001875-03 from NIH (E.W.B.) and the HHMI (E.R.K).
Reviewer information
Nature thanks S. Dudek, C. Gross and D. Lin for their contribution to the peer review of this work.
Ethics declarations
Competing interests
The authors declare no competing interests.
Additional information
Publisher's note: Springer Nature remains neutral with regard to jurisdictional claims in published maps and institutional affiliations.
Extended data figures and tables
Supplementary information
3D brain reconstruction from Amigo2-Cre mouse injected in dCA2 with rAAV5-EF1a-DIO-hChR2(E123T/T159C)-eYFP (3 mice) showing the dCA2 to LS projection. Brains were cleared using iDISCO. All experiments yielded similar results.
WT littermate mouse following infusion of CNO in dLS. Only behaviors observed for the resident (black mouse) are described (in italics) with our classification above. Note the progression from exploration to dominance and then attack. All resident-intruder tests were normally performed in low-light conditions with cage lid on, in an isolation chamber.
About this article
Cite this article
Leroy, F., Park, J., Asok, A. et al. A circuit from hippocampal CA2 to lateral septum disinhibits social aggression. Nature 564, 213–218 (2018). https://doi.org/10.1038/s41586-018-0772-0
Received:

Accepted:

Published:

Issue Date:

DOI: https://doi.org/10.1038/s41586-018-0772-0
Keywords
Social Aggression

Lateral Septum (LS)

Resident Intruder Test

Fiber Photometry

Secondary Incubation
Comments
By submitting a comment you agree to abide by our Terms and Community Guidelines. If you find something abusive or that does not comply with our terms or guidelines please flag it as inappropriate.