Abstract
The pancreas originates from two epithelial evaginations of the foregut, which consist of multipotent epithelial progenitors that organize into a complex tubular epithelial network. The trunk domain of each epithelial branch consists of bipotent pancreatic progenitors (bi-PPs) that give rise to both duct and endocrine lineages, whereas the tips give rise to acinar cells1. Here we identify the extrinsic and intrinsic signalling mechanisms that coordinate the fate-determining transcriptional events underlying these lineage decisions1,2. Single-cell analysis of pancreatic bipotent pancreatic progenitors derived from human embryonic stem cells reveal that cell confinement is a prerequisite for endocrine specification, whereas spreading drives the progenitors towards a ductal fate. Mechanistic studies identify the interaction of extracellular matrix (ECM) with integrin α5 as the extracellular cue that cell-autonomously, via the F-actin–YAP1–Notch mechanosignalling axis, controls the fate of bipotent pancreatic progenitors. Whereas ECM–integrin α5 signalling promotes differentiation towards the duct lineage, endocrinogenesis is stimulated when this signalling cascade is disrupted. This cascade can be disrupted pharmacologically or genetically to convert bipotent pancreatic progenitors derived from human embryonic stem cells to hormone-producing islet cells. Our findings identify the cell-extrinsic and intrinsic mechanotransduction pathway that acts as gatekeeper in the fate decisions of bipotent pancreatic progenitors in the developing pancreas.
Access options
Subscribe to Journal
Get full journal access for 1 year
$199.00
only $3.90 per issue
All prices are NET prices.
VAT will be added later in the checkout.
Rent or Buy article
Get time limited or full article access on ReadCube.
from$8.99
All prices are NET prices.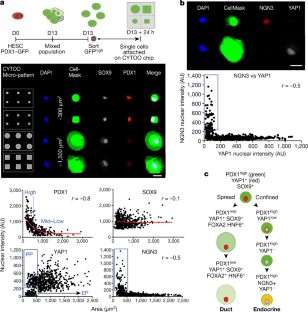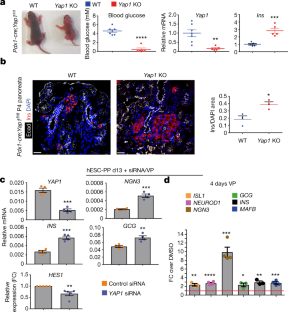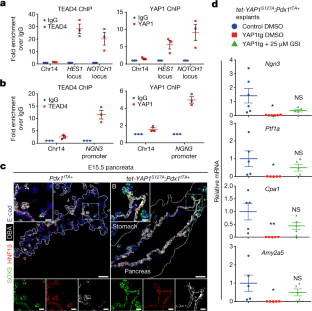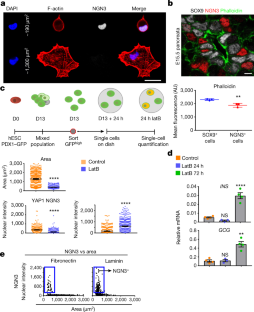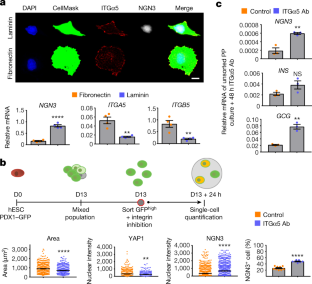 Data availability
The gene expression datasets generated from sorting E15.5 bipotent and endocrine progenitors (Extended Data Fig. 10e, f) have been deposited in the ArrayExpress database under accession code E-MTAB-6891.
References
1.

Shih, H. P., Wang, A. & Sander, M. Pancreas organogenesis: from lineage determination to morphogenesis. Annu. Rev. Cell Dev. Biol. 29, 81–105 (2013).

2.

Pan, F. C. & Wright, C. Pancreas organogenesis: from bud to plexus to gland. Dev. Dyn. 240, 530–565 (2011).

3.

Ameri, J. et al. Efficient generation of glucose-responsive beta cells from isolated GP2+ human pancreatic progenitors. Cell Reports 19, 36–49 (2017).

4.

Rezania, A. et al. Maturation of human embryonic stem cell-derived pancreatic progenitors into functional islets capable of treating pre-existing diabetes in mice. Diabetes 61, 2016–2029 (2012).

5.

Kilian, K. A., Bugarija, B., Lahn, B. T. & Mrksich, M. Geometric cues for directing the differentiation of mesenchymal stem cells. Proc. Natl Acad. Sci. USA 107, 4872–4877 (2010).

6.

Mosqueira, D. et al. Hippo pathway effectors control cardiac progenitor cell fate by acting as dynamic sensors of substrate mechanics and nanostructure. ACS Nano 8, 2033–2047 (2014).

7.

Warmflash, A., Sorre, B., Etoc, F., Siggia, E. D. & Brivanlou, A. H. A method to recapitulate early embryonic spatial patterning in human embryonic stem cells. Nat. Methods 11, 847–854 (2014).

8.

Dupont, S. et al. Role of YAP/TAZ in mechanotransduction. Nature 474, 179–183 (2011).

9.

Cebola, I. et al. TEAD and YAP regulate the enhancer network of human embryonic pancreatic progenitors. Nat. Cell Biol. 17, 615–626 (2015).

10.

George, N. M., Day, C. E., Boerner, B. P., Johnson, R. L. & Sarvetnick, N. E. Hippo signaling regulates pancreas development through inactivation of Yap. Mol. Cell. Biol. 32, 5116–5128 (2012).

11.

Hingorani, S. R. et al. Preinvasive and invasive ductal pancreatic cancer and its early detection in the mouse. Cancer Cell 4, 437–450 (2003).

12.

Zhang, N. et al. The Merlin/NF2 tumor suppressor functions through the YAP oncoprotein to regulate tissue homeostasis in mammals. Dev. Cell 19, 27–38 (2010).

13.

Kopp, J. L. et al. Sox9+ ductal cells are multipotent progenitors throughout development but do not produce new endocrine cells in the normal or injured adult pancreas. Development 138, 653–665 (2011).

14.

Liu-Chittenden, Y. et al. Genetic and pharmacological disruption of the TEAD–YAP complex suppresses the oncogenic activity of YAP. Genes Dev. 26, 1300–1305 (2012).

15.

Gao, T. et al. Hippo signaling regulates differentiation and maintenance in the exocrine pancreas. Gastroenterology 144, 1543–1553 (2013).

16.

Jansson, L. & Larsson, J. Normal hematopoietic stem cell function in mice with enforced expression of the Hippo signaling effector YAP1. PLoS ONE 7, e32013 (2012).

17.

Holland, A. M. & Hale, M. a, Kagami, H., Hammer, R. E. & MacDonald, R. J. Experimental control of pancreatic development and maintenance. Proc. Natl Acad. Sci. USA 99, 12236–12241 (2002).

18.

Zhao, B. L. L. and K.-L. G. Hippo signaling at a glance. J. Cell Sci. 126, 2135–2140 (2010).

19.

Murtaugh, L. C., Stanger, B. Z., Kwan, K. M. & Melton, D. A. Notch signaling controls multiple steps of pancreatic differentiation. Proc. Natl Acad. Sci. USA 100, 14920–14925 (2003).

20.

Hald, J. et al. Activated Notch1 prevents differentiation of pancreatic acinar cells and attenuate endocrine development. Dev. Biol. 260, 426–437 (2003).

21.

Totaro, A. et al. YAP/TAZ link cell mechanics to Notch signalling to control epidermal stem cell fate. Nat. Commun. 8, 15206 (2017).

22.

Lee, J. C. et al. Regulation of the pancreatic pro-endocrine gene Neurogenin3. Diabetes 50, 928–936 (2001).

23.

Beyer, T. A. et al. Switch enhancers interpret TGF-β and Hippo signaling to control cell fate in human embryonic stem cells. Cell Reports 5, 1611–1624 (2013).

24.

Kim, M., Kim, T., Johnson, R. L. & Lim, D.-S. Transcriptional co-repressor function of the Hippo pathway transducers YAP and TAZ. Cell Reports 11, 270–282 (2015).

25.

Horn, S. et al. Mind bomb 1 is required for pancreatic β-cell formation. Proc. Natl Acad. Sci. USA 109, 7356–7361 (2012).

26.

Halder, G., Dupont, S. & Piccolo, S. Transduction of mechanical and cytoskeletal cues by YAP and TAZ. Nat. Rev. Mol. Cell Biol. 13, 591–600 (2012).

27.

Zhao, B. et al. Cell detachment activates the Hippo pathway via cytoskeleton reorganization to induce anoikis. Genes Dev. 26, 54–68 (2012).

28.

Tian, B., Gabelt, B. T., Kaufman, P. L. & Geiger, B. in Encyclopedia of the Eye (ed. Dartt, D. A.) 549–555 (Academic, Cambridge, 2010).

29.

Afrikanova, I. et al. Inhibitors of Src and focal adhesion kinase promote endocrine specification: impact on the derivation of β-cells from human pluripotent stem cells. J. Biol. Chem. 286, 36042–36052 (2011).

30.

Huveneers, S. & Danen, E. H.J. Adhesion signaling—crosstalk between integrins, Src and Rho. J. Cell Sci. 122, 1059–1069 (2009).

31.

Cirulli, V. et al. Expression and function of αVβ3 and αVβ5 integrins in the developing pancreas: roles in the adhesion and migration of putative endocrine progenitor cells. J. Cell Biol. 150, 1445–1459 (2000).

32.

Zhou, Q. et al. A multipotent progenitor domain guides pancreatic organogenesis. Dev. Cell 13, 103–114 (2007).

33.

Seymour, P. A. et al. SOX9 is required for maintenance of the pancreatic progenitor cell pool. Proc. Natl Acad. Sci. USA 104, 1865–1870 (2007).

34.

Kim, Y. H. et al. Cell cycle-dependent differentiation dynamics balances growth and endocrine differentiation in the pancreas. PLoS Biol. 13, e1002111 (2015).

35.

Klinck, R. et al. A BAC transgenic Hes1-EGFP reporter reveals novel expression domains in mouse embryos. Gene Expr. Patterns 11, 415–426 (2011).

36.

Ritchie, M. E. et al. limma powers differential expression analyses for RNA-sequencing and microarray studies. Nucleic Acids Res. 43, e47 (2015).

37.

Rezania, A. et al. Enrichment of human embryonic stem cell-derived NKX6.1-expressing pancreatic progenitor cells accelerates the maturation of insulin-secreting cells in vivo. Stem Cells 31, 2432–2442 (2013).

38.

Löf-Öhlin, Z. M. et al. EGFR signaling controls cellular fate and pancreatic organogenesis by regulating apicobasal polarity. Nat. Cell Biol. 19, 1313–1325 (2017).

39.

Rezania, A. et al. Reversal of diabetes with insulin-producing cells derived in vitro from human pluripotent stem cells. Nat. Biotechnol. 32, 1121–1133 (2014).

40.

Kesavan, G. et al. Cdc42/N-WASP signaling links actin dynamics to pancreatic β cell delamination and differentiation. Development 141, 685–696 (2014).

41.

Kesavan, G. et al. Cdc42-mediated tubulogenesis controls cell specification. Cell 139, 791–801 (2009).

42.

Rodríguez-Fraticelli, A. E. et al. Developmental regulation of apical endocytosis controls epithelial patterning in vertebrate tubular organs. Nat. Cell Biol. 17, 241–250 (2015).

43.

Mamidi, A. et al. Signaling crosstalk between TGFβ and Dishevelled/Par1b. Cell Death Differ. 19, 1689–1697 (2012).

44.

Dupont, S. et al. FAM/USP9x, a deubiquitinating enzyme essential for TGFβ signaling, controls Smad4 monoubiquitination. Cell 136, 123–135 (2009).

45.

Funa, N. S. et al. β-catenin regulates primitive streak induction through collaborative interactions with SMAD2/SMAD3 and OCT4. Cell Stem Cell 16, 639–652 (2015).

46.

Stein, C. et al. YAP1 exerts its transcriptional control via TEAD-mediated activation of enhancers. PLoS Genet. 11, e1005465 (2015).

47.

Parreno, J. et al. Expression of type I collagen and tenascin C is regulated by actin polymerization through MRTF in dedifferentiated chondrocytes. FEBS Lett. 588, 3677–3684 (2014).

48.

Schiller, H. B. et al. β1- and αv-class integrins cooperate to regulate myosin II during rigidity sensing of fibronectin-based microenvironments. Nat. Cell Biol. 15, 625–636 (2013).
Acknowledgements
We thank D. Pan for Yap1 floxed mice, L. Jansson and J. Larsson for Tet-O-Yap1 mice, Y. H. Kim and A. Grapin-Botton for Ngn3-RFP mice, Beta Cell Biology Consortium (1 UO1 DK089570-01) for supplying antibodies, J. P. Larsen and S. S. E. Christine for assistance with human pluripotent stem cell expansion and differentiation experiments, G. de la Cruz and P. van Dieken (DanStem FACS core facility), J. Bulkescher (DanStem Imaging core facility), and G. Karemore for assistance with image analysis and statistics. We thank D. Kluver Hansen and A. Stiehm for technical assistance. A.M. is a recipient of a post-doctoral fellowship from Lundbeck Foundation (R151-2013-14359). H.S. and P.S. are recipients of grant HumEn project funded by the European Commission´s Seventh Framework Programme for Research (agreement 602587). P.S. received a grant from Novo Nordisk Foundation (NNF10717), H.S. also received grants from the Lundbeck Foundation (R100-A9422) and the Danish Council for Independent Research (ID: DFF—1331-00310A), Danish Council for Strategic Research. The Novo Nordisk Foundation Center for Stem Cell Biology is supported by a Novo Nordisk Foundation grant number NNF17CC0027852.
Reviewer information
Nature thanks F. Spagnoli and the other anonymous reviewer(s) for their contribution to the peer review of this work.
Ethics declarations
Competing interests
A.M. and H.S. are named as inventors in international patent application (WO2016170067A1), which is based on this work. The other authors declare no competing interests.
Additional information
Publisher's note: Springer Nature remains neutral with regard to jurisdictional claims in published maps and institutional affiliations.
Extended data figures and tables
Supplementary information
This file contains the uncropped gel source data scans.
: Whole-mount immuno-staining of E12.5 control and Yap Tg pancreata Whole-mount immuno-staining of E12.5 control and Yap Tg pancreata for Sox9 (green) and Muc1 (red) with DAPI (blue); scale bar, 20 μm. Maximum intensity projections of 40x magnification confocal z-stacks are shown for each genotype. Videos are representative of three Control and Yap Tg pancreata analyzed.
About this article
Cite this article
Mamidi, A., Prawiro, C., Seymour, P.A. et al. Mechanosignalling via integrins directs fate decisions of pancreatic progenitors. Nature 564, 114–118 (2018). https://doi.org/10.1038/s41586-018-0762-2
Received:

Accepted:

Published:

Issue Date:
Keywords
Pancreatic Progenitor

Endocrine Lineages

Ngn3 Promoter

YAP Activity

Dolichos Biflorus Agglutinin (DBA)
Comments
By submitting a comment you agree to abide by our Terms and Community Guidelines. If you find something abusive or that does not comply with our terms or guidelines please flag it as inappropriate.