Abstract
Dysfunctional T cells in the tumour microenvironment have abnormally high expression of PD-1 and antibody inhibitors against PD-1 or its ligand (PD-L1) have become commonly used drugs to treat various types of cancer1,2,3,4. The clinical success of these inhibitors highlights the need to study the mechanisms by which PD-1 is regulated. Here we report a mechanism of PD-1 degradation and the importance of this mechanism in anti-tumour immunity in preclinical models. We show that surface PD-1 undergoes internalization, subsequent ubiquitination and proteasome degradation in activated T cells. FBXO38 is an E3 ligase of PD-1 that mediates Lys48-linked poly-ubiquitination and subsequent proteasome degradation. Conditional knockout of Fbxo38 in T cells did not affect T cell receptor and CD28 signalling, but led to faster tumour progression in mice owing to higher levels of PD-1 in tumour-infiltrating T cells. Anti-PD-1 therapy normalized the effect of FBXO38 deficiency on tumour growth in mice, which suggests that PD-1 is the primary target of FBXO38 in T cells. In human tumour tissues and a mouse cancer model, transcriptional levels of FBXO38 and Fbxo38, respectively, were downregulated in tumour-infiltrating T cells. However, IL-2 therapy rescued Fbxo38 transcription and therefore downregulated PD-1 levels in PD-1+ T cells in mice. These data indicate that FBXO38 regulates PD-1 expression and highlight an alternative method to block the PD-1 pathway.
This is a preview of subscription content
Access options
Subscribe to Journal
Get full journal access for 1 year
$199.00
only $3.90 per issue
All prices are NET prices.
VAT will be added later in the checkout.
Tax calculation will be finalised during checkout.
Rent or Buy article
Get time limited or full article access on ReadCube.
from$8.99
All prices are NET prices.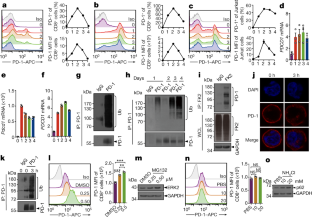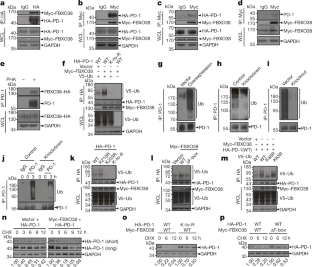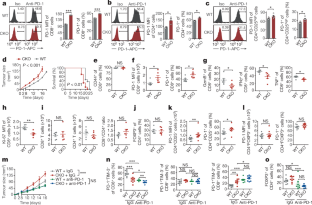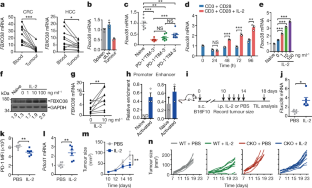 References
1.

Ishida, Y., Agata, Y., Shibahara, K. & Honjo, T. Induced expression of PD-1, a novel member of the immunoglobulin gene superfamily, upon programmed cell death. EMBO J. 11, 3887–3895 (1992).

2.

Dong, H. et al. Tumor-associated B7-H1 promotes T-cell apoptosis: a potential mechanism of immune evasion. Nat. Med. 8, 793–800 (2002).

3.

Iwai, Y. et al. Involvement of PD-L1 on tumor cells in the escape from host immune system and tumor immunotherapy by PD-L1 blockade. Proc. Natl Acad. Sci. USA 99, 12293–12297 (2002).

4.

Sharma, P. & Allison, J. P. The future of immune checkpoint therapy. Science 348, 56–61 (2015).

5.

Oestreich, K. J., Yoon, H., Ahmed, R. & Boss, J. M. NFATc1 regulates PD-1 expression upon T cell activation. J. Immunol. 181, 4832–4839 (2008).

6.

Kao, C. et al. Transcription factor T-bet represses expression of the inhibitory receptor PD-1 and sustains virus-specific CD8+ T cell responses during chronic infection. Nat. Immunol. 12, 663–671 (2011).

7.

Xiao, G., Deng, A., Liu, H., Ge, G. & Liu, X. Activator protein 1 suppresses antitumor T-cell function via the induction of programmed death 1. Proc. Natl Acad. Sci. USA 109, 15419–15424 (2012).

8.

Staron, M. M. et al. The transcription factor FoxO1 sustains expression of the inhibitory receptor PD-1 and survival of antiviral CD8+ T cells during chronic infection. Immunity 41, 802–814 (2014).

9.

Mathieu, M., Cotta-Grand, N., Daudelin, J.-F., Thébault, P. & Labrecque, N. Notch signaling regulates PD-1 expression during CD8+ T-cell activation. Immunol. Cell Biol. 91, 82–88 (2013).

10.

Youngblood, B. et al. Chronic virus infection enforces demethylation of the locus that encodes PD-1 in antigen-specific CD8+ T cells. Immunity 35, 400–412 (2011).

11.

Stephen, T. L. et al. SATB1 expression governs epigenetic repression of PD-1 in tumor-reactive T cells. Immunity 46, 51–64 (2017).

12.

Burr, M. L. et al. CMTM6 maintains the expression of PD-L1 and regulates anti-tumour immunity. Nature 549, 101–105 (2017).

13.

Li, C.-W. et al. Glycosylation and stabilization of programmed death ligand-1 suppresses T-cell activity. Nat. Commun. 7, 12632 (2016).

14.

Zhao, J. et al. F-box protein FBXL19-mediated ubiquitination and degradation of the receptor for IL-33 limits pulmonary inflammation. Nat. Immunol. 13, 651–658 (2012).

15.

Skaar, J. R., Pagan, J. K. & Pagano, M. SCF ubiquitin ligase-targeted therapies. Nat. Rev. Drug Discov. 13, 889–903 (2014).

16.

Komander, D. & Rape, M. The ubiquitin code. Annu. Rev. Biochem. 81, 203–229 (2012).

17.

Singer, M. et al. A distinct gene module for dysfunction uncoupled from activation in tumor-infiltrating T cells. Cell 166, 1500–1511 (2016).

18.

Paley, M. A. et al. Progenitor and terminal subsets of CD8+ T cells cooperate to contain chronic viral infection. Science 338, 1220–1225 (2012).

19.

Im, S. J. et al. Defining CD8+ T cells that provide the proliferative burst after PD-1 therapy. Nature 537, 417–421 (2016).

20.

Wei, S. C. et al. Distinct cellular mechanisms underlie anti-CTLA-4 and anti-PD-1 checkpoint blockade. Cell 170, 1120–1133 (2017).

21.

Mitra, S. & Leonard, W. J. Biology of IL-2 and its therapeutic modulation: mechanisms and strategies. J. Leukoc. Biol. 103, 643–655 (2018).

22.

Thommen, D. S. & Schumacher, T. N. T cell dysfunction in cancer. Cancer Cell 33, 547–562 (2018).

23.

Krieg, C., Létourneau, S., Pantaleo, G. & Boyman, O. Improved IL-2 immunotherapy by selective stimulation of IL-2 receptors on lymphocytes and endothelial cells. Proc. Natl Acad. Sci. USA 107, 11906–11911 (2010).

24.

Zhu, E. F. et al. Synergistic innate and adaptive immune response to combination immunotherapy with anti-tumor antigen antibodies and extended serum half-life IL-2. Cancer Cell 27, 489–501 (2015).

25.

Rosenberg, S. A. IL-2: the first effective immunotherapy for human cancer. J. Immunol. 192, 5451–5458 (2014).

26.

West, E. E. et al. PD-L1 blockade synergizes with IL-2 therapy in reinvigorating exhausted T cells. J. Clin. Invest. 123, 2604–2615 (2013).

27.

Yang, W. et al. Potentiating the antitumour response of CD8+ T cells by modulating cholesterol metabolism. Nature 531, 651–655 (2016).

28.

Zhou, P. et al. In vivo discovery of immunotherapy targets in the tumour microenvironment. Nature 506, 52–57 (2014).

29.

Gao, Y. et al. Inflammation negatively regulates FOXP3 and regulatory T-cell function via DBC1. Proc. Natl Acad. Sci. USA 112, E3246–E3254 (2015).

30.

Yang, X. P. et al. Opposing regulation of the locus encoding IL-17 through direct, reciprocal actions of STAT3 and STAT5. Nat. Immunol. 12, 247–254 (2011).
Acknowledgements
We thank C. Li for biochemical support; Y. Gao and B. Li for providing FOXP3-expressing Jurkat cells; A. Bietz for proofreading; X. Shi, C. Yan and J. Zhang for discussion; Genome Tagging Project (GTP) Center, Animal facility and Cell Biology facility of SIBCB for technical support. C.X. is funded by NSFC grants (31530022, 31425009, 31621003), CAS grants (Strategic Priority Research Program XDB08020100, XDB29000000; Facility-based Open Research Program; QYZDB-SSW-SMC048), STSMC 16JC1404800 and the Ten Thousand Talent Program 'National Program for Support of Top-notch Young Professionals' of China.
Reviewer information
Nature thanks R. Deshaies, W. Ouyang, K. Paukan and the other anonymous reviewer(s) for their contribution to the peer review of this work.
Ethics declarations
Competing interests
The authors declare no competing interests.
Additional information
Publisher's note: Springer Nature remains neutral with regard to jurisdictional claims in published maps and institutional affiliations.
Extended data figures and tables
Supplementary information
About this article
Cite this article
Meng, X., Liu, X., Guo, X. et al. FBXO38 mediates PD-1 ubiquitination and regulates anti-tumour immunity of T cells. Nature 564, 130–135 (2018). https://doi.org/10.1038/s41586-018-0756-0
Received:

Accepted:

Published:

Issue Date:
Keywords
HEK293FT Cells

Negative Selection Magnetic Bead

Fbxo7 Expression

FBXO7 Gene

Jurkat Cells
Comments
By submitting a comment you agree to abide by our Terms and Community Guidelines. If you find something abusive or that does not comply with our terms or guidelines please flag it as inappropriate.