Abstract
Many carbon allotropes can act as host materials for reversible lithium uptake1,2, thereby laying the foundations for existing and future electrochemical energy storage. However, insight into how lithium is arranged within these hosts is difficult to obtain from a working system. For example, the use of in situ transmission electron microscopy3,4,5 to probe light elements (especially lithium)6,7 is severely hampered by their low scattering cross-section for impinging electrons and their susceptibility to knock-on damage8. Here we study the reversible intercalation of lithium into bilayer graphene by in situ low-voltage transmission electron microscopy, using both spherical and chromatic aberration correction9 to enhance contrast and resolution to the required levels. The microscopy is supported by electron energy-loss spectroscopy and density functional theory calculations. On their remote insertion from an electrochemical cell covering one end of the long but narrow bilayer, we observe lithium atoms to assume multi-layered close-packed order between the two carbon sheets. The lithium storage capacity associated with this superdense phase far exceeds that expected from formation of LiC6, which is the densest configuration known under normal conditions for lithium intercalation within bulk graphitic carbon10. Our findings thus point to the possible existence of distinct storage arrangements of ions in two-dimensional layered materials as compared to their bulk parent compounds.
Access options
Subscribe to Journal
Get full journal access for 1 year
$199.00
only $3.90 per issue
All prices are NET prices.
VAT will be added later in the checkout.
Rent or Buy article
Get time limited or full article access on ReadCube.
from$8.99
All prices are NET prices.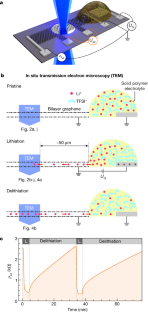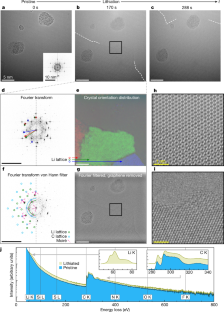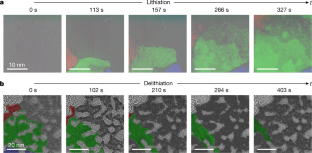 Data availability
The data that support the findings of this study are available from the corresponding authors on request.
References
1.

Winter, M. & Besenhard, J. O. In Handbook of Battery Materials 2nd edn (eds Daniel, C. & Besenhard, J. O.) 433–478 (Wiley-VCH, Weinheim, 2011).

2.

Kaskhedikar, N. A. & Maier, J. Lithium storage in carbon nanostructures. Adv. Mater. 21, 2664–2680 (2009).

3.

Zheng, H., Meng, Y. S. & Zhu, Y. Frontiers of in situ electron microscopy. MRS Bull. 40, 12–18 (2015).

4.

Qian, D., Ma, C., More, K. L., Meng, Y. S. & Chi, M. Advanced analytical electron microscopy for lithium-ion batteries. NPG Asia Mater. 7, e193 (2015).

5.

Liu, X. H. et al. In situ TEM experiments of electrochemical lithiation and delithiation of individual nanostructures. Adv. Energy Mater. 2, 722–741 (2012).

6.

Shao-Horn, Y., Croguennec, L., Delmas, C., Nelson, E. C. & O'Keefe, M. A. Atomic resolution of lithium ions in LiCoO2. Nat. Mater. 2, 464–467 (2003).

7.

Oshima, Y. & Murakami, Y. (eds) Microscopy 66 (Challenges for Lithium Detection special issue), 1–61 (2017).

8.

Reimer, L. & Kohl, H. Transmission Electron Microscopy (Springer Series in Optical Sciences, Springer, New York, 2008).

9.

Linck, M. et al. Chromatic aberration correction for atomic resolution TEM imaging from 20 to 80 kV. Phys. Rev. Lett. 117, 076101 (2016).

10.

Enoki, T., Suzuki, M. & Endo, M. Graphite Intercalation Compounds and Applications (Oxford Univ. Press, New York, 2003).

11.

Yu, Y. et al. Gate-tunable phase transitions in thin flakes of 1T-TaS2. Nat. Nanotechnol. 10, 270–276 (2015).

12.

Bediako, D. K. et al. Heterointerface effects in the electrointercalation of van der Waals heterostructures. Nature 558, 425–429 (2018).

13.

Kühne, M. et al. Ultrafast lithium diffusion in bilayer graphene. Nat. Nanotechnol. 12, 895–900 (2017).

14.

Meyer, J. C. et al. Accurate measurement of electron beam induced displacement cross sections for single-layer graphene. Phys. Rev. Lett. 108, 196102 (2012).

15.

Mauchamp, V., Boucher, F., Ouvrand, G. & Moreau, P. Ab initio simulation of the electron energy-loss near-edge structures at the Li K edge in Li, Li2O, and LiMn2O4. Phys. Rev. B 74, 115106 (2006).

16.

Wang, F. et al. Chemical distribution and bonding of lithium in intercalated graphite: identification with optimized electron energy loss spectroscopy. ACS Nano 5, 1190–1197 (2011).

17.

Lru, D.-R. & Williams, D. B. The electron-energy-loss spectrum of lithium metal. Phil. Mag. B 53, L123–L128 (1986).

18.

Hightower, A., Ahn, C. C., Fultz, B. & Rez, P. Electron energy-loss spectrometry on lithiated graphite. Appl. Phys. Lett. 77, 238–240 (2000).

19.

Liu, X. H. et al. In situ transmission electron microscopy of electrochemical lithiation, delithiation and deformation of individual graphene nanoribbons. Carbon 50, 3836–3844 (2012).

20.

Wyckoff, R. W. G. Crystal Structures Vol. 1, 2nd edn (Wiley & Sons, 1963).

21.

Ackland, G. J. et al. Quantum and isotope effects in lithium metal. Science 356, 1254–1259 (2017).

22.

Sugawara, K., Kanetani, K., Sato, R. & Takahashi, T. Fabrication of Li-intercalated bilayer graphene. AIP Adv. 1, 022103 (2011).

23.

Yuk, J. M. et al. High-resolution EM of colloidal nanocrystal growth using graphene liquid cells. Science 336, 61–64 (2012).

24.

Sato, K., Noguchi, M., Demachi, A., Oki, N. & Endo, M. A mechanism of lithium storage in disordered carbons. Science 264, 556–558 (1994).

25.

Deschamps, M. & Yazami, R. Great reversible capacity of carbon lithium electrode in solid polymer electrolyte. J. Power Sources 68, 236–238 (1997).

26.

Wang, Q. et al. Investigation of lithium storage in bamboo-like CNTs by HRTEM. J. Electrochem. Soc. 150, A1281–A1286 (2003).

27.

Lee, B.-S. et al. Face-centered-cubic lithium crystals formed in mesopores of carbon nanofiber electrodes. ACS Nano 7, 5801–5807 (2013).

28.

Kambe, N. et al. Intercalate ordering in first stage graphite-lithium. Mater. Sci. Eng. 40, 1–4 (1979).

29.

Okamoto, H. In Binary Alloy Phase Diagrams Vol. 1, 2nd edn (eds Massalski, T. B., Okamoto, H., Subramanian, P. R. & Kacprzak, L.) 857 (ASM International, Ohio, 1990).

30.

Lin, D. et al. Layered reduced graphene oxide with nanoscale interlayer gaps as a stable host for lithium metal anodes. Nat. Nanotechnol. 11, 626–632 (2016).

31.

Novoselov, K. S. et al. Electric field effect in atomically thin carbon films. Science 306, 666–669 (2004).

32.

Ferrari, A. C. et al. Raman spectrum of graphene and graphene layers. Phys. Rev. Lett. 97, 187401 (2006).

33.

Dean, C. R. et al. Boron nitride substrates for high-quality graphene electronics. Nat. Nanotechnol. 5, 722–726 (2010).

34.

Nair, J. R., Gerbaldi, C., Destro, M., Bongiovanni, R. & Penazzi, N. Methacrylic-based solid polymer electrolyte membranes for lithium-based batteries by a rapid UV-curing process. React. Funct. Polym. 71, 409–416 (2011).

35.

Moser, J., Barreiro, A. & Bachtold, A. Current-induced cleaning of graphene. Appl. Phys. Lett. 91, 163513 (2007).

36.

Haider, M., Hartel, P., Müller, H., Uhlemann, S. & Zach, J. Information transfer in a TEM corrected for spherical and chromatic aberration. Microsc. Microanal. 16, 393–408 (2010).

37.

Malis, T., Cheng, S. C. & Egerton, R. F. EELS log-ratio technique for specimen-thickness measurement in the TEM. J. Electron Microsc. Tech. 8, 193–200 (1988).

38.

Kresse, G. & Furthmüller, J. Efficient iterative schemes for ab initio total-energy calculations using a plane-wave basis set. Phys. Rev. B 54, 11169–11186 (1996).

39.

Kresse, G. & Joubert, D. From ultrasoft pseudopotentials to the projector augmented-wave method. Phys. Rev. B 59, 1758–1775 (1999).

40.

Perdew, J. P., Burke, K. & Ernzerhof, M. Generalized gradient approximation made simple. Phys. Rev. Lett. 77, 3865–3868 (1996).

41.

Björkman, T. Van der Waals density functional for solids. Phys. Rev. B 86, 165109 (2012).

42.

Monkhorst, H. J. & Pack, J. D. Special points for Brillouin-zone integrations. Phys. Rev. B 13, 5188–5192 (1976).

43.

Momma, K. & Izumi, F. VESTA: a three-dimensional visualization system for electronic and structural analysis. J. Appl. Cryst. 41, 653–658 (2008).

44.

Virtual NanoLab v. 2016.4 www.quantumwise.com (QuantumWise, 2016).

45.

Nelhiebel, M. et al. Theory of orientation-sensitive near-edge fine-structure core-level spectroscopy. Phys. Rev. B 59, 12807 (1999).

46.

Blaha, P., Schwarz, K., Madsen, G. K. H., Kvaniscka, D. & Luitz, J. WIEN2k, an Augmented Plane Wave + Local Orbitals Program for Calculating Crystal Properties (ed. Schwarz, K.) (Techn. Universität Wien, Austria, 2001).

47.

Schwarz, K. DFT calculations of solids with LAPW and WIEN2k. J. Solid State Chem. 176, 319–328 (2003).

48.

Persson, K., Hinuma, Y., Meng, Y. S., Van der Ven, A. & Ceder, G. Thermodynamic and kinetic properties of the Li-graphite system from first-principles calculations. Phys. Rev. B 82, 125416 (2010).

49.

Thinius, S., Islam, M. M., Heitjans, P. & Bredow, T. Theoretical study of Li migration in lithium–graphite intercalation compounds with dispersion-corrected DFT methods. J. Phys. Chem. C 118, 2273–2280 (2014).

50.

Ganesh, P. et al. Binding and diffusion of lithium in graphite: quantum Monte Carlo benchmarks and validation of van der Waals density functional methods. J. Chem. Theory Comput. 10, 5318–5323 (2014).

51.

Leggesse, E. G., Chen, C.-L. & Jiang, J.-C. Lithium diffusion in graphene and graphite: Effect of edge morphology. Carbon 103, 209–216 (2016).

52.

Mandeltort, L. & Yates, J. T. Rapid atomic Li surface diffusion and intercalation on graphite: a surface science study. J. Phys. Chem. C 116, 24962–24967 (2012).
Acknowledgements
We acknowledge financial support from the Baden-Württemberg Stiftung gGmbH (project CT 5) and from the European Union Graphene Flagship. We are grateful to FEI/ThermoFisher Scientific for providing drawings and specifications of the NanoEx-i/v holder. F.B., J.B. and U.K. acknowledge funding from the German Research Foundation (DFG) and the Ministry of Science, Research and the Arts (MWK) of the federal state of Baden-Württemberg, Germany, in the frame of the SALVE project. A.V.K. thanks the Academy of Finland for support under project number 286279 and the DFG under project KR 4866/1-1. The theoretical study of Li diffusion (A.V.K.) was supported by the Russian Science Foundation (project identifier, 17-72-20223). We thank K. v. Klitzing for discussions and support and J. Popovic for useful comments on the manuscript. We acknowledge CSC Finland and PRACE (HLRS, Stuttgart, Germany) for generous grants of CPU time.
Reviewer information
Nature thanks I. Honma and the other anonymous reviewer(s) for their contribution to the peer review of this work.
Ethics declarations
Competing interests
The authors declare no competing interests.
Additional information
Publisher's note: Springer Nature remains neutral with regard to jurisdictional claims in published maps and institutional affiliations.
Extended data figures and tables
Supplementary information
TEM image sequence TEM image sequence showing the propagation front of a Li crystal forming inside bilayer graphene during lithiation
About this article
Cite this article
Kühne, M., Börrnert, F., Fecher, S. et al. Reversible superdense ordering of lithium between two graphene sheets. Nature 564, 234–239 (2018). https://doi.org/10.1038/s41586-018-0754-2
Received:

Accepted:

Published:

Issue Date:
Keywords
Graphene Sheets

Bilayer Graphene

Reversible Intercalation

Electron Energy-loss Spectroscopy (EELS)

Electron Energy Loss Near-edge Structure (ELNES)
Comments
By submitting a comment you agree to abide by our Terms and Community Guidelines. If you find something abusive or that does not comply with our terms or guidelines please flag it as inappropriate.