Abstract
Human pluripotent cell lines hold enormous promise for the development of cell-based therapies. Safety, however, is a crucial prerequisite condition for clinical applications. Numerous groups have attempted to eliminate potentially harmful cells through the use of suicide genes1, but none has quantitatively defined the safety level of transplant therapies. Here, using genome-engineering strategies, we demonstrate the protection of a suicide system from inactivation in dividing cells. We created a transcriptional link between the suicide gene herpes simplex virus thymidine kinase (HSV-TK) and a cell-division gene (CDK1); this combination is designated the safe-cell system. Furthermore, we used a mathematical model to quantify the safety level of the cell therapy as a function of the number of cells that is needed for the therapy and the type of genome editing that is performed. Even with the highly conservative estimates described here, we anticipate that our solution will rapidly accelerate the entry of cell-based medicine into the clinic.
Relevant articles
Open Access articles citing this article.
Sandra Petrus-Reurer

,

Marco Romano

…

Kourosh Saeb-Parsy

Communications Biology Open Access 25 June 2021

Shadab Abadpour

,

Chencheng Wang

…

Hanne Scholz

Current Transplantation Reports Open Access 25 June 2021

Isabelle R. de Luzy

,

Kevin C. L. Law

…

Clare L. Parish

Nature Communications Open Access 27 May 2021
Access options
Access Nature and 54 other Nature Portfolio journals
Get Nature+, our best-value online-access subscription
$29.99 per month
cancel any time
Subscribe to this journal
Receive 51 print issues and online access
$199.00 per year
only $3.90 per issue
Rent or buy this article
Get just this article for as long as you need it
$39.95
Prices may be subject to local taxes which are calculated during checkout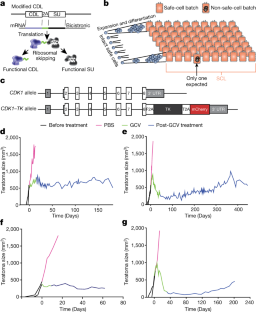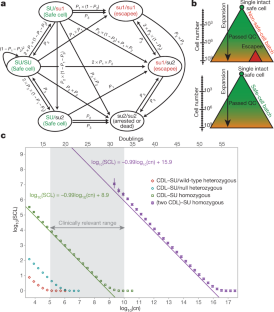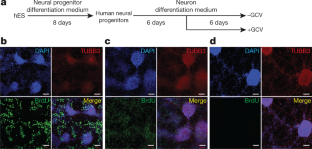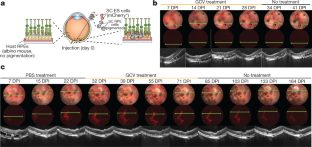 Data availability
The data that support the findings of this study are available from the corresponding author upon reasonable request.
References
Li, W. & Xiang, A. P. Safeguarding clinical translation of pluripotent stem cells with suicide genes. Organogenesis 9, 34–39 (2013).

Dobie, K., Mehtali, M., McClenaghan, M. & Lathe, R. Variegated gene expression in mice. Trends Genet. 13, 127–130 (1997).

Yagyu, S., Hoyos, V., Del Bufalo, F. & Brenner, M. K. Multiple mechanisms determine the sensitivity of human-induced pluripotent stem cells to the inducible caspase-9 safety switch. Mol. Ther. Methods Clin. Dev. 3, 16003–16008 (2016).

Kotini, A. G., de Stanchina, E., Themeli, M., Sadelain, M. & Papapetrou, E. P. Escape mutations, ganciclovir resistance, and teratoma formation in human iPSCs expressing an HSVtk suicide gene. Mol. Ther. Nucleic Acids 5, e284 (2016).

Preuß, E. et al. TK.007: A novel, codon-optimized HSVtk(A168H) mutant for suicide gene therapy. Hum. Gene Ther. 21, 929–941 (2010).

Diril, M. K. et al. Cyclin-dependent kinase 1 (Cdk1) is essential for cell division and suppression of DNA re-replication but not for liver regeneration. Proc. Natl Acad. Sci. USA 109, 3826–3831 (2012).

Santamaría, D. et al. Cdk1 is sufficient to drive the mammalian cell cycle. Nature 448, 811–815 (2007).

Satyanarayana, A. et al. Genetic substitution of Cdk1 by Cdk2 leads to embryonic lethality and loss of meiotic function of Cdk2. Development 135, 3389–3400 (2008).

Fillat, C., Carrió, M., Cascante, A. & Sangro, B. Suicide gene therapy mediated by the herpes simplex virus thymidine kinase gene/ganciclovir system: fifteen years of application. Curr. Gene Ther. 3, 13–26 (2003).

Tomicic, M. T., Thust, R. & Kaina, B. Ganciclovir-induced apoptosis in HSV-1 thymidine kinase expressing cells: critical role of DNA breaks, Bcl-2 decline and caspase-9 activation. Oncogene 21, 2141–2153 (2002).

Berger, C., Flowers, M. E., Warren, E. H. & Riddell, S. R. Analysis of transgene-specific immune responses that limit the in vivo persistence of adoptively transferred HSV-TK-modified donor T cells after allogeneic hematopoietic cell transplantation. Blood 107, 2294–2302 (2006).

Gertsenstein, M. et al. Efficient generation of germ line transmitting chimeras from C57BL/6N ES cells by aggregation with outbred host embryos. PLoS ONE 5, e11260 (2010).

Thomson, J. A. et al. Embryonic stem cell lines derived from human blastocysts. Science 282, 1145–1147 (1998).

The International Stem Cell Initiative. Characterization of human embryonic stem cell lines by the International Stem Cell Initiative. Nat. Biotechnol. 25, 803–816 (2007).

Damjanov, I. & Andrews, P. W. Teratomas produced from human pluripotent stem cells xenografted into immunodeficient mice - a histopathology atlas. Int. J. Dev. Biol. 60, 337–419 (2016).

Wu, S. M. & Hochedlinger, K. Harnessing the potential of induced pluripotent stem cells for regenerative medicine. Nat. Cell Biol. 13, 497–505 (2011).

Bianconi, E. et al. An estimation of the number of cells in the human body. Ann. Hum. Biol. 40, 463–471 (2013).

Mesnil, M. & Yamasaki, H. Bystander effect in herpes simplex virus-thymidine kinase/ganciclovir cancer gene therapy: role of gap-junctional intercellular communication. Cancer Res. 60, 3989–3999 (2000).

Guy, C. T., Cardiff, R. D. & Muller, W. J. Induction of mammary tumors by expression of polyomavirus middle T oncogene: a transgenic mouse model for metastatic disease. Mol. Cell. Biol. 12, 954–961 (1992).

Cervantes, R. B., Stringer, J. R., Shao, C., Tischfield, J. A. & Stambrook, P. J. Embryonic stem cells and somatic cells differ in mutation frequency and type. Proc. Natl Acad. Sci. USA 99, 3586–3590 (2002).

Larson, J. S., Yin, M., Fischer, J. M., Stringer, S. L. & Stringer, J. R. Expression and loss of alleles in cultured mouse embryonic fibroblasts and stem cells carrying allelic fluorescent protein genes. BMC Mol. Biol. 7, 36 (2006).

Mortensen, R. M., Conner, D. A., Chao, S., Geisterfer-Lowrance, A. A. & Seidman, J. G. Production of homozygous mutant ES cells with a single targeting construct. Mol. Cell. Biol. 12, 2391–2395 (1992).

Koike, H. et al. Efficient biallelic mutagenesis with Cre/loxP-mediated inter-chromosomal recombination. EMBO Rep. 3, 433–437 (2002).

Yusa, K. et al. Genome-wide phenotype analysis in ES cells by regulated disruption of Bloom's syndrome gene. Nature 429, 896–899 (2004).

Schwartz, S. D. et al. Human embryonic stem cell-derived retinal pigment epithelium in patients with age-related macular degeneration and Stargardt's macular dystrophy: follow-up of two open-label phase 1/2 studies. Lancet 385, 509–516 (2015).

Mandai, M. et al. Autologous induced stem-cell-derived retinal cells for macular degeneration. N. Engl. J. Med. 376, 1038–1046 (2017).

Chong, J. J. H. et al. Human embryonic-stem-cell-derived cardiomyocytes regenerate non-human primate hearts. Nature 510, 273–277 (2014).

Barry, J., Hyllner, J., Stacey, G., Taylor, C. J. & Turner, M. Setting up a haplobank: issues and solutions. Curr. Stem Cell Rep. 1, 110–117 (2015).

Cong, L. et al. Multiplex genome engineering using CRISPR/Cas systems. Science 339, 819–823 (2013).

Behringer, R., Gertsenstein, M., Nagy, K. V. & Nagy, A. Manipulating the Mouse Embryo: A Laboratory Manual 4th edn (Cold Spring Harbor Laboratory Press, Cold Spring Harbor, 2013).

Mereau, A., Grey, L., Piquet-Pellorce, C. & Heath, J. K. Characterization of a binding protein for leukemia inhibitory factor localized in extracellular matrix. J. Cell Biol. 122, 713–719 (1993).

Park, J., Kusminski, C. M., Chua, S. C. & Scherer, P. E. Leptin receptor signaling supports cancer cell metabolism through suppression of mitochondrial respiration in vivo. Am. J. Pathol. 177, 3133–3144 (2010).

Klimanskaya, I. et al. Derivation and comparative assessment of retinal pigment epithelium from human embryonic stem cells using transcriptomics. Cloning Stem Cells 6, 217–245 (2004).

Sun, X. et al. Directed differentiation of human embryonic stem cells into thymic epithelial progenitor-like cells reconstitutes the thymic microenvironment in vivo. Cell Stem Cell 13, 230–236 (2013).

Luria, S. E. & Delbrück, M. Mutations of bacteria from virus sensitivity to virus resistance. Genetics 28, 491–511 (1943).

Capizzi, R. L. & Jameson, J. W. A table for the estimation of the spontaneous mutation rate of cells in culture. Mutat. Res. 17, 147–148 (1973).

Luo, G. et al. Cancer predisposition caused by elevated mitotic recombination in Bloom mice. Nat. Genet. 26, 424–429 (2000).

Monnat, R. J. Jr. Molecular analysis of spontaneous hypoxanthine phosphoribosyltransferase mutations in thioguanine-resistant HL-60 human leukemia cells. Cancer Res. 49, 81–87 (1989).

Green, M. H. L., O'Neill, J. P. & Cole, J. Suggestions concerning the relationship between mutant frequency and mutation rate at the hprt locus in human peripheral T-lymphocytes. Mutat. Res. 334, 323–339 (1995).

Biancotti, J.-C. et al. The in vitro survival of human monosomies and trisomies as embryonic stem cells. Stem Cell Res. 9, 218–224 (2012).
Acknowledgements
We thank the TCP Transgenic Core and M. Gertsenstein for mouse line derivation; A. Bang for flow cytometry; the TCP Pathology Core and K. Harpal for histology analysis; M. Kownacka for providing MEFs; M. S. Shoichet for HAMC; N. Mitrousis for qPCR primers; S. Nurk for advice on Monte Carlo simulation; I. P. Michael, P. D. Tonge, B. V. Varga, C. He and R. El-Rass for experimental advice and J. S. Harding and K. C. Davidson for their proofreading of the manuscript, to J. S. Harding for the artwork in Fig. 4. This work was supported by CIHR Foundation Grant, Foundation Fighting Blindness, Canadian Research Chair and Medicine by Design (University of Toronto) funding to A.N.
Reviewer information
Nature thanks A. Hewitt, T. J. Kieffer and the other anonymous reviewer(s) for their contribution to the peer review of this work.
Ethics declarations
Competing interests
A.N., C.M. and Q.L. are inventors on a patent application covering the SC technology (PCT/CA2016/050256). A.N. is a co-founder and shareholder of panCELLa Inc. C.M. is a senior scientist at panCELLa Inc. The other authors declare no competing interests.
Additional information
Publisher's note: Springer Nature remains neutral with regard to jurisdictional claims in published maps and institutional affiliations.
Extended data figures and tables
Supplementary information
About this article
Cite this article
Liang, Q., Monetti, C., Shutova, M.V. et al. Linking a cell-division gene and a suicide gene to define and improve cell therapy safety. Nature 563, 701–704 (2018). https://doi.org/10.1038/s41586-018-0733-7
Received:

Accepted:

Published:

Issue Date:

DOI: https://doi.org/10.1038/s41586-018-0733-7
Keywords
Suicide System

Transcriptional Link

Suicide Gene Herpes Simplex

CRISPR Vector

Teratoma Assay
Comments
By submitting a comment you agree to abide by our Terms and Community Guidelines. If you find something abusive or that does not comply with our terms or guidelines please flag it as inappropriate.