Abstract
The sensory cells that are responsible for hearing include the cochlear inner hair cells (IHCs) and outer hair cells (OHCs), with the OHCs being necessary for sound sensitivity and tuning1. Both cell types are thought to arise from common progenitors; however, our understanding of the factors that control the fate of IHCs and OHCs remains limited. Here we identify Ikzf2 (which encodes Helios) as an essential transcription factor in mice that is required for OHC functional maturation and hearing. Helios is expressed in postnatal mouse OHCs, and in the cello mouse model a point mutation in Ikzf2 causes early-onset sensorineural hearing loss. Ikzf2cello/cello OHCs have greatly reduced prestin-dependent electromotile activity, a hallmark of OHC functional maturation, and show reduced levels of crucial OHC-expressed genes such as Slc26a5 (which encodes prestin) and Ocm. Moreover, we show that ectopic expression of Ikzf2 in IHCs: induces the expression of OHC-specific genes; reduces the expression of canonical IHC genes; and confers electromotility to IHCs, demonstrating that Ikzf2 can partially shift the IHC transcriptome towards an OHC-like identity.
Access options
Subscribe to Journal
Get full journal access for 1 year
$199.00
only $3.90 per issue
All prices are NET prices.
VAT will be added later in the checkout.
Rent or Buy article
Get time limited or full article access on ReadCube.
from$8.99
All prices are NET prices.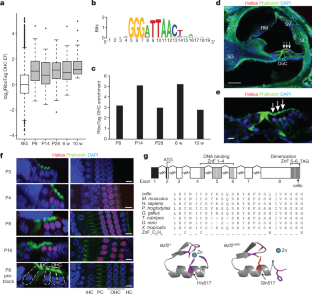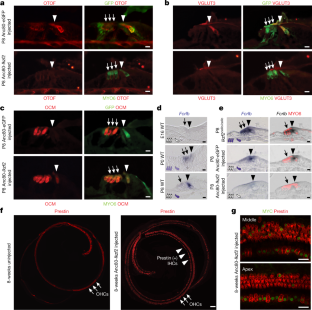 Data availability
The RiboTag OHC RNA-seq, P8 cello cochlea RNA-seq, and P8 Anc80-Ikzf2 and Anc80-eGFP injected cochlea scRNA-seq data have been submitted to the Gene Expression Omnibus (GEO) database under accessions GSE116703, GSE116702 and GSE120462, and are also available for viewing through the gEAR portal (https://umgear.org/).
References
1.

Dallos, P. et al. Prestin-based outer hair cell motility is necessary for mammalian cochlear amplification. Neuron 58, 333–339 (2016).

2.

Ehret, G. Development of absolute auditory thresholds in the house mouse (Mus musculus). J. Am. Audiol. Soc. 1, 179–184 (1976).

3.

Bielefeld, E. C., Tanaka, C., Chen, G. D. & Henderson, D. Age-related hearing loss: is it a preventable condition? Hear. Res. 264, 98–107 (2010).

4.

World Health Organization. Deafness and Hearing Loss; available at: http://www.who.int/mediacentre/factsheets/fs300/en/ (2018).

5.

Mittal, R. et al. Recent advancements in the regeneration of auditory hair cells and hearing restoration. Front. Mol. Neurosci. 10, 236 (2017).

6.

Fang, J. et al. Outer hair cell-specific prestin-CreERT2 knockin mouse lines. Genesis 50, 124–131 (2012).

7.

Sanz, E. et al. Cell-type-specific isolation of ribosome-associated mRNA from complex tissues. Proc. Natl Acad. Sci. USA 106, 13939–13944 (2009).

8.

Liu, H. et al. Characterization of transcriptomes of cochlear inner and outer hair cells. J. Neurosci. 34, 11085–11095 (2014).

9.

Elkon, R. et al. RFX transcription factors are essential for hearing in mice. Nat. Commun. 6, 8549 (2015).

10.

Hertzano, R. et al. Cell type-specific transcriptome analysis reveals a major role for Zeb1 and miR-200b in mouse inner ear morphogenesis. PLoS Genet. 7, e1002309 (2011).

11.

Janky, R. et al. iRegulon: from a gene list to a gene regulatory network using large motif and track collections. PLOS Comput. Biol. 10, e1003731 (2014).

12.

Potter, P. K. et al. Novel gene function revealed by mouse mutagenesis screens for models of age-related disease. Nat. Commun. 7, 12444 (2016).

13.

Ashmore, J. F. A fast motile response in guinea-pig outer hair cells: the cellular basis of the cochlear amplifier. J. Physiol. (Lond.) 388, 323–347 (1987).

14.

Brownell, W. E., Bader, C. R., Bertrand, D. & de Ribaupierre, Y. Evoked mechanical responses of isolated cochlear outer hair cells. Science 227, 194–196 (1985).

15.

Marcotti, W. & Kros, C. J. Developmental expression of the potassium current I K,n contributes to maturation of mouse outer hair cells. J. Physiol. (Lond.) 520, 653–660 (1999).

16.

Li, Y. et al. Transcription factors expressed in mouse cochlear inner and outer hair cells. PLoS One 11, e0151291 (2016).

17.

Zinn, E. et al. In silico reconstruction of the viral evolutionary lineage yields a potent gene therapy vector. Cell Reports 12, 1056–1068 (2015).

18.

Landegger, L. D. et al. A synthetic AAV vector enables safe and efficient gene transfer to the mammalian inner ear. Nat. Biotechnol. 35, 280–284 (2017).

19.

Roux, I. et al. Otoferlin, defective in a human deafness form, is essential for exocytosis at the auditory ribbon synapse. Cell 127, 277–289 (2006).

20.

Simmons, D. D., Tong, B., Schrader, A. D. & Hornak, A. J. Oncomodulin identifies different hair cell types in the mammalian inner ear. J. Comp. Neurol. 518, 3785–3802 (2010).

21.

Santos-Sacchi, J. Reversible inhibition of voltage-dependent outer hair cell motility and capacitance. J. Neurosci. 11, 3096–3110 (1991).

22.

Zheng, J. et al. Prestin is the motor protein of cochlear outer hair cells. Nature 405, 149–155 (2000).

23.

Caberlotto, E. et al. Usher type 1G protein sans is a critical component of the tip-link complex, a structure controlling actin polymerization in stereocilia. Proc. Natl Acad. Sci. USA 108, 5825–5830 (2011).

24.

Johnson, K. R., Zheng, Q. Y. & Noben-Trauth, K. Strain background effects and genetic modifiers of hearing in mice. Brain Res. 1091, 79–88 (2006).

25.

Hoelter, S. M. et al. "Sighted C3H" mice—a tool for analysing the influence of vision on mouse behaviour? Front. Biosci. 13, 5810–5823 (2008).

26.

Kim, D. et al. TopHat2: accurate alignment of transcriptomes in the presence of insertions, deletions and gene fusions. Genome Biol. 14, R36 (2013).

27.

Anders, S., Pyl, P. T. & Huber, W. HTSeq—a Python framework to work with high-throughput sequencing data. Bioinformatics 31, 166–169 (2015).

28.

Anders, S. & Huber, W. Differential expression analysis for sequence count data. Genome Biol. 11, R106 (2010).

29.

Ulitsky, I. et al. Expander: from expression microarrays to networks and functions. Nat. Protocols 5, 303–322 (2010).

30.

Sharan, R., Maron-Katz, A. & Shamir, R. CLICK and EXPANDER: a system for clustering and visualizing gene expression data. Bioinformatics 19, 1787–1799 (2003).

31.

Shannon, P. et al. Cytoscape: a software environment for integrated models of biomolecular interaction networks. Genome Res. 13, 2498–2504 (2003).

32.

Adzhubei, I. A. et al. A method and server for predicting damaging missense mutations. Nat. Methods 7, 248–249 (2010).

33.

Choi, Y., Sims, G. E., Murphy, S., Miller, J. R. & Chan, A. P. Predicting the functional effect of amino acid substitutions and indels. PLoS One 7, e46688 (2012).

34.

Kumar, P., Henikoff, S. & Ng, P. C. Predicting the effects of coding non-synonymous variants on protein function using the SIFT algorithm. Nat. Protocols 4, 1073–1081 (2009).

35.

Källberg, M. et al. Template-based protein structure modeling using the RaptorX web server. Nat. Protocols 7, 1511–1522 (2012).

36.

Hardisty-Hughes, R. E., Parker, A. & Brown, S. D. M. A hearing and vestibular phenotyping pipeline to identify mouse mutants with hearing impairment. Nat. Protocols 5, 177–190 (2010).

37.

Mianné, J. et al. Correction of the auditory phenotype in C57BL/6N mice via CRISPR/Cas9-mediated homology directed repair. Genome Med. 8, 16 (2016).

38.

Codner, G. F. et al. Application of long single-stranded DNA donors in genome editing: generation and validation of mouse mutants. BMC Biol. 16, 70 (2018).

39.

Corns, L. F., Johnson, S. L., Kros, C. J. & Marcotti, W. Calcium entry into stereocilia drives adaptation of the mechanoelectrical transducer current of mammalian cochlear hair cells. Proc. Natl Acad. Sci. USA 111, 14918–14923 (2014).

40.

Santos-Sacchi, J. Determination of cell capacitance using the exact empirical solution of partial δY/δC m and its phase angle. Biophys. J. 87, 714–727 (2004).

41.

Santos-Sacchi, J. & Navarrete, E. Voltage-dependent changes in specific membrane capacitance caused by prestin, the outer hair cell lateral membrane motor. Pflugers Arch. 444, 99–106 (2002).

42.

Isgrig, K. et al. Gene therapy restores balance and auditory functions in a mouse model of usher syndrome. Mol. Ther. 25, 780–791 (2017).

43.

Finak, G. et al. MAST: a flexible statistical framework for assessing transcriptional changes and characterizing heterogeneity in single-cell RNA sequencing data. Genome Biol. 16, 278 (2015).

44.

Satija, R., Farrell, J. A., Gennert, D., Schier, A. F. & Regev, A. Spatial reconstruction of single-cell gene expression data. Nat. Biotechnol. 33, 495–502 (2015).

45.

Wickham, H. ggplot2: Elegant Graphics for Data Analysis (Springer, New York, 2009).

46.

Gaujoux, R. & Seoighe, C. A flexible R package for nonnegative matrix factorization. BMC Bioinformatics 11, 367 (2010).

47.

Geng, R. et al. Comprehensive expression of Wnt signaling pathway genes during development and maturation of the mouse cochlea. PLoS One 11, e0148339 (2016).
Acknowledgements
We thank L. Vizor, J. Sanderson and W. Chien for technical help and Z. Ahmed for comments on the manuscript. This work was supported by Action on Hearing Loss (G65 to M.R.B., R.H., W.M. and S.D.M.B.), Medical Research Council (MC_U142684175 to S.D.M.B.), Wellcome Trust (102892 to W.M.), NIDCD/NIH R01DC013817 and R01DC03544 (R.H.), DOD CDMRP MR130240 (R.H.), NIDCD/NIH T32DC00046 and F31DC016218 (M.S.M.), the Intramural Program at NIDCD DC000059 (M.W.K.), and NIDCD/NIH R01DC014658 (G.I.F.). S.L.J. is a Royal Society University Research Fellow. R.E. is a Faculty Fellow of the Edmond J. Safra Center for Bioinformatics at Tel Aviv University.
Reviewer information
Nature thanks M. Montcouquiol, B. Walters and the anonymous reviewer(s) for their contribution to the peer review of this work.
Ethics declarations
Competing interests
The authors declare no competing interests.
Additional information
Publisher's note: Springer Nature remains neutral with regard to jurisdictional claims in published maps and institutional affiliations.
Extended data figures and tables
Supplementary information
About this article
Cite this article
Chessum, L., Matern, M.S., Kelly, M.C. et al. Helios is a key transcriptional regulator of outer hair cell maturation. Nature 563, 696–700 (2018). https://doi.org/10.1038/s41586-018-0728-4
Received:

Accepted:

Published:

Issue Date:
Keywords
Outer Hair Cells (OHCs)

Helios

Inner Hair Cells (IHCs)

Prestin

Distortion Product Oto Acoustic Emissions (DPOAE)
Comments
By submitting a comment you agree to abide by our Terms and Community Guidelines. If you find something abusive or that does not comply with our terms or guidelines please flag it as inappropriate.