Abstract
Stomatal cell lineage is an archetypal example of asymmetric cell division (ACD), which is necessary for plant survival1,2,3,4. In Arabidopsis thaliana, the GLYCOGEN SYNTHASE KINASE3 (GSK3)/SHAGGY-like kinase BRASSINOSTEROID INSENSITIVE 2 (BIN2) phosphorylates both the mitogen-activated protein kinase (MAPK) signalling module5,6 and its downstream target, the transcription factor SPEECHLESS (SPCH)7, to promote and restrict ACDs, respectively, in the same stomatal lineage cell. However, the mechanisms that balance these mutually exclusive activities remain unclear. Here we identify the plant-specific protein POLAR as a stomatal lineage scaffold for a subset of GSK3-like kinases that confines them to the cytosol and subsequently transiently polarizes them within the cell, together with BREAKING OF ASYMMETRY IN THE STOMATAL LINEAGE (BASL), before ACD. As a result, MAPK signalling is attenuated, enabling SPCH to drive ACD in the nucleus. Moreover, POLAR turnover requires phosphorylation on specific residues, mediated by GSK3. Our study reveals a mechanism by which the scaffolding protein POLAR ensures GSK3 substrate specificity, and could serve as a paradigm for understanding regulation of GSK3 in plants.
Relevant articles
Open Access articles citing this article.
Xiaoyu Guo

,

Xue Ding

&

Juan Dong

Nature Communications Open Access 04 May 2022

Jonas Blomme

,

Ward Develtere

…

Thomas Jacobs

BMC Plant Biology Open Access 24 March 2022

Lu Wang

,

Dongmeng Li

…

Juan Dong

Nature Communications Open Access 10 January 2022
Access options
Subscribe to Nature+
Get immediate online access to the entire Nature family of 50+ journals
Subscribe to Journal
Get full journal access for 1 year
$199.00
only $3.90 per issue
All prices are NET prices.
VAT will be added later in the checkout.
Tax calculation will be finalised during checkout.
Buy article
Get time limited or full article access on ReadCube.
$32.00
All prices are NET prices.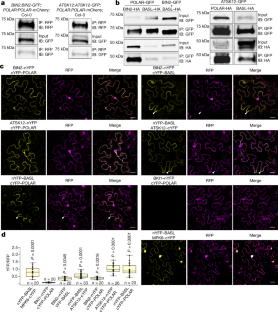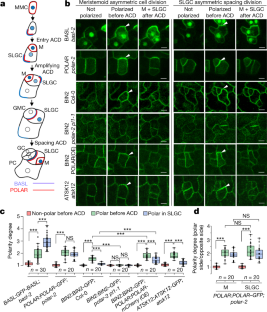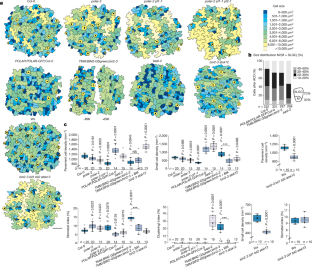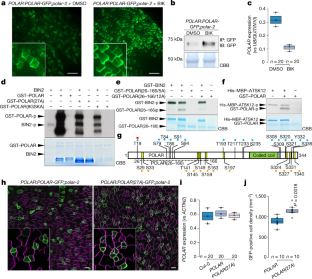 Data availability
The datasets and accession codes supporting the findings of this study are available within the paper and its Supplementary Information. Source Data (gels and graphs) for Figs. 1–4 and Extended Data Figs. 1–10 are provided with the online version of the paper. There is no restriction on data availability.
References
Pillitteri, L. J., Guo, X. & Dong, J. Asymmetric cell division in plants: mechanisms of symmetry breaking and cell fate determination. Cell. Mol. Life Sci. 73, 4213–4229 (2016).

Pillitteri, L. J. & Dong, J. Stomatal development in Arabidopsis. Arabidopsis Book 11, e0162 (2013).

MacAlister, C. A., Ohashi-Ito, K. & Bergmann, D. C. Transcription factor control of asymmetric cell divisions that establish the stomatal lineage. Nature 445, 537–540 (2007).

Pillitteri, L. J., Peterson, K. M., Horst, R. J. & Torii, K. U. Molecular profiling of stomatal meristemoids reveals new component of asymmetric cell division and commonalities among stem cell populations in Arabidopsis. Plant Cell 23, 3260–3275 (2011).

Kim, T.-W., Michniewicz, M., Bergmann, D. C. & Wang, Z.-Y. Brassinosteroid regulates stomatal development by GSK3-mediated inhibition of a MAPK pathway. Nature 482, 419–422 (2012).

Khan, M. et al. Brassinosteroid-regulated GSK3/Shaggy-like kinases phosphorylate mitogen-activated protein (MAP) kinase kinases, which control stomata development in Arabidopsis thaliana. J. Biol. Chem. 288, 7519–7527 (2013).

Gudesblat, G. E. et al. SPEECHLESS integrates brassinosteroid and stomata signalling pathways. Nat. Cell Biol. 14, 548–554 (2012).

Lampard, G. R., MacAlister, C. A. & Bergmann, D. C. Arabidopsis stomatal initiation is controlled by MAPK-mediated regulation of the bHLH SPEECHLESS. Science 322, 1113–1116 (2008).

Lampard, G. R., Lukowitz, W., Ellis, B. E. & Bergmann, D. C. Novel and expanded roles for MAPK signaling in Arabidopsis stomatal cell fate revealed by cell type-specific manipulations. Plant Cell 21, 3506–3517 (2009).

Lin, G. et al. A receptor-like protein acts as a specificity switch for the regulation of stomatal development. Genes Dev. 31, 927–938 (2017).

Dong, J., MacAlister, C. A. & Bergmann, D. C. BASL controls asymmetric cell division in Arabidopsis. Cell 137, 1320–1330 (2009).

Zhang, Y., Wang, P., Shao, W., Zhu, J.-K. & Dong, J. The BASL polarity protein controls a MAPK signaling feedback loop in asymmetric cell division. Dev. Cell 33, 136–149 (2015).

Zhang, Y., Guo, X. & Dong, J. Phosphorylation of the polarity protein BASL differentiates asymmetric cell fate through MAPKs and SPCH. Curr. Biol. 26, 2957–2965 (2016).

Youn, J.-H. & Kim, T.-W. Functional insights of plant GSK3-like kinases: multi-taskers in diverse cellular signal transduction pathways. Mol. Plant 8, 552–565 (2015).

Kim, T.-W. et al. Brassinosteroid signal transduction from cell-surface receptor kinases to nuclear transcription factors. Nat. Cell Biol. 11, 1254–1260 (2009).

Yan, Z., Zhao, J., Peng, P., Chihara, R. K. & Li, J. BIN2 functions redundantly with other Arabidopsis GSK3-like kinases to regulate brassinosteroid signaling. Plant Physiol. 150, 710–721 (2009).

Rozhon, W., Mayerhofer, J., Petutschnig, E., Fujioka, S. & Jonak, C. ASKθ, a group-III Arabidopsis GSK3, functions in the brassinosteroid signalling pathway. Plant J. 62, 215–223 (2010).

De Rybel, B. et al. Chemical inhibition of a subset of Arabidopsis thaliana GSK3-like kinases activates brassinosteroid signaling. Chem. Biol. 16, 594–604 (2009).

Vert, G. & Chory, J. Downstream nuclear events in brassinosteroid signalling. Nature 441, 96–100 (2006).

Blomme, J. et al. The mitochondrial DNA-associated protein SWIB5 influences mtDNA architecture and homologous recombination. Plant Cell 29, 1137–1156 (2017).

Nadeau, J. A. & Sack, F. D. Control of stomatal distribution on the Arabidopsis leaf surface. Science 296, 1697–1700 (2002).

Wakefield, J. G., Stephens, D. J. & Tavaré, J. M. A role for glycogen synthase kinase-3 in mitotic spindle dynamics and chromosome alignment. J. Cell Sci. 116, 637–646 (2003).

Adrian, J. et al. Transcriptome dynamics of the stomatal lineage: birth, amplification, and termination of a self-renewing population. Dev. Cell 33, 107–118 (2015).

Yang, K.-Z. et al. Phosphorylation of serine 186 of bHLH transcription factor SPEECHLESS promotes stomatal development in Arabidopsis. Mol. Plant 8, 783–795 (2015).

Kondo, Y. et al. Plant GSK3 proteins regulate xylem cell differentiation downstream of TDIF–TDR signalling. Nat. Commun. 5, 3504 (2014).

Hecker, A. et al. Binary 2in1 vectors improve in planta (co)localization and dynamic protein interaction studies. Plant Physiol. 168, 776–787 (2015).

Wang, X. & Chory, J. Brassinosteroids regulate dissociation of BKI1, a negative regulator of BRI1 signaling, from the plasma membrane. Science 313, 1118–1122 (2006).

Fauser, F., Schiml, S. & Puchta, H. Both CRISPR/Cas-based nucleases and nickases can be used efficiently for genome engineering in Arabidopsis thaliana. Plant J. 79, 348–359 (2014).

Lampropoulos, A. et al. GreenGate—a novel, versatile, and efficient cloning system for plant transgenesis. PLoS One 8, e83043 (2013).

Karimi, M., De Meyer, B. & Hilson, P. Modular cloning in plant cells. Trends Plant Sci. 10, 103–105 (2005).

Lei, Y. et al. CRISPR-P: a web tool for synthetic single-guide RNA design of CRISPR-system in plants. Mol. Plant 7, 1494–1496 (2014).

Clough, S. J. & Bent, A. F. Floral dip: a simplified method for Agrobacterium-mediated transformation of Arabidopsis thaliana. Plant J. 16, 735–743 (1998).

Edwards, K., Johnstone, C. & Thompson, C. A simple and rapid method for the preparation of plant genomic DNA for PCR analysis. Nucleic Acids Res. 19, 1349 (1991).

Peterson, K. M. & Torii, K. U. Long-term, high-resolution confocal time lapse imaging of Arabidopsis cotyledon epidermis during germination. J. Vis. Exp. 70, e4426 (2012).

Delgado, D., Alonso-Blanco, C., Fenoll, C. & Mena, M. Natural variation in stomatal abundance of Arabidopsis thaliana includes cryptic diversity for different developmental processes. Ann. Bot. 107, 1247–1258 (2011).

Andriankaja, M. et al. Exit from proliferation during leaf development in Arabidopsis thaliana: a not-so-gradual process. Dev. Cell 22, 64–78 (2012).

Boruc, J. et al. Functional modules in the Arabidopsis core cell cycle binary protein–protein interaction network. Plant Cell 22, 1264–1280 (2010).

Wendrich, J. R., Boeren, S., Möller, B. K., Weijers, D. & De Rybel, B. In vivo identification of plant protein complexes using IP–MS/MS. Methods Mol. Biol. 1497, 147–158 (2017).

Van Leene, J. et al. An improved toolbox to unravel the plant cellular machinery by tandem affinity purification of Arabidopsis protein complexes. Nat. Protoc. 10, 169–187 (2015).

Nelissen, H. et al. Dynamic changes in ANGUSTIFOLIA3 complex composition reveal a growth regulatory mechanism in the maize leaf. Plant Cell 27, 1605–1619 (2015).
Acknowledgements
We thank D. Bergmann, K. Torii, C. Grefen, Y. Kondo and H. Fukuda for materials; M. Pfeiffer, B. Pavie, J. Winkler, D. Van Damme, E. Mylle, S. Dhondt and A. Baekelandt for microscopy; M. De Cock for editing; V. Storme for statistics; B. De Rybel, J. Friml and N. Raikhel for critical reading. This work was supported by the Research Foundation—Flanders (G008416N) (E.R.), the China Scholarship Council (C.Z., K.W.), the Belgian Science Policy (K.W., M.T., M.K.Z., G.E.G.), the Agency for Innovation by Science and Technology (IWT) (M.K.Z.) and the Spanish Government Research Grant AGL2015-65053-R (M.M., C.F.).
Reviewer information
Nature thanks S. Casson and the other anonymous reviewer(s) for their contribution to the peer review of this work.
Ethics declarations
Competing Interests
The authors declare no competing interests.
Additional information
Publisher's note: Springer Nature remains neutral with regard to jurisdictional claims in published maps and institutional affiliations.
Extended data figures and tables
Supplementary information
About this article
Cite this article
Houbaert, A., Zhang, C., Tiwari, M. et al. POLAR-guided signalling complex assembly and localization drive asymmetric cell division. Nature 563, 574–578 (2018). https://doi.org/10.1038/s41586-018-0714-x
Received:

Accepted:

Published:

Issue Date:

DOI: https://doi.org/10.1038/s41586-018-0714-x
Keywords
Stomatal Lineage

Speechless (SPCH)

Pavement Cells

Meristemoids

Vector pK7FWG2
Comments
By submitting a comment you agree to abide by our Terms and Community Guidelines. If you find something abusive or that does not comply with our terms or guidelines please flag it as inappropriate.