Abstract
Haematopoietic stem and progenitor cells (HSPCs) give rise to all blood lineages that support the entire lifespan of vertebrates1. After HSPCs emerge from endothelial cells within the developing dorsal aorta, homing allows the nascent cells to anchor in their niches for further expansion and differentiation2,3,4,5. Unique niche microenvironments, composed of various blood vessels as units of microcirculation and other niche components such as stromal cells, regulate this process6,7,8,9. However, the detailed architecture of the microenvironment and the mechanism for the regulation of HSPC homing remain unclear. Here, using advanced live imaging and a cell-labelling system, we perform high-resolution analyses of the HSPC homing in caudal haematopoietic tissue of zebrafish (equivalent to the fetal liver in mammals), and reveal the role of the vascular architecture in the regulation of HSPC retention. We identify a VCAM-1+ macrophage-like niche cell population that patrols the inner surface of the venous plexus, interacts with HSPCs in an ITGA4-dependent manner, and directs HSPC retention. These cells, named 'usher cells', together with caudal venous capillaries and plexus, define retention hotspots within the homing microenvironment. Thus, the study provides insights into the mechanism of HSPC homing and reveals the essential role of a VCAM-1+ macrophage population with patrolling behaviour in HSPC retention.
Relevant articles
Open Access articles citing this article.
Ping Zhang

,

Ji Dong

…

Yongsheng Zhou

Signal Transduction and Targeted Therapy Open Access 31 March 2023

Runfeng Miao

,

Harim Chun

…

João P. Pereira

Nature Communications Open Access 08 August 2022

Artem Adamov

,

Yasmin Natalia Serina Secanechia

&

Christophe Lancrin

Scientific Reports Open Access 16 July 2022
Access options
Access Nature and 54 other Nature Portfolio journals
Get Nature+, our best-value online-access subscription
$29.99 / 30 days
cancel any time
Subscribe to this journal
Receive 51 print issues and online access
$199.00 per year
only $3.90 per issue
Rent or buy this article
Get just this article for as long as you need it
$39.95
Prices may be subject to local taxes which are calculated during checkout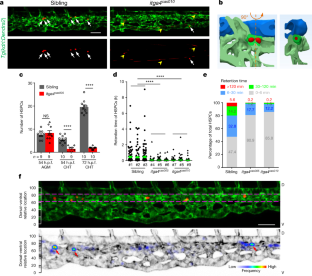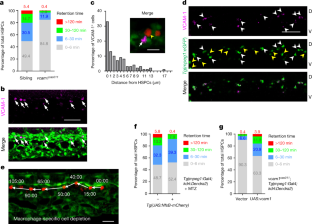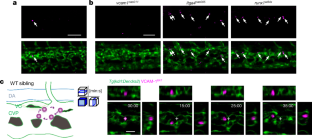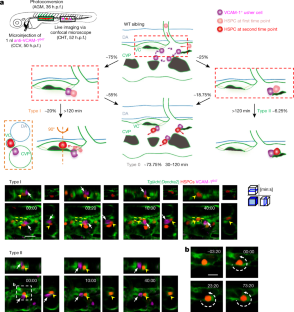 Data availability
Any Methods, including any statements of data availability and Nature Research reporting summaries, along with any additional references and Source Data files, are available in the online version of the paper. 3D reconstruction of vessel surrounding HSPCs in retention hotspot is deposited at http://www.biosino.org/node/project/detail/OEP000169.
References
Morrison, S. J., Uchida, N. & Weissman, I. L. The biology of hematopoietic stem cells. Annu. Rev. Cell Dev. Biol. 11, 35–71 (1995).

Murayama, E. et al. Tracing hematopoietic precursor migration to successive hematopoietic organs during zebrafish development. Immunity 25, 963–975 (2006).

Kissa, K. & Herbomel, P.Blood stem cells emerge from aortic endothelium by a novel type of cell transition. Nature 464, 112–115 (2010).

Bertrand, J. Y. et al. Haematopoietic stem cells derive directly from aortic endothelium during development. Nature  464,108–111 (2010).

Boisset, J. C. et al. In vivo imaging of haematopoietic cells emerging from the mouse aortic endothelium. Nature 464, 116–120 (2010).

Xue, Y. et al. The vascular niche regulates hematopoietic stem and progenitor cell lodgment and expansion via klf6a-ccl25b. Dev. Cell 42, 349–362.e4 (2017).

Mahony, C. B., Fish, R. J., Pasche, C. & Bertrand, J. Y. tfec controls the hematopoietic stem cell vascular niche during zebrafish embryogenesis. Blood 128, 1336–1345 (2016).

Glass, T. J. et al. Stromal cell-derived factor-1 and hematopoietic cell homing in an adult zebrafish model of hematopoietic cell transplantation. Blood 118, 766–774 (2011).

Murayama, E. et al. NACA deficiency reveals the crucial role of somite-derived stromal cells in haematopoietic niche formation. Nat. Commun. 6, 8375 (2015).

Jin, H., Xu, J. & Wen, Z. Migratory path of definitive hematopoietic stem/progenitor cells during zebrafish development. Blood 109, 5208–5214 (2007).

Burns, C. E., Traver, D., Mayhall, E., Shepard, J. L. & Zon, L. I. Hematopoietic stem cell fate is established by the Notch–Runx pathway. Genes Dev. 19, 2331–2342 (2005).

Jao, L. E., Wente, S. R. & Chen, W. Efficient multiplex biallelic zebrafish genome editing using a CRISPR nuclease system. Proc. Natl Acad. Sci. USA 110, 13904–13909 (2013).

Soza-Ried, C., Hess, I., Netuschil, N., Schorpp, M. & Boehm, T. Essential role of c-myb in definitive hematopoiesis is evolutionarily conserved. Proc. Natl Acad. Sci. USA 107, 17304–17308 (2010).

Tamplin, O. J. et al. Hematopoietic stem cell arrival triggers dynamic remodeling of the perivascular niche. Cell 160, 241–252 (2015).

Arroyo, A. G., Yang, J. T., Rayburn, H. & Hynes, R. O. α4 integrins regulate the proliferation/differentiation balance of multilineage hematopoietic progenitors in vivo. Immunity 11, 555–566 (1999).

Imai, Y., Shimaoka, M. & Kurokawa, M. Essential roles of VLA-4 in the hematopoietic system. Int. J. Hematol. 91, 569–575 (2010).

Gribi, R., Hook, L., Ure, J. & Medvinsky, A. The differentiation program of embryonic definitive hematopoietic stem cells is largely α4 integrin independent. Blood 108, 501–509 (2006).

Qian, H. et al. Distinct roles of integrins α6 and α4 in homing of fetal liver hematopoietic stem and progenitor cells. Blood 110, 2399–2407 (2007).

Scott, L. M., Priestley, G. V. & Papayannopoulou, T. Deletion of α4 integrins from adult hematopoietic cells reveals roles in homeostasis, regeneration, and homing. Mol. Cell. Biol. 23, 9349–9360 (2003).

Nombela-Arrieta, C. et al. Quantitative imaging of haematopoietic stem and progenitor cell localization and hypoxic status in the bone marrow microenvironment. Nat. Cell Biol. 15, 533–543 (2013).

Osborn, L. et al. Direct expression cloning of vascular cell adhesion molecule 1, a cytokine-induced endothelial protein that binds to lymphocytes. Cell 59, 1203–1211 (1989).

Elices, M. J. et al. VCAM-1 on activated endothelium interacts with the leukocyte integrin VLA-4 at a site distinct from the VLA-4/fibronectin binding site. Cell 60, 577–584 (1990).

Koenig, J. M., Ballantyne, C. M., Kumar, A. G., Smith, C. W. & Yoder, M. C. Vascular cell adhesion molecule-1 expression and hematopoietic supportive capacity of immortalized murine stromal cell lines derived from fetal liver and adult bone marrow. In Vitro Cell. Dev. Biol. Anim. 38, 538–543 (2002).

Berlin, C. et al. α4 integrins mediate lymphocyte attachment and rolling under physiologic flow. Cell 80, 413–422 (1995).

Warga, R. M., Kane, D. A. & Ho, R. K. Fate mapping embryonic blood in zebrafish: multi- and unipotential lineages are segregated at gastrulation. Dev. Cell 16, 744–755 (2009).

Winkler, I. G. et al. Bone marrow macrophages maintain hematopoietic stem cell (HSC) niches and their depletion mobilizes HSCs. Blood 116, 4815–4828 (2010).

Dutta, P. et al. Macrophages retain hematopoietic stem cells in the spleen via VCAM-1. J. Exp. Med. 212, 497–512 (2015).

Jin, H. et al. Definitive hematopoietic stem/progenitor cells manifest distinct differentiation output in the zebrafish VDA and PBI. Development 136, 647–654 (2009).

Traver, D. et al. Transplantation and in vivo imaging of multilineage engraftment in zebrafish bloodless mutants. Nat. Immunol. 4, 1238–1246 (2003).

Shi, X. et al. Functions of idh1 and its mutation in the regulation of developmental hematopoiesis in zebrafish. Blood 125, 2974–2984 (2015).

Hall, C., Flores, M. V., Storm, T., Crosier, K. & Crosier, P. The zebrafish lysozyme C promoter drives myeloid-specific expression in transgenic fish. BMC Dev. Biol. 7, 42 (2007).

Liu, C. et al. Macrophages mediate the repair of brain vascular rupture through direct physical adhesion and mechanical traction. Immunity 44, 1162–1176 (2016).

Cross, L. M., Cook, M. A., Lin, S., Chen, J. N. & Rubinstein, A. L. Rapid analysis of angiogenesis drugs in a live fluorescent zebrafish assay. Arterioscler. Thromb. Vasc. Biol. 23, 911–912 (2003).

Davison, J. M. et al. Transactivation from Gal4-VP16 transgenic insertions for tissue-specific cell labeling and ablation in zebrafish. Dev. Biol. 304, 811–824 (2007).

Scott, E. K. & Baier, H. The cellular architecture of the larval zebrafish tectum, as revealed by Gal4 enhancer trap lines. Front. Neural Circuits 3, 13 (2009).

Moro, E. et al. In vivo Wnt signaling tracing through a transgenic biosensor fish reveals novel activity domains. Dev. Biol. 366, 327–340 (2012).

Ellett, F., Pase, L., Hayman, J. W., Andrianopoulos, A. & Lieschke, G. J. mpeg1 promoter transgenes direct macrophage-lineage expression in zebrafish. Blood 117, e49–e56 (2011).

Bahary, N. et al. The Zon laboratory guide to positional cloning in zebrafish. Methods Cell Biol. 77, 305–329 (2004).

Knapik, E. W. et al. A microsatellite genetic linkage map for zebrafish (Danio rerio). Nat. Genet. 18, 338–343 (1998).

Scheer, N. & Campos-Ortega, J. A. Use of the Gal4-UAS technique for targeted gene expression in the zebrafish. Mech. Dev. 80, 153–158 (1999).

Lam, E. Y. N. et al. Zebrafish runx1 promoter–EGFP transgenics mark discrete sites of definitive blood progenitors. Blood 113, 1241–1249 (2009).

Nasevicius, A. & Ekker, S. C. Effective targeted gene 'knockdown' in zebrafish. Nat. Genet. 26, 216–220 (2000).

Suster, M. L., Kikuta, H., Urasaki, A., Asakawa, K. & Kawakami, K. Transgenesis in zebrafish with the Tol2 transposon system. Methods Mol. Biol. 561, 41–63 (2009).

Xiao, A. et al. Chromosomal deletions and inversions mediated by TALENs and CRISPR/Cas in zebrafish. Nucleic Acids Res. 41, e141 (2013).

Gao, L. et al. TopBP1 governs hematopoietic stem/progenitor cells survival in zebrafish definitive hematopoiesis. PLoS Genet. 11, e1005346 (2015).

Patterson, L. J. et al. The transcription factors Scl and Lmo2 act together during development of the hemangioblast in zebrafish. Blood 109, 2389–2398 (2007).

Jia, X. E. et al. Mutation of kri1l causes definitive hematopoiesis failure via PERK-dependent excessive autophagy induction. Cell Res. 25, 946–962 (2015).

Zakrzewska, A. et al. Macrophage-specific gene functions in Spi1-directed innate immunity. Blood 116, e1–e11 (2010).

Jowett, T. & Lettice, L. Whole-mount in situ hybridizations on zebrafish embryos using a mixture of digoxigenin- and fluorescein-labelled probes. TIG 10, 73–74 (1994).

Wang, H. et al. Dual-color ultrasensitive bright-field RNA in situ hybridization with RNAscope. Methods Mol. Biol. 1211, 139–149 (2014).

Murphey, R. D., Stern, H. M., Straub, C. T. & Zon, L. I.A chemical genetic screen for cell cycle inhibitors in zebrafish embryos. Chem. Biol. Drug Des. 68, 213–219 (2006).

Mazzocco, C. et al. In vivo imaging of prostate cancer using an anti-PSMA scFv fragment as a probe. Sci. Rep. 6, 23314 (2016).

Curado, S. et al. Conditional targeted cell ablation in zebrafish: a new tool for regeneration studies. Dev. Dyn. 236, 1025–1035 (2007).

Chudakov, D. M., Lukyanov, S. & Lukyanov, K. A. Using photoactivatable fluorescent protein Dendra2 to track protein movement. Biotechniques 42, https://doi.org/10.2144/000112470 (2007).

Chudakov, D. M., Lukyanov, S. & Lukyanov, K. A. Tracking intracellular protein movements using photoswitchable fluorescent proteins PS-CFP2 and Dendra2. Nat. Protocols 2, 2024–2032 (2007).

Chen, Q. et al. Haemodynamics-driven developmental pruning of brain vasculature in zebrafish. PLoS Biol. 10, e1001374 (2012).

Kamoun, W. S. et al. Simultaneous measurement of RBC velocity, flux, hematocrit and shear rate in vascular networks. Nat. Methods 7, 655–660 (2010).

Schaffer, C. B. et al. Two-photon imaging of cortical surface microvessels reveals a robust redistribution in blood flow after vascular occlusion. PLoS Biol. 4, e22 (2006).
Acknowledgements
We thank the following people for the zebrafish transgenic lines: L. Luo for Tg(kdrl:Dendra2), Z. Wen for Tg(mpeg1:Gal4,UAS:NfsB-mCherry), Tg(UAS:Kaede) and Tg(mpeg1:eGFP), B. Blazar for Tg(cxcl12a:dsRed) and F. Argenton for Tg(tcf:eGFP). We are also grateful to M. Deng and J. He for technical support, and Z. Wen, L. Li, L. Zon, J. Peng and A. Meng for discussions. This work was granted by CAS Strategic Priority Research Program (XDB19030000), Ministry of Science and Technology of China (2017YF0503600), National Natural Science Foundation of China (31571505 and 31371461), CAS Scientific Research Equipment Development Project (YZ201646) and Science and Technology Commission of Shanghai Municipality (13JC1406400) to W.J.P.
Reviewer information
Nature thanks P. Herbomel and the anonymous reviewer(s) for their contribution to the peer review of this work.
Ethics declarations
Competing interests
The authors declare no competing interests.
Additional information
Publisher's note: Springer Nature remains neutral with regard to jurisdictional claims in published maps and institutional affiliations.
Extended data figures and tables
Supplementary information
About this article
Cite this article
Li, D., Xue, W., Li, M. et al. VCAM-1+ macrophages guide the homing of HSPCs to a vascular niche. Nature 564, 119–124 (2018). https://doi.org/10.1038/s41586-018-0709-7
Received:

Accepted:

Published:

Issue Date:

DOI: https://doi.org/10.1038/s41586-018-0709-7
Keywords
Vascular Niche

Capillary Venules

Whole-mount In Situ Hybridization (WISH)

WISH Analysis

Zeiss LSM510 Confocal Microscope
Comments
By submitting a comment you agree to abide by our Terms and Community Guidelines. If you find something abusive or that does not comply with our terms or guidelines please flag it as inappropriate.