Abstract
Genetic regulators and environmental stimuli modulate T cell activation in autoimmunity and cancer. The enzyme co-factor tetrahydrobiopterin (BH4) is involved in the production of monoamine neurotransmitters, the generation of nitric oxide, and pain1,2. Here we uncover a link between these processes, identifying a fundamental role for BH4 in T cell biology. We find that genetic inactivation of GTP cyclohydrolase 1 (GCH1, the rate-limiting enzyme in the synthesis of BH4) and inhibition of sepiapterin reductase (the terminal enzyme in the synthetic pathway for BH4) severely impair the proliferation of mature mouse and human T cells. BH4 production in activated T cells is linked to alterations in iron metabolism and mitochondrial bioenergetics. In vivo blockade of BH4 synthesis abrogates T-cell-mediated autoimmunity and allergic inflammation, and enhancing BH4 levels through GCH1 overexpression augments responses by CD4- and CD8-expressing T cells, increasing their antitumour activity in vivo. Administration of BH4 to mice markedly reduces tumour growth and expands the population of intratumoral effector T cells. Kynurenine—a tryptophan metabolite that blocks antitumour immunity—inhibits T cell proliferation in a manner that can be rescued by BH4. Finally, we report the development of a potent SPR antagonist for possible clinical use. Our data uncover GCH1, SPR and their downstream metabolite BH4 as critical regulators of T cell biology that can be readily manipulated to either block autoimmunity or enhance anticancer immunity.
Relevant articles
Open Access articles citing this article.
Yuxing Chen

,

Jinhang He

…

Yunsheng Ou

Journal of Cancer Research and Clinical Oncology Open Access 23 September 2023

Yu'e Liu

,

Shiping Lu

…

Jinghan Wang

Cell Death & Disease Open Access 14 August 2023

Luming Yang

,

Zhaole Chu

…

Bin Wang

Journal of Hematology & Oncology Open Access 05 June 2023
Access options
Access Nature and 54 other Nature Portfolio journals
Get Nature+, our best-value online-access subscription
$29.99 / 30 days
cancel any time
Subscribe to this journal
Receive 51 print issues and online access
$199.00 per year
only $3.90 per issue
Rent or buy this article
Prices vary by article type
from$1.95
to$39.95
Prices may be subject to local taxes which are calculated during checkout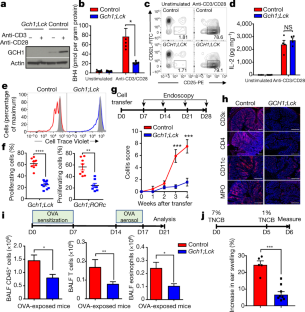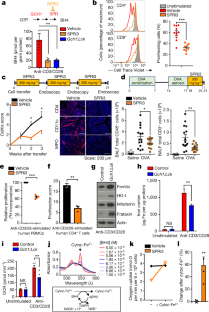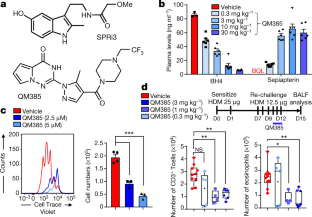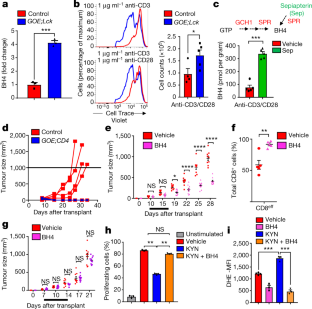 Data availability
The microarray dataset is accessible through GEO accession number GSE108101. All other datasets generated and/or analysed during this study are available from the corresponding authors upon reasonable request.
References
Latremoliere, A. et al. Reduction of neuropathic and inflammatory pain through inhibition of the tetrahydrobiopterin pathway. Neuron 86, 1393–1406 (2015).

Werner, E. R., Blau, N. & Thöny, B. Tetrahydrobiopterin: biochemistry and pathophysiology. Biochem. J. 438, 397–414 (2011).

Chen, W. et al. Role of increased guanosine triphosphate cyclohydrolase-1 expression and tetrahydrobiopterin levels upon T cell activation. J. Biol. Chem. 286, 13846–13851 (2011).

Ziegler, I. et al. Control of tetrahydrobiopterin synthesis in T lymphocytes by synergistic action of interferon-γ and interleukin-2. J. Biol. Chem. 265, 17026–17030 (1990).

Chuaiphichai, S. et al. Cell-autonomous role of endothelial GTP cyclohydrolase 1 and tetrahydrobiopterin in blood pressure regulation. Hypertension 64, 530–540 (2014).

Eberl, G. & Littman, D. R. Thymic origin of intestinal αβ T cells revealed by fate mapping of RORγt+ cells. Science 305, 248–251 (2004).

Hobeika, E. et al. Testing gene function early in the B cell lineage in mb1-cre mice. Proc. Natl Acad. Sci. USA 103, 13789–13794 (2006).

Śledzińska, A. et al. TGF-β signalling is required for CD4+ T cell homeostasis but dispensable for regulatory T cell function. PLoS Biol. 11, e1001674 (2013).

Talbot, S. et al. Silencing nociceptor neurons reduces allergic airway inflammation. Neuron 87, 341–354 (2015).

Haworth, O., Cernadas, M., Yang, R., Serhan, C. N. & Levy, B. D. Resolvin E1 regulates interleukin 23, interferon-γ and lipoxin A4 to promote the resolution of allergic airway inflammation. Nat. Immunol. 9, 873–879 (2008).

Martin, S. F. et al. Toll-like receptor and IL-12 signaling control susceptibility to contact hypersensitivity. J. Exp. Med. 205, 2151–2162 (2008).

Rangachari, M. & Kuchroo, V. K. Using EAE to better understand principles of immune function and autoimmune pathology. J. Autoimmun. 45, 31–39 (2013).

Rangachari, M. et al. Bat3 promotes T cell responses and autoimmunity by repressing Tim-3-mediated cell death and exhaustion. Nat. Med. 18, 1394–1400 (2012).

Nar, H. et al. Active site topology and reaction mechanism of GTP cyclohydrolase I. Proc. Natl Acad. Sci. USA 92, 12120–12125 (1995).

Nar, H. et al. Atomic structure of GTP cyclohydrolase I. Structure 3, 459–466 (1995).

Volani, C. et al. Dietary iron loading negatively affects liver mitochondrial function. Metallomics 9, 1634–1644 (2017).

Archer, M. C., Vonderschmitt, D. J. & Scrimgeour, K. G. Mechanism of oxidation of tetrahydropterins. Can. J. Biochem. 50, 1174–1182 (1972).

Eberlein, G., Bruice, T. C., Lazarus, R. A., Henrie, R. & Benkovic, S. J. The interconversion of the 5,6,7,8-tetrahydro-, 7,8-dihydro-, and radical forms of 6,6,7,7-tetramethyldihydropterin. A model for the biopterin center of aromatic amino acid Mixed function oxidases. J. Am. Chem. Soc. 106, 7916–7924 (1984).

Capeillere-Blandin, C., Mathieu, D. & Mansuy, D. Reduction of ferric haemoproteins by tetrahydropterins: a kinetic study. Biochem. J. 392, 583–587 (2005).

Hondowicz, B. D. et al. Interleukin-2-dependent allergen-specific tissue-resident memory cells drive asthma. Immunity 44, 155–166 (2016).

Ewens, A., Mihich, E. & Ehrke, M. J. Distant metastasis from subcutaneously grown E0771 medullary breast adenocarcinoma. Anticancer Res. 25, 3905–3915 (2005).

Curti, A. et al. Indoleamine 2,3-dioxygenase-expressing leukemic dendritic cells impair a leukemia-specific immune response by inducing potent T regulatory cells. Haematologica 95, 2022–2030 (2010).

Haruki, H., Hovius, R., Pedersen, M. G. & Johnsson, K. Tetrahydrobiopterin biosynthesis as a potential target of the kynurenine pathway metabolite xanthurenic acid. J. Biol. Chem. 291, 652–657 (2016).

Oppenheimer, S. J. Iron and its relation to immunity and infectious disease. J. Nutr. 131, 616S–633S (2001).

Cassat, J. E. & Skaar, E. P. Iron in infection and immunity. Cell Host Microbe 13, 509–519 (2013).

Liu, C.-J., Chen, K.-W. Hu, Y.-W. Hong, Y.-C., Huang, Y.-C., Chiou, T.-J. & Tzeng, C.-H. Chronic iron deficiency anemia and cancer risk. Blood 120, 5172 (2012).

Hung, N. et al. Risk of cancer in patients with iron deficiency anemia: a nationwide population-based study. PLoS ONE 10, e0119647 (2015); correction https://doi.org/10.1371/journal.pone.0125951 (2015).

Hennet, T., Hagen, F. K., Tabak, L. A. & Marth, J. D. T-cell-specific deletion of a polypeptide N-acetylgalactosaminyl-transferase gene by site-directed recombination. Proc. Natl Acad. Sci. USA 92, 12070–12074 (1995).

Sawada, S., Scarborough, J. D., Killeen, N. & Littman, D. R. A lineage-specific transcriptional silencer regulates CD4 gene expression during T lymphocyte development. Cell 77, 917–929 (1994).

Ventura, A. et al. Restoration of p53 function leads to tumour regression in vivo. Nature 445, 661–665 (2007).

Crabtree, M. J. et al. Quantitative regulation of intracellular endothelial nitric-oxide synthase (eNOS) coupling by both tetrahydrobiopterin-eNOS stoichiometry and biopterin redox status: insights from cells with tet-regulated GTP cyclohydrolase I expression. J. Biol. Chem. 284, 1136–1144 (2009).

Banerjee, A. et al. Cellular and site-specific mitochondrial characterization of vital human amniotic membrane. Cell Transplant. 27, 3–11 (2018).

Schmitt, T. M. & Zúñiga-Pflücker, J. C. Induction of T cell development from hematopoietic progenitor cells by delta-like-1 in vitro. Immunity 17, 749–756 (2002).

Becker, C. et al. In vivo imaging of colitis and colon cancer development in mice using high resolution chromoendoscopy. Gut 54, 950–954 (2005).

Collison, L. W. & Vignali, D. A. A. In vitro Treg suppression assays. Methods Mol. Biol. 707, 21–37 (2011).

Boivin, N., Baillargeon, J., Doss, P. M. I. A., Roy, A. P. & Rangachari, M. Interferon-β suppresses murine Th1 cell function in the absence of antigen-presenting cells. PLoS ONE 10, e0124802 (2015).

Lin, K. Y. et al. Treatment of established tumors with a novel vaccine that enhances major histocompatibility class II presentation of tumor antigen. Cancer Res. 56, 21–26 (1996).

Smyth, G. K. Linear models and empirical bayes methods for assessing differential expression in microarray experiments. Stat. Appl. Genet. Mol. Biol. 3, https://doi.org/10.2202/1544-6115.1027 (2004).

Edgar, R., Domrachev, M. & Lash, A. E. Gene Expression Omnibus: NCBI gene expression and hybridization array data repository. Nucleic Acids Res. 30, 207–210 (2002).

Arai, N., Narisawa, K., Hayakawa, H. & Tada, K. Hyperphenylalaninemia due to dihydropteridine reductase deficiency: diagnosis by enzyme assays on dried blood spots. Pediatrics 70, 426–430 (1982).

Theurl, I. et al. On-demand erythrocyte disposal and iron recycling requires transient macrophages in the liver. Nat. Med. 22, 945–951 (2016).
Acknowledgements
We thank all members of our laboratories for helpful discussions and Life Science Editors for editorial support. We thank Shanghai ChemPartners for running the drug metabolism and pharmacokinetic assays associated with QM385. J.M.P. is supported by grants from IMBA, the Austrian Ministry of Sciences and the Austrian Academy of Sciences, and the T. Von Zastrow Foundation as well as a European Research Council (ERC) Advanced Grant and an Era of Hope Innovator award. C.J.W. is supported by a National Institutes of Health (NIH) R35 grant (NS105076). We also acknowledge the Christian Doppler Laboratory for Iron Metabolism and Anemia Research as a funding body for our research (M.S. and G.W.). M.R. is supported by EMD Serono, Canada, and a MS Network Transitional Career Development Award.
Reviewer information
Nature thanks R.S. Johnson, L. O'Neill and N. Restifo for their contribution to the peer review of this work.
Ethics declarations
Competing interests
The authors declare no competing interests.
Additional information
Publisher's note: Springer Nature remains neutral with regard to jurisdictional claims in published maps and institutional affiliations.
Extended data figures and tables
Supplementary information
About this article
Cite this article
Cronin, S.J.F., Seehus, C., Weidinger, A. et al. The metabolite BH4 controls T cell proliferation in autoimmunity and cancer. Nature 563, 564–568 (2018). https://doi.org/10.1038/s41586-018-0701-2
Received:

Accepted:

Published:

Issue Date:

DOI: https://doi.org/10.1038/s41586-018-0701-2
Keywords
Comments
By submitting a comment you agree to abide by our Terms and Community Guidelines. If you find something abusive or that does not comply with our terms or guidelines please flag it as inappropriate.