Abstract
An ensemble of emitters can behave very differently from its individual constituents when they interact coherently via a common light field. After excitation of such an ensemble, collective coupling can give rise to a many-body quantum phenomenon that results in short, intense bursts of light—so-called superfluorescence1. Because this phenomenon requires a fine balance of interactions between the emitters and their decoupling from the environment, together with close identity of the individual emitters, superfluorescence has thus far been observed only in a limited number of systems, such as certain atomic and molecular gases and a few solid-state systems2,3,4,5,6,7. The generation of superfluorescent light in colloidal nanocrystals (which are bright photonic sources practically suited for optoelectronics8,9) has been precluded by inhomogeneous emission broadening, low oscillator strength, and fast exciton dephasing. Here we show that caesium lead halide (CsPbX3, X = Cl, Br) perovskite nanocrystals10,11,12,13 that are self-organized into highly ordered three-dimensional superlattices exhibit key signatures of superfluorescence. These are dynamically red-shifted emission with more than 20-fold accelerated radiative decay, extension of the first-order coherence time by more than a factor of four, photon bunching, and delayed emission pulses with Burnham–Chiao ringing behaviour14 at high excitation density. These mesoscopically extended coherent states could be used to boost the performance of opto-electronic devices15 and enable entangled multi-photon quantum light sources16,17.
Access options
Subscribe to Journal
Get full journal access for 1 year
$199.00
only $3.90 per issue
All prices are NET prices.
VAT will be added later in the checkout.
Rent or Buy article
Get time limited or full article access on ReadCube.
from$8.99
All prices are NET prices.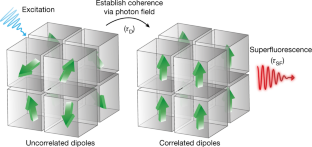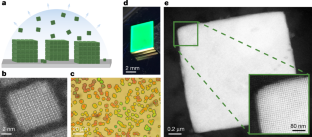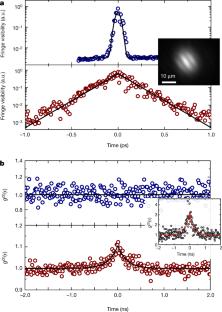 Data availability
The data that support the findings of this study are available from the corresponding authors upon reasonable request.
References
1.

Bonifacio, R. & Lugiato, L. A. Cooperative radiation processes in two-level systems: superfluorescence. Phys. Rev. A 11, 1507–1521 (1975).

2.

Skribanowitz, N., Herman, I. P., MacGillivray, J. C. & Feld, M. S. Observation of Dicke superradiance in optically pumped HF gas. Phys. Rev. Lett. 30, 309–312 (1973).

3.

Malcuit, M. S., Maki, J. J., Simkin, D. J. & Boyd, R. W. Transition from superfluorescence to amplified spontaneous emission. Phys. Rev. Lett. 59, 1189–1192 (1987).

4.

Miyajima, K., Kagotani, Y., Saito, S., Ashida, M. & Itoh, T. Superfluorescent pulsed emission from biexcitons in an ensemble of semiconductor quantum dots. J. Phys. Condens. Matter 21, 195802 (2009).

5.

Dai, D. C. & Monkman, A. P. Observation of superfluorescence from a quantum ensemble of coherent excitons in a ZnTe crystal: evidence for spontaneous Bose-Einstein condensation of excitons. Phys. Rev. B 84, 115206 (2011).

6.

Noe, G. T. II et al. Giant superfluorescent bursts from a semiconductor magneto-plasma. Nat. Phys. 8, 219–224 (2012).

7.

Cong, K. et al. Dicke superradiance in solids. J. Opt. Soc. Am. B 33, C80–C101 (2016).

8.

Talapin, D. V., Lee, J.-S., Kovalenko, M. V. & Shevchenko, E. V. Prospects of colloidal nanocrystals for electronic and optoelectronic applications. Chem. Rev. 110, 389–458 (2010).

9.

Kovalenko, M. V. et al. Prospects of nanoscience with nanocrystals. ACS Nano 9, 1012–1057 (2015).

10.

Protesescu, L. et al. Nanocrystals of cesium lead halide perovskites (CsPbX3, X=Cl, Br, and I): novel optoelectronic materials showing bright emission with wide color gamut. Nano Lett. 15, 3692–3696 (2015).

11.

Rainò, G. et al. Single cesium lead halide perovskite nanocrystals at low temperature: fast single-photon emission, reduced blinking, and exciton fine structure. ACS Nano 10, 2485–2490 (2016).

12.

Fu, M. et al. Neutral and charged exciton fine structure in single lead halide perovskite nanocrystals revealed by magneto-optical spectroscopy. Nano Lett. 17, 2895–2901 (2017).

13.

Kovalenko, M. V., Protesescu, L. & Bodnarchuk, M. I. Properties and potential optoelectronic applications of lead halide perovskite nanocrystals. Science 358, 745–750 (2017).

14.

Burnham, D. C. & Chiao, R. Y. Coherent resonance fluorescence excited by short light pulses. Phys. Rev. 188, 667–675 (1969).

15.

Kagan, C. R. & Murray, C. B. Charge transport in strongly coupled quantum dot solids. Nat. Nanotechnol. 10, 1013–1026 (2015).

16.

Afek, I., Ambar, O. & Silberberg, Y. High-NOON states by mixing quantum and classical light. Science 328, 879–881 (2010).

17.

Muñoz, C. S. et al. Emitters of N-photon bundles. Nat. Photon. 8, 550–555 (2014).

18.

Dicke, R. H. Coherence in spontaneous radiation processes. Phys. Rev. 93, 99–110 (1954).

19.

Spano, F. C. The spectral signatures of Frenkel polarons in H- and J-aggregates. Acc. Chem. Res. 43, 429–439 (2010).

20.

Bradac, C. et al. Room-temperature spontaneous superradiance from single diamond nanocrystals. Nat. Commun. 8, 1205 (2017).

21.

Scheibner, M. et al. Superradiance of quantum dots. Nat. Phys. 3, 106–110 (2007).

22.

Heinzen, D. J., Thomas, J. E. & Feld, M. S. Coherent ringing in superfluorescence. Phys. Rev. Lett. 54, 677–680 (1985).

23.

Shirasaki, Y., Supran, G. J., Bawendi, M. G. & Bulović, V. Emergence of colloidal quantum-dot light-emitting technologies. Nat. Photon. 7, 13–23 (2013).

24.

Becker, M. A. et al. Bright triplet excitons in caesium lead halide perovskites. Nature 553, 189–193 (2018).

25.

Boles, M. A., Engel, M. & Talapin, D. V. Self-assembly of colloidal nanocrystals: from intricate structures to functional materials. Chem. Rev. 116, 11220–11289 (2016).

26.

Murray, C. B., Kagan, C. R. & Bawendi, M. G. Synthesis and characterization of monodisperse nanocrystals and close-packed nanocrystal assemblies. Annu. Rev. Mater. Sci. 30, 545–610 (2000).

27.

Geuchies, J. J. et al. In situ study of the formation mechanism of two-dimensional superlattices from PbSe nanocrystals. Nat. Mater. 15, 1248–1254 (2016).

28.

Nagaoka, Y. et al. Nanocube superlattices of cesium lead bromide perovskites and pressure-induced phase transformations at atomic and mesoscale levels. Adv. Mater. 29, 1606666 (2017).

29.

Temnov, V. V. & Woggon, U. Superradiance and subradiance in an inhomogeneously broadened ensemble of two-level systems coupled to a low-Q cavity. Phys. Rev. Lett. 95, 243602 (2005).

30.

Whittaker, D. M. & Eastham, P. R. Coherence properties of the microcavity polariton condensate. Europhys. Lett. 87, 27002 (2009).

31.

Jahnke, F. et al. Giant photon bunching, superradiant pulse emission and excitation trapping in quantum-dot nanolasers. Nat. Commun. 7, 11540 (2016).

32.

Temnov, V. V. & Woggon, U. Photon statistics in the cooperative spontaneous emission. Opt. Express 17, 5774 (2009).

33.

Ishikawa, A., Miyajima, K., Ashida, M., Itoh, T. & Ishihara, H. Theory of superfluorescence in highly inhomogeneous quantum systems. J. Phys. Soc. Jpn. 85, 034703 (2016).

34.

DeVoe, R. G. & Brewer, R. G. Observation of superradiant and subradiant spontaneous emission of two trapped ions. Phys. Rev. Lett. 76, 2049–2052 (1996).

35.

Bienaimé, T., Piovella, N. & Kaiser, R. Controlled Dicke subradiance from a large cloud of two-level systems. Phys. Rev. Lett. 108, 123602 (2012).

36.

Guerin, W., Rouabah, M. T. & Kaiser, R. Light interacting with atomic ensembles: collective, cooperative and mesoscopic effects. J. Mod. Opt. 64, 895–907 (2017).

37.

van Driel, A. F. et al. Statistical analysis of time-resolved emission from ensembles of semiconductor quantum dots: interpretation of exponential decay models. Phys. Rev. B 75, 035329 (2007).

38.

Naeem, A. et al. Giant exciton oscillator strength and radiatively limited dephasing in two-dimensional platelets. Phys. Rev. B 91, 121302 (2015).
Acknowledgements
We thank D. J. Norris, C. Schwemmer, D. Urbonas and F. Scafirimuto for helpful discussions. F. Krieg is acknowledged for providing additional samples for control experiments. M.A.B., M.V.K., T.S., R.F.M. and G.R. acknowledge support from the European Union's Horizon-2020 programme through the Marie-Sklodowska Curie ITN network PHONSI (H2020-MSCA-ITN-642656) and the Swiss State Secretariat for Education Research and Innovation (SERI). M.I.B. acknowledges financial support from the Swiss National Science Foundation (SNF Ambizione grant no. PZENP2_154287). M.V.K. acknowledges financial support from the European Research Council under the European Union's Seventh Framework Program (FP/2007-2013)/ERC Grant Agreement no. 306733 (NANOSOLID Starting Grant).
Reviewer information
Nature thanks C. Kagan and the other anonymous reviewer(s) for their contribution to the peer review of this work.
Ethics declarations
Competing interests
The authors declare no competing interests.
Additional information
Publisher's note: Springer Nature remains neutral with regard to jurisdictional claims in published maps and institutional affiliations.
Extended data figures and tables
About this article
Cite this article
Rainò, G., Becker, M.A., Bodnarchuk, M.I. et al. Superfluorescence from lead halide perovskite quantum dot superlattices. Nature 563, 671–675 (2018). https://doi.org/10.1038/s41586-018-0683-0
Received:

Accepted:

Published:

Issue Date:
Keywords
Photon Bunching

Nanocrystals

Excitation Fluence

Subradiant States

Streak Camera Image
Comments
By submitting a comment you agree to abide by our Terms and Community Guidelines. If you find something abusive or that does not comply with our terms or guidelines please flag it as inappropriate.