Abstract
During both embryonic development and adult tissue regeneration, changes in chromatin structure driven by master transcription factors lead to stimulus-responsive transcriptional programs. A thorough understanding of how stem cells in the skeleton interpret mechanical stimuli and enact regeneration would shed light on how forces are transduced to the nucleus in regenerative processes. Here we develop a genetically dissectible mouse model of mandibular distraction osteogenesis—which is a process that is used in humans to correct an undersized lower jaw that involves surgically separating the jaw bone, which elicits new bone growth in the gap. We use this model to show that regions of newly formed bone are clonally derived from stem cells that reside in the skeleton. Using chromatin and transcriptional profiling, we show that these stem-cell populations gain activity within the focal adhesion kinase (FAK) signalling pathway, and that inhibiting FAK abolishes new bone formation. Mechanotransduction via FAK in skeletal stem cells during distraction activates a gene-regulatory program and retrotransposons that are normally active in primitive neural crest cells, from which skeletal stem cells arise during development. This reversion to a developmental state underlies the robust tissue growth that facilitates stem-cell-based regeneration of adult skeletal tissue.
Relevant articles
Open Access articles citing this article.
Yuan Xiong

,

Bo-Bin Mi

…

Guo-Hui Liu

Military Medical Research Open Access 19 November 2022

Qiwen Li

,

Ruoshi Xu

…

Quan Yuan

Bone Research Open Access 19 October 2022

Daisuke Kamiya

,

Nana Takenaka-Ninagawa

…

Makoto Ikeya

npj Regenerative Medicine Open Access 15 September 2022
Access options
Subscribe to Nature+
Get immediate online access to Nature and 55 other Nature journal
Subscribe to Journal
Get full journal access for 1 year
$199.00
only $3.90 per issue
All prices are NET prices.
VAT will be added later in the checkout.
Tax calculation will be finalised during checkout.
Buy article
Get time limited or full article access on ReadCube.
$32.00
All prices are NET prices.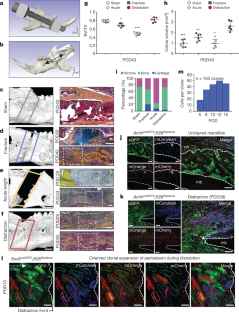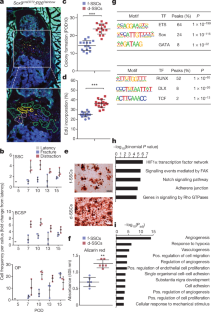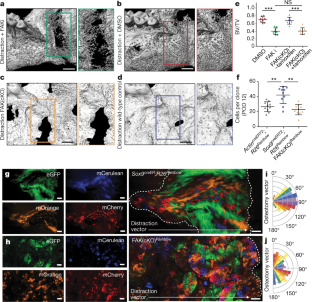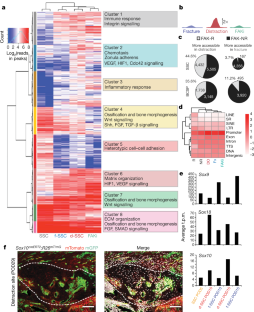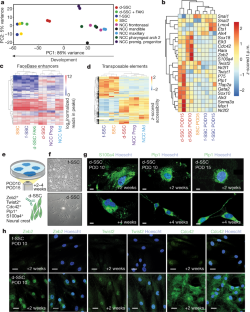 Data availability
All data to support the conclusions in this manuscript can be found in the figures. All source data for graphs are available in the online version of the paper. Any other data can be requested from the corresponding authors. All ATAC-seq and RNA-seq data can be accessed from the Gene Expression Omnibus (https://www.ncbi.nlm.nih.gov/geo/) with accession number GSE104473.
References
Ilizarov, G. A. The tension-stress effect on the genesis and growth of tissues: part II. The influence of the rate and frequency of distraction. Clin. Orthop. Relat. Res. 239, 263–285 (1989).

Ilizarov, G. A. The tension-stress effect on the genesis and growth of tissues. Part I. The influence of stability of fixation and soft-tissue preservation. Clin. Orthop. Relat. Res. 238, 249–281 (1989).

Tahiri, Y., Viezel-Mathieu, A., Aldekhayel, S., Lee, J. & Gilardino, M. The effectiveness of mandibular distraction in improving airway obstruction in the pediatric population. Plast. Reconstr. Surg. 133, 352e–359e (2014).

McCarthy, J. G., Schreiber, J., Karp, N., Thorne, C. H. & Grayson, B. H. Lengthening the human mandible by gradual distraction. Plast. Reconstr. Surg. 89, 1–8 (1992).

Khansa, I. et al. Airway and feeding outcomes of mandibular distraction, tongue-lip adhesion, and conservative management in Pierre Robin sequence: a prospective study. Plast. Reconstr. Surg. 139, 975e–983e (2017).

Chan, C. K. et al. Identification and specification of the mouse skeletal stem cell. Cell 160, 285–298 (2015).

Adam, R. C. et al. Pioneer factors govern super-enhancer dynamics in stem cell plasticity and lineage choice. Nature 521, 366–370 (2015).

Ge, Y. et al. Stem cell lineage infidelity drives wound repair and cancer. Cell 169, 636–650 (2017).

Frechin, M. et al. Cell-intrinsic adaptation of lipid composition to local crowding drives social behaviour. Nature 523, 88–91 (2015).

Bell, S. & Terentjev, E. M. Focal adhesion kinase: the reversible molecular mechanosensor. Biophys. J. 112, 2439–2450 (2017).

Rinkevich, Y., Lindau, P., Ueno, H., Longaker, M. T. & Weissman, I. L. Germ-layer and lineage-restricted stem/progenitors regenerate the mouse digit tip. Nature 476, 409–413 (2011).

Lehoczky, J. A., Robert, B. & Tabin, C. J. Mouse digit tip regeneration is mediated by fate-restricted progenitor cells. Proc. Natl Acad. Sci. USA 108, 20609–20614 (2011).

Buenrostro, J. D., Giresi, P. G., Zaba, L. C., Chang, H. Y. & Greenleaf, W. J. Transposition of native chromatin for fast and sensitive epigenomic profiling of open chromatin, DNA-binding proteins and nucleosome position. Nat. Methods 10, 1213–1218 (2013).

Hojo, H., Ohba, S., He, X., Lai, L. P. & McMahon, A. P. Sp7/Osterix is restricted to bone-forming vertebrates where it acts as a Dlx co-factor in osteoblast specification. Dev. Cell 37, 238–253 (2016).

Meyer, M. B., Benkusky, N. A. & Pike, J. W. The RUNX2 cistrome in osteoblasts: characterization, down-regulation following differentiation, and relationship to gene expression. J. Biol. Chem. 289, 16016–16031 (2014).

Prescott, S. L. et al. Enhancer divergence and cis-regulatory evolution in the human and chimp neural crest. Cell 163, 68–83 (2015).

Tominaga, H. et al. CCAAT/enhancer-binding protein β promotes osteoblast differentiation by enhancing Runx2 activity with ATF4. Mol. Biol. Cell 19, 5373–5386 (2008).

Rogers, C. D., Phillips, J. L. & Bronner, M. E. Elk3 is essential for the progression from progenitor to definitive neural crest cell. Dev. Biol. 374, 255–263 (2013).

Santagati, F. & Rijli, F. M. Cranial neural crest and the building of the vertebrate head. Nat. Rev. Neurosci. 4, 806–818 (2003).

Kaukua, N. et al. Glial origin of mesenchymal stem cells in a tooth model system. Nature 513, 551–554 (2014).

Kaucka, M. et al. Analysis of neural crest-derived clones reveals novel aspects of facial development. Sci. Adv. 2, e1600060 (2016).

Kaucka, M. et al. Oriented clonal cell dynamics enables accurate growth and shaping of vertebrate cartilage. eLife 6, e25902 (2017).

Minoux, M. et al. Gene bivalency at Polycomb domains regulates cranial neural crest positional identity. Science 355, eaal2913 (2017).

Brinkley, J. F. et al. The FaceBase Consortium: a comprehensive resource for craniofacial researchers. Development 143, 2677–2688 (2016).

Attanasio, C. et al. Fine tuning of craniofacial morphology by distant-acting enhancers. Science 342, 1241006 (2013).

Tanaka, H. V. et al. A developmentally regulated switch from stem cells to dedifferentiation for limb muscle regeneration in newts. Nat. Commun. 7, 11069 (2016).

Sánchez Alvarado, A. Developmental biology: a cellular view of regeneration. Nature 460, 39–40 (2009).

Kragl, M. et al. Cells keep a memory of their tissue origin during axolotl limb regeneration. Nature 460, 60–65 (2009).

Purnell, B. A. Regrow like an axolotl. Science 355, 592 (2017).

Nacu, E., Gromberg, E., Oliveira, C. R., Drechsel, D. & Tanaka, E. M. FGF8 and SHH substitute for anterior–posterior tissue interactions to induce limb regeneration. Nature 533, 407–410 (2016).

Roensch, K., Tazaki, A., Chara, O. & Tanaka, E. M. Progressive specification rather than intercalation of segments during limb regeneration. Science 342, 1375–1379 (2013).

Kaufman, C. K. et al. A zebrafish melanoma model reveals emergence of neural crest identity during melanoma initiation. Science 351, aad2197 (2016).

Coufal, N. G. et al. L1 retrotransposition in human neural progenitor cells. Nature 460, 1127–1131 (2009).

Ivancevic, A. M., Kortschak, R. D., Bertozzi, T. & Adelson, D. L. LINEs between species: evolutionary dynamics of LINE-1 retrotransposons across the eukaryotic tree of life. Genome Biol. Evol. 8, 3301–3322 (2016).

Bridier-Nahmias, A. et al. Retrotransposons. An RNA polymerase III subunit determines sites of retrotransposon integration. Science 348, 585–588 (2015).

Mashanov, V. S., Zueva, O. R. & García-Arrarás, J. E. Retrotransposons in animal regeneration: overlooked components of the regenerative machinery? Mob. Genet. Elements 2, 244–247 (2012).

Baillie, J. K. et al. Somatic retrotransposition alters the genetic landscape of the human brain. Nature 479, 534–537 (2011).

Ueno, H. & Weissman, I. L. Clonal analysis of mouse development reveals a polyclonal origin for yolk sac blood islands. Dev. Cell 11, 519–533 (2006).

Wright, D. E., Wagers, A. J., Gulati, A. P., Johnson, F. L. & Weissman, I. L. Physiological migration of hematopoietic stem and progenitor cells. Science 294, 1933–1936 (2001).

Corces, M. R. et al. An improved ATAC-seq protocol reduces background and enables interrogation of frozen tissues. Nat. Methods 14, 959–962 (2017).

McLean, C. Y. et al. GREAT improves functional interpretation of cis-regulatory regions. Nat. Biotechnol. 28, 495–501 (2010).
Acknowledgements
We thank J. Wysocka for her review of the manuscript and helpful suggestions. We thank the Stanford Functional Genomics Facility, Stanford Cell Sciences Imaging Facility, Lorry Lokey Imaging Facility, and Stanford Shared FACS Facility Cores. We thank D. J. Hunter and D. Atashroo for their respective contributions to the design of the distraction device. This work was supported by the National Institutes of Health (NIH) grants R01DE026730 (to M.T.L. and R.C.R.), U24DE026914 (to M.T.L.) and K08DE024269 (to D.C.W.); the Child Health Research Institute (CHRI) at Stanford University (D.C.W.); The Hagey Laboratory for Pediatric Regenerative Medicine (M.T.L.); the Steinhart/Reed Award (M.T.L); the Gunn–Oliver Fund (M.T.L.); and NIH grant P50-HG007735 and the Scleroderma Research Foundation (H.Y.C.). H.Y.C. is an Investigator of the Howard Hughes Medical Institute.
Reviewer information
Nature thanks C. Tabin, L. Gerstenfeld and P. Scacheri for their contribution to the peer review of this work.
Ethics declarations
Competing interests
The authors declare no competing interests.
Additional information
Publisher's note: Springer Nature remains neutral with regard to jurisdictional claims in published maps and institutional affiliations.
Extended data figures and tables
Supplementary information
FAK-responsive and non-responsive sites in SSCs. a, FAK-responsive sites and nearest genes. b, FAK-nonresponsive sites and nearest genes. c, GO terms enriched in genes nearest to FAK-responsive sites. P-values (one-sided binomial) are corrected using the Benjamini-Hochberg correction. d, Same as c for FAK-nonresponsive sites.
About this article
Cite this article
Ransom, R.C., Carter, A.C., Salhotra, A. et al. Mechanoresponsive stem cells acquire neural crest fate in jaw regeneration. Nature 563, 514–521 (2018). https://doi.org/10.1038/s41586-018-0650-9
Received:

Accepted:

Published:

Issue Date:

DOI: https://doi.org/10.1038/s41586-018-0650-9
Keywords
Skeletal Stem Cells (SSCs)

Mandibular Distraction

Distraction Osteogenesis

FACS Isolation

Long Interspersed Nuclear Elements (LINEs)
Comments
By submitting a comment you agree to abide by our Terms and Community Guidelines. If you find something abusive or that does not comply with our terms or guidelines please flag it as inappropriate.