Abstract
Birds are the only living amniotes with coloured eggs1,2,3,4, which have long been considered to be an avian innovation1,3. A recent study has demonstrated the presence of both red-brown protoporphyrin IX and blue-green biliverdin5—the pigments responsible for all the variation in avian egg colour—in fossilized eggshell of a nonavian dinosaur6. This raises the fundamental question of whether modern birds inherited egg colour from their nonavian dinosaur ancestors, or whether egg colour evolved independently multiple times. Here we present a phylogenetic assessment of egg colour in nonavian dinosaurs. We applied high-resolution Raman microspectroscopy to eggshells that represent all of the major clades of dinosaurs, and found that egg colour pigments were preserved in all eumaniraptorans: egg colour had a single evolutionary origin in nonavian theropod dinosaurs. The absence of colour in ornithischian and sauropod eggs represents a true signal rather than a taphonomic artefact. Pigment surface maps revealed that nonavian eumaniraptoran eggs were spotted and speckled, and colour pattern diversity in these eggs approaches that in extant birds, which indicates that reproductive behaviours in nonavian dinosaurs were far more complex than previously known3. Depth profiles demonstrated identical mechanisms of pigment deposition in nonavian and avian dinosaur eggs. Birds were not the first amniotes to produce coloured eggs: as with many other characteristics7,8 this is an attribute that evolved deep within the dinosaur tree and long before the spectacular radiation of modern birds.
Relevant articles
Open Access articles citing this article.
Ying Li

,

Xufeng Zhu

…

Xiaolin Wang

Heritage Science Open Access 14 June 2022

Alida M. Bailleul

,

Jingmai O'Connor

…

Zhonghe Zhou

Nature Communications Open Access 20 March 2019
Access options
Subscribe to Nature+
Get immediate online access to Nature and 55 other Nature journal
Subscribe to Journal
Get full journal access for 1 year
$199.00
only $3.90 per issue
All prices are NET prices.
VAT will be added later in the checkout.
Tax calculation will be finalised during checkout.
Buy article
Get time limited or full article access on ReadCube.
$32.00
All prices are NET prices.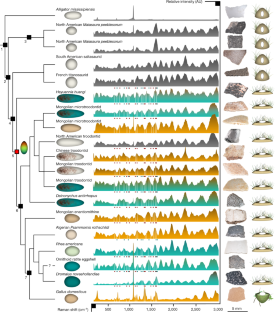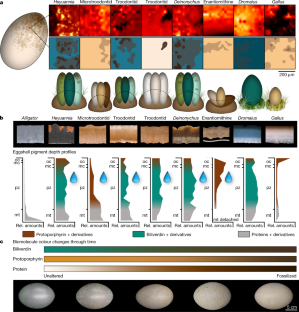 Data availability
The authors declare that all Raman data supporting the findings of this study are available within the paper (pigment maps and depth profiles), and its Supplementary Information and Source Data.
References
Kilner, R. M. The evolution of egg colour and patterning in birds. Biol. Rev. Camb. Philos. Soc. 81, 383–406 (2006).

Cherry, M. I. & Gosler, A. G. Avian eggshell coloration: new perspectives on adaptive explanations. Biol. J. Linn. Soc. 100, 753–762 (2010).

Cassey, P. et al. Why are birds' eggs colourful? Eggshell pigments co-vary with life-history and nesting ecology among British breeding non-passerine birds. Biol. J. Linn. Soc. 106, 657–672 (2012).

Packard, M. J. & Seymour, R. S. in Amniote Origins: Completing the Transition to Land (eds Sumida, S. S. & Martin, K. L. M.) Ch. 8, 265–290 (Academic, San Diego, 1997).

Kennedy, G. Y. & Vevers, H. G. A survey of avian eggshell pigments. Comp. Biochem. Physiol. B 55, 117–123 (1976).

Wiemann, J. et al. Dinosaur origin of egg color: oviraptors laid blue-green eggs. PeerJ 5, e3706 (2017).

Norell, M. A., Clark, J. M., Chiappe, L. M. & Dashzeveg, D. A nesting dinosaur. Nature 378, 774–776 (1995).

Turner, A. H., Makovicky, P. J., & Norell, M. A. A Review of dromaeosaurid systematics and paravian phylogeny. Bull. Am. Mus. Nat. Hist. 371, 1–206 (2012).

Stoddard, M. C. & Prum, R. O. How colorful are birds? Evolution of the avian plumage color gamut. Behav. Ecol. 22, 1042–1052 (2011).

Komdeur, J. & Kats, R. K. Predation risk affects trade-off between nest guarding and foraging in Seychelles warblers. Behav. Ecol. 10, 648–658 (1999).

Gillis, H., Gauffre, B., Huot, R. & Bretagnolle, V. Vegetation height and egg coloration differentially affect predation rate and overheating risk: an experimental test mimicking a ground-nesting bird. Can. J. Zool. 90, 694–703 (2012).

Hewitson, W. C. Eggs of British Birds (John Van Voorst, London, 1846).

Wallace, A. R. Darwinism: An Exposition of the Theory of Natural Selection with Some of its Applications (Macmillan, London, 1890).

Stoddard, M. C. et al. Camouflage and clutch survival in plovers and terns. Sci. Rep. 6, 32059 (2016).

Newton, A. V. A Dictionary of Birds (A&C Black, London, 1896).

Ishikawa, S. et al. Photodynamic antimicrobial activity of avian eggshell pigments. FEBS Lett. 584, 770–774 (2010).

Lahti, D. Population differentiation and rapid evolution of egg colour in accordance with solar radiation. Auk 125, 796–802 (2008).

Gosler, A. G., Higham, J. P. & Reynolds, S. J. Why are birds' eggs speckled? Ecol. Lett. 8, 1105–1113 (2005).

Ryter, S. W. & Tyrrell, R. M. The heme synthesis and degradation pathways: role in oxidant sensitivity. Heme oxygenase has both pro- and antioxidant properties. Free Radic. Biol. Med. 28, 289–309 (2000).

Falk, J. E. Porphyrins and Metalloporphyrins (Elsevier, Amsterdam, 1964).

Gorchein, A., Lim, C. K. & Cassey, P. Extraction and analysis of colourful eggshell pigments using HPLC and HPLC/electrospray ionization tandem mass spectrometry. Biomed. Chromatogr. 23, 602–606 (2009).

Milgrom, L. R. & Warren, M. J. in The Colours of Life: An Introduction to the Chemistry of Porphyrins and Related Compounds (ed. Milgrom, L. R.) Ch. 1–5, 1–175 (Oxford Univ. Press, Oxford, 1997).

Wang, X. T. et al. Comparison of the total amount of eggshell pigments in Dongxiang brown-shelled eggs and Dongxiang blue-shelled eggs. Poult. Sci. 88, 1735–1739 (2009).

Igic, B. et al. Detecting pigments from colourful eggshells of extinct birds. Chemoecology 20, 43–48 (2010).

Nys, Y., Gautron, J., Garcia-Ruiz, J. M. & Hincke, M. T. Avian eggshell mineralization: biochemical and functional characterization of matrix proteins. C. R. Palevol 3, 549–562 (2004).

Wiemann, J. et al. Fossilization transforms proteins into N-heterocyclic polymers. Nat. Commun. https://doi.org/10.1038/s41467-018-07013-3 (2018).

Varricchio, D. J. & Jackson, F. D. Reproduction in Mesozoic birds and evolution of the modern avian reproductive mode. Auk 133, 654–684 (2016).

Sereno, P. C. The evolution of dinosaurs. Science 284, 2137–2147 (1999).

Pisani, D., Yates, A. M., Langer, M. C. & Benton, M. J. A genus-level supertree of the Dinosauria. Proc. R. Soc. Lond. B 269, 915–921 (2002).

Carpenter, K. et al. (eds) Dinosaur Eggs and Babies (Cambridge Univ. Press, Cambridge, 1996).

Mikhailov, K. E., Bray, E. S. & Hirsch, K. F. Parataxonomy of fossil egg remains (Veterovata): principles and applications. J. Vertebr. Paleontol. 16, 763–769 (1996).

Thomas, D. B. et al. Analysing avian eggshell pigments with Raman spectroscopy. J. Exp. Biol. 218, 2670–2674 (2015).
Acknowledgements
We thank D. E. G. Briggs for advice and assistance with the manuscript. M. Fabbri, N. Mongiardino Koch, J. Gauthier, K. Zykowski and R. Prum made helpful suggestions. Y.-N. Cheng, Y.-F. Shiao, X. Wu, T. Töpfer, P. M. Sander and K. Zykowski provided eggshell specimens. This research was supported by the Steven Cohen Award of the Society of Vertebrate Paleontology (J.W.), the Macaulay Family Endowment (M.A.N.) and the Division of Paleontology, American Museum of Natural History.
Reviewer information
Nature thanks D. Zelenitsky and the other anonymous reviewer(s) for their contribution to the peer review of this work.
Ethics declarations
Competing interests
The authors declare no competing interests.
Additional information
Publisher's note: Springer Nature remains neutral with regard to jurisdictional claims in published maps and institutional affiliations.
Extended data figures and tables
Supplementary information
This file contains Supplementary Information, including Supplementary Figures 1-5 and Supplementary Tables 1-2 and additional references.
About this article
Cite this article
Wiemann, J., Yang, TR. & Norell, M.A. Dinosaur egg colour had a single evolutionary origin. Nature 563, 555–558 (2018). https://doi.org/10.1038/s41586-018-0646-5
Received:

Accepted:

Published:

Issue Date:

DOI: https://doi.org/10.1038/s41586-018-0646-5
Keywords
Single Evolutionary Origin

Nonavian Dinosaurs

Fossil Eggshell

Avian Dinosaurs

Biliverdin
Comments
By submitting a comment you agree to abide by our Terms and Community Guidelines. If you find something abusive or that does not comply with our terms or guidelines please flag it as inappropriate.