Abstract
Biosynthesis of glycogen, the essential glucose (and hence energy) storage molecule in humans, animals and fungi1, is initiated by the glycosyltransferase enzyme, glycogenin (GYG). Deficiencies in glycogen formation cause neurodegenerative and metabolic disease2,3,4, and mouse knockout5 and inherited human mutations6 of GYG impair glycogen synthesis. GYG acts as a 'seed core' for the formation of the glycogen particle by catalysing its own stepwise autoglucosylation to form a covalently bound gluco-oligosaccharide chain at initiation site Tyr 195. Precise mechanistic studies have so far been prevented by an inability to access homogeneous glycoforms of this protein, which unusually acts as both catalyst and substrate. Here we show that unprecedented direct access to different, homogeneously glucosylated states of GYG can be accomplished through a palladium-mediated enzyme activation 'shunt' process using on-protein C–C bond formation. Careful mimicry of GYG intermediates recapitulates catalytic activity at distinct stages, which in turn allows discovery of triphasic kinetics and substrate plasticity in GYG's use of sugar substrates. This reveals a tolerant but 'proof-read' mechanism that underlies the precision of this metabolic process. The present demonstration of direct, chemically controlled access to intermediate states of active enzymes suggests that such ligation-dependent activation could be a powerful tool in the study of mechanism.
Relevant articles
Open Access articles citing this article.
Beatriz Piniello

,

Javier Macías-León

…

Ramon Hurtado-Guerrero

Nature Communications Open Access 18 September 2023

Mariana A. B. Morais

,

Joan Coines

…

Mario T. Murakami

Nature Communications Open Access 14 January 2021
Access options
Access Nature and 54 other Nature Portfolio journals
Get Nature+, our best-value online-access subscription
$29.99 / 30 days
cancel any time
Subscribe to this journal
Receive 51 print issues and online access
$199.00 per year
only $3.90 per issue
Rent or buy this article
Prices vary by article type
from$1.95
to$39.95
Prices may be subject to local taxes which are calculated during checkout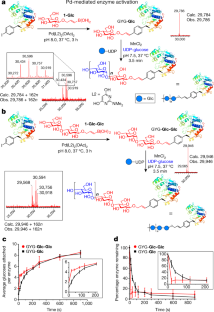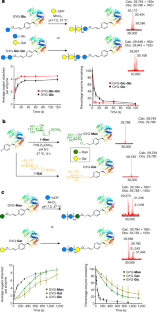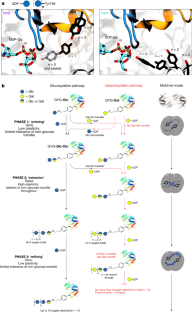 References
Roach, P. J., Depaoli-Roach, A. A., Hurley, T. D. & Tagliabracci, V. S. Glycogen and its metabolism: some new developments and old themes. Biochem. J. 441, 763–787 (2012).

Adeva-Andany, M. M., González-Lucán, M., Donapetry-García, C., Fernández-Fernández, C. & Ameneiros-Rodríguez, E. Glycogen metabolism in humans. BBA Clin. 5, 85–100 (2016).

Roach, P. J. Are there errors in glycogen biosynthesis and is laforin a repair enzyme? FEBS Lett. 585, 3216–3218 (2011).

Zois, C. E., Favaro, E. & Harris, A. L. Glycogen metabolism in cancer. Biochem. Pharmacol. 92, 3–11 (2014).

Testoni, G. et al. Lack of glycogenin causes glycogen accumulation and muscle function impairment. Cell Metab. 26, 256–266 (2017).

Moslemi, A.-R. et al. Glycogenin-1 deficiency and inactivated priming of glycogen synthesis. N. Engl. J. Med. 362, 1203–1210 (2010).

Alonso, M. D., Lomako, J., Lomako, W. M. & Whelan, W. J. Tyrosine-194 of glycogenin undergoes autocatalytic glucosylation but is not essential for catalytic function and activity. FEBS Lett. 342, 38–42 (1994).

Hurley, T. D., Stout, S., Miner, E., Zhou, J. & Roach, P. J. Requirements for catalysis in mammalian glycogenin. J. Biol. Chem. 280, 23892–23899 (2005).

Gibbons, B. J., Roach, P. J. & Hurley, T. D. Crystal structure of the autocatalytic initiator of glycogen biosynthesis, glycogenin. J. Mol. Biol. 319, 463–477 (2002).

Chaikuad, A. et al. Conformational plasticity of glycogenin and its maltosaccharide substrate during glycogen biogenesis. Proc. Natl Acad. Sci. USA 108, 21028–21033 (2011).

Hurley, T. D., Walls, C., Bennett, J. R., Roach, P. J. & Wang, M. Direct detection of glycogenin reaction products during glycogen initiation. Biochem. Biophys. Res. Commun. 348, 374–378 (2006).

Chalker, J. M., Bernardes, G. J. L. & Davis, B. G. A "Tag-and-modify" approach to site-selective protein modification. Acc. Chem. Res. 44, 730–741 (2011).

Chalker, J. M., Wood, C. S. C. & Davis, B. G. A convenient catalyst for aqueous and protein Suzuki-Miyaura cross-coupling. J. Am. Chem. Soc. 131, 16346–16347 (2009).

Spicer, C. D. & Davis, B. G. Palladium-mediated site-selective Suzuki-Miyaura protein modification at genetically encoded aryl halides. Chem. Commun. 47, 1698–1700 (2011).

Spicer, C. D., Triemer, T. & Davis, B. G. Palladium-mediated cell-surface labeling. J. Am. Chem. Soc. 134, 800–803 (2012).

Spicer, C. D. & Davis, B. G. Rewriting the bacterial glycocalyx via Suzuki-Miyaura cross-coupling. Chem. Commun. 49, 2747–2749 (2013).

Dumas, A. et al. Self-liganded Suzuki-Miyaura coupling for site-selective protein PEGylation. Angew. Chem. Int. Edn Engl. 52, 3916–3921 (2013).

Li, J. & Chen, P. R. Moving Pd-mediated protein cross coupling to living systems. ChemBioChem 13, 1728–1731 (2012).

Yang, M., Li, J. & Chen, P. R. Transition metal-mediated bioorthogonal protein chemistry in living cells. Chem. Soc. Rev. 43, 6511–6526 (2014).

Jbara, M., Maity, S. K. & Brik, A. Palladium in the chemical synthesis and modification of proteins. Angew. Chem. Int. Ed. 56, 10644–10655 (2017).

Boeggeman, E. & Qasba, P. K. Studies on the metal binding sites in the catalytic domain of β1,4-galactosyltransferase. Glycobiology 12, 395–407 (2002).

Nielsen, M. M. et al. Substrate and metal ion promiscuity in mannosylglycerate synthase. J. Biol. Chem. 286, 15155–15164 (2011).

Young, T. S., Ahmad, I., Yin, J. A. & Schultz, P. G. An enhanced system for unnatural amino acid mutagenesis in E. coli. J. Mol. Biol. 395, 361–374 (2010).

Davis, L. & Chin, J. W. Designer proteins: applications of genetic code expansion in cell biology. Nat. Rev. Mol. Cell Biol. 13, 168–182 (2012).

Issoglio, F. M., Carrizo, M. E., Romero, J. M. & Curtino, J. A. Mechanisms of monomeric and dimeric glycogenin autoglucosylation. J. Biol. Chem. 287, 1955–1961 (2012).

Bazán, S., Issoglio, F. M., Carrizo, M. E. & Curtino, J. A. The intramolecular autoglucosylation of monomeric glycogenin. Biochem. Biophys. Res. Commun. 371, 328–332 (2008).

Laio, A. & Parrinello, M. Escaping free-energy minima. Proc. Natl Acad. Sci. USA 99, 12562–12566 (2002).

Ardèvol, A. & Rovira, C. Reaction mechanisms in carbohydrate-active enzymes: glycoside hydrolases and glycosyltransferases. insights from ab initio quantum mechanics/molecular mechanics dynamic simulations. J. Am. Chem. Soc. 137, 7528–7547 (2015).

Lee, S. S. et al. Mechanistic evidence for a front-side, SNi-type reaction in a retaining glycosyltransferase. Nat. Chem. Biol. 7, 631–638 (2011).

Ardèvol, A. & Rovira, C. The molecular mechanism of enzymatic glycosyl transfer with retention of configuration: evidence for a short-lived oxocarbenium-like species. Angew. Chem. Int. Edn Engl. 50, 10897–10901 (2011).

Carrizo, M. E., Miozzo, M. C., Goldraij, A. & Curtino, J. A. Purification of rabbit skeletal muscle proteoglycogen: studies on the glucosyltransferase activity of polysaccharide-free and -bound glycogenin. Glycobiology 7, 571–578 (1997).

Alonso, M. D., Lomako, J., Lomako, W. M. & Whelan, W. J. A new look at the biogenesis of glycogen. FASEB J. 9, 1126–1137 (1995).

Ashcroft, F. M., Rohm, M., Clark, A. & Brereton, M. F. Is type 2 diabetes a glycogen storage disease of pancreatic β cells? Cell Metab. 26, 17–23 (2017).

Lee, H.-M., Larson, D. R. & Lawrence, D. S. Illuminating the chemistry of life: design, synthesis, and applications of "caged" and related photoresponsive compounds. ACS Chem. Biol. 4, 409–427 (2009).

Li, J. et al. Palladium-triggered deprotection chemistry for protein activation in living cells. Nat. Chem. 6, 352–361 (2014).

Guibé, F. Allylic protecting groups and their use in a complex environment Part II: allylic protecting groups and their removal through catalytic palladium π-allyl methodology. Tetrahedron 54, 2967–3042 (1998).

Tsuji, J. New general synthetic methods involving π-allylpalladium complexes as intermediates and neutral reaction conditions. Tetrahedron 42, 4361–4401 (1986).

Tsuji, J. & Yamakawa, T. A convenient method for the preparation of 1-olefins by the palladium catalyzed hydrogenolysis of allylic acetates and allylic phenyl ethers with ammonium formate. Tetrahedron Lett. 20, 613–616 (1979).
Acknowledgements
This work was supported by grants from the EPSRC (DTA to C.D.S. and M.K.B.), MINECO (CTQ2017-85496-P to C.R.), AGAUR (2017SGR-1189 to C.R.), Spanish Structures of Excellence María de Maeztu (MDM-2017-0767 to C.R.), EU Horizon 2020 programme, Marie Skłodowska-Curie (67507) and the Royal Society (Wolfson Research Merit Award to B.G.D.). We thank G. Hemberg for useful discussions, P. G. Schultz for provision of initial pEVOL-pIPhe plasmid, and BSC-CNS for computer resources and technical support at the MareNostrum supercomputer (RES-QCM-2018-2-0025). The Structural Genomics Consortium is a registered charity (number 1097737) that receives funds from AbbVie, Bayer Pharma AG, Boehringer Ingelheim, Canada Foundation for Innovation, Eshelman Institute for Innovation, Genome Canada, Innovative Medicines Initiative (EU/EFPIA) (ULTRA-DD grant number 115766), Janssen, Merck & Co., Novartis Pharma AG, Ontario Ministry of Economic Development and Innovation, Pfizer, São Paulo Research Foundation-FAPESP, Takeda, and Wellcome Trust (092809/Z/10/Z).
Ethics declarations
Competing interests
The authors declare no competing interests.
Additional information
Publisher's note: Springer Nature remains neutral with regard to jurisdictional claims in published maps and institutional affiliations.
Extended data figures and tables
Supplementary information
Supplementary Methods and Supplementary Tables 1-14.
Supplementary Video of QM/MM analysis of 'Extension Phase 2'.
About this article
Cite this article
Bilyard, M.K., Bailey, H., Raich, L. et al. Palladium-mediated enzyme activation suggests multiphase initiation of glycogenesis. Nature 563, 235–240 (2018). https://doi.org/10.1038/s41586-018-0644-7
Received:

Accepted:

Published:

Issue Date:

DOI: https://doi.org/10.1038/s41586-018-0644-7
Keywords
This article is cited by
Beatriz Piniello
Javier Macías-León
Ramon Hurtado-Guerrero

Nature Communications (2023)

Mariana A. B. Morais
Joan Coines
Mario T. Murakami

Nature Communications (2021)
Comments
By submitting a comment you agree to abide by our Terms and Community Guidelines. If you find something abusive or that does not comply with our terms or guidelines please flag it as inappropriate.