Abstract
Activity in the motor cortex predicts movements, seconds before they are initiated. This preparatory activity has been observed across cortical layers, including in descending pyramidal tract neurons in layer 5. A key question is how preparatory activity is maintained without causing movement, and is ultimately converted to a motor command to trigger appropriate movements. Here, using single-cell transcriptional profiling and axonal reconstructions, we identify two types of pyramidal tract neuron. Both types project to several targets in the basal ganglia and brainstem. One type projects to thalamic regions that connect back to motor cortex; populations of these neurons produced early preparatory activity that persisted until the movement was initiated. The second type projects to motor centres in the medulla and mainly produced late preparatory activity and motor commands. These results indicate that two types of motor cortex output neurons have specialized roles in motor control.
Access options
Access options
Subscribe to Journal
Get full journal access for 1 year
$199.00
only $3.90 per issue
All prices are NET prices.
VAT will be added later in the checkout.
Rent or Buy article
Get time limited or full article access on ReadCube.
from$8.99
All prices are NET prices.
Additional information
Publisher's note: Springer Nature remains neutral with regard to jurisdictional claims in published maps and institutional affiliations.
References
1.

Svoboda, K. & Li, N. Neural mechanisms of movement planning: motor cortex and beyond. Curr. Opin. Neurobiol. 49, 33–41 (2018).

2.

Shenoy, K. V., Sahani, M. & Churchland, M. M. Cortical control of arm movements: a dynamical systems perspective. Annu. Rev. Neurosci. 36, 337–359 (2013).

3.

Evarts, E. V. Pyramidal tract activity associated with a conditioned hand movement in the monkey. J. Neurophysiol. 29, 1011–1027 (1966).

4.

Kaufman, M. T. et al. The largest response component in the motor cortex reflects movement timing but not movement type. eNeuro 3, https://doi.org/10.1523/ENEURO.0085-16.2016 (2016).

5.

Kiritani, T., Wickersham, I. R., Seung, H. S. & Shepherd, G. M. G. Hierarchical connectivity and connection-specific dynamics in the corticospinal-corticostriatal microcircuit in mouse motor cortex. J. Neurosci. 32, 4992–5001 (2012).

6.

Kawaguchi, Y. Pyramidal cell subtypes and their synaptic connections in layer 5 of rat frontal cortex. Cereb. Cortex 27, 5755–5771 (2017).

7.

Hooks, B. M. et al. Organization of cortical and thalamic input to pyramidal neurons in mouse motor cortex. J. Neurosci. 33, 748–760 (2013).

8.

von Economo, C. & Parker, S. The Cytoarchitectonics of the Human Cerebral Cortex (Oxford University Press, London 1929).

9.

Kuypers, H. G. J. M. in Comprehensive Physiology (ed. Terjung, R.) (John Wiley & Sons, Inc., New Jersey, 1981).

10.

Lemon, R. N. Descending pathways in motor control. Annu. Rev. Neurosci. 31, 195–218 (2008).

11.

Cheney, P. D. & Fetz, E. E. Functional classes of primate corticomotoneuronal cells and their relation to active force. J. Neurophysiol. 44, 773–791 (1980).

12.

Lawrence, D. G. & Kuypers, H. G. The functional organization of the motor system in the monkey. I. The effects of bilateral pyramidal lesions. Brain J. Neurol. 91, 1–14 (1968).

13.

Deschênes, M., Bourassa, J. & Pinault, D. Corticothalamic projections from layer V cells in rat are collaterals of long-range corticofugal axons. Brain Res. 664, 215–219 (1994).

14.

Kita, T. & Kita, H. The subthalamic nucleus is one of multiple innervation sites for long-range corticofugal axons: a single-axon tracing study in the rat. J. Neurosci. Off. J. Soc. Neurosci. 32, 5990–5999 (2012).

15.

Guo, Z. V. et al. Maintenance of persistent activity in a frontal thalamocortical loop. Nature 545, 181–186 (2017).

16.

Jones, E. G. & Wise, S. P. Size, laminar and columnar distribution of efferent cells in the sensory-motor cortex of monkeys. J. Comp. Neurol. 175, 391–437 (1977).

17.

Wang, X. et al. Deconstruction of corticospinal circuits for goal-directed motor Skills. Cell 171, 440–455.e14 (2017).

18.

Li, N., Chen, T.-W., Guo, Z. V., Gerfen, C. R. & Svoboda, K. A motor cortex circuit for motor planning and movement. Nature 519, 51–56 (2015).

19.

Tanji, J. & Evarts, E. V. Anticipatory activity of motor cortex neurons in relation to direction of an intended movement. J. Neurophysiol. 39, 1062–1068 (1976).

20.

Turner, R. S. & DeLong, M. R. Corticostriatal activity in primary motor cortex of the macaque. J. Neurosci. 20, 7096–7108 (2000).

21.

Tasic, B. et al. Shared and distinct transcriptomic cell types across neocortical areas. Nature https://doi.org/10.1038/s41586-018-0654-5 (2018).

22.

Economo, M. N. et al. A platform for brain-wide imaging and reconstruction of individual neurons. eLife 5, e10566 (2016).

23.

Stanek, E., IV, Cheng, S., Takatoh, J., Han, B.-X. & Wang, F. Monosynaptic premotor circuit tracing reveals neural substrates for oro-motor coordination. eLife 3, e02511 (2014).

24.

Tervo, D. G. et al. A designer AAV variant permits efficient retrograde access to projection neurons. Neuron 92, 372–382 (2016).

25.

Guo, Z. V. et al. Flow of cortical activity underlying a tactile decision in mice. Neuron 81, 179–194 (2014).

26.

Chen, T.-W., Li, N., Daie, K. & Svoboda, K. A map of anticipatory activity in mouse motor cortex. Neuron 94, 866–879 (2017).

27.

Li, N., Daie, K., Svoboda, K. & Druckmann, S. Robust neuronal dynamics in premotor cortex during motor planning. Nature 532, 459–464 (2016).

28.

Cunningham, J. P. & Yu, B. M. Dimensionality reduction for large-scale neural recordings. Nat. Neurosci. 17, 1500–1509 (2014).

29.

Komiyama, T. et al. Learning-related fine-scale specificity imaged in motor cortex circuits of behaving mice. Nature 464, 1182–1186 (2010).

30.

Travers, J. B., Dinardo, L. A. & Karimnamazi, H. Motor and premotor mechanisms of licking. Neurosci. Biobehav. Rev. 21, 631–647 (1997).

31.

Druckmann, S. & Chklovskii, D. B. Neuronal circuits underlying persistent representations despite time varying activity. Curr. Biol. 22, 2095–2103 (2012).

32.

Kaufman, M. T., Churchland, M. M., Ryu, S. I. & Shenoy, K. V. Cortical activity in the null space: permitting preparation without movement. Nat. Neurosci. 17, 440–448 (2014).

33.

Hattox, A. M. & Nelson, S. B. Layer V neurons in mouse cortex projecting to different targets have distinct physiological properties. J. Neurophysiol. 98, 3330–3340 (2007).

34.

Catsman-Berrevoets, C. E. & Kuypers, H. G. A search for corticospinal collaterals to thalamus and mesencephalon by means of multiple retrograde fluorescent tracers in cat and rat. Brain Res. 218, 15–33 (1981).

35.

Steriade, M. & Yossif, G. Afferent and recurrent collateral influences on cortical somatosensory neurons. Exp. Neurol. 56, 334–360 (1977).

36.

Sherman, S. M. Thalamus plays a central role in ongoing cortical functioning. Nat. Neurosci. 19, 533–541 (2016).

37.

Yamawaki, N. & Shepherd, G. M. G. Synaptic circuit organization of motor corticothalamic neurons. J. Neurosci. 35, 2293–2307 (2015).

38.

Sherman, S. M. & Guillery, R. W. On the actions that one nerve cell can have on another: distinguishing "drivers" from "modulators". Proc. Natl Acad. Sci. USA 95, 7121–7126 (1998).

39.

Langfelder, P. & Horvath, S. WGCNA: an R package for weighted correlation network analysis. BMC Bioinformatics 9, 559 (2008).

40.

Tasic, B. et al. Adult mouse cortical cell taxonomy revealed by single cell transcriptomics. Nat. Neurosci. 19, 335–346 (2016).

41.

Ritchie, M. E. et al. limma powers differential expression analyses for RNA-sequencing and microarray studies. Nucleic Acids Res. 43, e47 (2015).

43.

Oh, S. W. et al. A mesoscale connectome of the mouse brain. Nature 508, 207–214 (2014).

44.

Paletzki, R. & Gerfen, C. R. Whole mouse brain image reconstruction from serial coronal sections using FIJI (ImageJ). Curr. Protoc. Neurosci. 73, 1.25.1–1.25.21 (2015).

45.

Sugino, K. et al. Molecular taxonomy of major neuronal classes in the adult mouse forebrain. Nat. Neurosci. 9, 99–107 (2006).

46.

Sugino, K. et al. Cell-type-specific repression by methyl-CpG-binding protein 2 is biased toward long genes. J. Neurosci. 34, 12877–12883 (2014).

47.

Bolger, A. M., Lohse, M. & Usadel, B. Trimmomatic: a flexible trimmer for Illumina sequence data. Bioinformatics 30, 2114–2120 (2014).

48.

Dobin, A. et al. STAR: ultrafast universal RNA-seq aligner. Bioinformatics 29, 15–21 (2013).

49.

McCarthy, D. J., Chen, Y. & Smyth, G. K. Differential expression analysis of multifactor RNA-Seq experiments with respect to biological variation. Nucleic Acids Res. 40, 4288–4297 (2012).

50.

Guo, Z. V. et al. Procedures for behavioral experiments in head-fixed mice. PLoS One 9, e88678 (2014).

51.

Jun, J. J. et al. Real-time spike sorting platform for high-density extracellular probes with ground-truth validation and drift correction. Preprint at https://www.bioRxiv.org/content/early/2017/01/19/101030 (2017).

52.

Towe, A. L., Patton, H. D. & Kennedy, T. T. Response properties of neurons in the pericruciate cortex of the cat following electrical stimulation of the appendages. Exp. Neurol. 10, 325–344 (1964).

53.

Aarts, E., Verhage, M., Veenvliet, J. V., Dolan, C. V. & van der Sluis, S. A solution to dependency: using multilevel analysis to accommodate nested data. Nat. Neurosci. 17, 491–496 (2014).

54.

van der Leeden, R. in Handbook of Multilevel Analysis (eds de Leeuw, J. & Meijer, E.) 401-433 (Springer, New York, 2008).

55.

Lein, E. S. et al. Genome-wide atlas of gene expression in the adult mouse brain. Nature 445, 168–176 (2007).
Acknowledgements
We thank A. Lemire and K. Aswath for single-cell sorting and bulk RNA-seq, S. Lindo for stereotaxic surgeries, D. Kao and T. Wang for help with RNA-seq analysis, D. Alcor for imaging assistance, and N. Li and H. Inagaki for help with electrophysiological recordings and for discussion. We thank M. Cembrowski, E. Bloss and F. Henry for discussion. H. Inagaki, M. Sherman, S. Romani, L. Luo, G. Shepherd and T. Wang provided comments on the manuscript. Imaging and reconstructions of neuronal morphology was performed by the Janelia MouseLight project (http://mouselight.janelia.org/). This work was funded by the Howard Hughes Medical Institute, the Allen Institute for Brain Science, the NIH Brain Initiative (U01MH105982 to H.Z.), and the Intramural Research Program of the NIMH (ZIA-MH002497-29 to C.R.G).
Reviewer information
Nature thanks P. Carninci, M. Fee, T. Mrsic-Flogel and the anonymous reviewer(s) for their contribution to the peer review of this work.
Extended data figures and tables
Supplementary information
This file contains Supplementary tables 1-4.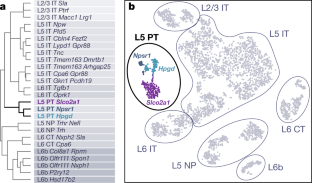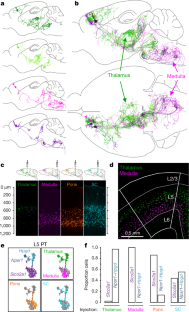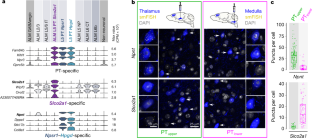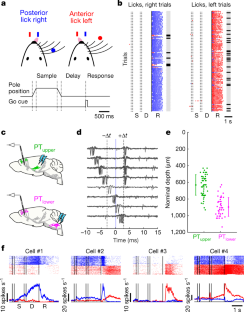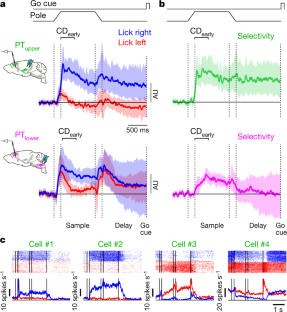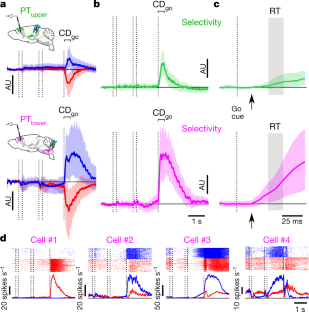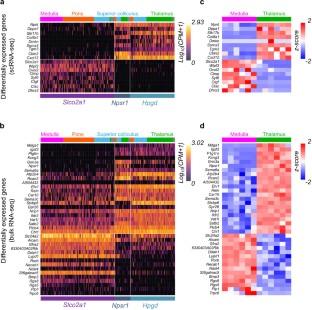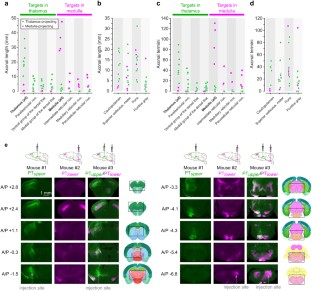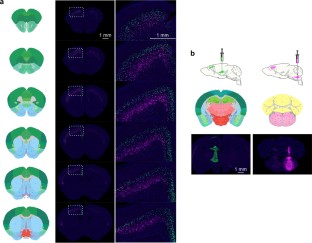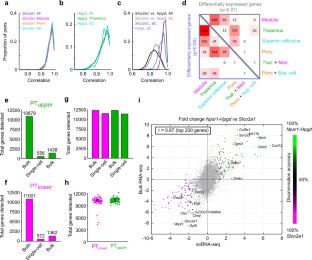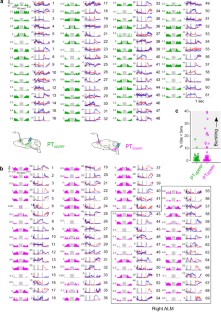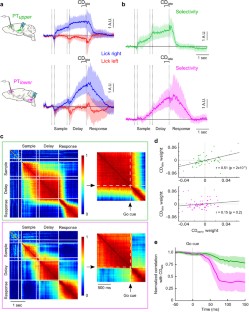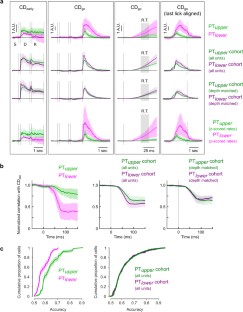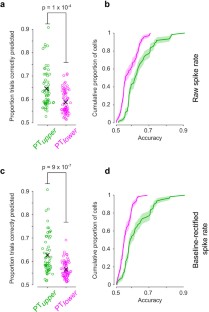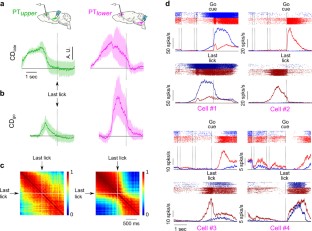 Comments
By submitting a comment you agree to abide by our Terms and Community Guidelines. If you find something abusive or that does not comply with our terms or guidelines please flag it as inappropriate.