Abstract
Persistent and ramping neural activity in the frontal cortex anticipates specific movements1,2,3,4,5,6. Preparatory activity is distributed across several brain regions7,8, but it is unclear which brain areas are involved and how this activity is mediated by multi-regional interactions. The cerebellum is thought to be primarily involved in the short-timescale control of movement9,10,11,12; however, roles for this structure in cognitive processes have also been proposed13,14,15,16. In humans, cerebellar damage can cause defects in planning and working memory13. Here we show that persistent representation of information in the frontal cortex during motor planning is dependent on the cerebellum. Mice performed a sensory discrimination task in which they used short-term memory to plan a future directional movement. A transient perturbation in the medial deep cerebellar nucleus (fastigial nucleus) disrupted subsequent correct responses without hampering movement execution. Preparatory activity was observed in both the frontal cortex and the cerebellar nuclei, seconds before the onset of movement. The silencing of frontal cortex activity abolished preparatory activity in the cerebellar nuclei, and fastigial activity was necessary to maintain cortical preparatory activity. Fastigial output selectively targeted the behaviourally relevant part of the frontal cortex through the thalamus, thus closing a cortico-cerebellar loop. Our results support the view that persistent neural dynamics during motor planning is maintained by neural circuits that span multiple brain regions17, and that cerebellar computations extend beyond online motor control13,14,15,18.
Your institute does not have access to this article
Relevant articles
Open Access articles citing this article.
Xiu-Xiu Liu

,

Xing-Hui Chen

…

Ying-Mei Lu

Signal Transduction and Targeted Therapy Open Access 01 June 2022

Ken-ichi Okada

,

Ryuji Takeya

&

Masaki Tanaka

Nature Communications Open Access 06 May 2022

Ludovic Spaeth

,

Jyotika Bahuguna

…

Philippe Isope

Nature Communications Open Access 31 January 2022
Access options
Subscribe to Nature+
Get immediate online access to the entire Nature family of 50+ journals
Subscribe to Journal
Get full journal access for 1 year
$199.00
only $3.90 per issue
All prices are NET prices.
VAT will be added later in the checkout.
Tax calculation will be finalised during checkout.
Buy article
Get time limited or full article access on ReadCube.
$32.00
All prices are NET prices.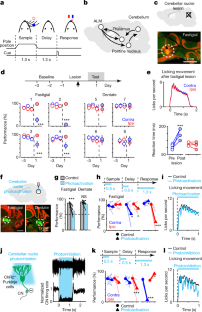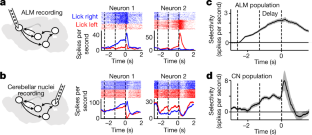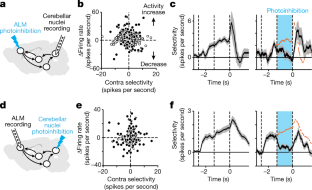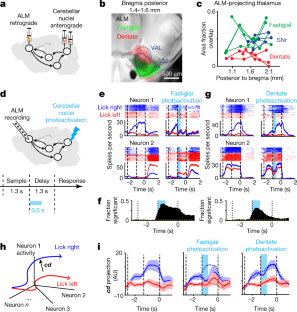 Data availability
Raw and processed data are available from the corresponding author upon reasonable request.
References
Tanji, J. & Evarts, E. V. Anticipatory activity of motor cortex neurons in relation to direction of an intended movement. J. Neurophysiol. 39, 1062–1068 (1976).

Funahashi, S., Bruce, C. J. & Goldman-Rakic, P. S. Mnemonic coding of visual space in the monkey's dorsolateral prefrontal cortex. J. Neurophysiol. 61, 331–349 (1989).

Riehle, A. & Requin, J. Monkey primary motor and premotor cortex: single-cell activity related to prior information about direction and extent of an intended movement. J. Neurophysiol. 61, 534–549 (1989).

Fried, I., Mukamel, R. & Kreiman, G. Internally generated preactivation of single neurons in human medial frontal cortex predicts volition. Neuron 69, 548–562 (2011).

Murakami, M., Vicente, M. I., Costa, G. M. & Mainen, Z. F. Neural antecedents of self-initiated actions in secondary motor cortex. Nat. Neurosci. 17, 1574–1582 (2014).

Svoboda, K. & Li, N. Neural mechanisms of movement planning: motor cortex and beyond. Curr. Opin. Neurobiol. 49, 33–41 (2018).

Goldman-Rakic, P. S. Cellular basis of working memory. Neuron 14, 477–485 (1995).

Wang, X. J. Synaptic reverberation underlying mnemonic persistent activity. Trends Neurosci. 24, 455–463 (2001).

Wolpert, D. M., Miall, R. C. & Kawato, M. Internal models in the cerebellum. Trends Cogn. Sci. 2, 338–347 (1998).

Proville, R. D. et al. Cerebellum involvement in cortical sensorimotor circuits for the control of voluntary movements. Nat. Neurosci. 17, 1233–1239 (2014).

Heiney, S. A., Kim, J., Augustine, G. J. & Medina, J. F. Precise control of movement kinematics by optogenetic inhibition of Purkinje cell activity. J. Neurosci. 34, 2321–2330 (2014).

Herzfeld, D. J., Kojima, Y., Soetedjo, R. & Shadmehr, R. Encoding of action by the Purkinje cells of the cerebellum. Nature 526, 439–442 (2015).

Schmahmann, J. D. & Sherman, J. C. The cerebellar cognitive affective syndrome. Brain 121, 561–579 (1998).

Ito, M. Control of mental activities by internal models in the cerebellum. Nat. Rev. Neurosci. 9, 304–313 (2008).

Strick, P. L., Dum, R. P. & Fiez, J. A. Cerebellum and nonmotor function. Annu. Rev. Neurosci. 32, 413–434 (2009).

Tsai, P. T. et al. Autistic-like behaviour and cerebellar dysfunction in Purkinje cell Tsc1 mutant mice. Nature 488, 647–651 (2012).

Guo, Z. V. et al. Maintenance of persistent activity in a frontal thalamocortical loop. Nature 545, 181–186 (2017).

Wagner, M. J., Kim, T. H., Savall, J., Schnitzer, M. J. & Luo, L. Cerebellar granule cells encode the expectation of reward. Nature 544, 96–100 (2017).

Guo, Z. V. et al. Flow of cortical activity underlying a tactile decision in mice. Neuron 81, 179–194 (2014).

Li, N., Daie, K., Svoboda, K. & Druckmann, S. Robust neuronal dynamics in premotor cortex during motor planning. Nature 532, 459–464 (2016).

Chen, T. W., Li, N., Daie, K. & Svoboda, K. A map of anticipatory activity in mouse motor cortex. Neuron 94, 866–879.e4 (2017).

Inagaki, H. K., Inagaki, M., Romani, S. & Svoboda, K. Low-dimensional and monotonic preparatory activity in mouse anterior lateral motor cortex. J. Neurosci. 38, 4163–4185 (2018).

Li, N., Chen, T. W., Guo, Z. V., Gerfen, C. R. & Svoboda, K. A motor cortex circuit for motor planning and movement. Nature 519, 51–56 (2015).

Economo, M. N. et al. Distinct descending motor cortex pathways and their roles in movement. Preprint at https://www.biorxiv.org/content/early/2017/12/05/229260 (2017).

McElvain, L. E. et al. Circuits in the rodent brainstem that control whisking in concert with other orofacial motor actions. Neuroscience 368, 152–170 (2018).

Medina, J. F. & Mauk, M. D. Computer simulation of cerebellar information processing. Nat. Neurosci. 3, 1205–1211 (2000).

Ohyama, T., Nores, W. L., Murphy, M. & Mauk, M. D. What the cerebellum computes. Trends Neurosci. 26, 222–227 (2003).

Kalmbach, B. E., Ohyama, T., Kreider, J. C., Riusech, F. & Mauk, M. D. Interactions between prefrontal cortex and cerebellum revealed by trace eyelid conditioning. Learn. Mem. 16, 86–95 (2009).

Shenoy, K. V., Sahani, M. & Churchland, M. M. Cortical control of arm movements: a dynamical systems perspective. Annu. Rev. Neurosci. 36, 337–359 (2013).

Inagaki, H. K., Fontolan, L., Romani, S. & Svoboda, K. Discrete attractor dynamics underlying selective persistent activity in frontal cortex. Preprint at https://www.biorxiv.org/content/early/2017/10/16/203448 (2017).

Lewis, P. M., Gritli-Linde, A., Smeyne, R., Kottmann, A. & McMahon, A. P. Sonic hedgehog signaling is required for expansion of granule neuron precursors and patterning of the mouse cerebellum. Dev. Biol. 270, 393–410 (2004).

Madisen, L. et al. A toolbox of Cre-dependent optogenetic transgenic mice for light-induced activation and silencing. Nat. Neurosci. 15, 793–802 (2012).

Zhao, S. et al. Cell type–specific channelrhodopsin-2 transgenic mice for optogenetic dissection of neural circuitry function. Nat. Methods 8, 745–752 (2011).

Guo, Z. V. et al. Procedures for behavioral experiments in head-fixed mice. PLoS ONE 9, e88678 (2014).

Chen, C. H., Fremont, R., Arteaga-Bracho, E. E. & Khodakhah, K. Short latency cerebellar modulation of the basal ganglia. Nat. Neurosci. 17, 1767–1775 (2014).

Rossi, M. A. et al. A GABAergic nigrotectal pathway for coordination of drinking behavior. Nat. Neurosci. 19, 742–748 (2016).

Dong, H. W. The Allen reference atlas: A digital color brain atlas of the C57Bl/6J male mouse. (John Wiley & Sons Inc, Hoboken, 2008)

Oh, S. W. et al. A mesoscale connectome of the mouse brain. Nature 508, 207–214 (2014).

Rueckert, D. et al. Nonrigid registration using free-form deformations: application to breast MR images. IEEE Trans. Med. Imaging 18, 712–721 (1999).
Acknowledgements
We thank R. Sillitoe for L7-cre mice; J. Medina, H. Inagaki, Z. Guo and M. Ahrens for comments on the manuscript; S. Druckmann for discussion; T. Pluntke and M. Inagaki for animal training; and J. White and H. Hasanbegovic for dystonia scoring. This work was funded by the Robert and Janice McNair Foundation (N.L.), the Whitehall Foundation (N.L.), the Alfred P. Sloan Foundation (N.L.), the Searle Scholars Program (N.L.), the National Institutes of Health NS104781 (N.L.), the Simons Collaboration on the Global Brain (K.S. and N.L.), the Dutch Organization for Medical Sciences (C.I.D.Z.), Life Sciences (Z.G. and C.I.D.Z.), an Erasmus MC fellowship (Z.G.), the ERC-advanced and ERC-PoC (C.I.D.Z.) and the Howard Hughes Medical Institute (K.S., M.E. and N.L.).
Reviewer information
Nature thanks T. Ebner, M. Joshua and the other anonymous reviewer(s) for their contribution to the peer review of this work.
Ethics declarations
Competing interests
The authors declare no competing interests.
Additional information
Publisher's note: Springer Nature remains neutral with regard to jurisdictional claims in published maps and institutional affiliations.
Extended data figures and tables
Supplementary information
This file contains Supplementary Information, including Supplementary Table 1 and additional references.
About this article
Cite this article
Gao, Z., Davis, C., Thomas, A.M. et al. A cortico-cerebellar loop for motor planning. Nature 563, 113–116 (2018). https://doi.org/10.1038/s41586-018-0633-x
Received:

Accepted:

Published:

Issue Date:

DOI: https://doi.org/10.1038/s41586-018-0633-x
Keywords
Fastigial Nucleus

Preparatory Activities

Masking Flash

Early Delay Period

Ous Purposes
Comments
By submitting a comment you agree to abide by our Terms and Community Guidelines. If you find something abusive or that does not comply with our terms or guidelines please flag it as inappropriate.