Abstract
Few animals provide a readout that is as objective of their perceptual state as camouflaging cephalopods. Their skin display system includes an extensive array of pigment cells (chromatophores), each expandable by radial muscles controlled by motor neurons. If one could track the individual expansion states of the chromatophores, one would obtain a quantitative description—and potentially even a neural description by proxy—of the perceptual state of the animal in real time. Here we present the use of computational and analytical methods to achieve this in behaving animals, quantifying the states of tens of thousands of chromatophores at sixty frames per second, at single-cell resolution, and over weeks. We infer a statistical hierarchy of motor control, reveal an underlying low-dimensional structure to pattern dynamics and uncover rules that govern the development of skin patterns. This approach provides an objective description of complex perceptual behaviour, and a powerful means to uncover the organizational principles that underlie the function, dynamics and morphogenesis of neural systems.
Relevant articles
Open Access articles citing this article.
Raphael Kay

,

Charlie Katrycz

…

Benjamin D. Hatton

Nature Communications Open Access 15 July 2022

Ryuta Nakajima

,

Zdeněk Lajbner

…

Jonathan Miller

Scientific Reports Open Access 28 March 2022

Yang Zhang

,

Fan Mao

…

Ziniu Yu

Nature Ecology & Evolution Open Access 10 May 2021
Access options
Subscribe to Nature+
Get immediate online access to Nature and 55 other Nature journal
Subscribe to Journal
Get full journal access for 1 year
$199.00
only $3.90 per issue
All prices are NET prices.
VAT will be added later in the checkout.
Tax calculation will be finalised during checkout.
Buy article
Get time limited or full article access on ReadCube.
$32.00
All prices are NET prices.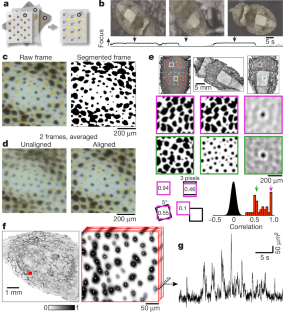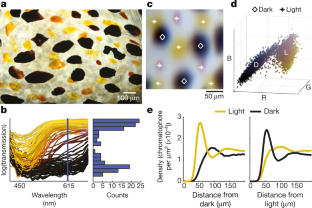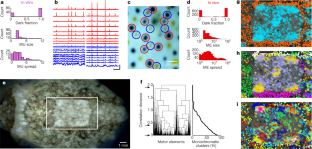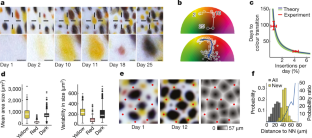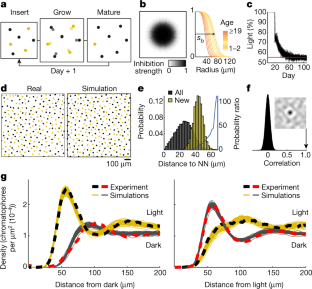 Data availability
The data that support the findings of this study are available from the corresponding author upon reasonable request.
References
Messenger, J. B. Cephalopod chromatophores: neurobiology and natural history. Biol. Rev. Camb. Philos. Soc. 76, 473–528 (2001).

Beck, J. & Gibson, J. J. The relation of apparent shape to apparent slant in the perception of objects. J. Exp. Psychol. 50, 125–133 (1955).

Julesz, B. Visual pattern discrimination. IRE Trans. Inf. Theory 8, 84–92 (1962).

Portilla, J. & Simoncelli, E. P. A parametric texture model based on joint statistics of complex wavelet coefficients. Int. J. Comput. Vis. 40, 49–70 (2000).

Gatys, L. A., Ecker, A. S. & Bethge, M. A neural algorithm of artistic style. Preprint at https://arxiv.org/abs/1508.06576v2 (2015).

Ghiasi, G., Lee, H., Kudlur, M., Dumoulin, V. & Shlens, J. Exploring the structure of a real-time, arbitrary neural artistic stylization network. Preprint at https://arxiv.org/abs/1705.06830v2 (2017).

Cloney, R. A. & Florey, E. Ultrastructure of cephalopod chromatophore organs. Z. Zellforsch. Mikrosk. Anat. 89, 250–280 (1968).

Florey, E. & Kriebel, M. E. Electrical and mechanical responses of chromatophore muscle fibers of the squid, Loligo opalescens, to nerve stimulation and drugs. Z. Vgl. Physiol. 65, 98–130 (1969).

Hanlon, R. T. & Messenger, J. B. Adaptive coloration in young cuttlefish (Sepia officinalis L.): the morphology and development of body patterns and their relation to behaviour. Phil. Trans. R. Soc. B 320, 437–487 (1988).

Kelman, E. J., Osorio, D. & Baddeley, R. J. A review of cuttlefish camouflage and object recognition and evidence for depth perception. J. Exp. Biol. 211, 1757–1763 (2008).

Gonzalez-Bellido, P. T., Scaros, A. T., Hanlon, R. T. & Wardill, T. J. Neural control of dynamic 3-dimensional skin papillae for cuttlefish camouflage. iScience 1, 24–34 (2018).

Dubas, F., Hanlon, R. T., Ferguson, G. P. & Pinsker, H. M. Localization and stimulation of chromatophore motoneurones in the brain of the squid, Lolliguncula brevis. J. Exp. Biol. 121, 1–25 (1986).

Florey, E., Dubas, F. & Hanlon, R. T. Evidence for l-glutamate as a transmitter substance of motoneurons innervating squid chromatophore muscles. Comp. Biochem. Physiol. C 82, 259–268 (1985).

Reed, C. M. The ultrastructure and innervation of muscles controlling chromatophore expansion in the squid, Loligo vulgaris. Cell Tissue Res. 282, 503–512 (1995).

Liddell, E. G. T. & Sherrington, C. S. Recruitment and some other features of reflex inhibition. Proc. R. Soc. Lond. B 97, 488–518 (1925).

Ho, T. K. Random decision forests. In Proc. 3rd International Conference on Document Analysis and Recognition 278–282 (IEEE Computer Society, 1995).

Lucas, B. D. & Kanade, T. An iterative image registration technique with an application to stereo vision. In Proc. 7th International Joint Conference on Artificial Intelligence 674–679 (Morgan Kaufmann, 1981).

Mäthger, L. M., Chiao, C. C., Barbosa, A. & Hanlon, R. T. Color matching on natural substrates in cuttlefish, Sepia officinalis. J. Comp. Physiol. A 194, 577–585 (2008).

Bassaglia, Y. et al. Sepia officinalis: a new biological model for eco-evo-devo studies. J. Exp. Mar. Biol. Ecol. 447, 4–13 (2013).

Fioroni, P. Die embryonale Genese der Chromatophoren bei Octopus vulgaris Lam. Acta Anat. 75, 199–224 (1970).

Packard, A. Morphogenesis of chromatophore patterns in cephalopods: are morphological and physiological 'units' the same? Malacologia 23, 193–201 (1982).

Deravi, L. F. et al. The structure–function relationships of a natural nanoscale photonic device in cuttlefish chromatophores. J. R. Soc. Interface 11, 20130942 (2014).

Dubas, F. Innervation of chromatophore muscle fibers in the octopus Eledone cirrhosa. Cell Tissue Res. 248, 675–682 (1987).

Ferguson, G. P., Martini, F. M. & Pinsker, H. M. Chromatophore motor fields in the squid, Lolliguncula brevis. J. Exp. Biol. 134, 281–295 (1988).

Messenger, J., Cornwell, C. & Reed, C. l-glutamate and serotonin are endogenous in squid chromatophore nerves. J. Exp. Biol. 200, 3043–3054 (1997).

Maynard, D. M. in Invertebrate Nervous Systems: Their Significance for Mammalian Neurophysiology (ed. Wiersma, C. A. G.) 231–255 (Univ. Chicago Press, Chicago, 1967).

Dubas, F. & Boyle, P. R. Chromatophore motor units in Eledone cirrhosa (Cephalopoda: Octopoda). J. Exp. Biol. 117, 415–431 (1985).

Florey, E. Nervous control and spontaneous activity of the chromatophores of a cephalopod, Loligo opalescens. Comp. Biochem. Physiol. 18, 305–324 (1966).

Bell, A. J. & Sejnowski, T. J. An information-maximization approach to blind separation and blind deconvolution. Neural Comput. 7, 1129–1159 (1995).

Hyvärinen, A. & Oja, E. Independent component analysis: algorithms and applications. Neural Netw. 13, 411–430 (2000).

Boycott, B. B. The functional organization of the brain of the cuttlefish Sepia officinalis. Proc. R. Soc. Lond. B 153, 503–534 (1961).

Andouche, A. & Bassaglia, Y. Coleoid cephalopod color patterns: adult skin structures and their emergence during development in Sepia officinalis. Vie Milieu 66, 43–55 (2016).

Packard, A. Size and distribution of chromatophores during post-embryonic development in cephalopods. Vie Milieu 35, 285–298 (1985).

Yacob, J. et al. Principles underlying chromatophore addition during maturation in the European cuttlefish, Sepia officinalis. J. Exp. Biol. 214, 3423–3432 (2011).

Packard, A. & Hochberg, F. G. Skin patterning in Octopus and other genera. Symp. Zool. Soc. Lond. 38, 191–231 (1977).

Hanlon, R. T. The functional organization of chromatophores and iridescent cells in the body patterning of Loligo plei (Cephalopoda: Myopsida). Malacologia 23, 89–119 (1982).

Gomez-Marin, A., Paton, J. J., Kampff, A. R., Costa, R. M. & Mainen, Z. F. Big behavioral data: psychology, ethology and the foundations of neuroscience. Nat. Neurosci. 17, 1455–1462 (2014).

Yamaguchi, M., Yoshimoto, E. & Kondo, S. Pattern regulation in the stripe of zebrafish suggests an underlying dynamic and autonomous mechanism. Proc. Natl Acad. Sci. USA 104, 4790–4793 (2007).

Cheng, C. W. et al. Predicting the spatiotemporal dynamics of hair follicle patterns in the developing mouse. Proc. Natl Acad. Sci. USA 111, 2596–2601 (2014).

Manukyan, L., Montandon, S. A., Fofonjka, A., Smirnov, S. & Milinkovitch, M. C. A living mesoscopic cellular automaton made of skin scales. Nature 544, 173–179 (2017).

Kröger, B., Vinther, J. & Fuchs, D. Cephalopod origin and evolution: a congruent picture emerging from fossils, development and molecules: extant cephalopods are younger than previously realised and were under major selection to become agile, shell-less predators. BioEssays 33, 602–613 (2011).

Butler-Struben, H. M., Brophy, S. M., Johnson, N. A. & Crook, R. J. In vivo recording of neural and behavioral correlates of anesthesia induction, reversal, and euthanasia in cephalopod molluscs. Front. Physiol. 9, 109 (2018).

Bergstra, J., Yamins, D. & Cox, D. D. Making a science of model search: hyperparameter optimization in hundreds of dimensions for vision architectures. In Proc. 30th International Conference on Machine Learning Vol. 28 I-115–I-123 (Journal of Machine Learning Research, 2013).

Schaefer, S., McPhail, T. & Warren, J. Image deformation using moving least squares. ACM Trans. Graph. 25, 533–540 (2006).

Fischler, M. A. & Bolles, R. C. Random sample consensus: a paradigm for model fitting with applications to image analysis and automated cartography. Commun. ACM 24, 381–395 (1981).

Meyer, F. Topographic distance and watershed lines. Signal Process. 38, 113–125 (1994).

Yoo, A. B., Jette, M. A. & Grondona, M. in Job Scheduling Strategies for Parallel Processing Vol. 2862 (eds Feitelson, D. et al.) 44–60 (Springer, Berlin, 2003).

Message Passing Interface Forum. MPI: a message-passing interface standard. version 3.1 http://mpi-forum.org/mpi-31/ (2015).

Jones, E. et al. SciPy: open source scientific tools for Python. http://www.scipy.org/ (2001).

Pedregosa, F. et al. Scikit-learn: machine learning in Python. J. Mach. Learn. Res. 12, 2825–2830 (2011).

Walt, S. et al. scikit-image: image processing in Python. PeerJ 2, e453 (2014).
Acknowledgements
We thank F. Bayer, A. Umminger and N. Heller for assistance in building the experimental setup; L. Jürgens, T. Klappich, J. Nenninger, E. Northrup and G. Wexel for animal care; R. Siegel for providing the squid skin image; E. Lamo Peitz, S. Trägenap and J. Racky for help with image alignment and segmentation; R. Hanlon and members of the Marine Biology Laboratory in Woods Hole for their hospitality to G.L. in the summer of 2016; Bruker Daltonics, J. Fuchser and C. Henkel for Fourier-transform ion cyclotron resonance–mass spectometry measurement time and discussions; M. Tosches and L. Fenk for comments on the manuscript; and the members of the Laurent laboratory for discussions. Funded by the Max Planck Society (G.L.), the European Research Council (G.L.) and the Bernstein Focus: Neurotechnology Frankfurt (M.K.).
Reviewer information
Nature thanks C. Machens, D. Osorio and the other anonymous reviewer(s) for their contribution to the peer review of this work.
Ethics declarations
Competing interests
The authors declare no competing interests.
Additional information
Publisher's note: Springer Nature remains neutral with regard to jurisdictional claims in published maps and institutional affiliations.
Extended data figures and tables
Supplementary information
About this article
Cite this article
Reiter, S., Hülsdunk, P., Woo, T. et al. Elucidating the control and development of skin patterning in cuttlefish. Nature 562, 361–366 (2018). https://doi.org/10.1038/s41586-018-0591-3
Received:

Accepted:

Published:

Issue Date:

DOI: https://doi.org/10.1038/s41586-018-0591-3
Keywords
Skin Pattern

Cuttlefish

Master Frame

Xanthommatin

Average Image Color
Comments
By submitting a comment you agree to abide by our Terms and Community Guidelines. If you find something abusive or that does not comply with our terms or guidelines please flag it as inappropriate.