Abstract
Genetically modified mice are commonly generated by the microinjection of pluripotent embryonic stem (ES) cells into wild-type host blastocysts1, producing chimeric progeny that require breeding for germline transmission and homozygosity of modified alleles. As an alternative approach and to facilitate studies of the immune system, we previously developed RAG2-deficient blastocyst complementation2. Because RAG2-deficient mice cannot undergo V(D)J recombination, they do not develop B or T lineage cells beyond the progenitor stage2: injecting RAG2-sufficient donor ES cells into RAG2-deficient blastocysts generates somatic chimaeras in which all mature lymphocytes derive from donor ES cells. This enables analysis, in mature lymphocytes, of the functions of genes that are required more generally for mouse development3. Blastocyst complementation has been extended to pancreas organogenesis4, and used to generate several other tissues or organs5,6,7,8,9,10, but an equivalent approach for brain organogenesis has not yet been achieved. Here we describe neural blastocyst complementation (NBC), which can be used to study the development and function of specific forebrain regions. NBC involves targeted ablation, mediated by diphtheria toxin subunit A, of host-derived dorsal telencephalic progenitors during development. This ablation creates a vacant forebrain niche in host embryos that results in agenesis of the cerebral cortex and hippocampus. Injection of donor ES cells into blastocysts with forebrain-specific targeting of diphtheria toxin subunit A enables donor-derived dorsal telencephalic progenitors to populate the vacant niche in the host embryos, giving rise to neocortices and hippocampi that are morphologically and neurologically normal with respect to learning and memory formation. Moreover, doublecortin-deficient ES cells—generated via a CRISPR–Cas9 approach—produced NBC chimaeras that faithfully recapitulated the phenotype of conventional, germline doublecortin-deficient mice. We conclude that NBC is a rapid and efficient approach to generate complex mouse models for studying forebrain functions; this approach could more broadly facilitate organogenesis based on blastocyst complementation.
Access options
Subscribe to Journal
Get full journal access for 1 year
$199.00
only $3.90 per issue
All prices are NET prices.
VAT will be added later in the checkout.
Rent or Buy article
Get time limited or full article access on ReadCube.
from$8.99
All prices are NET prices.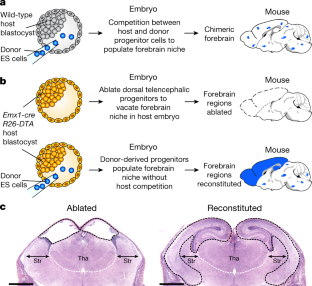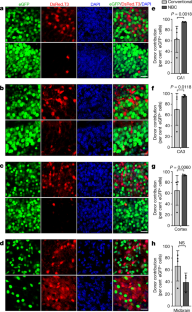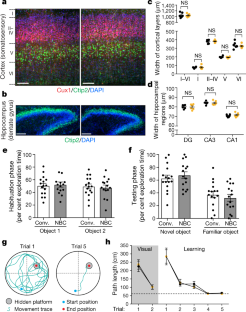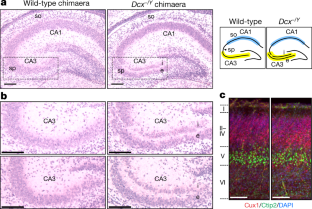 Data availability
All data generated or analysed during this study are included in this manuscript and its Supplementary Information.
References
1.

Capecchi, M. R. Gene targeting in mice: functional analysis of the mammalian genome for the twenty-first century. Nat. Rev. Genet. 6, 507–512 (2005).

2.

Chen, J., Lansford, R., Stewart, V., Young, F. & Alt, F. W. RAG-2-deficient blastocyst complementation: an assay of gene function in lymphocyte development. Proc. Natl Acad. Sci. USA 90, 4528–4532 (1993).

3.

Chen, J. et al. Generation of normal lymphocyte populations by Rb-deficient embryonic stem cells. Curr. Biol. 3, 405–413 (1993).

4.

Kobayashi, T. et al. Generation of rat pancreas in mouse by interspecific blastocyst injection of pluripotent stem cells. Cell 142, 787–799 (2010).

5.

Liégeois, N. J., Horner, J. W. & DePinho, R. A. Lens complementation system for the genetic analysis of growth, differentiation, and apoptosis in vivo. Proc. Natl Acad. Sci. USA 93, 1303–1307 (1996).

6.

Stanger, B. Z., Tanaka, A. J. & Melton, D. A. Organ size is limited by the number of embryonic progenitor cells in the pancreas but not the liver. Nature 445, 886–891 (2007).

7.

Usui, J. et al. Generation of kidney from pluripotent stem cells via blastocyst complementation. Am. J. Pathol. 180, 2417–2426 (2012).

8.

Wu, J. et al. Stem cells and interspecies chimaeras. Nature 540, 51–59 (2016).

9.

Wu, J. et al. Interspecies chimerism with mammalian pluripotent stem cells. Cell 168, 473–486.e15 (2017).

10.

Yamaguchi, T. et al. Interspecies organogenesis generates autologous functional islets. Nature 542, 191–196 (2017).

11.

Conti, L. & Cattaneo, E. Neural stem cell systems: physiological players or in vitro entities? Nat. Rev. Neurosci. 11, 176–187 (2010).

12.

Ba, Z. et al. A rapid embryonic stem cell-based mouse model for B-cell lymphomas driven by Epstein–Barr virus protein LMP1. Cancer Immunol. Res. 3, 641–649 (2015).

13.

Wu, S., Wu, Y. & Capecchi, M. R. Motoneurons and oligodendrocytes are sequentially generated from neural stem cells but do not appear to share common lineage-restricted progenitors in vivo. Development 133, 581–590 (2006).

14.

Gorski, J. A. et al. Cortical excitatory neurons and glia, but not GABAergic neurons, are produced in the Emx1-expressing lineage. J. Neurosci. 22, 6309–6314 (2002).

15.

Simeone, A., Acampora, D., Gulisano, M., Stornaiuolo, A. & Boncinelli, E. Nested expression domains of four homeobox genes in developing rostral brain. Nature 358, 687–690 (1992).

16.

Kim, S. et al. The apical complex couples cell fate and cell survival to cerebral cortical development. Neuron 66, 69–84 (2010).

17.

Lee, Y. et al. Neurogenesis requires TopBP1 to prevent catastrophic replicative DNA damage in early progenitors. Nat. Neurosci. 15, 819–826 (2012).

18.

Palmiter, R. D. et al. Cell lineage ablation in transgenic mice by cell-specific expression of a toxin gene. Cell 50, 435–443 (1987).

19.

Yoshida, M., Assimacopoulos, S., Jones, K. R. & Grove, E. A. Massive loss of Cajal–Retzius cells does not disrupt neocortical layer order. Development 133, 537–545 (2006).

20.

Turgeon, B. & Meloche, S. Interpreting neonatal lethal phenotypes in mouse mutants: insights into gene function and human diseases. Physiol. Rev. 89, 1–26 (2009).

21.

Molyneaux, B. J., Arlotta, P., Menezes, J. R. & Macklis, J. D. Neuronal subtype specification in the cerebral cortex. Nat. Rev. Neurosci. 8, 427–437 (2007).

22.

Leger, M. et al. Object recognition test in mice. Nat. Protocols 8, 2531–2537 (2013).

23.

Vorhees, C. V. & Williams, M. T. Morris water maze: procedures for assessing spatial and related forms of learning and memory. Nat. Protocols 1, 848–858 (2006).

24.

Corbo, J. C. et al. Doublecortin is required in mice for lamination of the hippocampus but not the neocortex. J. Neurosci. 22, 7548–7557 (2002).

25.

Kappeler, C. et al. Magnetic resonance imaging and histological studies of corpus callosal and hippocampal abnormalities linked to doublecortin deficiency. J. Comp. Neurol. 500, 239–254 (2007).

26.

Gleeson, J. G., Lin, P. T., Flanagan, L. A. & Walsh, C. A. Doublecortin is a microtubule-associated protein and is expressed widely by migrating neurons. Neuron 23, 257–271 (1999).

27.

Francis, F. et al. Doublecortin is a developmentally regulated, microtubule-associated protein expressed in migrating and differentiating neurons. Neuron 23, 247–256 (1999).

28.

Taylor, K. R., Holzer, A. K., Bazan, J. F., Walsh, C. A. & Gleeson, J. G. Patient mutations in doublecortin define a repeated tubulin-binding domain. J. Biol. Chem. 275, 34442–34450 (2000).

29.

Tian, M. et al. Induction of HIV neutralizing antibody lineages in mice with diverse precursor repertoires. Cell 166, 1471–1484.e18 (2016).

30.

Yeap, L. S. et al. Sequence-intrinsic mechanisms that target AID mutational outcomes on antibody genes. Cell 163, 1124–1137 (2015).

31.

Vintersten, K. et al. Mouse in red: red fluorescent protein expression in mouse ES cells, embryos, and adult animals. Genesis 40, 241–246 (2004).

32.

Schwer, B. et al. CRISPR/Cas9-mediated genome editing in mouse embryonic stem cells and direct analysis of brain phenotypes via neural blastocyst complementation. Protoc. Exch. (2018).

33.

Hu, X. et al. Tet and TDG mediate DNA demethylation essential for mesenchymal-to-epithelial transition in somatic cell reprogramming. Cell Stem Cell 14, 512–522 (2014).

34.

Masuya, H. et al. Implementation of the modified-SHIRPA protocol for screening of dominant phenotypes in a large-scale ENU mutagenesis program. Mamm. Genome 16, 829–837 (2005).
Acknowledgements
We thank members of the Alt laboratory and C. A. Walsh for stimulating discussions, P.-Y. Huang for help with blastocyst injections, H.-L. Cheng for advice and help with ES cell culture, and S. V. Griswold and T. Chari for assistance with behavioural experiments. Behavioural testing was carried out at the Boston Children's Hospital (BCH) Neurodevelopmental Behavior Core (CHB IDDRC, 1U54HD090255). This work was supported by the Howard Hughes Medical Institute, the BCH Department of Medicine (DOM) Support Fund, and the BCH DOM Anderson Porter Fund and a major grant from the Charles H. Hood Foundation. B.S. is a Kimmel Scholar of The Sidney Kimmel Foundation, supported by NIA/NIH grant AG043630, the UCSF Brain Tumor SPORE Career Development Program, the American Cancer Society, the Andrew McDonough B+ Foundation, the Shurl and Kay Curci Foundation and a Martin D. Abeloff V Scholar award of The V Foundation for Cancer Research. B.S. also holds the Suzanne Marie Haderle and Robert Vincent Haderle Endowed Chair, UCSF. H.-Q.D. is a fellow of the Cancer Research Institute of New York. F.W.A. is an investigator of the Howard Hughes Medical Institute.
Ethics declarations
Competing interests
The authors declare no competing interests.
Additional information
Publisher's note: Springer Nature remains neutral with regard to jurisdictional claims in published maps and institutional affiliations.
Extended data figures and tables
Supplementary information
NBC chimaeras show normal SHIRPA phenotypic assessment scores. Basic autonomic, neurological, and sensory functions of NBC chimaeras (n=16) and conventional chimaera controls (n=18) were scored using a modified SHIRPA phenotypic assessment. Male mice between 2-3 months of age were tested. No statistically significant differences in mean SHIRPA scores between groups were detected; P>0.05 (unpaired, two-tailed t test).
Sequences and description of oligonucleotides used in this study.
About this article
Cite this article
Chang, A.N., Liang, Z., Dai, H. et al. Neural blastocyst complementation enables mouse forebrain organogenesis. Nature 563, 126–130 (2018). https://doi.org/10.1038/s41586-018-0586-0
Received:

Accepted:

Published:

Issue Date:
Comments
By submitting a comment you agree to abide by our Terms and Community Guidelines. If you find something abusive or that does not comply with our terms or guidelines please flag it as inappropriate.