Abstract
The successful segregation of germ cells from somatic lineages is vital for sexual reproduction and species survival. In the mouse, primordial germ cells (PGCs), precursors of all germ cells, are induced from the post-implantation epiblast1. Induction requires BMP4 signalling to prospective PGCs2 and the intrinsic action of PGC transcription factors3,4,5,6. However, the molecular mechanisms that connect BMP4 to induction of the PGC transcription factors that are responsible for segregating PGCs from somatic lineages are unknown. Here we show that the transcription factor OTX2 is a key regulator of these processes. Downregulation of Otx2 precedes the initiation of the PGC programme both in vitro and in vivo. Deletion of Otx2 in vitro markedly increases the efficiency of PGC-like cell differentiation and prolongs the period of PGC competence. In the absence of Otx2 activity, differentiation of PGC-like cells becomes independent of the otherwise essential cytokine signals, with germline entry initiating even in the absence of the PGC transcription factor BLIMP1. Deletion of Otx2 in vivo increases PGC numbers. These data demonstrate that OTX2 functions repressively upstream of PGC transcription factors, acting as a roadblock to limit entry of epiblast cells to the germline to a small window in space and time, thereby ensuring correct numerical segregation of germline cells from the soma.
Relevant articles
Open Access articles citing this article.
Chunmeng Yao

,

Ruqiang Yao

…

Ling Shuai

Stem Cell Research & Therapy Open Access 21 February 2022

Saptarshi Bej

,

Anne-Marie Galow

…

Olaf Wolkenhauer

BMC Bioinformatics Open Access 19 November 2021

Tore Bleckwehl

,

Giuliano Crispatzu

…

Álvaro Rada-Iglesias

Nature Communications Open Access 01 October 2021
Access options
Subscribe to Nature+
Get immediate online access to the entire Nature family of 50+ journals
Subscribe to Journal
Get full journal access for 1 year
$199.00
only $3.90 per issue
All prices are NET prices.
VAT will be added later in the checkout.
Tax calculation will be finalised during checkout.
Buy article
Get time limited or full article access on ReadCube.
$32.00
All prices are NET prices.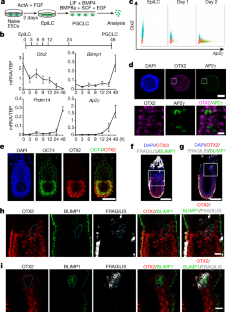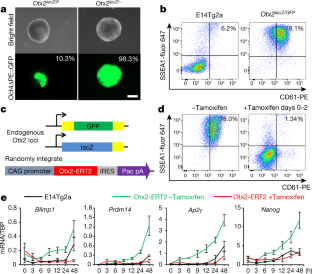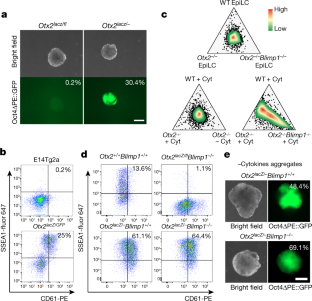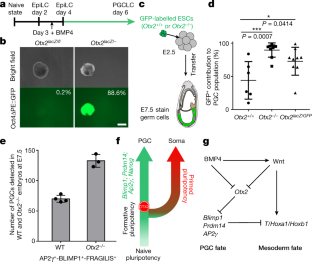 Data availability
All the data sets generated or analysed during the current study are available from the corresponding author on reasonable request.
References
Ohinata, Y. et al. A signaling principle for the specification of the germ cell lineage in mice. Cell 137, 571–584 (2009).

Lawson, K. A. et al. Bmp4 is required for the generation of primordial germ cells in the mouse embryo. Genes Dev. 13, 424–436 (1999).

Ohinata, Y. et al. Blimp1 is a critical determinant of the germ cell lineage in mice. Nature 436, 207–213 (2005).

Vincent, S. D. et al. The zinc finger transcriptional repressor Blimp1/Prdm1 is dispensable for early axis formation but is required for specification of primordial germ cells in the mouse. Development 132, 1315–1325 (2005).

Yamaji, M. et al. Critical function of Prdm14 for the establishment of the germ cell lineage in mice. Nat. Genet. 40, 1016–1022 (2008).

Weber, S. et al. Critical function of AP-2 gamma/TCFAP2C in mouse embryonic germ cell maintenance. Biol. Reprod. 82, 214–223 (2010).

Johnson, A. D. & Alberio, R. Primordial germ cells: the first cell lineage or the last cells standing? Development 142, 2730–2739 (2015).

Extavour, C. G. & Akam, M. Mechanisms of germ cell specification across the metazoans: epigenesis and preformation. Development 130, 5869–5884 (2003).

McLaren, A. Primordial germ cells in the mouse. Dev. Biol. 262, 1–15 (2003).

Surani, M. A., Hayashi, K. & Hajkova, P. Genetic and epigenetic regulators of pluripotency. Cell 128, 747–762 (2007).

Saitou, M. & Yamaji, M. Primordial germ cells in mice. Cold Spring Harb. Perspect. Biol. 4, a008375 (2012).

Hayashi, K., Ohta, H., Kurimoto, K., Aramaki, S. & Saitou, M. Reconstitution of the mouse germ cell specification pathway in culture by pluripotent stem cells. Cell 146, 519–532 (2011).

Buecker, C. et al. Reorganization of enhancer patterns in transition from naive to primed pluripotency. Cell Stem Cell 14, 838–853 (2014).

Yang, S. H. et al. Otx2 and Oct4 drive early enhancer activation during embryonic stem cell transition from naive pluripotency. Cell Reports 7, 1968–1981 (2014).

Acampora, D. et al. Forebrain and midbrain regions are deleted in Otx2-/- mutants due to a defective anterior neuroectoderm specification during gastrulation. Development 121, 3279–3290 (1995).

Ang, S. L. et al. A targeted mouse Otx2 mutation leads to severe defects in gastrulation and formation of axial mesoderm and to deletion of rostral brain. Development 122, 243–252 (1996).

Acampora, D., Di Giovannantonio, L. G. & Simeone, A. Otx2 is an intrinsic determinant of the embryonic stem cell state and is required for transition to a stable epiblast stem cell condition. Development 140, 43–55 (2013).

Acampora, D. et al. Functional antagonism between OTX2 and NANOG specifies a spectrum of heterogeneous identities in embryonic stem cells. Stem Cell Reports 9, 1642–1659 (2017).

Nakaki, F. et al. Induction of mouse germ-cell fate by transcription factors in vitro. Nature 501, 222–226 (2013).

Murakami, K. et al. NANOG alone induces germ cells in primed epiblast in vitro by activation of enhancers. Nature 529, 403–407 (2016).

Magnúsdóttir, E. et al. A tripartite transcription factor network regulates primordial germ cell specification in mice. Nat. Cell Biol. 15, 905–915 (2013).

Smith, A. Formative pluripotency: the executive phase in a developmental continuum. Development 144, 365–373 (2017).

Günesdogan, U. & Surani, M. A. Developmental competence for primordial germ cell fate. Curr. Top. Dev. Biol. 117, 471–496 (2016).

Saitou, M., Barton, S. C. & Surani, M. A. A molecular programme for the specification of germ cell fate in mice. Nature 418, 293–300 (2002).

Yoshimizu, T. et al. Germline-specific expression of the Oct-4/green fluorescent protein (GFP) transgene in mice. Dev. Growth Differ. 41, 675–684 (1999).

Zhang, M. et al. Esrrb complementation rescues development of Nanog-null germ cells. Cell Reports 22, 332–339 (2018).

Aramaki, S. et al. A mesodermal factor, T, specifies mouse germ cell fate by directly activating germline determinants. Dev. Cell 27, 516–529 (2013).

Ben-Haim, N. et al. The nodal precursor acting via activin receptors induces mesoderm by maintaining a source of its convertases and BMP4. Dev. Cell 11, 313–323 (2006).

John, S. A. & Garrett-Sinha, L. A. Blimp1: a conserved transcriptional repressor critical for differentiation of many tissues. Exp. Cell Res. 315, 1077–1084 (2009).

Kurimoto, K. et al. Complex genome-wide transcription dynamics orchestrated by Blimp1 for the specification of the germ cell lineage in mice. Genes Dev. 22, 1617–1635 (2008).

Hemmati-Brivanlou, A. & Melton, D. Vertebrate embryonic cells will become nerve cells unless told otherwise. Cell 88, 13–17 (1997).

Levine, A. J. & Brivanlou, A. H. Proposal of a model of mammalian neural induction. Dev. Biol. 308, 247–256 (2007).

Smith, A. G. Culture and differentiation of embryonic stem cells. J. Tissue Cult. Methods 13, 89–94 (1991).

Hayashi, K. & Saitou, M. Generation of eggs from mouse embryonic stem cells and induced pluripotent stem cells. Nat. Protocols 8, 1513–1524 (2013).

Lamprecht, M. R., Sabatini, D. M. & Carpenter, A. E. CellProfiler: free, versatile software for automated biological image analysis. Biotechniques 42, 71–75 (2007).

Gagliardi, A. et al. A direct physical interaction between Nanog and Sox2 regulates embryonic stem cell self-renewal. EMBO J. 32, 2231–2247 (2013).

Schmittgen, T. D. & Livak, K. J. Analyzing real-time PCR data by the comparative C(T) method. Nat. Protocols 3, 1101–1108 (2008).

Bronson, R. A. & McLaren, A. Transfer to the mouse oviduct of eggs with and without the zona pellucida. J. Reprod. Fertil. 22, 129–137 (1970).
Acknowledgements
We thank V. Wilson and D. O'Carroll for comments on the manuscript, V. Wilson for help with embryo staging, N. Mullin for pre-mRNA analyses, P. Moreira for help with embryo transfer, the CRM animal house staff for husbandry, F. Rossi and C. Cryer for FACS and B. Vernay for confocal assistance. This research was funded by the Medical and the Biotechnological and Biological Sciences Research Councils of the UK (I.C.), by a PRIN project from MIUR (A.S.) and by the Qilu Young Scholars Program of Shandong University (D.Y.).
Reviewer information
Nature thanks K. Hayashi, A. Johnson and D. Laird for their contribution to the peer review of this work.
Ethics declarations
Competing interests
The authors declare no competing interests.
Additional information
Publisher's note: Springer Nature remains neutral with regard to jurisdictional claims in published maps and institutional affiliations.
Extended data figures and tables
Supplementary information
This file contains Supplementary Figure 1 (the uncropped blots) and Supplementary Tables 1-3.
About this article
Cite this article
Zhang, J., Zhang, M., Acampora, D. et al. OTX2 restricts entry to the mouse germline. Nature 562, 595–599 (2018). https://doi.org/10.1038/s41586-018-0581-5
Received:

Accepted:

Published:

Issue Date:

DOI: https://doi.org/10.1038/s41586-018-0581-5
Keywords
PGC-like Cells (PGCLC)

Primordial Germ Cells (PGC)

Transcription Factors Otx2

Epiblast Cells

EpiLCs
Comments
By submitting a comment you agree to abide by our Terms and Community Guidelines. If you find something abusive or that does not comply with our terms or guidelines please flag it as inappropriate.