Abstract
The CRISPR system provides adaptive immunity against mobile genetic elements in prokaryotes, using small CRISPR RNAs that direct effector complexes to degrade invading nucleic acids1,2,3. Type III effector complexes were recently demonstrated to synthesize a novel second messenger, cyclic oligoadenylate, on binding target RNA4,5. Cyclic oligoadenylate, in turn, binds to and activates ribonucleases and other factors—via a CRISPR-associated Rossman-fold domain—and thereby induces in the cell an antiviral state that is important for immunity. The mechanism of the 'off-switch' that resets the system is not understood. Here we identify the nuclease that degrades these cyclic oligoadenylate ring molecules. This 'ring nuclease' is itself a protein of the CRISPR-associated Rossman-fold family, and has a metal-independent mechanism that cleaves cyclic tetraadenylate rings to generate linear diadenylate species and switches off the antiviral state. The identification of ring nucleases adds an important insight to the CRISPR system.
Relevant articles
Open Access articles citing this article.
Anna Nemudraia

,

Artem Nemudryi

…

Blake Wiedenheft

Nature Communications Open Access 15 December 2022

Jurre A. Steens

,

Yifan Zhu

…

Raymond H. J. Staals

Nature Communications Open Access 19 August 2021

Jinzhong Lin

,

Mingxia Feng

…

Qunxin She

Cell Discovery Open Access 12 May 2020
Access options
Access Nature and 54 other Nature Portfolio journals
Get Nature+, our best-value online-access subscription
$29.99 / 30 days
cancel any time
Subscribe to this journal
Receive 51 print issues and online access
$199.00 per year
only $3.90 per issue
Rent or buy this article
Get just this article for as long as you need it
$39.95
Prices may be subject to local taxes which are calculated during checkout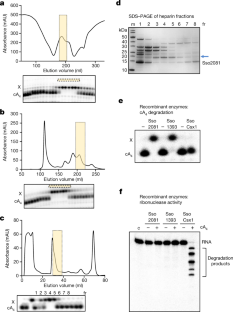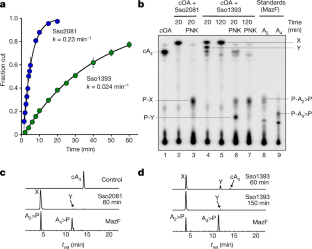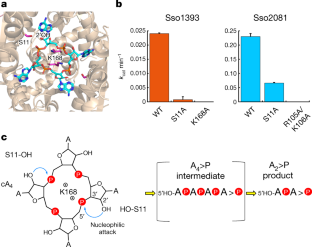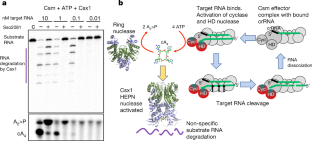 Data availability
All electrophoretic separation and kinetic data are included as Source Data and Supplementary Information. Raw mass spectrometry data are available on request from M.F.W.
References
Mojica, F. J. & Rodriguez-Valera, F. The discovery of CRISPR in archaea and bacteria. FEBS J. 283, 3162–3169 (2016).

Makarova, K. S. et al. An updated evolutionary classification of CRISPR–Cas systems. Nat. Rev. Microbiol. 13, 722–736 (2015).

Jiang, F. & Doudna, J. A. The structural biology of CRISPR–Cas systems. Curr. Opin. Struct. Biol. 30, 100–111 (2015).

Niewoehner, O. et al. Type III CRISPR–Cas systems produce cyclic oligoadenylate second messengers. Nature 548, 543–548 (2017).

Kazlauskiene, M., Kostiuk, G., Venclovas, Č., Tamulaitis, G. & Siksnys, V. A cyclic oligonucleotide signaling pathway in type III CRISPR–Cas systems. Science 357, 605–609 (2017).

Makarova, K. S., Anantharaman, V., Grishin, N. V., Koonin, E. V. & Aravind, L. CARF and WYL domains: ligand-binding regulators of prokaryotic defense systems. Front. Genet. 5, 102 (2014).

Burroughs, A. M., Zhang, D., Schäffer, D. E., Iyer, L. M. & Aravind, L. Comparative genomic analyses reveal a vast, novel network of nucleotide-centric systems in biological conflicts, immunity and signaling. Nucleic Acids Res. 43, 10633–10654 (2015).

Shmakov, S. A., Makarova, K. S., Wolf, Y. I., Severinov, K. V. & Koonin, E. V. Systematic prediction of genes functionally linked to CRISPR–Cas systems by gene neighborhood analysis. Proc. Natl Acad. Sci. USA 115, E5307–E5316 (2018).

Koonin, E. V. & Makarova, K. S. Discovery of oligonucleotide signaling mediated by CRISPR-associated polymerases solves two puzzles but leaves an enigma. ACS Chem. Biol. 13, 309–312 (2018).

Cai, X., Chiu, Y. H. & Chen, Z. J. The cGAS–cGAMP–STING pathway of cytosolic DNA sensing and signaling. Mol. Cell 54, 289–296 (2014).

Deng, L., Garrett, R. A., Shah, S. A., Peng, X. & She, Q. A novel interference mechanism by a type IIIB CRISPR–Cmr module in Sulfolobus. Mol. Microbiol. 87, 1088–1099 (2013).

Hatoum-Aslan, A., Maniv, I., Samai, P. & Marraffini, L. A. Genetic characterization of antiplasmid immunity through a type III-A CRISPR–Cas system. J. Bacteriol. 196, 310–317 (2014).

Jiang, W., Samai, P. & Marraffini, L. A. Degradation of phage transcripts by CRISPR-associated RNases enables type III CRISPR–Cas immunity. Cell 164, 710–721 (2016).

Rouillon, C., Athukoralage, J. S., Graham, S., Grüschow, S. & White, M. F. Control of cyclic oligoadenylate synthesis in a type III CRISPR system. eLife 7, e36734 (2018).

Huynh, T. N. & Woodward, J. J. Too much of a good thing: regulated depletion of c-di-AMP in the bacterial cytoplasm. Curr. Opin. Microbiol. 30, 22–29 (2016).

Dey, R. J. et al. Inhibition of innate immune cytosolic surveillance by an M. tuberculosis phosphodiesterase. Nat. Chem. Biol. 13, 210–217 (2017).

Makarova, K. S. et al. Evolution and classification of the CRISPR–Cas systems. Nat. Rev. Microbiol. 9, 467–477 (2011).

Wurtzel, O. et al. A single-base resolution map of an archaeal transcriptome. Genome Res. 20, 133–141 (2010).

Haurwitz, R. E., Sternberg, S. H. & Doudna, J. A. Csy4 relies on an unusual catalytic dyad to position and cleave CRISPR RNA. EMBO J. 31, 2824–2832 (2012).

Yang, W. Nucleases: diversity of structure, function and mechanism. Q. Rev. Biophys. 44, 1–93 (2011).

Sokolowski, R. D., Graham, S. & White, M. F. Cas6 specificity and CRISPR RNA loading in a complex CRISPR–Cas system. Nucleic Acids Res. 42, 6532–6541 (2014).

Ortmann, A. C. et al. Transcriptome analysis of infection of the archaeon Sulfolobus solfataricus with Sulfolobus turreted icosahedral virus. J. Virol. 82, 4874–4883 (2008).

Albers, S. V. et al. Production of recombinant and tagged proteins in the hyperthermophilic archaeon Sulfolobus solfataricus. Appl. Environ. Microbiol. 72, 102–111 (2006).

Liu, H. & Naismith, J. H. A simple and efficient expression and purification system using two newly constructed vectors. Protein Expr. Purif. 63, 102–111 (2009).

Linkert, M. et al. Metadata matters: access to image data in the real world. J. Cell Biol. 189, 777–782 (2010).

Schneider, C. A., Rasband, W. S. & Eliceiri, K. W. NIH Image to ImageJ: 25 years of image analysis. Nat. Methods 9, 671–675 (2012).

Schindelin, J. et al. Fiji: an open-source platform for biological-image analysis. Nat. Methods 9, 676–682 (2012).

Sternberg, S. H., Haurwitz, R. E. & Doudna, J. A. Mechanism of substrate selection by a highly specific CRISPR endoribonuclease. RNA 18, 661–672 (2012).

Kelley, L. A. & Sternberg, M. J. Protein structure prediction on the Web: a case study using the Phyre server. Nat. Protoc 4, 363–371 (2009).
Acknowledgements
This work was funded by grants from the Biotechnology and Biological Sciences Research Council (REF BB/M000400/1 and BB/M021017/1). M.F.W. is a Wolfson Research Merit Award holder. We acknowledge the contribution of the Mass Spectrometry Unit of the University of St Andrews to this work.
Reviewer information
Nature thanks E. Koonin, R. Staals and the other anonymous reviewer(s) for their contribution to the peer review of this work.
Ethics declarations
Competing interests
The authors declare no competing interests.
Additional information
Publisher's note: Springer Nature remains neutral with regard to jurisdictional claims in published maps and institutional affiliations.
Extended data figures and tables
Supplementary information
This file contains Supplementary Figures: uncropped gel scans. The area cropped for use in the figure is indicated by a black box. A full explanation for each figure is provided in a separate SI guide file.
This file contains an SI Guide; which includes a full explanation for each figure shown in the uncropped gel scans.
About this article
Cite this article
Athukoralage, J.S., Rouillon, C., Graham, S. et al. Ring nucleases deactivate type III CRISPR ribonucleases by degrading cyclic oligoadenylate. Nature 562, 277–280 (2018). https://doi.org/10.1038/s41586-018-0557-5
Received:

Accepted:

Published:

Issue Date:

DOI: https://doi.org/10.1038/s41586-018-0557-5
Keywords
Oligoadenylate

Antiviral State

CRISPR System

EDTA-free Protease Inhibitor Tablet

Cyclase Domain
Comments
By submitting a comment you agree to abide by our Terms and Community Guidelines. If you find something abusive or that does not comply with our terms or guidelines please flag it as inappropriate.