Abstract
Nucleosomes cover most of the genome and are thought to be displaced by transcription factors in regions that direct gene expression. However, the modes of interaction between transcription factors and nucleosomal DNA remain largely unknown. Here we systematically explore interactions between the nucleosome and 220 transcription factors representing diverse structural families. Consistent with earlier observations, we find that the majority of the studied transcription factors have less access to nucleosomal DNA than to free DNA. The motifs recovered from transcription factors bound to nucleosomal and free DNA are generally similar. However, steric hindrance and scaffolding by the nucleosome result in specific positioning and orientation of the motifs. Many transcription factors preferentially bind close to the end of nucleosomal DNA, or to periodic positions on the solvent-exposed side of the DNA. In addition, several transcription factors usually bind to nucleosomal DNA in a particular orientation. Some transcription factors specifically interact with DNA located at the dyad position at which only one DNA gyre is wound, whereas other transcription factors prefer sites spanning two DNA gyres and bind specifically to each of them. Our work reveals notable differences in the binding of transcription factors to free and nucleosomal DNA, and uncovers a diverse interaction landscape between transcription factors and the nucleosome.
Relevant articles
Open Access articles citing this article.
Kalyan K. Sinha

,

Silvija Bilokapic

…

Mario Halic

Nature Open Access 24 May 2023

Kurtis Stefan

&

Artem Barski

BMC Genomics Open Access 11 May 2023

Ineke Brouwer

,

Emma Kerklingh

…

Tineke L. Lenstra

Nature Structural & Molecular Biology Open Access 01 May 2023
Access options
Access Nature and 54 other Nature Portfolio journals
Get Nature+, our best-value online-access subscription
$29.99 / 30 days
cancel any time
Subscribe to this journal
Receive 51 print issues and online access
$199.00 per year
only $3.90 per issue
Rent or buy this article
Prices vary by article type
from$1.95
to$39.95
Prices may be subject to local taxes which are calculated during checkout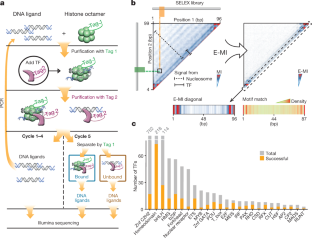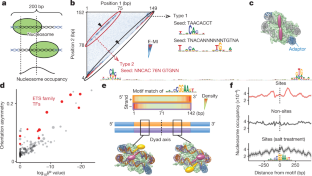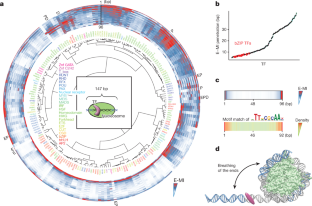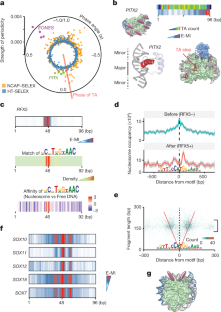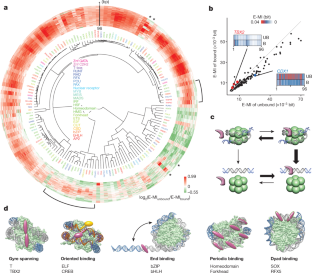 References
Andrews, A. J. & Luger, K. Nucleosome structure(s) and stability: variations on a theme. Annu. Rev. Biophys. 40, 99–117 (2011).

Segal, E. & Widom, J. What controls nucleosome positions? Trends Genet. 25, 335–343 (2009).

Richmond, T. J. & Davey, C. A. The structure of DNA in the nucleosome core. Nature 423, 145–150 (2003).

McGinty, R. K. & Tan, S. Nucleosome structure and function. Chem. Rev. 115, 2255–2273 (2015).

Jin, J. et al. Synergistic action of RNA polymerases in overcoming the nucleosomal barrier. Nat. Struct. Mol. Biol. 17, 745–752 (2010).

Raveh-Sadka, T. et al. Manipulating nucleosome disfavoring sequences allows fine-tune regulation of gene expression in yeast. Nat. Genet. 44, 743–750 (2012).

Teves, S. S., Weber, C. M. & Henikoff, S. Transcribing through the nucleosome. Trends Biochem. Sci. 39, 577–586 (2014).

Hartzog, G. A. Transcription elongation by RNA polymerase II. Curr. Opin. Genet. Dev. 13, 119–126 (2003).

Thurman, R. E. et al. The accessible chromatin landscape of the human genome. Nature 489, 75–82 (2012).

Neph, S. et al. An expansive human regulatory lexicon encoded in transcription factor footprints. Nature 489, 83–90 (2012).

Zaret, K. S. & Mango, S. E. Pioneer transcription factors, chromatin dynamics, and cell fate control. Curr. Opin. Genet. Dev. 37, 76–81 (2016).

Segal, E., Raveh-Sadka, T., Schroeder, M., Unnerstall, U. & Gaul, U. Predicting expression patterns from regulatory sequence in Drosophila segmentation. Nature 451, 535–540 (2008).

Mirny, L. A. Nucleosome-mediated cooperativity between transcription factors. Proc. Natl Acad. Sci. USA 107, 22534–22539 (2010).

Boyer, L. A. et al. Core transcriptional regulatory circuitry in human embryonic stem cells. Cell 122, 947–956 (2005).

Roy, S. et al. Identification of functional elements and regulatory circuits by Drosophila modENCODE. Science 330, 1787–1797 (2010).

Stanojevic, D., Small, S. & Levine, M. Regulation of a segmentation stripe by overlapping activators and repressors in the Drosophila embryo. Science 254, 1385–1387 (1991).

Yan, J. et al. Transcription factor binding in human cells occurs in dense clusters formed around cohesin anchor sites. Cell 154, 801–813 (2013).

Yin, Y. et al. Impact of cytosine methylation on DNA binding specificities of human transcription factors. Science 356, eaaj2239 (2017).

Jolma, A. et al. DNA-dependent formation of transcription factor pairs alters their binding specificity. Nature 527, 384–388 (2015).

Vaquerizas, J. M., Kummerfeld, S. K., Teichmann, S. A. & Luscombe, N. M. A census of human transcription factors: function, expression and evolution. Nat. Rev. Genet. 10, 252–263 (2009).

Soufi, A. et al. Pioneer transcription factors target partial DNA motifs on nucleosomes to initiate reprogramming. Cell 161, 555–568 (2015).

Nodelman, I. M. et al. Interdomain communication of the Chd1 chromatin remodeler across the DNA gyres of the nucleosome. Mol. Cell 65, 447–459.e6 (2017).

Edayathumangalam, R. S., Weyermann, P., Gottesfeld, J. M., Dervan, P. B. & Luger, K. Molecular recognition of the nucleosomal "supergroove". Proc. Natl Acad. Sci. USA 101, 6864–6869 (2004).

Faial, T. et al. Brachyury and SMAD signalling collaboratively orchestrate distinct mesoderm and endoderm gene regulatory networks in differentiating human embryonic stem cells. Development 142, 2121–2135 (2015).

Lolas, M., Valenzuela, P. D. T., Tjian, R. & Liu, Z. Charting Brachyury-mediated developmental pathways during early mouse embryogenesis. Proc. Natl Acad. Sci. USA 111, 4478–4483 (2014).

Kundaje, A. et al. Ubiquitous heterogeneity and asymmetry of the chromatin environment at regulatory elements. Genome Res. 22, 1735–1747 (2012).

Sherwood, R. I. et al. Discovery of directional and nondirectional pioneer transcription factors by modeling DNase profile magnitude and shape. Nat. Biotechnol. 32, 171–178 (2014).

ENCODE Project Consortium. An integrated encyclopedia of DNA elements in the human genome. Nature 489, 57–74 (2012).

Luger, K., Mäder, A. W., Richmond, R. K., Sargent, D. F. & Richmond, T. J. Crystal structure of the nucleosome core particle at 2.8 Å resolution. Nature 389, 251–260 (1997).

Isaac, R. S. et al. Nucleosome breathing and remodeling constrain CRISPR-Cas9 function. eLife 5, e13450 (2016).

Poirier, M. G., Bussiek, M., Langowski, J. & Widom, J. Spontaneous access to DNA target sites in folded chromatin fibers. J. Mol. Biol. 379, 772–786 (2008).

Chaney, B. A., Clark-Baldwin, K., Dave, V., Ma, J. & Rance, M. Solution structure of the K50 class homeodomain PITX2 bound to DNA and implications for mutations that cause Rieger syndrome. Biochemistry 44, 7497–7511 (2005).

Stirnimann, C. U., Ptchelkine, D., Grimm, C. & Müller, C. W. Structural basis of TBX5-DNA recognition: the T-box domain in its DNA-bound and -unbound form. J. Mol. Biol. 400, 71–81 (2010).

Coll, M., Seidman, J. G. & Müller, C. W. Structure of the DNA-bound T-box domain of human TBX3, a transcription factor responsible for ulnar-mammary syndrome. Structure 10, 343–356 (2002).

Cui, F. & Zhurkin, V. B. Rotational positioning of nucleosomes facilitates selective binding of p53 to response elements associated with cell cycle arrest. Nucleic Acids Res. 42, 836–847 (2014).

Li, Q. & Wrange, O. Accessibility of a glucocorticoid response element in a nucleosome depends on its rotational positioning. Mol. Cell. Biol. 15, 4375–4384 (1995).

McGinty, R. K. & Tan, S. Recognition of the nucleosome by chromatin factors and enzymes. Curr. Opin. Struct. Biol. 37, 54–61 (2016).

Zhou, B. R. et al. Structural mechanisms of nucleosome recognition by linker histones. Mol. Cell 59, 628–638 (2015).

Iwafuchi-Doi, M. et al. The pioneer transcription factor FoxA maintains an accessible nucleosome configuration at enhancers for tissue-specific gene activation. Mol. Cell 62, 79–91 (2016).

Struhl, K. & Segal, E. Determinants of nucleosome positioning. Nat. Struct. Mol. Biol. 20, 267–273 (2013).

Collings, C. K., Fernandez, A. G., Pitschka, C. G., Hawkins, T. B. & Anderson, J. N. Oligonucleotide sequence motifs as nucleosome positioning signals. PLoS ONE 5, e10933 (2010).

Lowary, P. T. & Widom, J. New DNA sequence rules for high affinity binding to histone octamer and sequence-directed nucleosome positioning. J. Mol. Biol. 276, 19–42 (1998).

Ramachandran, S. & Henikoff, S. Transcriptional regulators compete with nucleosomes post-replication. Cell 165, 580–592 (2016).

Li, M. et al. Dynamic regulation of transcription factors by nucleosome remodeling. eLife 4, e06249 (2015).

Sekiya, T., Muthurajan, U. M., Luger, K., Tulin, A. V. & Zaret, K. S. Nucleosome-binding affinity as a primary determinant of the nuclear mobility of the pioneer transcription factor FoxA. Genes Dev. 23, 804–809 (2009).

Hayes, J. J. & Wolffe, A. P. Histones H2A/H2B inhibit the interaction of transcription factor IIIA with the Xenopus borealis somatic 5S RNA gene in a nucleosome. Proc. Natl Acad. Sci. USA 89, 1229–1233 (1992).

Jolma, A. et al. Multiplexed massively parallel SELEX for characterization of human transcription factor binding specificities. Genome Res. 20, 861–873 (2010).

Emsley, P., Lohkamp, B., Scott, W. G. & Cowtan, K. Features and development of Coot. Acta Crystallogr. D 66, 486–501 (2010).

Pettersen, E. F. et al. UCSF Chimera—a visualization system for exploratory research and analysis. J. Comput. Chem. 25, 1605–1612 (2004).

Henikoff, J. G., Belsky, J. A., Krassovsky, K., MacAlpine, D. M. & Henikoff, S. Epigenome characterization at single base-pair resolution. Proc. Natl Acad. Sci. USA 108, 18318–18323 (2011).

Kasinathan, S., Orsi, G. A., Zentner, G. E., Ahmad, K. & Henikoff, S. High-resolution mapping of transcription factor binding sites on native chromatin. Nat. Methods 11, 203–209 (2014).

Chiu, T. P. et al. DNAshapeR: an R/Bioconductor package for DNA shape prediction and feature encoding. Bioinformatics 32, 1211–1213 (2016).

Chiu, T. P., Rao, S., Mann, R. S., Honig, B. & Rohs, R. Genome-wide prediction of minor-groove electrostatic potential enables biophysical modeling of protein-DNA binding. Nucleic Acids Res. 45, 12565–12576 (2017).

Polach, K. J. & Widom, J. Mechanism of protein access to specific DNA sequences in chromatin: a dynamic equilibrium model for gene regulation. J. Mol. Biol. 254, 130–149 (1995).

Anderson, J. D. & Widom, J. Sequence and position-dependence of the equilibrium accessibility of nucleosomal DNA target sites. J. Mol. Biol. 296, 979–987 (2000).

Li, G., Levitus, M., Bustamante, C. & Widom, J. Rapid spontaneous accessibility of nucleosomal DNA. Nat. Struct. Mol. Biol. 12, 46–53 (2005).

Privalov, P. L., Dragan, A. I. & Crane-Robinson, C. The cost of DNA bending. Trends Biochem. Sci. 34, 464–470 (2009).

Ye, Z. et al. Genome-wide analysis reveals positional-nucleosome-oriented binding pattern of pioneer factor FOXA1. Nucleic Acids Res. 44, 7540–7554 (2016).

Cirillo, L. A. et al. Opening of compacted chromatin by early developmental transcription factors HNF3 (FoxA) and GATA-4. Mol. Cell 9, 279–289 (2002).
Acknowledgements
We thank F. Zhong, A. Jolma, J. Zhang and J. Toivonen for valuable suggestions; E. Inns for proofreading; T. Kivioja for critical review of the manuscript and L. Hu, J. Liu and S. Augsten for technical assistance. This work was funded by the EU Horizon 2020 project MRGGrammar (664918), Cancerfonden (120529, 150662), Knut and Alice Wallenberg Foundation (2013.0088), Vetenskapsrådet (D0815201), Academy of Finland CoE (312042) (J.T.); DFG (SFB860, SPP1935), ERC AdG TRANSREGULON (693023), Volkswagen Foundation (P.C.) and EMBO fellowship ALTF 949-2016 (S.D.).
Reviewer information
Nature thanks T. Hughes, B. F. Pugh and the other anonymous reviewer(s) for their contribution to the peer review of this work.
Ethics declarations
Competing interests
The authors declare no competing interests.
Additional information
Publisher's note: Springer Nature remains neutral with regard to jurisdictional claims in published maps and institutional affiliations.
Extended data figures and tables
Supplementary information
About this article
Cite this article
Zhu, F., Farnung, L., Kaasinen, E. et al. The interaction landscape between transcription factors and the nucleosome. Nature 562, 76–81 (2018). https://doi.org/10.1038/s41586-018-0549-5
Received:

Accepted:

Published:

Issue Date:

DOI: https://doi.org/10.1038/s41586-018-0549-5
Keywords
Interactive Landscape

Studied Transcription Factors

Dyad Positions

Dyad Region

Nucleosome Occupancy
Comments
By submitting a comment you agree to abide by our Terms and Community Guidelines. If you find something abusive or that does not comply with our terms or guidelines please flag it as inappropriate.