Abstract
Defects in the architecture or integrity of the nuclear envelope are associated with a variety of human diseases1. Micronuclei, one common nuclear aberration, are an origin for chromothripsis2, a catastrophic mutational process that is commonly observed in cancer3,4,5. Chromothripsis occurs after micronuclei spontaneously lose nuclear envelope integrity, which generates chromosome fragmentation6. Disruption of the nuclear envelope exposes DNA to the cytoplasm and initiates innate immune proinflammatory signalling7. Despite its importance, the basis of the fragility of the micronucleus nuclear envelope  is not known. Here we show that micronuclei undergo defective nuclear envelope assembly. Only 'core' nuclear envelope proteins8,9 assemble efficiently on lagging chromosomes, whereas 'non-core' nuclear envelope proteins8,9, including nuclear pore complexes (NPCs), do not. Consequently, micronuclei fail to properly import key proteins that are necessary for the integrity of the nuclear envelope and genome. We show that spindle microtubules block assembly of NPCs and other non-core nuclear envelope proteins on lagging chromosomes, causing an irreversible defect in nuclear envelope assembly. Accordingly, experimental manipulations that position missegregated chromosomes away from the spindle correct defective nuclear envelope assembly, prevent spontaneous nuclear envelope disruption, and suppress DNA damage in micronuclei. Thus, during mitotic exit in metazoan cells, chromosome segregation and nuclear envelope assembly are only loosely coordinated by the timing of mitotic spindle disassembly. The absence of precise checkpoint controls may explain why errors during mitotic exit are frequent and often trigger catastrophic genome rearrangements4,5.
Relevant articles
Open Access articles citing this article.
Stamatis Papathanasiou

,

Nikos A. Mynhier

…

David Pellman

Nature Open Access 07 June 2023

Kate M. MacDonald

,

Shirony Nicholson-Puthenveedu

…

Shane M. Harding

Nature Communications Open Access 02 February 2023

Federica Scotto di Carlo

,

Sharon Russo

…

Fernando Gianfrancesco

Communications Biology Open Access 04 January 2023
Access options
Access Nature and 54 other Nature Portfolio journals
Get Nature+, our best-value online-access subscription
$29.99 / 30 days
cancel any time
Subscribe to this journal
Receive 51 print issues and online access
$199.00 per year
only $3.90 per issue
Rent or buy this article
Prices vary by article type
from$1.95
to$39.95
Prices may be subject to local taxes which are calculated during checkout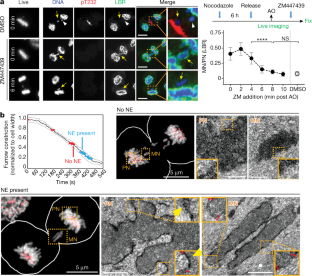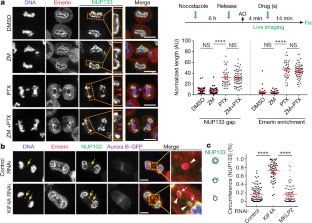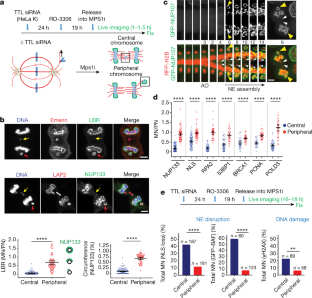 Data availability
The authors declare that the data supporting the findings of this study are available within the paper and its Supplementary Information files. Source data for all graphs (Figs. 1c, 2a, b, 3a, c, 4b, d, e; Extended Data Figs. 1d, f, 2b, c, d, f, g, 3a–c, e, 4c, d, f, g, 5b, c, e, 6a–c, 7b, d, e, 8d, 9a, d–f, h, 10c, d) are provided with the online version of the paper. All other data sets generated and/or analysed in the current study are available from the corresponding author upon reasonable request. Supplementary Fig. 1 contains scanned complete images of western blots.
References
Ungricht, R. & Kutay, U. Mechanisms and functions of nuclear envelope remodelling. Nat. Rev. Mol. Cell Biol. 18, 229–245 (2017).

Zhang, C.-Z. et al. Chromothripsis from DNA damage in micronuclei. Nature 522, 179–184 (2015).

Stephens, P. J. et al. Massive genomic rearrangement acquired in a single catastrophic event during cancer development. Cell 144, 27–40 (2011).

Notta, F. et al. A renewed model of pancreatic cancer evolution based on genomic rearrangement patterns. Nature 538, 378–382 (2016).

Ly, P. & Cleveland, D. W. Rebuilding chromosomes after catastrophe: emerging mechanisms of chromothripsis. Trends Cell Biol. 27, 917–930 (2017).

Hatch, E. M., Fischer, A. H., Deerinck, T. J. & Hetzer, M. W. Catastrophic nuclear envelope collapse in cancer cell micronuclei. Cell 154, 47–60 (2013).

Umbreit, N. T. & Pellman, D. Cancer biology: Genome jail-break triggers lockdown. Nature 550, 340–341 (2017).

Haraguchi, T. et al. Live cell imaging and electron microscopy reveal dynamic processes of BAF-directed nuclear envelope assembly. J. Cell Sci. 121, 2540–2554 (2008).

Dechat, T. et al. LAP2α and BAF transiently localize to telomeres and specific regions on chromatin during nuclear assembly. J. Cell Sci. 117, 6117–6128 (2004).

Otsuka, S. et al. Nuclear pore assembly proceeds by an inside-out extrusion of the nuclear envelope. eLife 5, e19071 (2016).

de Castro, I. J., Gil, R. S., Ligammari, L., Di Giacinto, M. L. & Vagnarelli, P. CDK1 and PLK1 coordinate the disassembly and reassembly of the nuclear envelope in vertebrate mitosis. Oncotarget 9, 7763–7773 (2017).

Toledo, L. I. et al. ATR prohibits replication catastrophe by preventing global exhaustion of RPA. Cell 155, 1088–1103 (2013).

Hatch, E. M. & Hetzer, M. W. Nuclear envelope rupture is induced by actin-based nucleus confinement. J. Cell Biol. 215, 27–36 (2016).

Crasta, K. et al. DNA breaks and chromosome pulverization from errors in mitosis. Nature 482, 53–58 (2012).

Afonso, O. et al. Feedback control of chromosome separation by a midzone aurora B gradient. Science 345, 332–336 (2014).

Karg, T., Warecki, B. & Sullivan, W. Aurora B-mediated localized delays in nuclear envelope formation facilitate inclusion of late-segregating chromosome fragments. Mol. Biol. Cell 26, 2227–2241 (2015).

Fuller, B. G. et al. Midzone activation of aurora B in anaphase produces an intracellular phosphorylation gradient. Nature 453, 1132–1136 (2008).

Ramadan, K. et al. Cdc48/p97 promotes reformation of the nucleus by extracting the kinase aurora B from chromatin. Nature 450, 1258–1262 (2007).

Vagnarelli, P. et al. Repo-Man coordinates chromosomal reorganization with nuclear envelope reassembly during mitotic exit. Dev. Cell 21, 328–342 (2011).

Obara, Y., Chai, L. S., Weinfeld, H. & Sandberg, A. A. Synchronization of events in fused interphase-metaphase binucleate cells: progression of the telophase-like nucleus. J. Natl. Cancer Inst. 53, 247–259 (1974).

Walther, T. C. et al. The conserved Nup107-160 complex is critical for nuclear pore complex assembly. Cell 113, 195–206 (2003).

Xue, J. Z., Woo, E. M., Postow, L., Chait, B. T. & Funabiki, H. Chromatin-bound Xenopus Dppa2 shapes the nucleus by locally inhibiting microtubule assembly. Dev. Cell 27, 47–59 (2013).

Vietri, M. et al. Spastin and ESCRT-III coordinate mitotic spindle disassembly and nuclear envelope sealing. Nature 522, 231–235 (2015).

Hochegger, H., Hégarat, N. & Pereira-Leal, J. B. Aurora at the pole and equator: overlapping functions of aurora kinases in the mitotic spindle. Open Biol. 3, 120185 (2013).

Lu, L., Ladinsky, M. S. & Kirchhausen, T. Formation of the postmitotic nuclear envelope from extended ER cisternae precedes nuclear pore assembly. J. Cell Biol. 194, 425–440 (2011).

Kurasawa, Y., Earnshaw, W. C., Mochizuki, Y., Dohmae, N. & Todokoro, K. Essential roles of KIF4 and its binding partner PRC1 in organized central spindle midzone formation. EMBO J. 23, 3237–3248 (2004).

Barisic, M. et al. Mitosis. Microtubule detyrosination guides chromosomes during mitosis. Science 348, 799–803 (2015).

Otsuka, S. et al. Postmitotic nuclear pore assembly proceeds by radial dilation of small membrane openings. Nat. Struct. Mol. Biol. 25, 21–28 (2018).

Poser, I. et al. BAC TransgeneOmics: a high-throughput method for exploration of protein function in mammals. Nat. Methods 5, 409–415 (2008).

Gruneberg, U., Neef, R., Honda, R., Nigg, E. A. & Barr, F. A. Relocation of Aurora B from centromeres to the central spindle at the metaphase to anaphase transition requires MKlp2. J. Cell Biol. 166, 167–172 (2004).

Soto, M. et al. p53 prohibits propagation of chromosome segregation errors that produce structural aneuploidies. Cell Reports 19, 2423–2431 (2017).

Rieder, C. L. & Cassels, G. Correlative light and electron microscopy of mitotic cells in monolayer cultures. Methods Cell Biol. 61, 297–315 (1999).

Hiraoka, Y., Sedat, J. W. & Agard, D. A. Determination of three-dimensional imaging properties of a light microscope system. Partial confocal behavior in epifluorescence microscopy. Biophys. J. 57, 325–333 (1990).

Gustafsson, M. G. et al. Three-dimensional resolution doubling in wide-field fluorescence microscopy by structured illumination. Biophys. J. 94, 4957–4970 (2008).

Belgareh, N. et al. An evolutionarily conserved NPC subcomplex, which redistributes in part to kinetochores in mammalian cells. J. Cell Biol. 154, 1147–1160 (2001). https://doi.org/10.1083/jcb.200101081.

Maeshima, K. et al. Cell-cycle-dependent dynamics of nuclear pores: pore-free islands and lamins. J. Cell Sci. 119, 4442–4451 (2006).

Clever, M., Funakoshi, T., Mimura, Y., Takagi, M. & Imamoto, N. The nucleoporin ELYS/Mel28 regulates nuclear envelope subdomain formation in HeLa cells. Nucleus 3, 187–199 (2012).

Mimura, Y., Takagi, M., Clever, M. & Imamoto, N. ELYS regulates the localization of LBR by modulating its phosphorylation state. J. Cell Sci. 129, 4200–4212 (2016).

Hudson, D. F., Vagnarelli, P., Gassmann, R. & Earnshaw, W. C. Condensin is required for nonhistone protein assembly and structural integrity of vertebrate mitotic chromosomes. Dev. Cell 5, 323–336 (2003).

Maiato, H., Afonso, O. & Matos, I. A chromosome separation checkpoint: A midzone Aurora B gradient mediates a chromosome separation checkpoint that regulates the anaphase-telophase transition. BioEssays 37, 257–266 (2015).

Maciejowski, J., Li, Y., Bosco, N., Campbell, P. J. & de Lange, T. Chromothripsis and kataegis induced by telomere crisis. Cell 163, 1641–1654 (2015).

Denais, C. M. et al. Nuclear envelope rupture and repair during cancer cell migration. Science 352, 353–358 (2016).

Steigemann, P. et al. Aurora B-mediated abscission checkpoint protects against tetraploidization. Cell 136, 473–484 (2009).

Uehara, R. et al. Aurora B and Kif2A control microtubule length for assembly of a functional central spindle during anaphase. J. Cell Biol. 202, 623–636 (2013).

Sagona, A. P., Nezis, I. P. & Stenmark, H. Association of CHMP4B and autophagy with micronuclei: implications for cataract formation. BioMed Res. Int. 2014, 974393 (2014).

Santaguida, S. et al. Chromosome mis-segregation generates cell-cycle-arrested cells with complex karyotypes that are eliminated by the immune system. Dev. Cell 41, 638–651 (2017).

Shah, P., Wolf, K. & Lammerding, J. Bursting the bubble—nuclear envelope rupture as a path to genomic instability? Trends Cell Biol. 27, 546–555 (2017).
Acknowledgements
We thank I. Cheeseman, T. Rapoport, N. Umbreit, T. Walther, and K. Xie for advice or comments on the manuscript; E. Jackson and A. Spektor for preliminary experiments; R. Davidowitz for animations; J. Ellenberg, D. Gerlich, E. Hatch, M. Hetzer, A. Hyman, T. Kuroda, and L. Shao for reagents; and J. Waters and T. Lambert of the Nikon Imaging Center at Harvard Medical School and H. Elliott and C. Yapp from the Image and Data Analysis Core at Harvard Medical School for advice. We acknowledge the use of the Wadsworth Center's Electron Microscopy Core Facility. A. K. is supported by NIH GM059363. D.P. is a HHMI investigator and is supported by R37 GM61345.
Ethics declarations
Competing interests
The authors declare no competing interests.
Additional information
Publisher's note: Springer Nature remains neutral with regard to jurisdictional claims in published maps and institutional affiliations.
Extended data figures and tables
Supplementary information
About this article
Cite this article
Liu, S., Kwon, M., Mannino, M. et al. Nuclear envelope assembly defects link mitotic errors to chromothripsis. Nature 561, 551–555 (2018). https://doi.org/10.1038/s41586-018-0534-z
Received:

Accepted:

Published:

Issue Date:

DOI: https://doi.org/10.1038/s41586-018-0534-z
Keywords
NE Assembly

Nuclear Pore Complex (NPCs)

Mitotic Exit

NE Proteins

Correlative Light And Electron Microscopy (CLEM)
Comments
By submitting a comment you agree to abide by our Terms and Community Guidelines. If you find something abusive or that does not comply with our terms or guidelines please flag it as inappropriate.