Abstract
Individuals infected with HIV-1 require lifelong antiretroviral therapy, because interruption of treatment leads to rapid rebound viraemia. Here we report on a phase 1b clinical trial in which a combination of 3BNC117 and 10-1074, two potent monoclonal anti-HIV-1 broadly neutralizing antibodies that target independent sites on the HIV-1 envelope spike, was administered during analytical treatment interruption. Participants received three infusions of 30 mg kg−1 of each antibody at 0, 3 and 6 weeks. Infusions of the two antibodies were generally well-tolerated. The nine enrolled individuals with antibody-sensitive latent viral reservoirs maintained suppression for between 15 and more than 30 weeks (median of 21 weeks), and none developed viruses that were resistant to both antibodies. We conclude that the combination of the anti-HIV-1 monoclonal antibodies 3BNC117 and 10-1074 can maintain long-term suppression in the absence of antiretroviral therapy in individuals with antibody-sensitive viral reservoirs.
Access options
Access options
Subscribe to Journal
Get full journal access for 1 year
$199.00
only $3.90 per issue
All prices are NET prices.
VAT will be added later in the checkout.
Rent or Buy article
Get time limited or full article access on ReadCube.
from$8.99
All prices are NET prices.
Additional information
Publisher's note: Springer Nature remains neutral with regard to jurisdictional claims in published maps and institutional affiliations.
References
1.

Doitsh, G. & Greene, W. C. Dissecting how CD4 T cells are lost during HIV infection. Cell Host Microbe 19, 280–291 (2016).

2.

Churchill, M. J., Deeks, S. G., Margolis, D. M., Siliciano, R. F. & Swanstrom, R. HIV reservoirs: what, where and how to target them. Nat. Rev. Microbiol. 14, 55–60 (2016).

3.

Nishimura, Y. et al. Early antibody therapy can induce long-lasting immunity to SHIV. Nature 543, 559–563 (2017).

4.

Gautam, R. et al. A single injection of crystallizable fragment domain-modified antibodies elicits durable protection from SHIV infection. Nat. Med. 24, 610–616 (2018).

5.

Schoofs, T. et al. HIV-1 therapy with monoclonal antibody 3BNC117 elicits host immune responses against HIV-1. Science 352, 997–1001 (2016).

6.

Caskey, M. et al. Viraemia suppressed in HIV-1-infected humans by broadly neutralizing antibody 3BNC117. Nature 522, 487–491 (2015).

7.

Lynch, R. M. et al. Virologic effects of broadly neutralizing antibody VRC01 administration during chronic HIV-1 infection. Sci. Transl. Med. 7, 319ra206 (2015).

8.

Caskey, M. et al. Antibody 10-1074 suppresses viremia in HIV-1-infected individuals. Nat. Med. 23, 185–191 (2017).

9.

Scheid, J. F. et al. HIV-1 antibody 3BNC117 suppresses viral rebound in humans during treatment interruption. Nature 535, 556–560 (2016).

10.

Li, J. Z. et al. The size of the expressed HIV reservoir predicts timing of viral rebound after treatment interruption. AIDS 30, 343–353 (2016).

11.

Bar, K. J. et al. Effect of HIV antibody VRC01 on viral rebound after treatment interruption. N. Engl. J. Med. 375, 2037–2050 (2016).

12.

Shingai, M. et al. Passive transfer of modest titers of potent and broadly neutralizing anti-HIV monoclonal antibodies block SHIV infection in macaques. J. Exp. Med. 211, 2061–2074 (2014).

13.

Gautam, R. et al. A single injection of anti-HIV-1 antibodies protects against repeated SHIV challenges. Nature 533, 105–109 (2016).

14.

Klein, F. et al. HIV therapy by a combination of broadly neutralizing antibodies in humanized mice. Nature 492, 118–122 (2012).

15.

Horwitz, J. A. et al. HIV-1 suppression and durable control by combining single broadly neutralizing antibodies and antiretroviral drugs in humanized mice. Proc. Natl Acad. Sci. USA 110, 16538–16543 (2013).

16.

Shingai, M. et al. Antibody-mediated immunotherapy of macaques chronically infected with SHIV suppresses viraemia. Nature 503, 277–280 (2013).

17.

Trkola, A. et al. Delay of HIV-1 rebound after cessation of antiretroviral therapy through passive transfer of human neutralizing antibodies. Nat. Med. 11, 615–622 (2005).

18.

Mehandru, S. et al. Adjunctive passive immunotherapy in human immunodeficiency virus type 1-infected individuals treated with antiviral therapy during acute and early infection. J. Virol. 81, 11016–11031 (2007).

19.

Sarzotti-Kelsoe, M. et al. Optimization and validation of the TZM-bl assay for standardized assessments of neutralizing antibodies against HIV-1. J. Immunol. Methods 409, 131–146 (2014).

20.

Cohen, Y. Z. et al. Relationship between latent and rebound viruses in a clinical trial of anti–HIV-1 antibody 3BNC117. J. Exp. Med. 215, https://doi.org/10.1084/jem.20180936 (2018).

21.

Robertson, D. L., Sharp, P. M., McCutchan, F. E. & Hahn, B. H. Recombination in HIV-1. Nature 374, 124–126 (1995).

22.

Rothenberger, M. K. et al. Large number of rebounding/founder HIV variants emerge from multifocal infection in lymphatic tissues after treatment interruption. Proc. Natl Acad. Sci. USA 112, E1126–E1134 (2015).

23.

Kearney, M. F. et al. Lack of detectable HIV-1 molecular evolution during suppressive antiretroviral therapy. PLoS Pathog. 10, e1004010 (2014).

24.

Lorenzi, J. C. et al. Paired quantitative and qualitative assessment of the replication-competent HIV-1 reservoir and comparison with integrated proviral DNA. Proc. Natl Acad. Sci. USA 113, E7908–E7916 (2016).

25.

Wang, Z. et al. Expanded cellular clones carrying replication-competent HIV-1 persist, wax, and wane. Proc. Natl Acad. Sci. USA 115, E2575–E2584 (2018).

26.

Hosmane, N. N. et al. Proliferation of latently infected CD4+ T cells carrying replication-competent HIV-1: potential role in latent reservoir dynamics. J. Exp. Med. 214, 959–972 (2017).

27.

Crooks, A. M. et al. Precise quantitation of the latent HIV-1 reservoir: implications for eradication strategies. J. Infect. Dis. 212, 1361–1365 (2015).

28.

Poignard, P. et al. Neutralizing antibodies have limited effects on the control of established HIV-1 infection in vivo. Immunity 10, 431–438 (1999).

29.

Scheid, J. F. et al. A method for identification of HIV gp140 binding memory B cells in human blood. J. Immunol. Methods 343, 65–67 (2009).

30.

Escolano, A., Dosenovic, P. & Nussenzweig, M. C. Progress toward active or passive HIV-1 vaccination. J. Exp. Med. 214, 3–16 (2017).

31.

Kwong, P. D. & Mascola, J. R. HIV-1 vaccines based on antibody identification, B Cell ontogeny, and epitope structure. Immunity 48, 855–871 (2018).

32.

Lu, C. L. et al. Enhanced clearance of HIV-1-infected cells by broadly neutralizing antibodies against HIV-1 in vivo. Science 352, 1001–1004 (2016).

33.

Walker, B. D. & Yu, X. G. Unravelling the mechanisms of durable control of HIV-1. Nat. Rev. Immunol. 13, 487–498 (2013).

34.

Colby, D. J. et al. Rapid HIV RNA rebound after antiretroviral treatment interruption in persons durably suppressed in Fiebig I acute HIV infection. Nat. Med. 24, 923–926 (2018).

35.

Sáez-Cirión, A. et al. Post-treatment HIV-1 controllers with a long-term virological remission after the interruption of early initiated antiretroviral therapy ANRS VISCONTI Study. PLoS Pathog. 9, e1003211 (2013).

36.

Sneller, M. C. et al. A randomized controlled safety/efficacy trial of therapeutic vaccination in HIV-infected individuals who initiated antiretroviral therapy early in infection. Sci. Transl. Med. 9, eaan8848 (2017).

37.

Fidler, S. et al. Virological blips and predictors of post treatment viral control after stopping ART started in primary HIV infection. J. Acquir. Immune Defic. Syndr. 74, 126–133 (2017).

38.

Martin, G. E. et al. Post-treatment control or treated controllers? Viral remission in treated and untreated primary HIV infection. AIDS 31, 477–484 (2017).

39.

Cohn, L. B. et al. Clonal CD4+ T cells in the HIV-1 latent reservoir display a distinct gene profile upon reactivation. Nat. Med. 24, 604–609 (2018).

40.

Maldarelli, F. et al. Specific HIV integration sites are linked to clonal expansion and persistence of infected cells. Science 345, 179–183 (2014).

41.

Wagner, T. A. et al. Proliferation of cells with HIV integrated into cancer genes contributes to persistent infection. Science 345, 570–573 (2014).

42.

Cohn, L. B. et al. HIV-1 integration landscape during latent and active infection. Cell 160, 420–432 (2015).

43.

Halper-Stromberg, A. et al. Broadly neutralizing antibodies and viral inducers decrease rebound from HIV-1 latent reservoirs in humanized mice. Cell 158, 989–999 (2014).

44.

Ko, S. Y. et al. Enhanced neonatal Fc receptor function improves protection against primate SHIV infection. Nature 514, 642–645 (2014).

45.

Gaudinski, M. R. et al. Safety and pharmacokinetics of the Fc-modified HIV-1 human monoclonal antibody VRC01LS: a phase 1 open-label clinical trial in healthy adults. PLoS Med. 15, e1002493 (2018).

46.

Salazar-Gonzalez, J. F. et al. Deciphering human immunodeficiency virus type 1 transmission and early envelope diversification by single-genome amplification and sequencing. J. Virol. 82, 3952–3970 (2008).

47.

Kirchherr, J. L. et al. High throughput functional analysis of HIV-1 env genes without cloning. J. Virol. Methods 143, 104–111 (2007).

48.

Larkin, M. A. et al. Clustal W and Clustal X version 2.0. Bioinformatics 23, 2947–2948 (2007).

49.

Guindon, S. et al. New algorithms and methods to estimate maximum-likelihood phylogenies: assessing the performance of PhyML 3.0. Syst. Biol. 59, 307–321 (2010).

50.

Stamatakis, A. RAxML version 8: a tool for phylogenetic analysis and post-analysis of large phylogenies. Bioinformatics 30, 1312–1313 (2014).
Acknowledgements
We thank all study participants who devoted time to our research; members of the Klein and Nussenzweig laboratories for helpful discussions, especially Y. Bar-On, L. Cohn and M. Jankovic; R. Levin for study coordination and the Rockefeller University Hospital Clinical Research Support Office and nursing staff as well as K. Fiddike, C. Golder, S. Margane, M. Platten, E. Voigt and D. Weiland for help with recruitment and study implementation; K. Jain for help with sample processing; S. Kiss for ophthalmologic assessments; T. Keler and the Celldex Therapeutics team for 3BNC117 and 10-1074 manufacturing and regulatory support; C. Conrad for regulatory support; U. Kerkweg, R. Macarthur and A. Johnson for pharmaceutical services; H. Janicki, M. Ercanoglu, P. Schommers and R. Kaiser for help with virus cultures; C. Scheid and U. Holtick for leukaphereses; S. McMillan, S. Mosher, S. Sawant, D. Beaumont, M. Sarzotti-Kelsoe, K. Greene, H. Gao and D. Montefiori for help with PK assay development, validation, reporting, and/or project management; P. Fast and H. Park for clinical monitoring; and S. Schlesinger for input on study design. This work was supported by the Bill and Melinda Gates Foundation Collaboration for AIDS Vaccine Discovery (CAVD) grants OPP1092074, OPP1124068 (M.C.N.), CAVIMC OPP1146996 (G.D.T., M.S.S.); the Heisenberg-Program of the DFG (KL 2389/2-1), the European Research Council (ERC-StG639961), and the German Center for Infection Research (DZIF) (F.K.); the NIH grants 1UM1 AI100663 and R01AI-129795 (M.C.N.); the Einstein-Rockefeller-CUNY Center for AIDS Research (1P30AI124414-01A1); BEAT-HIV Delaney grant UM1 AI126620 (M.C.); and the Robertson fund of the Rockefeller University. M.C.N. is a Howard Hughes Medical Institute Investigator.
Reviewer information
Nature thanks G. Silvestri and the other anonymous reviewer(s) for their contribution to the peer review of this work.
Extended data figures and tables
Supplementary information
This file contains Supplementary Tables 1–5.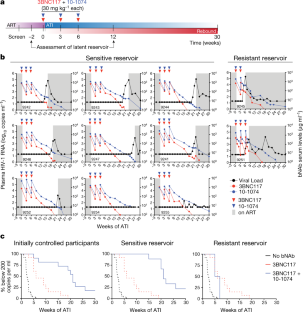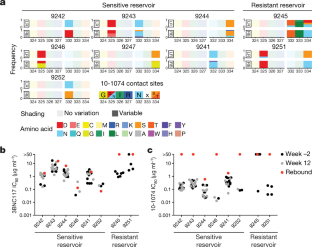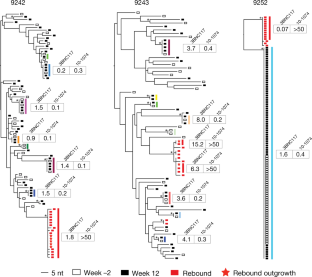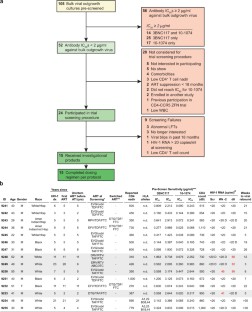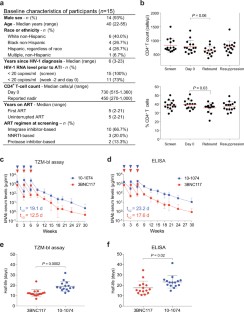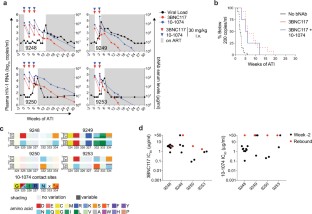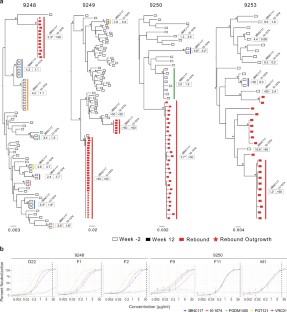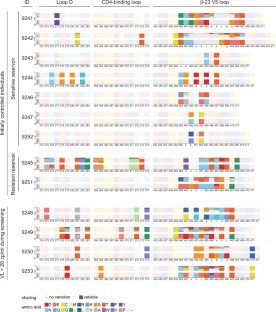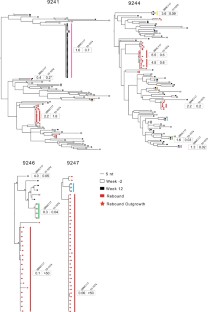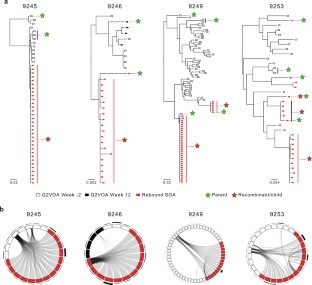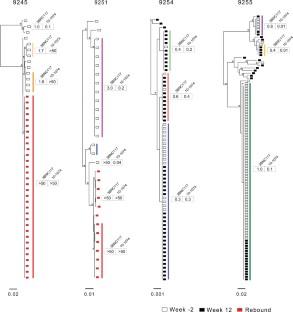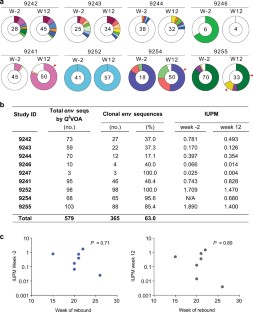 Comments
By submitting a comment you agree to abide by our Terms and Community Guidelines. If you find something abusive or that does not comply with our terms or guidelines please flag it as inappropriate.