Abstract
For many of our senses, the role of the cerebral cortex in detecting stimuli is controversial1,2,3,4,5,6,7,8,9,10,11,12,13,14,15,16,17. Here we examine the effects of both acute and chronic inactivation of the primary somatosensory cortex in mice trained to move their large facial whiskers to detect an object by touch and respond with a lever to obtain a water reward. Using transgenic mice, we expressed inhibitory opsins in excitatory cortical neurons. Transient optogenetic inactivation of the primary somatosensory cortex, as well as permanent lesions, initially produced both movement and sensory deficits that impaired detection behaviour, demonstrating the link between sensory and motor systems during active sensing. Unexpectedly, lesioned mice had recovered full behavioural capabilities by the subsequent session. This rapid recovery was experience-dependent, and early re-exposure to the task after lesioning facilitated recovery. Furthermore, ablation of the primary somatosensory cortex before learning did not affect task acquisition. This combined optogenetic and lesion approach suggests that manipulations of the sensory cortex may be only temporarily disruptive to other brain structures that are themselves capable of coordinating multiple, arbitrary movements with sensation. Thus, the somatosensory cortex may be dispensable for active detection of objects in the environment.
Access options
Subscribe to Journal
Get full journal access for 1 year
$199.00
only $3.90 per issue
All prices are NET prices.
VAT will be added later in the checkout.
Tax calculation will be finalised during checkout.
Rent or Buy article
Get time limited or full article access on ReadCube.
from$8.99
All prices are NET prices.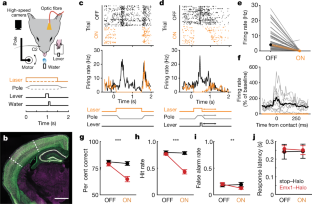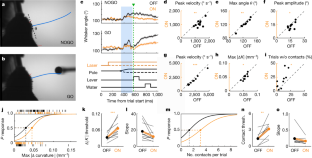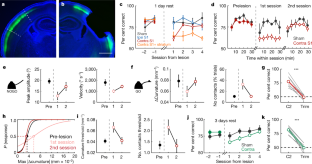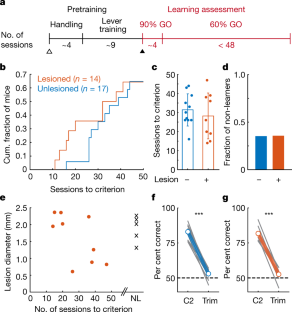 Data availability
All data are available from the corresponding author upon reasonable request.
References
1.

Glickfeld, L. L., Histed, M. H. & Maunsell, J. H. R. Mouse primary visual cortex is used to detect both orientation and contrast changes. J. Neurosci. 33, 19416–19422 (2013).

2.

Petruno, S. K., Clark, R. E. & Reinagel, P. Evidence that primary visual cortex is required for image, orientation, and motion discrimination by rats. PLoS ONE 8, e56543 (2013).

3.

Lashley, K. S. The mechanism of vision IV. The cerebral areas necessary for pattern vision in the rat. J. Comp. Neurol. 53, 419–478 (1931).

4.

Kato, H. K., Gillet, S. N. & Isaacson, J. S. Flexible sensory representations in auditory cortex driven by behavioral relevance. Neuron 88, 1027–1039 (2015).

5.

Kelly, J. B. & Glazier, S. J. Auditory cortex lesions and discrimination of spatial location by the rat. Brain Res. 145, 315–321 (1978).

6.

Talwar, S. K., Musial, P. G. & Gerstein, G. L. Role of mammalian auditory cortex in the perception of elementary sound properties. J. Neurophysiol. 85, 2350–2358 (2001).

7.

Oliveira-Maia, A. J. et al. The insular cortex controls food preferences independently of taste receptor signaling. Front. Syst. Neurosci. 6, 5 (2012).

8.

Peng, Y. et al. Sweet and bitter taste in the brain of awake behaving animals. Nature 527, 512–515 (2015).

9.

Waiblinger, C., Brugger, D. & Schwarz, C. Vibrotactile discrimination in the rat whisker system is based on neuronal coding of instantaneous kinematic cues. Cereb. Cortex 25, 1093–1106 (2015).

10.

Hutson, K. A. & Masterton, R. B. The sensory contribution of a single vibrissa's cortical barrel. J. Neurophysiol. 56, 1196–1223 (1986).

11.

Morita, T., Kang, H., Wolfe, J., Jadhav, S. P. & Feldman, D. E. Psychometric curve and behavioral strategies for whisker-based texture discrimination in rats. PLoS ONE 6, e20437 (2011).

12.

Guo, Z. V. et al. Flow of cortical activity underlying a tactile decision in mice. Neuron 81, 179–194 (2014).

13.

O'Connor, D. H., Peron, S. P., Huber, D. & Svoboda, K. Neural activity in barrel cortex underlying vibrissa-based object localization in mice. Neuron 67, 1048–1061 (2010).

14.

Kwon, S. E., Yang, H., Minamisawa, G. & O'Connor, D. H. Sensory and decision-related activity propagate in a cortical feedback loop during touch perception. Nat. Neurosci. 19, 1243–1249 (2016).

15.

Miyashita, T. & Feldman, D. E. Behavioral detection of passive whisker stimuli requires somatosensory cortex. Cereb. Cortex 23, 1655–1662 (2013).

16.

Sachidhanandam, S., Sreenivasan, V., Kyriakatos, A., Kremer, Y. & Petersen, C. C. H. Membrane potential correlates of sensory perception in mouse barrel cortex. Nat. Neurosci. 16, 1671–1677 (2013).

17.

Stüttgen, M. C. & Schwarz, C. Barrel cortex: what is it good for? Neuroscience 368, 3–16 (2018).

18.

Otchy, T. M. et al. Acute off-target effects of neural circuit manipulations. Nature 528, 358–363 (2015).

19.

Deutsch, D., Pietr, M., Knutsen, P. M., Ahissar, E. & Schneidman, E. Fast feedback in active sensing: touch-induced changes to whisker-object interaction. PLoS ONE 7, e44272 (2012).

20.

Grant, R. A., Mitchinson, B., Fox, C. W. & Prescott, T. J. Active touch sensing in the rat: anticipatory and regulatory control of whisker movements during surface exploration. J. Neurophysiol. 101, 862–874 (2009).

21.

Mitchinson, B. et al. Active vibrissal sensing in rodents and marsupials. Phil. Trans. R. Soc. Lond. B 366, 3037–3048 (2011).

22.

Matyas, F. et al. Motor control by sensory cortex. Science 330, 1240–1243 (2010).

23.

Harvey, M. A., Sachdev, R. N. & Zeigler, H. P. Cortical barrel field ablation and unconditioned whisking kinematics. Somatosens. Mot. Res. 18, 223–227 (2001).

24.

Pammer, L. et al. The mechanical variables underlying object localization along the axis of the whisker. J. Neurosci. 33, 6726–6741 (2013).

25.

Stüttgen, M. C. & Schwarz, C. Psychophysical and neurometric detection performance under stimulus uncertainty. Nat. Neurosci. 11, 1091–1099 (2008).

26.

Keck, T. et al. Synaptic scaling and homeostatic plasticity in the mouse visual cortex in vivo. Neuron 80, 327–334 (2013).

27.

Kawai, R. et al. Motor cortex is required for learning but not for executing a motor skill. Neuron 86, 800–812 (2015).

28.

Brecht, M. The body model theory of somatosensory cortex. Neuron 94, 985–992 (2017).

29.

Stüttgen, M. C., Schwarz, C. & Jäkel, F. Mapping spikes to sensations. Front. Neurosci. 5, 125 (2011).

30.

Cohen, J. D. & Castro-Alamancos, M. A. Detection of low salience whisker stimuli requires synergy of tectal and thalamic sensory relays. J. Neurosci. 30, 2245–2256 (2010).

31.

Huerta, M. F., Frankfurter, A. & Harting, J. K. Studies of the principal sensory and spinal trigeminal nuclei of the rat: projections to the superior colliculus, inferior olive, and cerebellum. J. Comp. Neurol. 220, 147–167 (1983).

32.

Smith, J. B., Mowery, T. M. & Alloway, K. D. Thalamic POm projections to the dorsolateral striatum of rats: potential pathway for mediating stimulus-response associations for sensorimotor habits. J. Neurophysiol. 108, 160–174 (2012).

33.

Gorski, J. A. et al. Cortical excitatory neurons and glia, but not GABAergic neurons, are produced in the Emx1-expressing lineage. J. Neurosci. 22, 6309–6314 (2002).

34.

Scholl, B., Pattadkal, J. J., Dilly, G. A., Priebe, N. J. & Zemelman, B. V. Local integration accounts for weak selectivity of mouse neocortical parvalbumin interneurons. Neuron 87, 424–436 (2015).

35.

O'Connor, D. H. et al. Vibrissa-based object localization in head-fixed mice. J. Neurosci. 30, 1947–1967 (2010).

36.

Clack, N. G. et al. Automated tracking of whiskers in videos of head fixed rodents. PLoS Comput. Biol. 8, e1002591 (2012).

37.

Hill, D. N., Curtis, J. C., Moore, J. D. & Kleinfeld, D. Primary motor cortex reports efferent control of vibrissa motion on multiple timescales. Neuron 72, 344–356 (2011).

38.

Kleinfeld, D. & Deschênes, M. Neuronal basis for object location in the vibrissa scanning sensorimotor system. Neuron 72, 455–468 (2011).

39.

Bruno, R. M. & Simons, D. J. Feedforward mechanisms of excitatory and inhibitory cortical receptive fields. J. Neurosci. 22, 10966–10975 (2002).

40.

Pachitariu, M., Steinmetz, N., Kadir, S., Carandini, M. & Harris, K. D. Kilosort: realtime spike-sorting for extracellular electrophysiology with hundreds of channels. Preprint at https://www.biorxiv.org/content/early/2016/06/30/061481 (2016).

41.

Rossant, C. et al. Spike sorting for large, dense electrode arrays. Nat. Neurosci. 19, 634–641 (2016).

42.

Paxinos, G. & Franklin, K. B. J. The Mouse Brain in Stereotaxic Coordinates. 2nd ed. (Academic, New York, 2001).
Acknowledgements
We thank B. C. Pil and A. Kase for assistance with mouse training, H. Zeng and M. Kheirbek for Ai39 mice, A. Losonczy for PV–Cre mice, J. Huang for Rosa–H2B–GFP mice, N. Clack for suggestions on video analysis of whisker motion, B. Grewe for advice on cortical aspiration, and J. C. Tapia, M. Goldberg, N. Sawtell, T. Jessell, A. Kinnischtzke, D. Kato and G. Pierce for comments on the manuscript. Funding was provided by NIH R01 NS094659, R01 NS069679, the Klingenstein Fund, the Rita Allen Foundation, the Dana Foundation and the Ludwig Schaefer Scholars Program (R.M.B.); NIH F32 NS084768 (Y.K.H.), T32 MH015174 (Y.K.H., C.O.L.) and F32 NS096819 (C.C.R.).
Reviewer information
Nature thanks C. Schwarz and the other anonymous reviewer(s) for their contribution to the peer review of this work.
Ethics declarations
Competing interests
The authors declare no competing interests.
Additional information
Publisher's note: Springer Nature remains neutral with regard to jurisdictional claims in published maps and institutional affiliations.
Extended data figures and tables
Supplementary information
About this article
Cite this article
Hong, Y.K., Lacefield, C.O., Rodgers, C.C. et al. Sensation, movement and learning in the absence of barrel cortex. Nature 561, 542–546 (2018). https://doi.org/10.1038/s41586-018-0527-y
Received:

Accepted:

Published:

Issue Date:
Keywords
Water Reward

Primary Somatosensory Cortex

Excitatory Cortical Neurons

NoGo Trials

Intrinsic Signal Optical Imaging
Comments
By submitting a comment you agree to abide by our Terms and Community Guidelines. If you find something abusive or that does not comply with our terms or guidelines please flag it as inappropriate.