Abstract
Sounds can arise from the environment and also predictably from many of our own movements, such as vocalizing, walking, or playing music. The capacity to anticipate these movement-related (reafferent) sounds and distinguish them from environmental sounds is essential for normal hearing1,2, but the neural circuits that learn to anticipate the often arbitrary and changeable sounds that result from our movements remain largely unknown. Here we developed an acoustic virtual reality (aVR) system in which a mouse learned to associate a novel sound with its locomotor movements, allowing us to identify the neural circuit mechanisms that learn to suppress reafferent sounds and to probe the behavioural consequences of this predictable sensorimotor experience. We found that aVR experience gradually and selectively suppressed auditory cortical responses to the reafferent frequency, in part by strengthening motor cortical activation of auditory cortical inhibitory neurons that respond to the reafferent tone. This plasticity is behaviourally adaptive, as aVR-experienced mice showed an enhanced ability to detect non-reafferent tones during movement. Together, these findings describe a dynamic sensory filter that involves motor cortical inputs to the auditory cortex that can be shaped by experience to selectively suppress the predictable acoustic consequences of movement.
Access options
Subscribe to Journal
Get full journal access for 1 year
$199.00
only $3.90 per issue
All prices are NET prices.
VAT will be added later in the checkout.
Tax calculation will be finalised during checkout.
Rent or Buy article
Get time limited or full article access on ReadCube.
from$8.99
All prices are NET prices.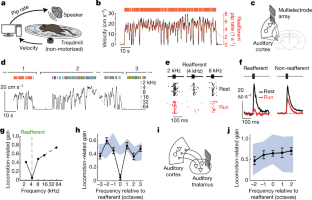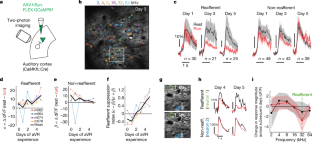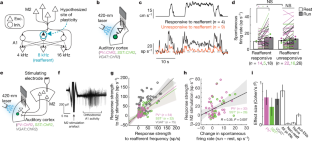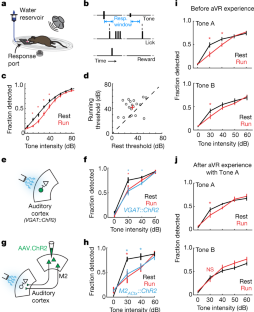 Data availability
The data that support the findings of this study are available from the corresponding author upon reasonable request.
References
1.

Schneider, D. M., Nelson, A. & Mooney, R. A synaptic and circuit basis for corollary discharge in the auditory cortex. Nature 513, 189–194 (2014).

2.

Weiss, C., Herwig, A. & Schütz-Bosbach, S. The self in action effects: selective attenuation of self-generated sounds. Cognition 121, 207–218 (2011).

3.

Kuchibhotla, K. V. et al. Parallel processing by cortical inhibition enables context-dependent behavior. Nat. Neurosci. 20, 62–71 (2017).

4.

Zhou, M. et al. Scaling down of balanced excitation and inhibition by active behavioral states in auditory cortex. Nat. Neurosci. 17, 841–850 (2014).

5.

Rummell, B. P., Klee, J. L. & Sigurdsson, T. Attenuation of responses to self-generated sounds in auditory cortical neurons. J. Neurosci. 36, 12010–12026 (2016).

6.

Flinker, A. et al. Single-trial speech suppression of auditory cortex activity in humans. J. Neurosci. 30, 16643–16650 (2010).

7.

Eliades, S. J. & Wang, X. Sensory-motor interaction in the primate auditory cortex during self-initiated vocalizations. J. Neurophysiol. 89, 2194–2207 (2003).

8.

Singla, S., Dempsey, C., Warren, R., Enikolopov, A. G. & Sawtell, N. B. A cerebellum-like circuit in the auditory system cancels responses to self-generated sounds. Nat. Neurosci. 20, 943–950 (2017).

9.

Curio, G., Neuloh, G., Numminen, J., Jousmäki, V. & Hari, R. Speaking modifies voice-evoked activity in the human auditory cortex. Hum. Brain Mapp. 9, 183–191 (2000).

10.

Keller, G. B. & Hahnloser, R. H. R. Neural processing of auditory feedback during vocal practice in a songbird. Nature 457, 187–190 (2009).

11.

Eliades, S. J. & Wang, X. Neural substrates of vocalization feedback monitoring in primate auditory cortex. Nature 453, 1102–1106 (2008).

12.

Houde, J. F. & Jordan, M. I. Sensorimotor adaptation in speech production. Science 279, 1213–1216 (1998).

13.

Mifsud, N. G. & Whitford, T. J. Sensory attenuation of self-initiated sounds maps onto habitual associations between motor action and sound. Neuropsychologia 103, 38–43 (2017).

14.

Moore, A. K. & Wehr, M. Parvalbumin-expressing inhibitory interneurons in auditory cortex are well-tuned for frequency. J. Neurosci. 33, 13713–13723 (2013).

15.

Fino, E. & Yuste, R. Dense inhibitory connectivity in neocortex. Neuron 69, 1188–1203 (2011).

16.

Znamenskiy, P. et al. Functional selectivity and specific connectivity of inhibitory neurons in primary visual cortex. Preprint at https://www.biorxiv.org/content/early/2018/04/04/294835 (2018).

17.

Williamson, R. S., Hancock, K. E., Shinn-Cunningham, B. G. & Polley, D. B. Locomotion and task demands differentially modulate thalamic audiovisual processing during active search. Curr. Biol. 25, 1885–1891 (2015).

18.

Nelson, A. et al. A circuit for motor cortical modulation of auditory cortical activity. J. Neurosci. 33, 14342–14353 (2013).

19.

Nelson, A. & Mooney, R. The basal forebrain and motor cortex provide convergent yet distinct movement-related inputs to the auditory cortex. Neuron 90, 635–648 (2016).

20.

Wilson, N. R., Runyan, C. A., Wang, F. L. & Sur, M. Division and subtraction by distinct cortical inhibitory networks in vivo. Nature 488, 343–348 (2012).

21.

Wolpert, D. M., Ghahramani, Z. & Jordan, M. I. An internal model for sensorimotor integration. Science 269, 1880–1882 (1995).

22.

Keller, G. B., Bonhoeffer, T. & Hübener, M. Sensorimotor mismatch signals in primary visual cortex of the behaving mouse. Neuron 74, 809–815 (2012).

23.

Froemke, R. C., Merzenich, M. M. & Schreiner, C. E. A synaptic memory trace for cortical receptive field plasticity. Nature 450, 425–429 (2007).

24.

Froemke, R. C. et al. Long-term modification of cortical synapses improves sensory perception. Nat. Neurosci. 16, 79–88 (2013).

25.

McGinley, M. J., David, S. V. & McCormick, D. A. Cortical membrane potential signature of optimal states for sensory signal detection. Neuron 87, 179–192 (2015).

26.

Leinweber, M., Ward, D. R., Sobczak, J. M., Attinger, A. & Keller, G. B. A sensorimotor circuit in mouse cortex for visual flow predictions. Neuron 95, 1420–1432.e5 (2017).

27.

Franklin, K. B. & Paxinos, G. The Mouse Brain in Stereotaxic Coordinates, Compact. The Coronal Plates and Diagrams (Elsevier, Amsterdam, 2008).

28.

Glickfeld, L. L., Histed, M. H. & Maunsell, J. H. Mouse primary visual cortex is used to detect both orientation and contrast changes. J. Neurosci. 33, 19416–19422 (2013).
Acknowledgements
We thank K. Tschida, M. Tanaka, and D. Purves for their comments on this manuscript; members of the Mooney laboratory for discussions regarding experimental design and data analysis; J. Pearson for comments regarding statistical analyses; and M. Booze for animal care and technical support. This research was supported by an HHMI fellowship of the Helen Hay Whitney Foundation and a Career Award at the Scientific Interface from the Burroughs Wellcome Fund (D.M.S.), the Holland-Trice Graduate Fellowship in Brain Sciences (J.S.), and NIH grant 5 R01 DC013826 (R.M.).
Reviewer information
Nature thanks S. Eliades, G. Keller and the other anonymous reviewer(s) for their contribution to the peer review of this work.
Ethics declarations
Competing interests
The authors declare no competing interests.
Additional information
Publisher's note: Springer Nature remains neutral with regard to jurisdictional claims in published maps and institutional affiliations.
Extended data figures and tables
Supplementary information
About this article
Cite this article
Schneider, D.M., Sundararajan, J. & Mooney, R. A cortical filter that learns to suppress the acoustic consequences of movement. Nature 561, 391–395 (2018). https://doi.org/10.1038/s41586-018-0520-5
Received:

Accepted:

Published:

Issue Date:
Keywords
Acoustic Virtual Reality

Auditory Cortex

Inter-tone Interval

Holm-Bonferroni Method

Movement-related Inhibition
Comments
By submitting a comment you agree to abide by our Terms and Community Guidelines. If you find something abusive or that does not comply with our terms or guidelines please flag it as inappropriate.