Abstract
A major role of vision is to guide navigation, and navigation is strongly driven by vision1,2,3,4. Indeed, the brain's visual and navigational systems are known to interact5,6, and signals related to position in the environment have been suggested to appear as early as in the visual cortex6,7. Here, to establish the nature of these signals, we recorded in the primary visual cortex (V1) and hippocampal area CA1 while mice traversed a corridor in virtual reality. The corridor contained identical visual landmarks in two positions, so that a purely visual neuron would respond similarly at those positions. Most V1 neurons, however, responded solely or more strongly to the landmarks in one position rather than the other. This modulation of visual responses by spatial location was not explained by factors such as running speed. To assess whether the modulation is related to navigational signals and to the animal's subjective estimate of position, we trained the mice to lick for a water reward upon reaching a reward zone in the corridor. Neuronal populations in both CA1 and V1 encoded the animal's position along the corridor, and the errors in their representations were correlated. Moreover, both representations reflected the animal's subjective estimate of position, inferred from the animal's licks, better than its actual position. When animals licked in a given location—whether correctly or incorrectly—neural populations in both V1 and CA1 placed the animal in the reward zone. We conclude that visual responses in V1 are controlled by navigational signals, which are coherent with those encoded in hippocampus and reflect the animal's subjective position. The presence of such navigational signals as early as a primary sensory area suggests that they permeate sensory processing in the cortex.
Relevant articles
Open Access articles citing this article.
Matthias Nau

,

Tobias Navarro Schröder

…

Christian F. Doeller

Nature Communications Open Access 26 June 2020

Anderson Speed

,

Joseph Del Rosario

…

Bilal Haider

Nature Communications Open Access 24 January 2020
Access options
Subscribe to Nature+
Get immediate online access to the entire Nature family of 50+ journals
Subscribe to Journal
Get full journal access for 1 year
$199.00
only $3.90 per issue
All prices are NET prices.
VAT will be added later in the checkout.
Tax calculation will be finalised during checkout.
Buy article
Get time limited or full article access on ReadCube.
$32.00
All prices are NET prices.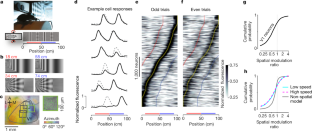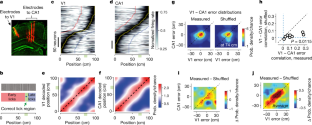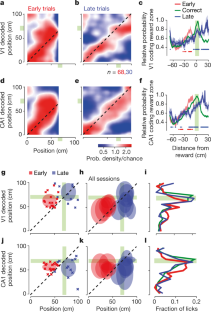 Data availability
The data from this study are available from the corresponding author upon reasonable request.
References
Muller, R. U. & Kubie, J. L. The effects of changes in the environment on the spatial firing of hippocampal complex-spike cells. J. Neurosci. 7, 1951–1968 (1987).

Wiener, S. I., Korshunov, V. A., Garcia, R. & Berthoz, A. Inertial, substratal and landmark cue control of hippocampal CA1 place cell activity. Eur. J. Neurosci. 7, 2206–2219 (1995).

Chen, G., King, J. A., Burgess, N. & O'Keefe, J. How vision and movement combine in the hippocampal place code. Proc. Natl Acad. Sci. USA 110, 378–383 (2013).

Geiller, T., Fattahi, M., Choi, J.-S. & Royer, S. Place cells are more strongly tied to landmarks in deep than in superficial CA1. Nat. Commun. 8, 14531 (2017).

Ji, D. & Wilson, M. A. Coordinated memory replay in the visual cortex and hippocampus during sleep. Nat. Neurosci. 10, 100–107 (2007).

Haggerty, D. C. & Ji, D. Activities of visual cortical and hippocampal neurons co-fluctuate in freely moving rats during spatial behavior. eLife 4, e08902 (2015).

Fiser, A. et al. Experience-dependent spatial expectations in mouse visual cortex. Nat. Neurosci. 19, 1658–1664 (2016).

Niell, C. M. & Stryker, M. P. Modulation of visual responses by behavioral state in mouse visual cortex. Neuron 65, 472–479 (2010).

Saleem, A. B., Ayaz, A., Jeffery, K. J., Harris, K. D. & Carandini, M. Integration of visual motion and locomotion in mouse visual cortex. Nat. Neurosci. 16, 1864–1869 (2013).

Ravassard, P. et al. Multisensory control of hippocampal spatiotemporal selectivity. Science 340, 1342–1346 (2013).

Harvey, C. D., Collman, F., Dombeck, D. A. & Tank, D. W. Intracellular dynamics of hippocampal place cells during virtual navigation. Nature 461, 941–946 (2009).

McNaughton, B. L., Barnes, C. A. & O'Keefe, J. The contributions of position, direction, and velocity to single unit activity in the hippocampus of freely-moving rats. Exp. Brain Res. 52, 41–49 (1983).

Wiener, S. I., Paul, C. A. & Eichenbaum, H. Spatial and behavioral correlates of hippocampal neuronal activity. J. Neurosci. 9, 2737–2763 (1989).

Czurkó, A., Hirase, H., Csicsvari, J. & Buzsáki, G. Sustained activation of hippocampal pyramidal cells by 'space clamping' in a running wheel. Eur. J. Neurosci. 11, 344–352 (1999).

O'Keefe, J. & Speakman, A. Single unit activity in the rat hippocampus during a spatial memory task. Exp. Brain Res. 68, 1–27 (1987).

Lenck-Santini, P. P., Save, E. & Poucet, B. Evidence for a relationship between place-cell spatial firing and spatial memory performance. Hippocampus 11, 377–390 (2001).

Lenck-Santini, P.-P., Muller, R. U., Save, E. & Poucet, B. Relationships between place cell firing fields and navigational decisions by rats. J. Neurosci. 22, 9035–9047 (2002).

Hok, V. et al. Goal-related activity in hippocampal place cells. J. Neurosci. 27, 472–482 (2007).

Rosenzweig, E. S., Redish, A. D., McNaughton, B. L. & Barnes, C. A. Hippocampal map realignment and spatial learning. Nat. Neurosci. 6, 609–615 (2003).

Makino, H. & Komiyama, T. Learning enhances the relative impact of top-down processing in the visual cortex. Nat. Neurosci. 18, 1116–1122 (2015).

Poort, J. et al. Learning enhances sensory and multiple non-sensory representations in primary visual cortex. Neuron 86, 1478–1490 (2015).

Jurjut, O., Georgieva, P., Busse, L. & Katzner, S. Learning enhances sensory processing in mouse V1 before improving behavior. J. Neurosci. 37, 6460–6474 (2017).

Witter, M. P. et al. Cortico-hippocampal communication by way of parallel parahippocampal-subicular pathways. Hippocampus 10, 398–410 (2000).

Wang, Q., Gao, E. & Burkhalter, A. Gateways of ventral and dorsal streams in mouse visual cortex. J. Neurosci. 31, 1905–1918 (2011).

Moser, E. I., Kropff, E. & Moser, M.-B. Place cells, grid cells, and the brain's spatial representation system. Annu. Rev. Neurosci. 31, 69–89 (2008).

Grieves, R. M. & Jeffery, K. J. The representation of space in the brain. Behav. Processes 135, 113–131 (2017).

Eichenbaum, H. Time cells in the hippocampus: a new dimension for mapping memories. Nat. Rev. Neurosci. 15, 732–744 (2014).

Cushman, J. D. et al. Multisensory control of multimodal behavior: do the legs know what the tongue is doing? PLoS One 8, e80465 (2013).

Aronov, D. & Tank, D. W. Engagement of neural circuits underlying 2D spatial navigation in a rodent virtual reality system. Neuron 84, 442–456 (2014).

Chen, G., King, J. A., Lu, Y., Cacucci, F. & Burgess, N. Spatial cell firing during virtual navigation of open arenas by head-restrained mice. eLife 7, e34789 (2018).

Madisen, L. et al. Transgenic mice for intersectional targeting of neural sensors and effectors with high specificity and performance. Neuron 85, 942–958 (2015).

Wekselblatt, J. B., Flister, E. D., Piscopo, D. M. & Niell, C. M. Large-scale imaging of cortical dynamics during sensory perception and behavior. J. Neurophysiol. 115, 2852–2866 (2016).

Steinmetz, N. A. et al. Aberrant cortical activity in multiple GCaMP6-expressing transgenic mouse lines. eNeuro https://doi.org/10.1523/ENEURO.0207-17.2017 (2017).

Ayaz, A., Saleem, A. B., Schölvinck, M. L. & Carandini, M. Locomotion controls spatial integration in mouse visual cortex. Curr. Biol. 23, 890–894 (2013).

Ratzlaff, E. H. & Grinvald, A. A tandem-lens epifluorescence macroscope: hundred-fold brightness advantage for wide-field imaging. J. Neurosci. Methods 36, 127–137 (1991).

Carandini, M. et al. Imaging the awake visual cortex with a genetically encoded voltage indicator. J. Neurosci. 35, 53–63 (2015).

Kalatsky, V. A. & Stryker, M. P. New paradigm for optical imaging: temporally encoded maps of intrinsic signal. Neuron 38, 529–545 (2003).

Yang, Z., Heeger, D. J. & Seidemann, E. Rapid and precise retinotopic mapping of the visual cortex obtained by voltage-sensitive dye imaging in the behaving monkey. J. Neurophysiol. 98, 1002–1014 (2007).

Pologruto, T. A., Sabatini, B. L. & Svoboda, K. ScanImage: flexible software for operating laser scanning microscopes. Biomed. Eng. Online 2, 13 (2003).

Pachitariu, M. et al. Suite2p: beyond 10,000 neurons with standard two-photon microscopy. Preprint at https://www.biorxiv.org/content/early/2017/07/20/061507 (2016).

Peron, S. P., Freeman, J., Iyer, V., Guo, C. & Svoboda, K. A cellular resolution map of barrel cortex activity during tactile behavior. Neuron 86, 783–799 (2015).

Dipoppa, M. et al. Vision and locomotion shape the interactions between neuron types in mouse visual cortex. Neuron 98, 602–615.e8 (2018).

Rossant, C. et al. Spike sorting for large, dense electrode arrays. Nat. Neurosci. 19, 634–641 (2016).

Kadir, S. N., Goodman, D. F. M. & Harris, K. D. High-dimensional cluster analysis with the masked EM algorithm. Neural Comput. 26, 2379–2394 (2014).
Acknowledgements
We thank N. Burgess and B. Haider for helpful discussions, and C. Reddy, S. Schroeder, and M. Krumin for help with experiments. This work was funded by a Sir Henry Dale Fellowship, awarded by the Wellcome Trust/Royal Society (grant 200501) to A.B.S., EPSRC PhD award F500351/1351 to E.M.D., Human Frontier Science Program and EC Horizon 2020 grants to J.F. (grant 709030), the Wellcome Trust (grants 205093 and 108726) to M.C. and K.D.H., the Simons Collaboration on the Global Brain (grant 325512) to M.C. and K.D.H. M.C. holds the GlaxoSmithKline/Fight for Sight Chair in Visual Neuroscience.
Reviewer information
Nature thanks M. Mehta and the other anonymous reviewer(s) for their contribution to the peer review of this work.
Ethics declarations
Competing interests
The authors declare no competing interests.
Additional information
Publisher's note: Springer Nature remains neutral with regard to jurisdictional claims in published maps and institutional affiliations.
Extended data figures and tables
Supplementary information
Details of data analysis methods and description of models.
Video of animal performing the task in virtual reality. Top panel: Video of mouse while performing the navigation task in the virtual reality corridor, on one of the training sessions when no recording was made. Bottom panel: Illustration of the position of the animal along the length of the corridor. The ends of the reward zone are highlighted by cyan lines. On each trial, the positions where the animal licked are highlighted by a red mark, and the position where it was rewarded by a cyan mark.
About this article
Cite this article
Saleem, A.B., Diamanti, E.M., Fournier, J. et al. Coherent encoding of subjective spatial position in visual cortex and hippocampus. Nature 562, 124–127 (2018). https://doi.org/10.1038/s41586-018-0516-1
Received:

Accepted:

Published:

Issue Date:

DOI: https://doi.org/10.1038/s41586-018-0516-1
Keywords
Reward Zone

Water Reward

Running Speed

Pupil Position

Reward Regions
Comments
By submitting a comment you agree to abide by our Terms and Community Guidelines. If you find something abusive or that does not comply with our terms or guidelines please flag it as inappropriate.