Abstract
The regular arrangements of β-strands around a central axis in β-barrels and of α-helices in coiled coils contrast with the irregular tertiary structures of most globular proteins, and have fascinated structural biologists since they were first discovered. Simple parametric models have been used to design a wide range of α-helical coiled-coil structures, but to date there has been no success with β-barrels. Here we show that accurate de novo design of β-barrels requires considerable symmetry-breaking to achieve continuous hydrogen-bond connectivity and eliminate backbone strain. We then build ensembles of β-barrel backbone models with cavity shapes that match the fluorogenic compound DFHBI, and use a hierarchical grid-based search method to simultaneously optimize the rigid-body placement of DFHBI in these cavities and the identities of the surrounding amino acids to achieve high shape and chemical complementarity. The designs have high structural accuracy and bind and fluorescently activate DFHBI in vitro and in Escherichia coli, yeast and mammalian cells. This de novo design of small-molecule binding activity, using backbones custom-built to bind the ligand, should enable the design of increasingly sophisticated ligand-binding proteins, sensors and catalysts that are not limited by the backbone geometries available in known protein structures.
Relevant articles
Open Access articles citing this article.
Tamuka M. Chidyausiku

,

Soraia R. Mendes

…

Enrique Marcos

Nature Communications Open Access 03 October 2022

Namrata Anand

,

Raphael Eguchi

…

Po-Ssu Huang

Nature Communications Open Access 08 February 2022

Keisuke Shimizu

,

Batsaikhan Mijiddorj

…

Ryuji Kawano

Nature Nanotechnology Open Access 22 November 2021
Access options
Subscribe to Nature+
Get immediate online access to Nature and 55 other Nature journal
Subscribe to Journal
Get full journal access for 1 year
$199.00
only $3.90 per issue
All prices are NET prices.
VAT will be added later in the checkout.
Tax calculation will be finalised during checkout.
Buy article
Get time limited or full article access on ReadCube.
$32.00
All prices are NET prices.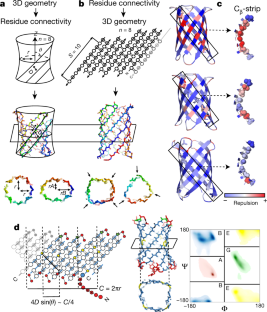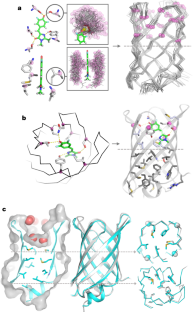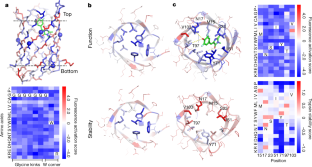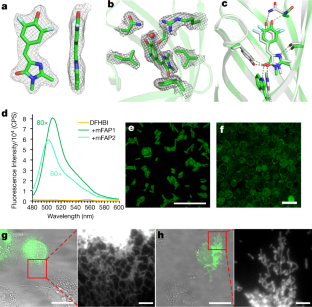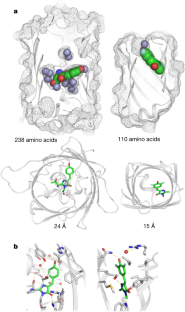 Data availability
The atomic coordinates and experimental data of BB1, b10, b11L5F_LGL, mFAP0–DFHBI, and mFAP1–DFHBI crystal structures have been deposited in the RCSB Protein Database with the accession numbers of 6D0T, 6CZJ, 6CZG, 6CZH and 6CZI respectively. All the design models, Illumina sequencing data, sequencing analysis and source data (Figs. 2, 4, Extended Data Figs. 6e, 7, 8a, h) are available at https://doi.org/10.5281/zenodo.1216229.
References
Huang, P.-S., Boyken, S. E. & Baker, D. The coming of age of de novo protein design. Nature 537, 320–327 (2016).

Marcos, E. et al. Principles for designing proteins with cavities formed by curved β sheets. Science 355, 201–206 (2017).

Tinberg, C. E. et al. Computational design of ligand-binding proteins with high affinity and selectivity. Nature 501, 212–216 (2013).

Bick, M. J. et al. Computational design of environmental sensors for the potent opioid fentanyl. eLife 6, e28909 (2017).

Dou, J. et al. Sampling and energy evaluation challenges in ligand binding protein design. Protein Sci. 26, 2426–2437 (2017).

Richardson, J. S. & Richardson, D. C. Natural β-sheet proteins use negative design to avoid edge-to-edge aggregation. Proc. Natl Acad. Sci. USA 99, 2754–2759 (2002).

Polizzi, N. F. et al. De novo design of a hyperstable non-natural protein–ligand complex with sub-Å accuracy. Nat. Chem. 9, 1157–1164 (2017).

LaLonde, J. M., Bernlohr, D. A. & Banaszak, L. J. The up-and-down beta-barrel proteins. FASEB J. 8, 1240–1247 (1994).

Flower, D. R. Structural relationship of streptavidin to the calycin protein superfamily. FEBS Lett. 333, 99–102 (1993).

Richter, A., Eggenstein, E. & Skerra, A. Anticalins: exploiting a non-Ig scaffold with hypervariable loops for the engineering of binding proteins. FEBS Lett. 588, 213–218 (2014).

Toda, M., Zhang, F. & Athukorallage, B. Elastic surface model for beta-barrels: geometric, computational, and statistical analysis. Proteins 86, 35–42 (2018).

Novotný, J., Bruccoleri, R. E. & Newell, J. Twisted hyperboloid (Strophoid) as a model of β-barrels in proteins. J. Mol. Biol. 177, 567–573 (1984).

Naveed, H., Xu, Y., Jackups, R., Jr & Liang, J. Predicting three-dimensional structures of transmembrane domains of β-barrel membrane proteins. J. Am. Chem. Soc. 134, 1775–1781 (2012).

Lasters, I., Wodak, S. J., Alard, P. & van Cutsem, E. Structural principles of parallel beta-barrels in proteins. Proc. Natl Acad. Sci. USA 85, 3338–3342 (1988).

Murzin, A. G., Lesk, A. M. & Chothia, C. Principles determining the structure of β-sheet barrels in proteins. I. A theoretical analysis. J. Mol. Biol. 236, 1369–1381 (1994).

Murzin, A. G., Lesk, A. M. & Chothia, C. Principles determining the structure of β-sheet barrels in proteins. II. The observed structures. J. Mol. Biol. 236, 1382–1400 (1994).

Salemme, F. R. Conformational and geometrical properties of β-sheets in proteins. III. Isotropically stressed configurations. J. Mol. Biol. 146, 143–156 (1981).

Minor, D. L., Jr & Kim, P. S. Measurement of the β-sheet-forming propensities of amino acids. Nature 367, 660–663 (1994).

Fujiwara, K., Ebisawa, S., Watanabe, Y., Toda, H. & Ikeguchi, M. Local sequence of protein β-strands influences twist and bend angles. Proteins 82, 1484–1493 (2014).

Lin, Y.-R. et al. Control over overall shape and size in de novo designed proteins. Proc. Natl Acad. Sci. USA 112, E5478–E5485 (2015).

Kuhlman, B. et al. Design of a novel globular protein fold with atomic-level accuracy. Science 302, 1364–1368 (2003).

Richardson, J. S., Getzoff, E. D. & Richardson, D. C. The beta bulge: a common small unit of nonrepetitive protein structure. Proc. Natl Acad. Sci. USA 75, 2574–2578 (1978).

Chan, A. W., Hutchinson, E. G., Harris, D. & Thornton, J. M. Identification, classification, and analysis of beta-bulges in proteins. Protein Sci. 2, 1574–1590 (1993).

Hemmingsen, J. M., Gernert, K. M., Richardson, J. S. & Richardson, D. C. The tyrosine corner: a feature of most Greek key β-barrel proteins. Protein Sci. 3, 1927–1937 (1994).

Greene, L. H., Hamada, D., Eyles, S. J. & Brew, K. Conserved signature proposed for folding in the lipocalin superfamily. FEBS Lett. 553, 39–44 (2003).

Paige, J. S., Wu, K. Y. & Jaffrey, S. R. RNA mimics of green fluorescent protein. Science 333, 642–646 (2011).

Warner, K. D. et al. Structural basis for activity of highly efficient RNA mimics of green fluorescent protein. Nat. Struct. Mol. Biol. 21, 658–663 (2014).

Allison, B. et al. Computational design of protein–small molecule interfaces. J. Struct. Biol. 185, 193–202 (2014).

Zanghellini, A. et al. New algorithms and an in silico benchmark for computational enzyme design. Protein Sci. 15, 2785–2794 (2006).

Rocklin, G. J. et al. Global analysis of protein folding using massively parallel design, synthesis, and testing. Science 357, 168–175 (2017).

Plamont, M.-A. et al. Small fluorescence-activating and absorption-shifting tag for tunable protein imaging in vivo. Proc. Natl Acad. Sci. USA 113, 497–502 (2016).

Meech, S. R. Excited state reactions in fluorescent proteins. Chem. Soc. Rev. 38, 2922–2934 (2009).

Zhang, Y. & Skolnick, J. TM-align: a protein structure alignment algorithm based on the TM-score. Nucleic Acids Res. 33, 2302–2309 (2005).

Gront, D., Kmiecik, S. & Kolinski, A. Backbone building from quadrilaterals: a fast and accurate algorithm for protein backbone reconstruction from alpha carbon coordinates. J. Comput. Chem. 28, 1593–1597 (2007).

Huang, P.-S. et al. RosettaRemodel: a generalized framework for flexible backbone protein design. PLoS ONE 6, e24109 (2011).

Park, H., DiMaio, F. & Baker, D. The origin of consistent protein structure refinement from structural averaging. Structure 23, 1123–1128 (2015).

Davis, I. W. & Baker, D. RosettaLigand docking with full ligand and receptor flexibility. J. Mol. Biol. 385, 381–392 (2009).

Park, H. et al. Simultaneous optimization of biomolecular energy functions on features from small molecules and macromolecules. J. Chem. Theory Comput. 12, 6201–6212 (2016).

Mandell, D. J., Coutsias, E. A. & Kortemme, T. Sub-angstrom accuracy in protein loop reconstruction by robotics-inspired conformational sampling. Nat. Methods 6, 551–552 (2009).

Procko, E. et al. Computational design of a protein-based enzyme inhibitor. J. Mol. Biol. 425, 3563–3575 (2013).

Thyme, S. B. et al. Reprogramming homing endonuclease specificity through computational design and directed evolution. Nucleic Acids Res. 42, 2564–2576 (2014).

Chao, G. et al. Isolating and engineering human antibodies using yeast surface display. Nat. Protocols 1, 755–768 (2006).

Whitehead, T. A. et al. Optimization of affinity, specificity and function of designed influenza inhibitors using deep sequencing. Nat. Biotechnol. 30, 543–548 (2012).

Zhang, J., Kobert, K., Flouri, T. & Stamatakis, A. PEAR: a fast and accurate Illumina Paired-End reAd mergeR. Bioinformatics 30, 614–620 (2014).

Fowler, D. M., Araya, C. L., Gerard, W. & Fields, S. Enrich: software for analysis of protein function by enrichment and depletion of variants. Bioinformatics 27, 3430–3431 (2011).

Rubin, A. F. et al. A statistical framework for analyzing deep mutational scanning data. Genome Biol. 18, 150 (2017).

Winter, G. xia2: an expert system for macromolecular crystallography data reduction. J. Appl. Crystallogr. 43, 186–190 (2010).

McCoy, A. J. et al. Phaser crystallographic software. J. Appl. Crystallogr. 40, 658–674 (2007).

Adams, P. D. et al. in International Tables for Crystallography, Volume F, 2nd edition (eds Arnold, E. et al.) Ch. 18.11, 539–547 (Wiley, Hoboken, 2012).

Emsley, P., Lohkamp, B., Scott, W. G. & Cowtan, K. Features and development of Coot. Acta Crystallogr. D 66, 486–501 (2010).

Afonine, P. V. et al. Towards automated crystallographic structure refinement with phenix.refine. Acta Crystallogr. D 68, 352–367 (2012).

Otwinowski, Z. & Minor, W. in Methods in Enzymology Vol. 276 (Ed. Carter, W. C.) Ch. 3, 307–326 (Academic, Cambridge, 1997).

Merkel, J. S. & Regan, L. Aromatic rescue of glycine in β sheets. Fold. Des. 3, 449–456 (1998).

Shaner, N. C., Steinbach, P. A. & Tsien, R. Y. A guide to choosing fluorescent proteins. Nat. Methods 2, 905–909 (2005).

Conway, P., Tyka, M. D., DiMaio, F., Konerding, D. E. & Baker, D. Relaxation of backbone bond geometry improves protein energy landscape modeling. Protein Sci. 23, 47–55 (2014).

Hauser, C. A. E. et al. Natural tri- to hexapeptides self-assemble in water to amyloid β-type fiber aggregates by unexpected α-helical intermediate structures. Proc. Natl Acad. Sci. USA 108, 1361–1366 (2011).
Acknowledgements
We thank S. R. Jaffrey and T. A. Rapoport for providing experimental materials; A. Kang, S. A. Rettie, K. Lou, D. Sahtoe, D. La, G. J. Rocklin and C. Taylor for their help with experiments and data analysis; D. Alonso, L. Goldschmidt, P. Vecchiato, T. J. Brunette, D. Kim, V. K. Mulligan and T. Linsky for computer support, and the UW Hyak supercomputer and Rosetta@Home volunteers (https://boinc.bakerlab.org) for computing resources. We thank B. Huang, B. Basanta, R. Cacho, G. Daniel, Y. Kipnis, J. Klima and other members of the Baker laboratory for discussions. A.A.V. was supported by Fulbright Commission for Belgium and Luxembourg. E.M. was supported by a Marie Curie International Outgoing Fellowship (FP7-PEOPLE-2011-IOF 298976). B.L.S. is supported by NIH grant R01 GM115545. The Berkeley Center for Structural Biology is supported by the NIH, NIGMS and HHMI. The Advanced Light Source is a DOE User Facility under Contract No. DE-AC02-05CH11231. D.B. is supported by HHMI, WRF and Open Philanthropy.
Reviewer information
Nature thanks R. Campbell and the other anonymous reviewer(s) for their contribution to the peer review of this work.
Ethics declarations
Competing interests
J.D., A.A.V. and D.B. are inventors on a U.S. provisional patent application submitted by the University of Washington that covers the described methods, sequences and applications.
Additional information
Publisher's note: Springer Nature remains neutral with regard to jurisdictional claims in published maps and institutional affiliations.
Extended data figures and tables
Supplementary information
About this article
Cite this article
Dou, J., Vorobieva, A.A., Sheffler, W. et al. De novo design of a fluorescence-activating β-barrel. Nature 561, 485–491 (2018). https://doi.org/10.1038/s41586-018-0509-0
Received:

Accepted:

Published:

Issue Date:

DOI: https://doi.org/10.1038/s41586-018-0509-0
Keywords
Backbone Hydrogen Bonds

Ligand Docking Simulations

Scaffold Position

Hydrophobic Packing Interactions

Rotamers
Comments
By submitting a comment you agree to abide by our Terms and Community Guidelines. If you find something abusive or that does not comply with our terms or guidelines please flag it as inappropriate.