Abstract
Successful T cell immunotherapy for brain cancer requires that the T cells can access tumour tissues, but this has been difficult to achieve. Here we show that, in contrast to inflammatory brain diseases such as multiple sclerosis, where endothelial cells upregulate ICAM1 and VCAM1 to guide the extravasation of pro-inflammatory cells, cancer endothelium downregulates these molecules to evade immune recognition. By contrast, we found that cancer endothelium upregulates activated leukocyte cell adhesion molecule (ALCAM), which allowed us to overcome this immune-evasion mechanism by creating an ALCAM-restricted homing system (HS). We re-engineered the natural ligand of ALCAM, CD6, in a manner that triggers initial anchorage of T cells to ALCAM and conditionally mediates a secondary wave of adhesion by sensitizing T cells to low-level ICAM1 on the cancer endothelium, thereby creating the adhesion forces necessary to capture T cells from the bloodstream. Cytotoxic HS T cells robustly infiltrated brain cancers after intravenous injection and exhibited potent antitumour activity. We have therefore developed a molecule that targets the delivery of T cells to brain cancer.
Relevant articles
Open Access articles citing this article.
Yuan Lu

,

Wenbo He

…

Gang Cao

Nature Communications Open Access 09 December 2021
Access options
Subscribe to Nature+
Get immediate online access to Nature and 55 other Nature journal
Subscribe to Journal
Get full journal access for 1 year
$199.00
only $3.90 per issue
All prices are NET prices.
VAT will be added later in the checkout.
Tax calculation will be finalised during checkout.
Buy article
Get time limited or full article access on ReadCube.
$32.00
All prices are NET prices.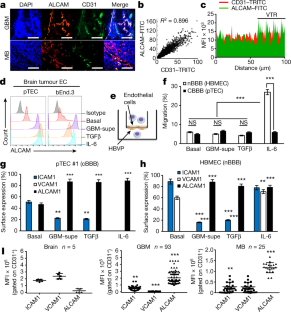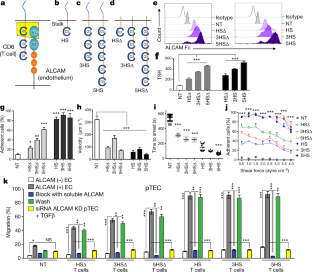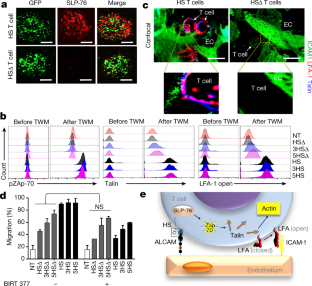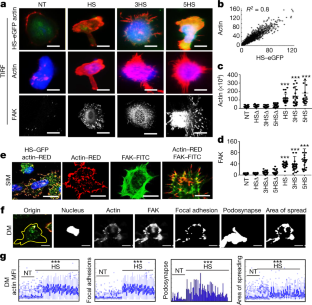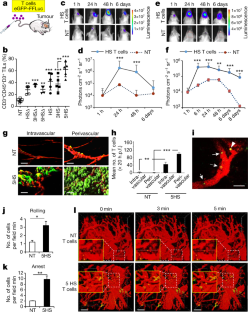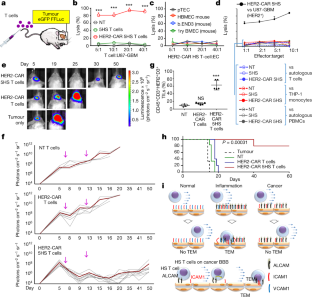 Data availability
All relevant data are included in the manuscript linked as source data; more details are available from the corresponding author on reasonable request
References
Davenport, M. P., Grimm, M. C. & Lloyd, A. R. A homing selection hypothesis for T-cell trafficking. Immunol. Today 21, 315–317 (2000).

Krummel, M. F., Bartumeus, F. & Gérard, A. T cell migration, search strategies and mechanisms. Nat. Rev. Immunol. 16, 193–201 (2016).

Carrithers, M. D., Visintin, I., Kang, S. J. & Janeway, C. A., Jr. Differential adhesion molecule requirements for immune surveillance and inflammatory recruitment. Brain 123, 1092–1101 (2000).

Arima, Y. et al. Regulation of immune cell infiltration into the CNS by regional neural inputs explained by the gate theory. Mediators Inflamm. 2013, 898165 (2013).

Sackstein, R., Schatton, T. & Barthel, S. R. T-lymphocyte homing: an underappreciated yet critical hurdle for successful cancer immunotherapy. Lab. Invest. 97, 669–697 (2017).

Fukumura, D., Kloepper, J., Amoozgar, Z., Duda, D. G. & Jain, R. K. Enhancing cancer immunotherapy using antiangiogenics: opportunities and challenges. Nat. Rev. Clin. Oncol. 15, 325–340 (2018).

Cayrol, R. et al. Activated leukocyte cell adhesion molecule promotes leukocyte trafficking into the central nervous system. Nat. Immunol. 9, 137–145 (2008).

Nelissen, J. M. D. T., Peters, I. M., de Grooth, B. G., van Kooyk, Y. & Figdor, C. G. Dynamic regulation of activated leukocyte cell adhesion molecule-mediated homotypic cell adhesion through the actin cytoskeleton. Mol. Biol. Cell 11, 2057–2068 (2000).

Brown, M. H. CD6 as a cell surface receptor and as a target for regulating immune responses. Curr. Drug Targets 17, 619–629 (2016).

Chappell, P. E. et al. Structures of CD6 and its ligand CD166 give insight into their interaction. Structure 23, 1426–1436 (2015).

Li, Y. et al. CD6 as a potential target for treating multiple sclerosis. Proc. Natl Acad. Sci. USA 114, 2687–2692 (2017).

Bullard, D. C. et al. Intercellular adhesion molecule-1 expression is required on multiple cell types for the development of experimental autoimmune encephalomyelitis. J. Immunol. 178, 851–857 (2007).

Kijima, N. et al. CD166/activated leukocyte cell adhesion molecule is expressed on glioblastoma progenitor cells and involved in the regulation of tumor cell invasion. Neuro-oncol. 14, 1254–1264 (2012).

Rosenberg, S. A. & Restifo, N. P. Adoptive cell transfer as personalized immunotherapy for human cancer. Science 348, 62–68 (2015).

Bonini, C. & Mondino, A. Adoptive T-cell therapy for cancer: The era of engineered T cells. Eur. J. Immunol. 45, 2457–2469 (2015).

Hansen, A. G. et al. ALCAM/CD166 is a TGF-β-responsive marker and functional regulator of prostate cancer metastasis to bone. Cancer Res. 74, 1404–1415 (2014).

Peñuelas, S. et al. TGF-β increases glioma-initiating cell self-renewal through the induction of LIF in human glioblastoma. Cancer Cell 15, 315–327 (2009).

Gu, M.-X. et al. Proteomic analysis of endothelial lipid rafts reveals a novel role of statins in antioxidation. J. Proteome Res. 11, 2365–2373 (2012).

Dorovini-Zis, K. The Blood–Brain Barrier in Health and Disease, Volume One: Morphology, Biology and Immune Function (CRC Press, London, 2015).

Carman, C. V. & Springer, T. A. A transmigratory cup in leukocyte diapedesis both through individual vascular endothelial cells and between them. J. Cell Biol. 167, 377–388 (2004).

Muller, W. A. Mechanisms of leukocyte transendothelial migration. Annu. Rev. Pathol. 6, 323–344 (2011).

McEver, R. P. & Zhu, C. Rolling cell adhesion. Annu. Rev. Cell Dev. Biol. 26, 363–396 (2010).

Engelhardt, B. Molecular mechanisms involved in T cell migration across the blood-brain barrier. J. Neural Transm. (Vienna) 113, 477–485 (2006).

Laschinger, M., Vajkoczy, P. & Engelhardt, B. Encephalitogenic T cells use LFA-1 for transendothelial migration but not during capture and initial adhesion strengthening in healthy spinal cord microvessels in vivo. Eur. J. Immunol. 32, 3598–3606 (2002).

Green, C. E. et al. Dynamic shifts in LFA-1 affinity regulate neutrophil rolling, arrest, and transmigration on inflamed endothelium. Blood 107, 2101–2111 (2006).

Orta-Mascaró, M. et al. CD6 modulates thymocyte selection and peripheral T cell homeostasis. J. Exp. Med. 213, 1387–1397 (2016).

Calderwood, D. A. & Ginsberg, M. H. Talin forges the links between integrins and actin. Nat. Cell Biol. 5, 694–697 (2003).

Lawson, C. et al. FAK promotes recruitment of talin to nascent adhesions to control cell motility. J. Cell Biol. 196, 223–232 (2012).

Poria, R. B. et al. Characterization of a radiolabeled small molecule targeting leukocyte function-associated antigen-1 expression in lymphoma and leukemia. Cancer Biother. Radiopharm. 21, 418–426 (2006).

Baumann, K. Cell adhesion: FAK or talin: who goes first? Nat. Rev. Mol. Cell Biol. 13, 138–139 (2012).

Critchley, D. R. Cytoskeletal proteins talin and vinculin in integrin-mediated adhesion. Biochem. Soc. Trans. 32, 831–836 (2004).

Mitra, S. K., Hanson, D. A. & Schlaepfer, D. D. Focal adhesion kinase: in command and control of cell motility. Nat. Rev. Mol. Cell Biol. 6, 56–68 (2005).

Cavalcanti-Adam, E. A. et al. Cell spreading and focal adhesion dynamics are regulated by spacing of integrin ligands. Biophys. J. 92, 2964–2974 (2007).

Hegde, M. et al. Tandem CAR T cells targeting HER2 and IL13Rα2 mitigate tumor antigen escape. J. Clin. Invest. 126, 3036–3052 (2016).

Liu, Y. et al. Regulation of leukocyte transmigration: cell surface interactions and signaling events. J. Immunol. 172, 7–13 (2004).

Auerbach, S. D., Yang, L. & Luscinskas, F. W. in Adhesion Molecules: Function and Inhibition 99–116 (Springer, Basel, 2007).

Steiner, O. et al. Differential roles for endothelial ICAM-1, ICAM-2, and VCAM-1 in shear-resistant T cell arrest, polarization, and directed crawling on blood-brain barrier endothelium. J. Immunol. 185, 4846–4855 (2010).

Lee, B. P. L. & Imhof, B. A. Lymphocyte transmigration in the brain: a new way of thinking. Nat. Immunol. 9, 117–118 (2008).

Bughani, U. et al. T cell activation and differentiation is modulated by a CD6 domain 1 antibody Itolizumab. PLoS One 12, e0180088 (2017).

Ager, A., Watson, H. A., Wehenkel, S. C. & Mohammed, R. N. Homing to solid cancers: a vascular checkpoint in adoptive cell therapy using CAR T-cells. Biochem. Soc. Trans. 44, 377–385 (2016).

D'Aloia, M. M., Zizzari, I. G., Sacchetti, B., Pierelli, L. & Alimandi, M. CAR-T cells: the long and winding road to solid tumors. Cell Death Dis. 9, 282 (2018).

Ahmed, N. et al. HER2-specific chimeric antigen receptor-modified virus-specific T cells for progressive glioblastoma: a phase 1 dose-escalation trial. JAMA Oncol. 3, 1094–1101 (2017).

Manders, E. M. M., Verbeek, F. J. & Aten, J. A. Measurement of co-localization of objects in dual-colour confocal images. J. Microsc. 169, 375–382 (1993).

Ahmed, N. et al. HER2-specific T cells target primary glioblastoma stem cells and induce regression of autologous experimental tumors. Clin. Cancer Res. 16, 474–485 (2010).

Sudha, T. et al. Nanoparticulate tetrac inhibits growth and vascularity of glioblastoma xenografts. Horm. Cancer 8, 157–165 (2017).

Paris, D. et al. Impaired orthotopic glioma growth and vascularization in transgenic mouse models of Alzheimer's disease. J. Neurosci. 30, 11251–11258 (2010).
Acknowledgements
We thank M. K. Brenner and C. Gillespie for scientific advice and linguistic editing, respectively, and S. Roberge and M. Duquette for technical assistance. The D3 antibody was a gift from M. Brown. This work was funded by an SU2C-St. Baldrick's Pediatric Dream Team Translational Research Grant (SU2C-AACR-DT1113; NA/PS/MDT). SU2C is a program of the Entertainment Industry Foundation administered by the American Association for Cancer Research. Also funded by Alex's Lemonade Stand, NIH-T32HL092332 (K.F./T.B.; H. Heslop), R01AI067946 (J.S.O.), T32GM08812 (K.F./T.B.; M. Estes), DK56338, CA125123, and 1S10OD020151-01, CPRIT (RP150578), the Dan L. Duncan CCC and P01-CA080124 (R.K.J./D.F.); R35-CA197743, K08-GM123261 (F.L.) and P50-CA165962 (R.K.J.). This content does not necessarily represent the official views of the funding agencies, the Department of Veterans Affairs or the U.S. Government.
Reviewer information
Nature thanks M. Platten and the other anonymous reviewer(s) for their contribution to the peer review of this work.
Ethics declarations
Competing interests
The authors declare no competing interests.
Additional information
Publisher's note: Springer Nature remains neutral with regard to jurisdictional claims in published maps and institutional affiliations.
Extended data figures and tables
Supplementary information
About this article
Cite this article
Samaha, H., Pignata, A., Fousek, K. et al. A homing system targets therapeutic T cells to brain cancer. Nature 561, 331–337 (2018). https://doi.org/10.1038/s41586-018-0499-y
Received:

Accepted:

Published:

Issue Date:

DOI: https://doi.org/10.1038/s41586-018-0499-y
Keywords
Activated Leukocyte Cell Adhesion Molecule (ALCAM)

Cancer Endothelium

ALCAM Expression

Human Brain Microvascular Endothelial Cells (HBMECs)

FlowJo Data Analysis Software
Comments
By submitting a comment you agree to abide by our Terms and Community Guidelines. If you find something abusive or that does not comply with our terms or guidelines please flag it as inappropriate.