Abstract
Zika virus (ZIKV) has recently emerged as a global health concern owing to its widespread diffusion and its association with severe neurological symptoms and microcephaly in newborns1. However, the molecular mechanisms that are responsible for the pathogenicity of ZIKV remain largely unknown. Here we use human neural progenitor cells and the neuronal cell line SK-N-BE2 in an integrated proteomics approach to characterize the cellular responses to viral infection at the proteome and phosphoproteome level, and use affinity proteomics to identify cellular targets of ZIKV proteins. Using this approach, we identify 386 ZIKV-interacting proteins, ZIKV-specific and pan-flaviviral activities as well as host factors with known functions in neuronal development, retinal defects and infertility. Moreover, our analysis identified 1,216 phosphorylation sites that are specifically up- or downregulated after ZIKV infection, indicating profound modulation of fundamental signalling pathways such as AKT, MAPK–ERK and ATM–ATR and thereby providing mechanistic insights into the proliferation arrest elicited by ZIKV infection. Functionally, our integrative study identifies ZIKV host-dependency factors and provides a comprehensive framework for a system-level understanding of ZIKV-induced perturbations at the levels of proteins and cellular pathways.
Relevant articles
Open Access articles citing this article.
Valter Bergant

,

Daniel Schnepf

…

Andreas Pichlmair

Nature Communications Open Access 15 August 2023

Jun Hu

,

Jianwei Chen

…

Xianghua Yan

Microbiome Open Access 23 February 2023

Friederike L. Pennemann

,

Assel Mussabekova

…

Andreas Pichlmair

Nature Communications Open Access 01 December 2021
Access options
Access Nature and 54 other Nature Portfolio journals
Get Nature+, our best-value online-access subscription
$29.99 / 30 days
cancel any time
Subscribe to this journal
Receive 51 print issues and online access
$199.00 per year
only $3.90 per issue
Rent or buy this article
Prices vary by article type
from$1.95
to$39.95
Prices may be subject to local taxes which are calculated during checkout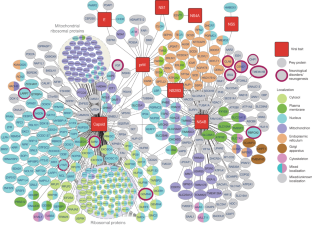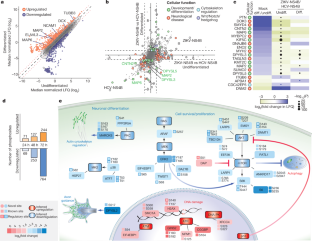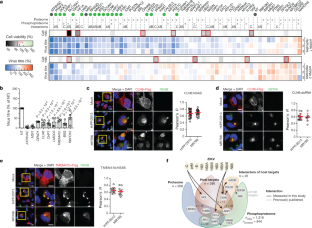 Data availability
The mass-spectrometry-based proteomics data were deposited at the ProteomeXchange Consortium (http://proteomecentral.proteomexchange.org) via the PRIDE partner repository with the following dataset identifiers: PXD009551, PXD009557, PXD009560 and PXD009561. The protein interactions from this publication have been submitted to the IMEx (http://www.imexconsortium.org) consortium through IntAct38 with the identifier IM-26452.
References
Miner, J. J. & Diamond, M. S. Zika virus pathogenesis and tissue tropism. Cell Host Microbe 21, 134–142 (2017).

Neufeldt, C. J., Cortese, M., Acosta, E. G. & Bartenschlager, R. Rewiring cellular networks by members of the Flaviviridae family. Nat. Rev. Microbiol. 16, 125–142 (2018).

Chatel-Chaix, L. et al. Dengue virus perturbs mitochondrial morphodynamics to dampen innate immune responses. Cell Host Microbe 20, 342–356 (2016).

Slomnicki, L. P. et al. Nucleolar enrichment of brain proteins with critical roles in human neurodevelopment. Mol. Cell Proteomics 15, 2055–2075 (2016).

Li, H. et al. Ly-1 antibody reactive clone is an important nucleolar protein for control of self-renewal and differentiation in embryonic stem cells. Stem Cells 27, 1244–1254 (2009).

Jung, M. Y., Lorenz, L. & Richter, J. D. Translational control by neuroguidin, a eukaryotic initiation factor 4E and CPEB binding protein. Mol. Cell. Biol. 26, 4277–4287 (2006).

Liang, Q. et al. Zika virus NS4A and NS4B proteins deregulate Akt–mTOR signaling in human fetal neural stem cells to inhibit neurogenesis and induce autophagy. Cell Stem Cell 19, 663–671 (2016).

Radke, J., Stenzel, W. & Goebel, H. H. Human NCL neuropathology. Biochim. Biophys. Acta 1852, 2262–2266 (2015).

Ochrietor, J. D. & Linser, P. J. 5A11/Basigin gene products are necessary for proper maturation and function of the retina. Dev. Neurosci. 26, 380–387 (2004).

Politis, P. K. et al. BM88/CEND1 coordinates cell cycle exit and differentiation of neuronal precursors. Proc. Natl Acad. Sci. USA 104, 17861–17866 (2007).

Gehman, L. T. et al. The splicing regulator Rbfox2 is required for both cerebellar development and mature motor function. Genes Dev. 26, 445–460 (2012).

Tarlungeanu, D. C. et al. Impaired amino acid transport at the blood brain barrier is a cause of autism spectrum disorder. Cell 167, 1481–1494 (2016).

Souza, B. S. et al. Zika virus infection induces mitosis abnormalities and apoptotic cell death of human neural progenitor cells. Sci. Rep. 6, 39775 (2016).

Tang, H. et al. Zika virus infects human cortical neural progenitors and attenuates their growth. Cell Stem Cell 18, 587–590 (2016).

Watanabe, K. et al. A ROCK inhibitor permits survival of dissociated human embryonic stem cells. Nat. Biotechnol. 25, 681–686 (2007).

Wojcechowskyj, J. A. et al. Quantitative phosphoproteomics reveals extensive cellular reprogramming during HIV-1 entry. Cell Host Microbe 13, 613–623 (2013).

Söderholm, S. et al. Phosphoproteomics to characterize host response during influenza A virus infection of human macrophages. Mol. Cell Proteomics 15, 3203–3219 (2016).

Humphrey, S. J., Azimifar, S. B. & Mann, M. High-throughput phosphoproteomics reveals in vivo insulin signaling dynamics. Nat. Biotechnol. 33, 990–995 (2015).

Cao, B., Parnell, L. A., Diamond, M. S. & Mysorekar, I. U. Inhibition of autophagy limits vertical transmission of Zika virus in pregnant mice. J. Exp. Med. 214, 2303–2313 (2017).

Ghouzzi, V. E. et al. ZIKA virus elicits P53 activation and genotoxic stress in human neural progenitors similar to mutations involved in severe forms of genetic microcephaly. Cell Death Dis. 7, e2440 (2016).

Morooka, T. & Nishida, E. Requirement of p38 mitogen-activated protein kinase for neuronal differentiation in PC12 cells. J. Biol. Chem. 273, 24285–24288 (1998).

Li, H., Chen, G., Zhou, B. & Duan, S. Actin filament assembly by myristoylated alanine-rich C kinase substrate-phosphatidylinositol-4,5-diphosphate signaling is critical for dendrite branching. Mol. Biol. Cell 19, 4804–4813 (2008).

Yamashita, N. et al. Phosphorylation of CRMP2 (collapsin response mediator protein 2) is involved in proper dendritic field organization. J. Neurosci. 32, 1360–1365 (2012).

Marceau, C. D. et al. Genetic dissection of Flaviviridae host factors through genome-scale CRISPR screens. Nature 535, 159–163 (2016).

Savidis, G. et al. Identification of Zika virus and dengue virus dependency factors using functional genomics. Cell Rep. 16, 232–246 (2016).

Chavali, P. L. et al. Neurodevelopmental protein Musashi-1 interacts with the Zika genome and promotes viral replication. Science 357, 83–88 (2017).

Barrows, N. J. et al. A screen of FDA-approved drugs for inhibitors of Zika virus infection. Cell Host Microbe 20, 259–270 (2016).

Shao, Q. et al. The African Zika virus MR-766 is more virulent and causes more severe brain damage than current Asian lineage and dengue virus. Development 144, 4114–4124 (2017).

Havlicek, S. et al. Gene dosage-dependent rescue of HSP neurite defects in SPG4 patients' neurons. Human Molecular Genetics 23, 2527–2541 (2014).

Paul, D., Bartenschlager, R. & McCormick, C. The predominant species of nonstructural protein 4B in hepatitis C virus-replicating cells is not palmitoylated. J. Gen. Virol. 96, 1696–1701 (2015).

Rappsilber, J., Mann, M. & Ishihama, Y. Protocol for micro-purification, enrichment, pre-fractionation and storage of peptides for proteomics using StageTips. Nat. Protoc. 2, 1896–1906 (2007).

Steger, M. et al. Phosphoproteomics reveals that Parkinson's disease kinase LRRK2 regulates a subset of Rab GTPases. eLife 5, e12813 (2016).

Scaturro, P., Cortese, M., Chatel-Chaix, L., Fischl, W. & Bartenschlager, R. Dengue virus non-structural protein 1 modulates infectious particle production via interaction with the structural proteins. PLoS Pathog. 11, e1005277 (2015).

Gebhardt, A. et al. mRNA export through an additional cap-binding complex consisting of NCBP1 and NCBP3. Nat. Commun. 6, 8192 (2015).

Hubner, N. C. et al. Quantitative proteomics combined with BAC TransgeneOmics reveals in vivo protein interactions. J. Cell Biol. 189, 739–754 (2010).

Hornbeck, P. V. et al. PhosphoSitePlus, 2014: mutations, PTMs and recalibrations. Nucleic Acids Res. 43, D512–D520 (2015).

Schindelin, J. et al. Fiji: an open-source platform for biological-image analysis. Nat. Methods 9, 676–682 (2012).

Orchard, S. et al. The MIntAct project—IntAct as a common curation platform for 11 molecular interaction databases. Nucleic Acids Res. 42, D358–D363 (2014).
Acknowledgements
We thank D. Mauceri, F. Sacco and L. Chatel-Chaix for discussions and R. Hornberger, I. Paron, K. Mayr and G. Sowa for technical assistance. The work in the authors' laboratory was funded by an ERC starting grant (StG 311339, iVIP), the Max-Planck free-floater program, the German Research Foundation (PI1084/2, PI1084/3, PI1084/4, TRR 237 and TRR179) and the Federal Ministry for Education and Research (ERA-Net grant ERASe) all to A.Pi. R.B. was supported by the Deutsche Forschungsgemeinschaft (BA1505/8-1). A. Pł. was supported by the Horizon 2020: Marie Skłodowska-Curie ETN "ANTIVIRALS" (grant agreement 642434 to R.B.). M.G. was supported by the DFG (SFB871) and the advanced ERC grant ChroNeuroRepair.
Reviewer information
Nature thanks B. Berninger, I. M. Cristea, M. Evans and J. MacKenzie for their contribution to the peer review of this work.
Ethics declarations
Competing interests
The authors declare no competing interests.
Additional information
Publisher's note: Springer Nature remains neutral with regard to jurisdictional claims in published maps and institutional affiliations.
Extended data figures and tables
Supplementary information
This file contains raw source data for immunoblots (Extended Data Fig. 1b, 3a, 3b, 3c, 4b, 4c, 8c, 8d, 8e, 9e).
This file contains Supplementary Tables 1-10 and a Supplementary Table Guide.
About this article
Cite this article
Scaturro, P., Stukalov, A., Haas, D.A. et al. An orthogonal proteomic survey uncovers novel Zika virus host factors. Nature 561, 253–257 (2018). https://doi.org/10.1038/s41586-018-0484-5
Received:

Accepted:

Published:

Issue Date:

DOI: https://doi.org/10.1038/s41586-018-0484-5
Keywords
Comments
By submitting a comment you agree to abide by our Terms and Community Guidelines. If you find something abusive or that does not comply with our terms or guidelines please flag it as inappropriate.