Abstract
Receptor activator of nuclear factor-kappa B (RANK) ligand (RANKL) binds RANK on the surface of osteoclast precursors to trigger osteoclastogenesis. Recent studies have indicated that osteocytic RANKL has an important role in osteoclastogenesis during bone remodelling; however, the role of osteoblastic RANKL remains unclear. Here we show that vesicular RANK, which is secreted from the maturing osteoclasts, binds osteoblastic RANKL and promotes bone formation by triggering RANKL reverse signalling, which activates Runt-related transcription factor 2 (Runx2). The proline-rich motif in the RANKL cytoplasmic tail is required for reverse signalling, and a RANKL(Pro29Ala) point mutation reduces activation of the reverse signalling pathway. The coupling of bone resorption and formation is disrupted in RANKL(Pro29Ala) mutant mice, indicating that osteoblastic RANKL functions as a coupling signal acceptor that recognizes vesicular RANK. RANKL reverse signalling is therefore a potential pharmacological target for avoiding the reduced bone formation associated with inhibition of osteoclastogenesis.
Access options
Subscribe to Journal
Get full journal access for 1 year
$199.00
only $3.90 per issue
All prices are NET prices.
VAT will be added later in the checkout.
Rent or Buy article
Get time limited or full article access on ReadCube.
from$8.99
All prices are NET prices.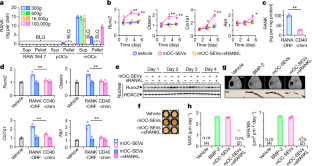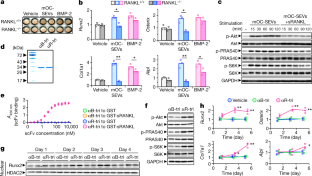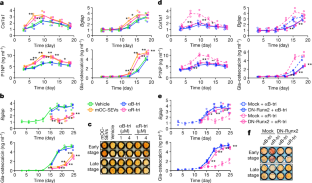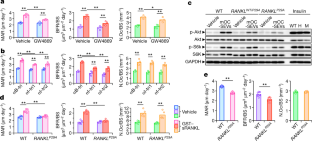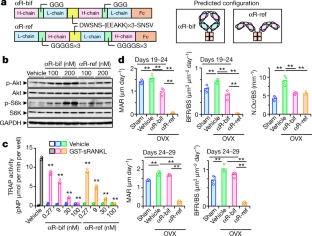 References
1.

Sims, N. A. & Martin, T. J. Coupling the activities of bone formation and resorption: a multitude of signals within the basic multicellular unit. Bonekey Rep. 3, 481 (2014).

2.

Florencio-Silva, R., Sasso, G. R., Sasso-Cerri, E., Simoes, M. J. & Cerri, P. S. Biology of bone tissue: structure, function, and factors that influence bone cells. BioMed Res. Int. 2015, 421746 (2015).

3.

Kong, Y. Y. et al. OPGL is a key regulator of osteoclastogenesis, lymphocyte development and lymph-node organogenesis. Nature 397, 315–323 (1999).

4.

Suda, T. et al. Modulation of osteoclast differentiation and function by the new members of the tumor necrosis factor receptor and ligand families. Endocr. Rev. 20, 345–357 (1999).

5.

Nakashima, T. et al. Evidence for osteocyte regulation of bone homeostasis through RANKL expression. Nat. Med. 17, 1231–1234 (2011).

6.

Xiong, J. et al. Matrix-embedded cells control osteoclast formation. Nat. Med. 17, 1235–1241 (2011).

7.

Kisiswa, L. et al. TNFα reverse signaling promotes sympathetic axon growth and target innervation. Nat. Neurosci. 16, 865–873 (2013).

8.

Sugamori, Y. et al. Peptide drugs accelerate BMP-2-induced calvarial bone regeneration and stimulate osteoblast differentiation through mTORC1 signaling. BioEssays 38, 717–725 (2016).

9.

Boyce, B. F. & Xing, L. The RANKL/RANK/OPG pathway. Curr. Osteoporos. Rep. 5, 98–104 (2007).

10.

Martin, T. J. & Sims, N. A. RANKL/OPG; Critical role in bone physiology. Rev. Endocr. Metab. Disord. 16, 131–139 (2015).

11.

Fei, Q. et al. Osteogenic growth peptide enhances the proliferation of bone marrow mesenchymal stem cells from osteoprotegerin-deficient mice by CDK2/cyclin A. Acta Biochim. Biophys. Sin. (Shanghai) 42, 801–806 (2010).

12.

Andersen, T. L. et al. Understanding coupling between bone resorption and formation: are reversal cells the missing link? Am. J. Pathol. 183, 235–246 (2013).

13.

Negishi-Koga, T. et al. Suppression of bone formation by osteoclastic expression of semaphorin 4D. Nat. Med. 17, 1473–1480 (2011).

14.

Huynh, N. et al. Characterization of regulatory extracellular vesicles from osteoclasts. J. Dent. Res. 95, 673–679 (2016).

15.

Komori, T. Regulation of osteoblast differentiation by transcription factors. J. Cell. Biochem. 99, 1233–1239 (2006).

16.

Kadono, Y. et al. Strength of TRAF6 signalling determines osteoclastogenesis. EMBO Rep. 6, 171–176 (2005).

17.

Singha, U. K. et al. Rapamycin inhibits osteoblast proliferation and differentiation in MC3T3–E1 cells and primary mouse bone marrow stromal cells. J. Cell. Biochem. 103, 434–446 (2008).

18.

Trajkovic, K. et al. Ceramide triggers budding of exosome vesicles into multivesicular endosomes. Science 319, 1244–1247 (2008).

19.

Tomimori, Y. et al. Evaluation of pharmaceuticals with a novel 50-hour animal model of bone loss. J. Bone Miner. Res. 24, 1194–1205 (2009).

20.

Kariya, Y., Honma, M., Aoki, S., Chiba, A. & Suzuki, H. Vps33a mediates RANKL storage in secretory lysosomes in osteoblastic cells. J. Bone Miner. Res. 24, 1741–1752 (2009).

21.

Saksela, K., Cheng, G. & Baltimore, D. Proline-rich (PxxP) motifs in HIV-1 Nef bind to SH3 domains of a subset of Src kinases and are required for the enhanced growth of Nef+ viruses but not for down-regulation of CD4. EMBO J. 14, 484–491 (1995).

22.

Cuevas, B. D. et al. Tyrosine phosphorylation of p85 relieves its inhibitory activity on phosphatidylinositol 3-kinase. J. Biol. Chem. 276, 27455–27461 (2001).

23.

Takeshita, S. et al. Osteoclast-secreted CTHRC1 in the coupling of bone resorption to formation. J. Clin. Invest. 123, 3914–3924 (2013).

24.

Pederson, L., Ruan, M., Westendorf, J. J., Khosla, S. & Oursler, M. J. Regulation of bone formation by osteoclasts involves Wnt/BMP signaling and the chemokine sphingosine-1-phosphate. Proc. Natl Acad. Sci. USA 105, 20764–20769 (2008).

25.

Sato, N. et al. MyD88 but not TRIF is essential for osteoclastogenesis induced by lipopolysaccharide, diacyl lipopeptide, and IL-1α. J. Exp. Med. 200, 601–611 (2004).

26.

George, J., Kuboki, Y. & Miyata, T. Differentiation of mesenchymal stem cells into osteoblasts on honeycomb collagen scaffolds. Biotechnol. Bioeng. 95, 404–411 (2006).

27.

Maruyama, Z. et al. Runx2 determines bone maturity and turnover rate in postnatal bone development and is involved in bone loss in estrogen deficiency. Dev. Dyn. 236, 1876–1890 (2007).

28.

Alles, N. et al. Suppression of NF-κB increases bone formation and ameliorates osteopenia in ovariectomized mice. Endocrinology 151, 4626–4634 (2010).

29.

Dempster, D. W. et al. Standardized nomenclature, symbols, and units for bone histomorphometry: a 2012 update of the report of the ASBMR Histomorphometry Nomenclature Committee. J. Bone Miner. Res. 28, 2–17 (2013).

30.

Pini, A. et al. Design and use of a phage display library. Human antibodies with subnanomolar affinity against a marker of angiogenesis eluted from a two-dimensional gel. J. Biol. Chem. 273, 21769–21776 (1998).

31.

Watzl, C. Production and use of trimeric isoleucine zipper fusion proteins to study surface receptor ligand interactions. Curr. Protoc. Protein Sci. 19, 19.11.1–19.11.13 (2006).

32.

Sakai, A. et al. Bone marrow cell development and trabecular bone dynamics after ovariectomy in ddy mice. Bone 23, 443–451 (1998).

33.

Van Deun, J. et al. EV-TRACK: transparent reporting and centralizing knowledge in extracellular vesicle research. Nat. Methods 14, 228–232 (2017).

34.

Vizcaino, J. A. et al. 2016 update of the PRIDE database and its related tools. Nucleic Acids Res. 44, D447–D456 (2016).
Acknowledgements
We thank K. Toritani, M. Maeda, and M. A. Al Mamun for their technical assistance. This work was supported in part by JSPS KAKENHI grant numbers JP16H05445, JP24390349, JP26713045, JP24890048, JP25670632; and by MEXT KAKENHI grant number JP22136015.
Reviewer information
Nature thanks S. Takeda. M. Zaidi and the other anonymous reviewer(s) for their contribution to the peer review of this work.
Ethics declarations
Competing Interests
The authors declare no competing interests.
Additional information
Publisher's note: Springer Nature remains neutral with regard to jurisdictional claims in published maps and institutional affiliations.
Extended data figures and tables
Supplementary Information
This file contains a Supplementary Note, Supplementary Methods, Supplementary References and Supplementary Figure 1 (the unprocessed images presented in the main and Extended Data Figures).
This file contains a list of proteins incorporated in mOC-SEVs.
About this article
Cite this article
Ikebuchi, Y., Aoki, S., Honma, M. et al. Coupling of bone resorption and formation by RANKL reverse signalling. Nature 561, 195–200 (2018). https://doi.org/10.1038/s41586-018-0482-7
Received:

Accepted:

Published:

Issue Date:
Keywords
RANK Ligand (RANKL)

Primary Mouse Osteoblasts

Gelatin Hydrogel Sheet

Osteoblast Mineralization

Serial Centrifugation
Comments
By submitting a comment you agree to abide by our Terms and Community Guidelines. If you find something abusive or that does not comply with our terms or guidelines please flag it as inappropriate.