Abstract
Just as in clay moulding or glass blowing, physically sculpting biological structures requires the constituent material to locally flow like a fluid while maintaining overall mechanical integrity like a solid. Disordered soft materials, such as foams, emulsions and colloidal suspensions, switch from fluid-like to solid-like behaviours at a jamming transition1,2,3,4. Similarly, cell collectives have been shown to display glassy dynamics in 2D and 3D5,6 and jamming in cultured epithelial monolayers7,8, behaviours recently predicted theoretically9,10,11 and proposed to influence asthma pathobiology8 and tumour progression12. However, little is known about whether these seemingly universal behaviours occur in vivo13 and, specifically, whether they play any functional part during embryonic morphogenesis. Here, by combining direct in vivo measurements of tissue mechanics with analysis of cellular dynamics, we show that during vertebrate body axis elongation, posterior tissues undergo a jamming transition from a fluid-like behaviour at the extending end, the mesodermal progenitor zone, to a solid-like behaviour in the presomitic mesoderm. We uncover an anteroposterior, N-cadherin-dependent gradient in yield stress that provides increasing mechanical integrity to the presomitic mesoderm, consistent with the tissue transiting from a wetter to a dryer foam-like architecture. Our results show that cell-scale stresses fluctuate rapidly (within about 1 min), enabling cell rearrangements and effectively 'melting' the tissue at the growing end. Persistent (more than 0.5 h) stresses at supracellular scales, rather than cell-scale stresses, guide morphogenetic flows in fluid-like tissue regions. Unidirectional axis extension is sustained by the reported rigidification of the presomitic mesoderm, which mechanically supports posterior, fluid-like tissues during remodelling before their maturation. The spatiotemporal control of fluid-like and solid-like tissue states may represent a generic physical mechanism of embryonic morphogenesis.
Access options
Subscribe to Journal
Get full journal access for 1 year
$199.00
only $3.90 per issue
All prices are NET prices.
VAT will be added later in the checkout.
Tax calculation will be finalised during checkout.
Rent or Buy article
Get time limited or full article access on ReadCube.
from$8.99
All prices are NET prices.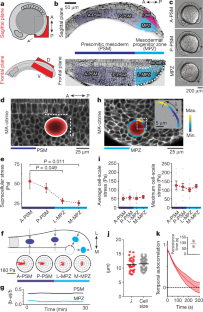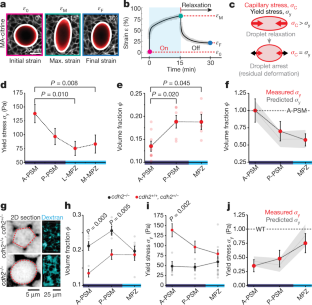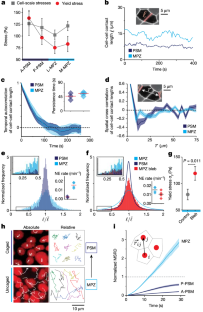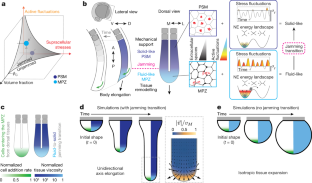 References
1.

Cohen-Addad, S., Höhler, R. & Pitois, O. Flow in foams and flowing foams. Annu. Rev. Fluid Mech. 45, 241–267 (2013).

2.

Liu, A. J. & Nagel, S. R. Jamming is just not cool any more. Nature 396, 21–22 (1998).

3.

Bonn, D., Denn, M. M., Berthier, L., Divoux, T. & Manneville, S. Yield stress materials in soft condensed matter. Rev. Mod. Phys. 89, 035005 (2017).

4.

Trappe, V., Prasad, V., Cipelletti, L., Segre, P. N. & Weitz, D. A. Jamming phase diagram for attractive particles. Nature 411, 772–775 (2001).

5.

Angelini, T. E. et al. Glass-like dynamics of collective cell migration. Proc. Natl Acad. Sci. USA 108, 4714–4719 (2011).

6.

Schotz, E. M., Lanio, M., Talbot, J. A. & Manning, M. L. Glassy dynamics in three-dimensional embryonic tissues. J. R. Soc. Interface 10, 20130726 (2013).

7.

Sadati, M., Taheri Qazvini, N. T., Krishnan, R., Park, C. Y. & Fredberg, J. J. Collective migration and cell jamming. Differentiation 86, 121–125 (2013).

8.

Park, J.-A. et al. Unjamming and cell shape in the asthmatic airway epithelium. Nat. Mater. 14, 1040–1048 (2015).

9.

Bi, D., Lopez, J. H., Schwarz, J. M. & Manning, M. L. Energy barriers and cell migration in densely packed tissues. Soft Matter 10, 1885–1890 (2014).

10.

Bi, D., Lopez, J. H., Schwarz, J. M. & Manning, M. L. A density-independent rigidity transition in biological tissues. Nat. Phys. 11, 1074–1079 (2015).

11.

Farhadifar, R., Röper, J.-C., Aigouy, B., Eaton, S. & Jülicher, F. The influence of cell mechanics, cell–cell interactions, and proliferation on epithelial packing. Curr. Biol. 17, 2095–2104 (2007).

12.

Oswald, L., Grosser, S., Smith, D. M. & Käs, J. A. Jamming transitions in cancer. J. Phys. D Appl. Phys. 50, 483001 (2017).

13.

Atia, L. et al. Geometric constraints during epithelial jamming. Nat. Phys. 14, 613–620 (2018).

14.

Bénazéraf, B. & Pourquié, O. Formation and segmentation of the vertebrate body axis. Annu. Rev. Cell Dev. Biol. 29, 1–26 (2013).

15.

Zhang, L., Kendrick, C., Julich, D. & Holley, S. A. Cell cycle progression is required for zebrafish somite morphogenesis but not segmentation clock function. Development 135, 2065–2070 (2008).

16.

Lawton, A. K. et al. Regulated tissue fluidity steers zebrafish body elongation. Development 140, 573–582 (2013).

17.

Kimelman, D. Tales of tails (and trunks): forming the posterior body in vertebrate embryos. Curr. Top. Dev. Biol. 116, 517–536 (2016).

18.

Bénazéraf, B. et al. A random cell motility gradient downstream of FGF controls elongation of an amniote embryo. Nature 466, 248–252 (2010).

19.

Aulehla, A. & Pourquie, O. Signaling gradients during paraxial mesoderm development. Cold Spring Harb. Perspect. Biol. 2, a000869 (2010).

20.

Heisenberg, C.-P. & Bellaiche, Y. Forces in tissue morphogenesis and patterning. Cell 153, 948–962 (2013).

21.

Serwane, F. et al. In vivo quantification of spatially varying mechanical properties in developing tissues. Nat. Methods 14, 181–186 (2017).

22.

Campàs, O. et al. Quantifying cell-generated mechanical forces within living embryonic tissues. Nat. Methods 11, 183–189 (2014).

23.

Marmottant, P. et al. The role of fluctuations and stress on the effective viscosity of cell aggregates. Proc. Natl Acad. Sci. USA 106, 17271–17275 (2009).

24.

Campàs, O. A toolbox to explore the mechanics of living embryonic tissues. Semin. Cell Dev. Biol. 55, 119–130 (2016).

25.

Miller, C. J. & Davidson, L. A. The interplay between cell signalling and mechanics in developmental processes. Nat. Rev. Genet. 14, 733–744 (2013).

26.

Thompson, D. W. On Growth and Form (Cambridge Univ. Press, Cambridge, 1917).

27.

Lele, Z. et al. parachute/n-cadherin is required for morphogenesis and maintained integrity of the zebrafish neural tube. Development 129, 3281–3294 (2002).

28.

Chal, J., Guillot, C. & Pourquié, O. PAPC couples the segmentation clock to somite morphogenesis by regulating N-cadherin-dependent adhesion. Development 144, 664–676 (2017).

29.

Martin, A. C., Kaschube, M. & Wieschaus, E. F. Pulsed contractions of an actin–myosin network drive apical constriction. Nature 457, 495–501 (2009).

30.

Nüsslein-Volhard, C. & Dahm, R. Zebrafish (Oxford Univ. Press, Oxford, 2002).

31.

Mosaliganti, K. R., Noche, R. R., Xiong, F., Swinburne, I. A. & Megason, S. G. ACME: automated cell morphology extractor for comprehensive reconstruction of cell membranes. PLOS Comput. Biol. 8, e1002780 (2012).

32.

Holtze, C. et al. Biocompatible surfactants for water-in-fluorocarbon emulsions. Lab Chip 8, 1632–1639 (2008).

33.

Sletten, E. M. & Swager, T. M. Fluorofluorophores: fluorescent fluorous chemical tools spanning the visible spectrum. J. Am. Chem. Soc. 136, 13574–13577 (2014).

34.

Rallison, J. The deformation of small viscous drops and bubbles in shear flows. Annu. Rev. Fluid Mech. 16, 45–66 (1984).

35.

Shelton, E., Serwane, F. & Campas, O. Geometrical characterization of fluorescently labelled surfaces from noisy 3D microscopy data. J. Microsc. 269, 259–268 (2017).

36.

Rowghanian, P., Meinhart, C. D. & Campas, O. Dynamics of ferrofluid drop deformations under spatially uniform magnetic fields. J. Fluid Mech. 802, 245–262 (2016).

37.

Aigouy, B. et al. Cell flow reorients the axis of planar polarity in the wing epithelium of Drosophila. Cell 142, 773–786 (2010).
Acknowledgements
We thank E. Sletten for sharing custom-made fluorinated dyes. We also thank all laboratory members and the UCSB Animal Research Center for support. P.R. thanks B. Aigouy for assistance with Tissue Analyzer. A.M. thanks EMBO (EMBO ALTF 509-2013), Errett Fisher Foundation and Otis Williams Fund for financial support. This work was partially supported by the National Science Foundation (CMMI-1562910) and the Eunice Kennedy Shriver National Institute of Child Health and Human Development of the National Institutes of Health (R21HD084285; R01HD095797).
Reviewer information
Nature thanks J. Fredberg, P.-F. Lenne, O. Pourquié and the other anonymous reviewer(s) for their contribution to the peer review of this work.
Ethics declarations
Competing interests
The authors declare no competing interests.
Additional information
Publisher's note: Springer Nature remains neutral with regard to jurisdictional claims in published maps and institutional affiliations.
Extended data figures and tables
Supplementary Information
About this article
Cite this article
Mongera, A., Rowghanian, P., Gustafson, H.J. et al. A fluid-to-solid jamming transition underlies vertebrate body axis elongation. Nature 561, 401–405 (2018). https://doi.org/10.1038/s41586-018-0479-2
Received:

Accepted:

Published:

Issue Date:
Keywords
Jamming Transition

Presomitic Mesoderm (PSM)

Ferrofluid Droplets

Droplet Contour

Droplet Deformation
Comments
By submitting a comment you agree to abide by our Terms and Community Guidelines. If you find something abusive or that does not comply with our terms or guidelines please flag it as inappropriate.