Abstract
Multicellular organisms use cell-surface receptor kinases to sense and process extracellular signals. Many plant receptor kinases are activated by the formation of ligand-induced complexes with shape-complementary co-receptors1. The best-characterized co-receptor is BRASSINOSTEROID INSENSITIVE 1-ASSOCIATED KINASE 1 (BAK1), which associates with numerous leucine-rich repeat receptor kinases (LRR-RKs) to control immunity, growth and development2. Here we report key regulatory events that control the function of BAK1 and, more generally, LRR-RKs. Through a combination of phosphoproteomics and targeted mutagenesis, we identified conserved phosphosites that are required for the immune function of BAK1 in Arabidopsis thaliana. Notably, these phosphosites are not required for BAK1-dependent brassinosteroid-regulated growth. In addition to revealing a critical role for the phosphorylation of the BAK1 C-terminal tail, we identified a conserved tyrosine phosphosite that may be required for the function of the majority of Arabidopsis LRR-RKs, and which separates them into two distinct functional classes based on the presence or absence of this tyrosine. Our results suggest a phosphocode-based dichotomy of BAK1 function in plant signalling, and provide insights into receptor kinase activation that have broad implications for our understanding of how plants respond to their changing environment.
Relevant articles
Open Access articles citing this article.
Jack Rhodes

,

Huanjie Yang

…

Cyril Zipfel

Nature Communications Open Access 29 January 2021
Access options
Subscribe to Nature+
Get immediate online access to Nature and 55 other Nature journal
Subscribe to Journal
Get full journal access for 1 year
$199.00
only $3.90 per issue
All prices are NET prices.
VAT will be added later in the checkout.
Tax calculation will be finalised during checkout.
Buy article
Get time limited or full article access on ReadCube.
$32.00
All prices are NET prices.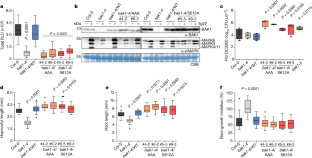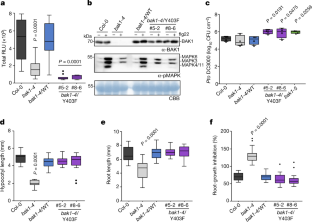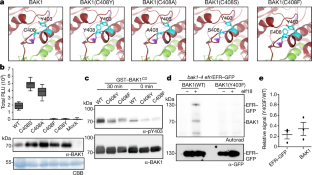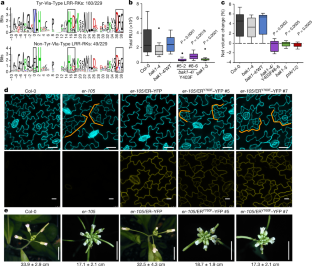 Data availability
The data supporting the findings of this study are available within the paper and its Supplementary Information files. Source Data (gels and graphs) for Figs. 1–4 and Extended Data Figs. 1–7 and 9 are provided with the paper.
References
Hohmann, U., Lau, K. & Hothorn, M. The structural basis of ligand perception and signal activation by receptor kinases. Annu. Rev. Plant Biol. 68, 109–137 (2017).

Ma, X., Xu, G., He, P. & Shan, L. SERKing coreceptors for receptors. Trends Plant Sci. 21, 1017–1033 (2016).

Chinchilla, D. et al. A flagellin-induced complex of the receptor FLS2 and BAK1 initiates plant defence. Nature 448, 497–500 (2007).

Heese, A. et al. The receptor-like kinase SERK3/BAK1 is a central regulator of innate immunity in plants. Proc. Natl Acad. Sci. USA 104, 12217–12222 (2007).

Roux, M. et al. The Arabidopsis leucine-rich repeat receptor-like kinases BAK1/SERK3 and BKK1/SERK4 are required for innate immunity to hemibiotrophic and biotrophic pathogens. Plant Cell 23, 2440–2455 (2011).

Nam, K. H. & Li, J. BRI1/BAK1, a receptor kinase pair mediating brassinosteroid signaling. Cell 110, 203–212 (2002).

Li, J. et al. BAK1, an Arabidopsis LRR receptor-like protein kinase, interacts with BRI1 and modulates brassinosteroid signaling. Cell 110, 213–222 (2002).

Sun, Y. et al. Structure reveals that BAK1 as a co-receptor recognizes the BRI1-bound brassinolide. Cell Res. 23, 1326–1329 (2013).

Wang, X. et al. Sequential transphosphorylation of the BRI1/BAK1 receptor kinase complex impacts early events in brassinosteroid signaling. Dev. Cell 15, 220–235 (2008).

Karlova, R. et al. Identification of in vitro phosphorylation sites in the Arabidopsis thaliana somatic embryogenesis receptor-like kinases. Proteomics 9, 368–379 (2009).

Yun, H. S. et al. Analysis of phosphorylation of the BRI1/BAK1 complex in Arabidopsis reveals amino acid residues critical for receptor formation and activation of BR signaling. Mol. Cells 27, 183–190 (2009).

Wu, X. et al. Transphosphorylation of E. coli proteins during production of recombinant protein kinases provides a robust system to characterize kinase specificity. Front. Plant Sci. 3, 262 (2012).

Yan, L. et al. Structural basis for the impact of phosphorylation on the activation of plant receptor-like kinase BAK1. Cell Res. 22, 1304–1308 (2012).

Ntoukakis, V., Schwessinger, B., Segonzac, C. & Zipfel, C. Cautionary notes on the use of C-terminal BAK1 fusion proteins for functional studies. Plant Cell 23, 3871–3878 (2011).

Yu, X., Feng, B., He, P. & Shan, L. From chaos to harmony: responses and signaling upon microbial pattern recognition. Annu. Rev. Phytopathol. 55, 109–137 (2017).

Schwessinger, B. et al. Phosphorylation-dependent differential regulation of plant growth, cell death, and innate immunity by the regulatory receptor-like kinase BAK1. PLoS Genet. 7, e1002046 (2011).

aan den Toorn, M., Albrecht, C. & de Vries, S. On the origin of SERKs: bioinformatics analysis of the somatic embryogenesis receptor kinases. Mol. Plant 8, 762–782 (2015).

Wu, D., Liu, Y., Xu, F. & Zhang, Y. Differential requirement of BAK1 C-terminal tail in development and immunity. J. Integr. Plant Biol. 60, 270–275 (2018).

Macho, A. P., Lozano-Durán, R. & Zipfel, C. Importance of tyrosine phosphorylation in receptor kinase complexes. Trends Plant Sci. 20, 269–272 (2015).

Wang, Y. et al. Assessment of BAK1 activity in different plant receptor-like kinase complexes by quantitative profiling of phosphorylation patterns. J. Proteomics 108, 484–493 (2014).

Macho, A. P. et al. A bacterial tyrosine phosphatase inhibits plant pattern recognition receptor activation. Science 343, 1509–1512 (2014).

Mitra, S. K. et al. An autophosphorylation site database for leucine-rich repeat receptor-like kinases in Arabidopsis thaliana. Plant J. 82, 1042–1060 (2015).

Bender, K. W. et al. Glutaredoxin AtGRXC2 catalyses inhibitory glutathionylation of Arabidopsis BRI1-associated receptor-like kinase 1 (BAK1) in vitro. Biochem. J. 467, 399–413 (2015).

Meng, X. et al. Ligand-induced receptor-like kinase complex regulates floral organ abscission in Arabidopsis. Cell Rep. 14, 1330–1338 (2016).

Meng, X. et al. Differential function of Arabidopsis SERK family receptor-like kinases in stomatal patterning. Curr. Biol. 25, 2361–2372 (2015).

Stührwohldt, N., Dahlke, R. I., Steffens, B., Johnson, A. & Sauter, M. Phytosulfokine-α controls hypocotyl length and cell expansion in Arabidopsis thaliana through phytosulfokine receptor 1. PLoS ONE 6, e21054 (2011).

Shpak, E. D., Berthiaume, C. T., Hill, E. J. & Torii, K. U. Synergistic interaction of three ERECTA-family receptor-like kinases controls Arabidopsis organ growth and flower development by promoting cell proliferation. Development 131, 1491–1501 (2004).

Suzuki, M. et al. Autophosphorylation of specific threonine and tyrosine residues in Arabidopsis CERK1 is essential for the activation of chitin-induced immune signaling. Plant Cell Physiol. 57, 2312–2322 (2016).

Zhang, G. et al. Mass spectrometry mapping of epidermal growth factor receptor phosphorylation related to oncogenic mutations and tyrosine kinase inhibitor sensitivity. J. Proteome Res. 10, 305–319 (2011).

Singh, V. et al. Tyrosine-610 in the receptor kinase BAK1 does not play a major role in brassinosteroid signaling or innate immunity. Front. Plant Sci. 8, 1273 (2017).

Robatzek, S., Chinchilla, D. & Boller, T. Ligand-induced endocytosis of the pattern recognition receptor FLS2 in Arabidopsis. Genes Dev. 20, 537–542 (2006).

Nekrasov, V. et al. Control of the pattern-recognition receptor EFR by an ER protein complex in plant immunity. EMBO J. 28, 3428–3438 (2009).

Lee, J. S. et al. Direct interaction of ligand–receptor pairs specifying stomatal patterning. Genes Dev. 26, 126–136 (2012).

Clough, S. J. & Bent, A. F. Floral dip: a simplified method for Agrobacterium-mediated transformation of Arabidopsis thaliana. Plant J. 16, 735–743 (1998).

Kadota, Y. et al. Direct regulation of the NADPH oxidase RBOHD by the PRR-associated kinase BIK1 during plant immunity. Mol. Cell 54, 43–55 (2014).

Felix, G., Duran, J. D., Volko, S. & Boller, T. Plants have a sensitive perception system for the most conserved domain of bacterial flagellin. Plant J. 18, 265–276 (1999).

Huffaker, A., Pearce, G. & Ryan, C. A. An endogenous peptide signal in Arabidopsis activates components of the innate immune response. Proc. Natl Acad. Sci. USA 103, 10098–10103 (2006).

Kunze, G. et al. The N terminus of bacterial elongation factor Tu elicits innate immunity in Arabidopsis plants. Plant Cell 16, 3496–3507 (2004).

Monaghan, J. et al. The calcium-dependent protein kinase CPK28 buffers plant immunity and regulates BIK1 turnover. Cell Host Microbe 16, 605–615 (2014).

Yoo, S.-D., Cho, Y.-H. & Sheen, J. Arabidopsis mesophyll protoplasts: a versatile cell system for transient gene expression analysis. Nat. Protoc. 2, 1565–1572 (2007).

Sun, Y. et al. Structural basis for flg22-induced activation of the Arabidopsis FLS2-BAK1 immune complex. Science 342, 624–628 (2013).

Ladwig, F. et al. Phytosulfokine regulates growth in Arabidopsis through a response module at the plasma membrane that includes CYCLIC NUCLEOTIDE-GATED CHANNEL17, H+-ATPase, and BAK1. Plant Cell 27, 1718–1729 (2015).

Bender, K. W. et al. Autophosphorylation-based calcium (Ca2+) sensitivity priming and Ca2+/calmodulin inhibition of Arabidopsis thaliana Ca2+-dependent protein kinase 28 (CPK28). J. Biol. Chem. 292, 3988–4002 (2017).

Horst, R. J. et al. Molecular framework of a regulatory circuit initiating two-dimensional spatial patterning of stomatal lineage. PLoS Genet. 11, e1005374 (2015).

Holm, L. & Laakso, L. M. Dali server update. Nucleic Acids Res. 44, W351–W355 (2016).

Lehti-Shiu, M. D. & Shiu, S.-H. Diversity, classification and function of the plant protein kinase superfamily. Philos. Trans. R. Soc. Lond. B 367, 2619–2639 (2012).

Shiu, S. H. & Bleecker, A. B. Receptor-like kinases from Arabidopsis form a monophyletic gene family related to animal receptor kinases. Proc. Natl Acad. Sci. USA 98, 10763–10768 (2001).
Acknowledgements
We thank K. Morehouse, M. Smoker, J. Taylor and the John Innes Centre Horticultural Services for technical help; V. Ntoukakis, M. Stegmann and J. Dang for technical advice; S. Huber, K. Bender and R. Zielinski for providing materials; Y. Belkhadir and S. Huber for reading the manuscript; and all members of the Zipfel laboratory for discussion. This work was supported by the Gatsby Charitable Foundation and the European Research Council (grant 'PHOSPHinnATE') (C.Z.); the Gordon and Betty Moore Foundation (grant GBMF3035) and the Howard Hughes Medical Institute (K.U.T.); the European Molecular Biology Organization (EMBO-LTFs 100-2017 to T.A.D. and 225-2015 to S.J.); the RIKEN Special Postdoctoral Research Fellowship, the JSPS Excellent Young Researcher Overseas Visit Program, and the Uehara Memorial Foundation (Y.K.); and the JIC/TSL PhD Rotation Program (B.S.).
Reviewer information
Nature thanks S. Clouse and the other anonymous reviewer(s) for their contribution to the peer review of this work.
Ethics declarations
Competing interests
The authors declare no competing interests.
Additional information
Publisher's note: Springer Nature remains neutral with regard to jurisdictional claims in published maps and institutional affiliations.
Extended data figures and tables
Supplementary information
This file contains Supplementary Figure 1: Source data for images for gels and blots. Original source images for all data obtained by SDS-PAGE, western blots, autoradiography scans and Coomassie Blue stained blots and gels, Supplementary Figure 2: Identification of in vivo phosphorylation sites of BAK1. Orbitrap MS2 spectra obtained for the identified pT446, pS602, pT603, pS604 and pS612 and Supplementary Table 2: List of primers used in this study. This table lists all the primers used in this study.
This file contains Supplementary Table 1: List of Arabidopsis thaliana LRR-RKs. This table lists all the Arabidopsis thaliana LRR-RKs used for the alignments in this study.
About this article
Cite this article
Perraki, A., DeFalco, T.A., Derbyshire, P. et al. Phosphocode-dependent functional dichotomy of a common co-receptor in plant signalling. Nature 561, 248–252 (2018). https://doi.org/10.1038/s41586-018-0471-x
Received:

Accepted:

Published:

Issue Date:

DOI: https://doi.org/10.1038/s41586-018-0471-x
Keywords
BRASSINOSTEROID INSENSITIVE 1-ASSOCIATED KINASE 1 (BAK1)

Phosphosites

Plant Receptor Kinases

FLAGELLIN SENSING 2 (FLS2)

Chitin Elicitor Receptor Kinase (CERK1)
This article is cited by
Jack Rhodes
Huanjie Yang
Cyril Zipfel

Nature Communications (2021)

Feihua Wu
Yuan Chi
Zhen-Ming Pei

Nature (2020)

Yoshitake Desaki
Masaki Kohari
Hanae Kaku

Journal of General Plant Pathology (2019)
Comments
By submitting a comment you agree to abide by our Terms and Community Guidelines. If you find something abusive or that does not comply with our terms or guidelines please flag it as inappropriate.