Abstract
The human genome contains thousands of long non-coding RNAs1, but specific biological functions and biochemical mechanisms have been discovered for only about a dozen2,3,4,5,6,7. A specific long non-coding RNA—non-coding RNA activated by DNA damage (NORAD)—has recently been shown to be required for maintaining genomic stability8, but its molecular mechanism is unknown. Here we combine RNA antisense purification and quantitative mass spectrometry to identify proteins that directly interact with NORAD in living cells. We show that NORAD interacts with proteins involved in DNA replication and repair in steady-state cells and localizes to the nucleus upon stimulation with replication stress or DNA damage. In particular, NORAD interacts with RBMX, a component of the DNA-damage response, and contains the strongest RBMX-binding site in the transcriptome. We demonstrate that NORAD controls the ability of RBMX to assemble a ribonucleoprotein complex—which we term NORAD-activated ribonucleoprotein complex 1 (NARC1)—that contains the known suppressors of genomic instability topoisomerase I (TOP1), ALYREF and the PRPF19–CDC5L complex. Cells depleted for NORAD or RBMX display an increased frequency of chromosome segregation defects, reduced replication-fork velocity and altered cell-cycle progression—which represent phenotypes that are mechanistically linked to TOP1 and PRPF19–CDC5L function. Expression of NORAD in trans can rescue defects caused by NORAD depletion, but rescue is significantly impaired when the RBMX-binding site in NORAD is deleted. Our results demonstrate that the interaction between NORAD and RBMX is important for NORAD function, and that NORAD is required for the assembly of the previously unknown topoisomerase complex NARC1, which contributes to maintaining genomic stability. In addition, we uncover a previously unknown function for long non-coding RNAs in modulating the ability of an RNA-binding protein to assemble a higher-order ribonucleoprotein complex.
Relevant articles
Open Access articles citing this article.
Lingbo An

,

Mingyang Li

&

Qingge Jia

Molecular Cancer Open Access 19 August 2023

Shayan Tabe-Bordbar

&

Saurabh Sinha

BMC Genomics Open Access 13 July 2023

Luyao Qi

,

Jixiang Xing

…

Ming Lei

Molecular and Cellular Biochemistry Open Access 07 July 2023
Access options
Access Nature and 54 other Nature Portfolio journals
Get Nature+, our best-value online-access subscription
$29.99 / 30 days
cancel any time
Subscribe to this journal
Receive 51 print issues and online access
$199.00 per year
only $3.90 per issue
Rent or buy this article
Prices vary by article type
from$1.95
to$39.95
Prices may be subject to local taxes which are calculated during checkout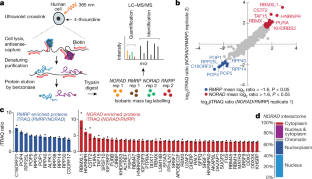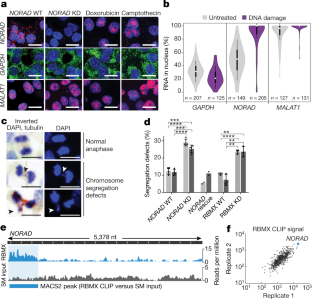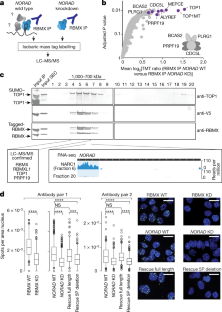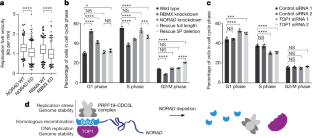 References
Guttman, M. et al. Chromatin signature reveals over a thousand highly conserved large non-coding RNAs in mammals. Nature 458, 223–227 (2009).

McHugh, C. A. et al. The Xist lncRNA interacts directly with SHARP to silence transcription through HDAC3. Nature 521, 232–236 (2015).

Zappulla, D. C. & Cech, T. R. Yeast telomerase RNA: a flexible scaffold for protein subunits. Proc. Natl Acad. Sci. USA 101, 10024–10029 (2004).

Clemson, C. M. et al. An architectural role for a nuclear noncoding RNA: NEAT1 RNA is essential for the structure of paraspeckles. Mol. Cell 33, 717–726 (2009).

Tripathi, V. et al. The nuclear-retained noncoding RNA MALAT1 regulates alternative splicing by modulating SR splicing factor phosphorylation. Mol. Cell 39, 925–938 (2010).

Tsai, M.-C. et al. Long noncoding RNA as modular scaffold of histone modification complexes. Science 329, 689–693 (2010).

Kopp, F. & Mendell, J. T. Functional classification and experimental dissection of long noncoding RNAs. Cell 172, 393–407 (2018).

Lee, S. et al. Noncoding RNA NORAD regulates genomic stability by sequestering PUMILIO proteins. Cell 164, 69–80 (2016).

Tichon, A. et al. A conserved abundant cytoplasmic long noncoding RNA modulates repression by Pumilio proteins in human cells. Nat. Commun. 7, 12209 (2016).

Baltz, A. G. et al. The mRNA-bound proteome and its global occupancy profile on protein-coding transcripts. Mol. Cell 46, 674–690 (2012).

Esakova, O. & Krasilnikov, A. S. Of proteins and RNA: the RNase P/MRP family. RNA 16, 1725–1747 (2010).

Wang, T. et al. Identification and characterization of essential genes in the human genome. Science 350, 1096–1101 (2015).

Adamson, B., Smogorzewska, A., Sigoillot, F. D., King, R. W. & Elledge, S. J. A genome-wide homologous recombination screen identifies the RNA-binding protein RBMX as a component of the DNA-damage response. Nat. Cell Biol. 14, 318–328 (2012).

Matsunaga, S. et al. RBMX: a regulator for maintenance and centromeric protection of sister chromatid cohesion. Cell Reports 1, 299–308 (2012).

Pommier, Y., Sun, Y., Huang, S. N. & Nitiss, J. L. Roles of eukaryotic topoisomerases in transcription, replication and genomic stability. Nat. Rev. Mol. Cell Biol. 17, 703–721 (2016).

Mahajan, K. hPso4/hPrp19: a critical component of DNA repair and DNA damage checkpoint complexes. Oncogene 35, 2279–2286 (2016).

García-Muse, T. & Aguilera, A. Transcription-replication conflicts: how they occur and how they are resolved. Nat. Rev. Mol. Cell Biol. 17, 553–563 (2016).

Tuduri, S. et al. Topoisomerase I suppresses genomic instability by preventing interference between replication and transcription. Nat. Cell Biol. 11, 1315–1324 (2009).

Gan, W. et al. R-loop-mediated genomic instability is caused by impairment of replication fork progression. Genes Dev. 25, 2041–2056 (2011).

Zhang, N., Kaur, R., Akhter, S. & Legerski, R. J. Cdc5L interacts with ATR and is required for the S-phase cell-cycle checkpoint. EMBO Rep. 10, 1029–1035 (2009).

Maréchal, A. et al. PRP19 transforms into a sensor of RPA-ssDNA after DNA damage and drives ATR activation via a ubiquitin-mediated circuitry. Mol. Cell 53, 235–246 (2014).

Jeronimo, C. et al. Systematic analysis of the protein interaction network for the human transcription machinery reveals the identity of the 7SK capping enzyme. Mol. Cell 27, 262–274 (2007).

Boeing, S. et al. Multiomic analysis of the UV-induced DNA damage response. Cell Reports 15, 1597–1610 (2016).

Domínguez-Sánchez, M. S., Barroso, S., Gómez-González, B., Luna, R. & Aguilera, A. Genome instability and transcription elongation impairment in human cells depleted of THO/TREX. PLoS Genet. 7, e1002386 (2011).

Li, M., Pokharel, S., Wang, J.-T., Xu, X. & Liu, Y. RECQ5-dependent SUMOylation of DNA topoisomerase I prevents transcription-associated genome instability. Nat. Commun. 6, 6720 (2015).

Abbas, M., Shanmugam, I., Bsaili, M., Hromas, R. & Shaheen, M. The role of the human psoralen 4 (hPso4) protein complex in replication stress and homologous recombination. J. Biol. Chem. 289, 14009–14019 (2014).

Miao, Z.-H. et al. Nonclassic functions of human topoisomerase I: genome-wide and pharmacologic analyses. Cancer Res. 67, 8752–8761 (2007).

Burrell, R. A. et al. Replication stress links structural and numerical cancer chromosomal instability. Nature 494, 492–496 (2013).

Janssen, A., van der Burg, M., Szuhai, K., Kops, G. J. P. L. & Medema, R. H. Chromosome segregation errors as a cause of DNA damage and structural chromosome aberrations. Science 333, 1895–1898 (2011).

Liu, N. et al. N6-methyladenosine alters RNA structure to regulate binding of a low-complexity protein. Nucleic Acids Res. 45, 6051–6063 (2017).

Fulco, C. P. et al. Systematic mapping of functional enhancer–promoter connections with CRISPR interference. Science 354, 769–773 (2016).

Engreitz, J. M. et al. The Xist lncRNA exploits three-dimensional genome architecture to spread across the X chromosome. Science 341, 1237973 (2013).

Rappsilber, J., Ishihama, Y. & Mann, M. Stop and go extraction tips for matrix-assisted laser desorption/ionization, nanoelectrospray, and LC/MS sample pretreatment in proteomics. Anal. Chem. 75, 663–670 (2003).

Wiese, S., Reidegeld, K. A., Meyer, H. E. & Warscheid, B. Protein labeling by iTRAQ: a new tool for quantitative mass spectrometry in proteome research. Proteomics 7, 340–350 (2007).

Smyth, G. K. Linear models and empirical Bayes methods for assessing differential expression in microarray experiments. Stat. Appl. Genet. Mol. Biol. 3, article 3 (2004).

Engreitz, J. M. et al. RNA–RNA interactions enable specific targeting of noncoding RNAs to nascent pre-mRNAs and chromatin sites. Cell 159, 188–199 (2014).

Zarnegar, B. J. et al. irCLIP platform for efficient characterization of protein-RNA interactions. Nat. Methods 13, 489–492 (2016).

Hafner, M. et al. Transcriptome-wide identification of RNA-binding protein and microRNA target sites by PAR-CLIP. Cell 141, 129–141 (2010).

Van Nostrand, E. L. et al. Robust transcriptome-wide discovery of RNA-binding protein binding sites with enhanced CLIP (eCLIP). Nat. Methods 13, 508–514 (2016).

Kim, D. et al. TopHat2: accurate alignment of transcriptomes in the presence of insertions, deletions and gene fusions. Genome Biol. 14, R36 (2013).

Zhang, Y. et al. Model-based analysis of ChIP-seq (MACS). Genome Biol. 9, R137 (2008).

Bray, N. L., Pimentel, H., Melsted, P. & Pachter, L. Near-optimal probabilistic RNA-seq quantification. Nat. Biotechnol. 34, 525–527 (2016).

Love, M. I., Huber, W. & Anders, S. Moderated estimation of fold change and dispersion for RNA-seq data with DESeq2. Genome Biol. 15, 550 (2014).

Trincado, J. L. et al. SUPPA2: fast, accurate, and uncertainty-aware differential splicing analysis across multiple conditions. Genome Biol. 19, 40 (2018).

Hu, Y. et al. DiffSplice: the genome-wide detection of differential splicing events with RNA-seq. Nucleic Acids Res. 41, e39 (2013).

GTEx Consortium. The Genotype-Tissue Expression (GTEx) pilot analysis: multitissue gene regulation in humans. Science 348, 648–660 (2015).

Brawand, D. et al. The evolution of gene expression levels in mammalian organs. Nature 478, 343–348 (2011).

Merkin, J., Russell, C., Chen, P. & Burge, C. B. Evolutionary dynamics of gene and isoform regulation in mammalian tissues. Science 338, 1593–1599 (2012).

Chen, J. et al. Evolutionary analysis across mammals reveals distinct classes of long non-coding RNAs. Genome Biol. 17, 19 (2016).

Dobin, A. et al. STAR: ultrafast universal RNA-seq aligner. Bioinformatics 29, 15–21 (2013).

Zerbino, D. R. et al. Ensembl 2018. Nucleic Acids Res. 46, D754–D761 (2017).

Pertea, M. et al. StringTie enables improved reconstruction of a transcriptome from RNA-seq reads. Nat. Biotechnol. 33, 290–295 (2015).

Katoh, K. & Standley, D. M. MAFFT multiple sequence alignment software version 7: improvements in performance and usability. Mol. Biol. Evol. 30, 772–780 (2013).

Mueller, F. et al. FISH-quant: automatic counting of transcripts in 3D FISH images. Nat. Methods 10, 277–278 (2013).

Kamentsky, L. et al. Improved structure, function and compatibility for CellProfiler: modular high-throughput image analysis software. Bioinformatics 27, 1179–1180 (2011).
Acknowledgements
We thank C. A. McHugh for help setting up RAP MS; K. A. Knouse for help imaging mitotic cells; C. W. Garvie for help with size-exclusion chromatography; L. Ludwig for help with cell-cycle data visualization; L. Gaffney for artwork; T. Wang, B. Cleary, S. R. Grossman, M. Yassour, C. M. Vockley, B. Cimini, K. W. Karhohs, M. Doan, S. A. Myers, D. R. Mani and V. G. Sankaran for discussions. M.M. is supported by a Deutsche Forschungsgemeinschaft (DFG) Research Fellowship. J.M.E. is supported by the Harvard Society of Fellows. M.G. is supported by an NIH Director's Early Independence Award (DP5OD012190), the NIH 4DN program Nucleome Project (U01 DA040612 and U01 HL130007), the New York Stem Cell Foundation, the Edward Mallinckrodt Foundation, Sontag Foundation, Searle Scholars Program, Pew-Steward Scholars program and funds from the California Institute of Technology. M.G. is a NYSCF-Robertson Investigator. Work in the Lander Laboratory is supported by the Broad Institute.
Reviewer information
Nature thanks R. Bonasio, S. Diederichs and the other anonymous reviewer(s) for their contribution to the peer review of this work.
Ethics declarations
Competing interests
The Broad Institute holds patents and has filed patent applications on technologies related to other aspects of CRISPR.
Additional information
Publisher's note: Springer Nature remains neutral with regard to jurisdictional claims in published maps and institutional affiliations.
Extended data figures and tables
Supplementary information
About this article
Cite this article
Munschauer, M., Nguyen, C.T., Sirokman, K. et al. The NORAD lncRNA assembles a topoisomerase complex critical for genome stability. Nature 561, 132–136 (2018). https://doi.org/10.1038/s41586-018-0453-z
Received:

Accepted:

Published:

Issue Date:

DOI: https://doi.org/10.1038/s41586-018-0453-z
Keywords
Antisense Purification

Replication Fork Velocity

Crosslinking And Immunoprecipitation (CLIP)

Supplemented Cell Culture Medium

Pumilio Proteins (PUM2)
Comments
By submitting a comment you agree to abide by our Terms and Community Guidelines. If you find something abusive or that does not comply with our terms or guidelines please flag it as inappropriate.