Abstract
Differences between female and male brains exist across the animal kingdom and extend from molecular to anatomical features. Here we show that sexually dimorphic anatomy, gene expression and function in the nervous system can be modulated by past experiences. In the nematode Caenorhabditis elegans, sexual differentiation entails the sex-specific pruning of synaptic connections between neurons that are shared by both sexes, giving rise to sexually dimorphic circuits in adult animals1. We discovered that starvation during juvenile stages is memorized in males to suppress the emergence of sexually dimorphic synaptic connectivity. These circuit changes result in increased chemosensory responsiveness in adult males following juvenile starvation. We find that an octopamine-mediated starvation signal dampens the production of serotonin (5-HT) to convey the memory of starvation. Serotonin production is monitored by a 5-HT1A serotonin receptor homologue that acts cell-autonomously to promote the pruning of sexually dimorphic synaptic connectivity under well-fed conditions. Our studies demonstrate how life history shapes neurotransmitter production, synaptic connectivity and behavioural output in a sexually dimorphic circuit.
Access options
Access Nature and 54 other Nature Portfolio journals
Get Nature+, our best-value online-access subscription
$29.99 / 30 days
cancel any time
Subscribe to this journal
Receive 51 print issues and online access
$199.00 per year
only $3.90 per issue
Rent or buy this article
Prices vary by article type
from$1.95
to$39.95
Prices may be subject to local taxes which are calculated during checkout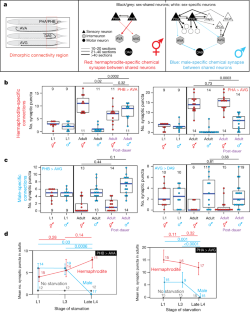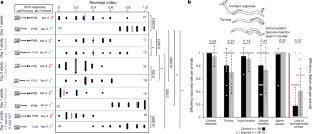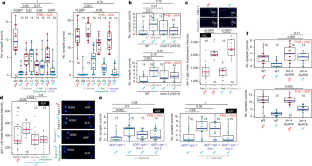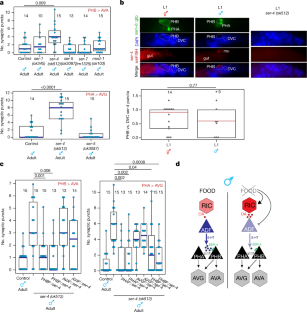 References
Oren-Suissa, M., Bayer, E. A. & Hobert, O. Sex-specific pruning of neuronal synapses in Caenorhabditis elegans. Nature 533, 206–211 (2016).

Barr, M. M., García, L. R. & Portman, D. S. Sexual dimorphism and sex differences in Caenorhabditis elegans neuronal development and behavior. Genetics 208, 909–935 (2018).

White, J. G., Southgate, E., Thomson, J. N. & Brenner, S. The structure of the nervous system of the nematode Caenorhabditis elegans. Phil. Trans. R. Soc. Lond. B 314, 1–340 (1986).

Jarrell, T. A. et al. The connectome of a decision-making neural network. Science 337, 437–444 (2012).

Hilliard, M. A., Bargmann, C. I. & Bazzicalupo, P. C. elegans responds to chemical repellents by integrating sensory inputs from the head and the tail. Curr. Biol. 12, 730–734 (2002).

Lipton, J., Kleemann, G., Ghosh, R., Lints, R. & Emmons, S. W. Mate searching in Caenorhabditis elegans: a genetic model for sex drive in a simple invertebrate. J. Neurosci. 24, 7427–7434 (2004).

Liu, K. S. & Sternberg, P. W. Sensory regulation of male mating behavior in Caenorhabditis elegans. Neuron 14, 79–89 (1995).

Sherlekar, A. L. et al. The C. elegans male exercises directional control during mating through cholinergic regulation of sex-shared command interneurons. PLoS ONE 8, e60597 (2013).

Goldstein, J. L. et al. Surviving starvation: essential role of the ghrelin-growth hormone axis. Cold Spring Harb. Symp. Quant. Biol. 76, 121–127 (2011).

Churgin, M. A., McCloskey, R. J., Peters, E. & Fang-Yen, C. Antagonistic serotonergic and octopaminergic neural circuits mediate food-dependent locomotory behavior in Caenorhabditis elegans. J. Neurosci. 37, 7811–7823 (2017).

Harris, G. et al. The monoaminergic modulation of sensory-mediated aversive responses in Caenorhabditis elegans requires glutamatergic/peptidergic cotransmission. J. Neurosci. 30, 7889–7899 (2010).

Jafari, G., Xie, Y., Kullyev, A., Liang, B. & Sze, J. Y. Regulation of extrasynaptic 5-HT by serotonin reuptake transporter function in 5-HT-absorbing neurons underscores adaptation behavior in Caenorhabditis elegans. J. Neurosci. 31, 8948–8957 (2011).

Alkema, M. J., Hunter-Ensor, M., Ringstad, N. & Horvitz, H. R. Tyramine functions independently of octopamine in the Caenorhabditis elegans nervous system. Neuron 46, 247–260 (2005).

Tao, J., Ma, Y. C., Yang, Z. S., Zou, C. G. & Zhang, K. Q. Octopamine connects nutrient cues to lipid metabolism upon nutrient deprivation. Sci. Adv. 2, e1501372 (2016).

Liang, B., Moussaif, M., Kuan, C. J., Gargus, J. J. & Sze, J. Y. Serotonin targets the DAF-16/FOXO signaling pathway to modulate stress responses. Cell Metab. 4, 429–440 (2006).

Noble, T., Stieglitz, J. & Srinivasan, S. An integrated serotonin and octopamine neuronal circuit directs the release of an endocrine signal to control C. elegans body fat. Cell Metab. 18, 672–684 (2013).

Carre-Pierrat, M. et al. Characterization of the Caenorhabditis elegans G protein-coupled serotonin receptors. Invert. Neurosci. 6, 189–205 (2006).

Harris, G. P. et al. Three distinct amine receptors operating at different levels within the locomotory circuit are each essential for the serotonergic modulation of chemosensation in Caenorhabditis elegans. J. Neurosci. 29, 1446–1456 (2009).

Gürel, G., Gustafson, M. A., Pepper, J. S., Horvitz, H. R. & Koelle, M. R. Receptors and other signaling proteins required for serotonin control of locomotion in Caenorhabditis elegans. Genetics 192, 1359–1371 (2012).

Riad, M. et al. Somatodendritic localization of 5-HT1A and preterminal axonal localization of 5-HT1B serotonin receptors in adult rat brain. J. Comp. Neurol. 417, 181–194 (2000).

Lajud, N. & Torner, L. Early life stress and hippocampal neurogenesis in the neonate: sexual dimorphism, long term consequences and possible mediators. Front. Mol. Neurosci. 8, 3 (2015).

Houwing, D. J., Buwalda, B., van der Zee, E. A., de Boer, S. F. & Olivier, J. D. A. The serotonin transporter and early life stress: translational perspectives. Front. Cell. Neurosci. 11, 117 (2017).

van den Hove, D. L. et al. Differential effects of prenatal stress in 5-Htt deficient mice: towards molecular mechanisms of gene × environment interactions. PLoS ONE 6, e22715 (2011).

Zheng, X., Chung, S., Tanabe, T. & Sze, J. Y. Cell-type specific regulation of serotonergic identity by the C. elegans LIM-homeodomain factor LIM-4. Dev. Biol. 286, 618–628 (2005).

Brenner, S. The genetics of Caenorhabditis elegans. Genetics 77, 71–94 (1974).

Feinberg, E. H. et al. GFP reconstitution across synaptic partners (GRASP) defines cell contacts and synapses in living nervous systems. Neuron 57, 353–363 (2008).

Desbois, M., Cook, S. J., Emmons, S. W. & Bülow, H. E. Directional trans-synaptic labeling of specific neuronal connections in live animals. Genetics 200, 697–705 (2015).

Ji, N. & van Oudenaarden, A. Single molecule fluorescent in situ hybridization (smFISH) of C. elegans worms and embryos. WormBook https://doi.org/10.1895/wormbook.1.153.1 (2012).

Zhang, F. et al. The LIM and POU homeobox genes ttx-3 and unc-86 act as terminal selectors in distinct cholinergic and serotonergic neuron types. Development 141, 422–435 (2014).
Acknowledgements
We thank Q. Chen for generating transgenic strains, K. Ashrafi for providing DNA constructs, the CGC (supported by the NIH P40 OD010440) for strains and members of the Hobert laboratory, I. Greenwald, and M. Oren-Suissa for comments on the manuscript. This work was supported by the HHMI and NIH (R37NS039996, O.H., F31NS096863, E.A.B.).
Ethics declarations
Competing interests
The authors declare no competing interests.
Additional information
Publisher's note: Springer Nature remains neutral with regard to jurisdictional claims in published maps and institutional affiliations.
Extended data figures and tables
Supplementary information
This file contains Supplementary Table 1: Transgenic strains used in this study. The strains are ordered as they appear in each figure and, where relevant, are also given a descriptive name.
About this article
Cite this article
Bayer, E.A., Hobert, O. Past experience shapes sexually dimorphic neuronal wiring through monoaminergic signalling. Nature 561, 117–121 (2018). https://doi.org/10.1038/s41586-018-0452-0
Received:

Accepted:

Published:

Issue Date:

DOI: https://doi.org/10.1038/s41586-018-0452-0
Keywords
This article is cited by
Ardalan Hendi
Mizuki Kurashina
Kota Mizumoto

Cellular and Molecular Life Sciences (2019)
Comments
By submitting a comment you agree to abide by our Terms and Community Guidelines. If you find something abusive or that does not comply with our terms or guidelines please flag it as inappropriate.