Abstract
Barrier tissue dysfunction is a fundamental feature of chronic human inflammatory diseases1. Specialized subsets of epithelial cells—including secretory and ciliated cells—differentiate from basal stem cells to collectively protect the upper airway2,3,4. Allergic inflammation can develop from persistent activation5 of type 2 immunity6 in the upper airway, resulting in chronic rhinosinusitis, which ranges in severity from rhinitis to severe nasal polyps7. Basal cell hyperplasia is a hallmark of severe disease7,8,9, but it is not known how these progenitor cells2,10,11 contribute to clinical presentation and barrier tissue dysfunction in humans. Here we profile primary human surgical chronic rhinosinusitis samples (18,036 cells, n = 12) that span the disease spectrum using Seq-Well for massively parallel single-cell RNA sequencing12, report transcriptomes for human respiratory epithelial, immune and stromal cell types and subsets from a type 2 inflammatory disease, and map key mediators. By comparison with nasal scrapings (18,704 cells, n = 9), we define signatures of core, healthy, inflamed and polyp secretory cells. We reveal marked differences between the epithelial compartments of the non-polyp and polyp cellular ecosystems, identifying and validating a global reduction in cellular diversity of polyps characterized by basal cell hyperplasia, concomitant decreases in glandular cells, and phenotypic shifts in secretory cell antimicrobial expression. We detect an aberrant basal progenitor differentiation trajectory in polyps, and propose cell-intrinsic13, epigenetic14,15 and extrinsic factors11,16,17 that lock polyp basal cells into this uncommitted state. Finally, we functionally demonstrate that ex vivo cultured basal cells retain intrinsic memory of IL-4/IL-13 exposure, and test the potential for clinical blockade of the IL-4 receptor α-subunit to modify basal and secretory cell states in vivo. Overall, we find that reduced epithelial diversity stemming from functional shifts in basal cells is a key characteristic of type 2 immune-mediated barrier tissue dysfunction. Our results demonstrate that epithelial stem cells may contribute to the persistence of human disease by serving as repositories for allergic memories.
Relevant articles
Open Access articles citing this article.
Merlijn van Breugel

,

Cancan Qi

…

Cheng-Jian Xu

Nature Communications Open Access 01 December 2022

Benedikt Jaeger

,

Jonas Christian Schupp

…

Antje Prasse

Nature Communications Open Access 26 September 2022

Franziska Hartung

&

Julia Esser-von Bieren

Mucosal Immunology Open Access 05 September 2022
Access options
Subscribe to Nature+
Get immediate online access to Nature and 55 other Nature journal
Subscribe to Journal
Get full journal access for 1 year
$199.00
only $3.90 per issue
All prices are NET prices.
VAT will be added later in the checkout.
Tax calculation will be finalised during checkout.
Buy article
Get time limited or full article access on ReadCube.
$32.00
All prices are NET prices.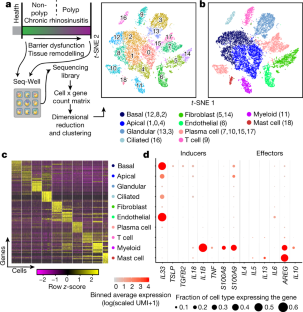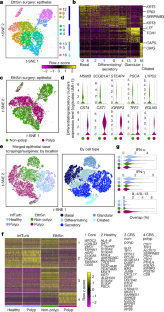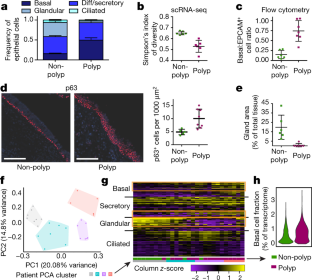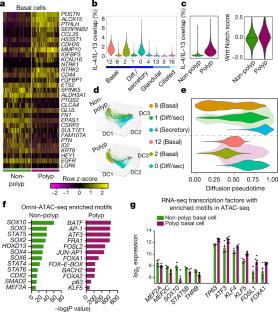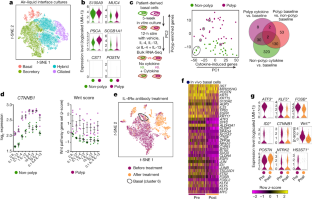 References
Schleimer, R. P. & Berdnikovs, S. Etiology of epithelial barrier dysfunction in patients with type 2 inflammatory diseases. J. Allergy Clin. Immunol. 139, 1752–1761 (2017).

Hogan, B. L. et al. Repair and regeneration of the respiratory system: complexity, plasticity, and mechanisms of lung stem cell function. Cell Stem Cell 15, 123–138 (2014).

Whitsett, J. A. & Alenghat, T. Respiratory epithelisal cells orchestrate pulmonary innate immunity. Nat. Immunol. 16, 27–35 (2015).

Iwasaki, A., Foxman, E. F. & Molony, R. D. Early local immune defences in the respiratory tract. Nat. Rev. Immunol. 17, 7–20 (2017).

Holtzman, M. J., Byers, D. E., Alexander-Brett, J. & Wang, X. The role of airway epithelial cells and innate immune cells in chronic respiratory disease. Nat. Rev. Immunol. 14, 686–698 (2014).

Iwasaki, A. & Medzhitov, R. Control of adaptive immunity by the innate immune system. Nat. Immunol. 16, 343–353 (2015).

Schleimer, R. P. Immunopathogenesis of chronic rhinosinusitis and nasal polyposis. Annu. Rev. Pathol. 12, 331–357 (2017).

Zhao, L. et al. Increase of poorly proliferated p63+/Ki67+ basal cells forming multiple layers in the aberrant remodeled epithelium in nasal polyps. Allergy 72, 975–984 (2017).

Hansel, F. K. Clinical and histopathological studies of the nose and sinuses in allergy. J. Allergy 1, 43–70 (1929).

Rock, J. R. et al. Basal cells as stem cells of the mouse trachea and human airway epithelium. Proc. Natl Acad. Sci. USA 106, 12771–12775 (2009).

Karin, M. & Clevers, H. Reparative inflammation takes charge of tissue regeneration. Nature 529, 307–315 (2016).

Gierahn, T. M. et al. Seq-Well: portable, low-cost RNA sequencing of single cells at high throughput. Nat. Methods 14, 395–398 (2017).

Naik, S. et al. Inflammatory memory sensitizes skin epithelial stem cells to tissue damage. Nature 550, 475–480 (2017).

Netea, M. G. et al. Trained immunity: a program of innate immune memory in health and disease. Science 352, aaf1098 (2016).

Rochman, M. et al. Neurotrophic tyrosine kinase receptor 1 is a direct transcriptional and epigenetic target of IL-13 involved in allergic inflammation. Mucosal Immunol. 8, 785–798 (2015).

von Moltke, J., Ji, M., Liang, H. E. & Locksley, R. M. Tuft-cell-derived IL-25 regulates an intestinal ILC2-epithelial response circuit. Nature 529, 221–225 (2016).

Lindemans, C. A. et al. Interleukin-22 promotes intestinal-stem-cell-mediated epithelial regeneration. Nature 528, 560–564 (2015).

Cheng, L. E. & Locksley, R. M. Allergic inflammation–innately homeostatic. Cold Spring Harb. Perspect. Biol. 7, a016352 (2014).

Palm, N. W., Rosenstein, R. K. & Medzhitov, R. Allergic host defences. Nature 484, 465–472 (2012).

Gieseck, R. L. III, Wilson, M. S. & Wynn, T. A. Type 2 immunity in tissue repair and fibrosis. Nat. Rev. Immunol. 18, 62–76 (2017).

von Andrian, U. H. & Mackay, C. R. T-cell function and migration. Two sides of the same coin. N. Engl. J. Med. 343, 1020–1034 (2000).

Allakhverdi, Z. et al. Thymic stromal lymphopoietin is released by human epithelial cells in response to microbes, trauma, or inflammation and potently activates mast cells. J. Exp. Med. 204, 253–258 (2007).

Wambre, E. et al. A phenotypically and functionally distinct human TH2 cell subpopulation is associated with allergic disorders. Sci. Transl. Med. 9 (2017).

Portelli, M. A., Hodge, E. & Sayers, I. Genetic risk factors for the development of allergic disease identified by genome-wide association. Clin. Exp. Allergy 45, 21–31 (2015).

Zuo, W. L. et al. Ontogeny and biology of human small airway epithelial club cells. Am. J. Respir. Crit. Care Med. (2018).

Boscke, R. et al. Wnt signaling in chronic rhinosinusitis with nasal polyps. Am. J. Respir. Cell Mol. Biol. 56, 575–584 (2017).

Nusse, R. & Clevers, H. Wnt/β-catenin signaling, disease, and emerging therapeutic modalities. Cell 169, 985–999 (2017).

Ostuni, R. et al. Latent enhancers activated by stimulation in differentiated cells. Cell 152, 157–171 (2013).

Lambrecht, B. N. & Hammad, H. The immunology of the allergy epidemic and the hygiene hypothesis. Nat. Immunol. 18, 1076–1083 (2017).

Beyaz, S. et al. High-fat diet enhances stemness and tumorigenicity of intestinal progenitors. Nature 531, 53–58 (2016).

Meltzer, E. O. et al. Rhinosinusitis: establishing definitions for clinical research and patient care. J. Allergy Clin. Immunol. 114, 155–212 (2004).

Dhariwal, J. et al. Mucosal type 2 innate lymphoid cells are a key component of the allergic response to aeroallergens. Am. J. Respir. Crit. Care Med. 195, 1586–1596 (2017).

Proud, D., Sanders, S. P. & Wiehler, S. Human rhinovirus infection induces airway epithelial cell production of human β-defensin 2 both in vitro and in vivo. J. Immunol. 172, 4637–4645 (2004).

Pipkorn, U. & Karlsson, G. Methods for obtaining specimens from the nasal mucosa for morphological and biochemical analysis. Eur. Respir. J. 1, 856–862 (1988).

Wenzel, S. et al. Dupilumab in persistent asthma with elevated eosinophil levels. N. Engl. J. Med. 368, 2455–2466 (2013).

Beck, L. A. et al. Dupilumab treatment in adults with moderate-to-severe atopic dermatitis. N. Engl. J. Med. 371, 130–139 (2014).

Bachert, C. et al. Effect of subcutaneous dupilumab on nasal polyp burden in patients with chronic sinusitis and nasal polyposis: a randomized clinical trial. J. Am. Med. Assoc. 315, 469–479 (2016).

Dwyer, D. F., Barrett, N. A., Austen, K. F. & Immunological Genome Project Consortium. Expression profiling of constitutive mast cells reveals a unique identity within the immune system. Nat. Immunol. 17, 878–887 (2016).

Macosko, E. Z. et al. Highly parallel genome-wide expression profiling of individual cells using nanoliter droplets. Cell 161, 1202–1214 (2015).

Satija, R., Farrell, J. A., Gennert, D., Schier, A. F. & Regev, A. Spatial reconstruction of single-cell gene expression data. Nat. Biotechnol. 33, 495–502 (2015).

Poposki, J. A. et al. Group 2 innate lymphoid cells are elevated and activated in chronic rhinosinusitis with nasal polyps. Immun. Inflamm. Dis. 5, 233–243 (2017).

Butler, A., Hoffman, P., Smibert, P., Papalexi, E. & Satija, R. Integrating single-cell transcriptomic data across different conditions, technologies, and species. Nat. Biotechnol. 36, 411–420 (2018).

McDavid, A. et al. Data exploration, quality control and testing in single-cell qPCR-based gene expression experiments. Bioinformatics 29, 461–467 (2013).

Hackett, N. R. et al. The human airway epithelial basal cell transcriptome. PLoS One 6, e18378 (2011).

Giovannini-Chami, L. et al. Distinct epithelial gene expression phenotypes in childhood respiratory allergy. Eur. Respir. J. 39, 1197–1205 (2012).

Naeem, S., Thompson, L. J., Lawler, S. P., Lawton, J. H. & Woodfin, R. M. Declining biodiversity can alter the performance of ecosystems. Nature 368, 734–737 (1994).

Simpson, E. H. Measurement of diversity. Nature 163, 688 (1949).

Trombetta, J. J. et al. Preparation of single-cell RNA-seq libraries for next generation sequencing. Curr. Protoc. Mol. Biol. 107, 4.22.1–4.22.17 (2014).

Dobin, A. et al. STAR: ultrafast universal RNA-seq aligner. Bioinformatics 29, 15–21 (2013).

Li, B. & Dewey, C. N. RSEM: accurate transcript quantification from RNA-seq data with or without a reference genome. BMC Bioinformatics 12, 323 (2011).

Love, M. I., Huber, W. & Anders, S. Moderated estimation of fold change and dispersion for RNA-seq data with DESeq2. Genome Biol. 15, 550 (2014).

Olender, T. et al. The human olfactory transcriptome. BMC Genomics 17, 619 (2016).

Wang, W. et al. Transcriptome analysis reveals distinct gene expression profiles in eosinophilic and noneosinophilic chronic rhinosinusitis with nasal polyps. Sci. Rep. 6, 26604 (2016).

Haghverdi, L., Buttner, M., Wolf, F. A., Buettner, F. & Theis, F. J. Diffusion pseudotime robustly reconstructs lineage branching. Nat. Methods 13, 845–848 (2016).

Buenrostro, J. D. et al. Single-cell chromatin accessibility reveals principles of regulatory variation. Nature 523, 486–490 (2015).

Corces, M. R. et al. An improved ATAC-seq protocol reduces background and enables interrogation of frozen tissues. Nat. Methods 14, 959–962 (2017).

Heinz, S. et al. Simple combinations of lineage-determining transcription factors prime cis-regulatory elements required for macrophage and B cell identities. Mol. Cell 38, 576–589 (2010).

Fulcher, M. L., Gabriel, S., Burns, K. A., Yankaskas, J. R. & Randell, S. H. Well-differentiated human airway epithelial cell cultures. Methods Mol. Med. 107, 183–206 (2005).

Mead, B. E. et al. Harnessing single-cell genomics to improve the physiological fidelity of organoid-derived cell types. BMC Biol. 16, 62 (2018).

Gosselin, D. et al. An environment-dependent transcriptional network specifies human microglia identity. Science 356, eaal3222 (2017).
Acknowledgements
We thank S.L. Carroll for technical support with Seq-Well experiments; H. Raff for RNA extraction; J. Lai for histology; A. Chicoine of the Brigham and Women's Human Immunology Flow Core for assistance with isolating cells; L. Ludwig, J. Hammelman and J. Buenrostro for advice on reagents and analysis for ATAC-seq; D. Lingwood, U.H. von Andrian, B. Walker, S. Pillai, N. Yosef, S. Rakoff-Nahoum, S. Beyaz, C. Borges, M.B. Cole, N. Yosef, R. Satija and C. Bingle for discussions and comments on the manuscript; Shalek Laboratory members for experimental and computational advice; and M. Morrison for administrative support. A.K.S. was supported by the Searle Scholars Program, the Beckman Young Investigator Program, the Pew-Stewart Scholars, a Sloan Fellowship in Chemistry, NIH grants 1DP2OD020839, 2U19AI089992, 1U54CA217377, P01AI039671, 5U24AI118672, 2RM1HG006193, 1R33CA202820, 2R01HL095791, 1R01AI138546, 1R01HL126554, 1R01DA046277, 2R01HL095791, and Bill and Melinda Gates Foundation grants OPP1139972 and BMGF OPP1116944; N.A.B. by NIH R01HL120952 and Steven and Judy Kaye Young Innovators Award; T.M.L. by NIH R01HL128241; J.A.B. by NIH U19AI095219, R01AI078908, R01AI136041, R01HLI136209; D.F.D. by T32AI007306 (to J.A.B.); K.M.B. by NIH AADCRC Opportunity Fund Award U19AI070535; and K.N.C by NIH K23AI118804. S.K.N. was supported by NIH 2R01GM081871-09 to B.B. Support was also provided from the Koch Institute Support (core) Grant P30-CA14051 from the NCI, and Ragon Institute NIH-funded Centers for AIDS Research (P30 AI060354, Harvard University Center for AIDS Research), supported by NIH co-funding and participating Institutes and Centers: NIAID, NCI, NICHD, NHLBI, NIDA, NIMH, NIA, FIC, and OAR. J.O.M. is a HHMI Damon Runyon Cancer Research Foundation Fellow (DRG-2274-16), and thanks S. Montanes-Ordovas for encouraging him to work on human allergic disease.
Reviewer information
Nature thanks R. Schleimer and the other anonymous reviewer(s) for their contribution to the peer review of this work.
Ethics declarations
Competing interests
The authors declare no competing interests.
Additional information
Publisher's note: Springer Nature remains neutral with regard to jurisdictional claims in published maps and institutional affiliations.
Extended data figures and tables
Supplementary information
About this article
Cite this article
Ordovas-Montanes, J., Dwyer, D.F., Nyquist, S.K. et al. Allergic inflammatory memory in human respiratory epithelial progenitor cells. Nature 560, 649–654 (2018). https://doi.org/10.1038/s41586-018-0449-8
Received:

Accepted:

Published:

Issue Date:

DOI: https://doi.org/10.1038/s41586-018-0449-8
Comments
By submitting a comment you agree to abide by our Terms and Community Guidelines. If you find something abusive or that does not comply with our terms or guidelines please flag it as inappropriate.