Abstract
Mammalian cells are surrounded by neighbouring cells and extracellular matrix (ECM), which provide cells with structural support and mechanical cues that influence diverse biological processes1. The Hippo pathway effectors YAP (also known as YAP1) and TAZ (also known as WWTR1) are regulated by mechanical cues and mediate cellular responses to ECM stiffness2,3. Here we identified the Ras-related GTPase RAP2 as a key intracellular signal transducer that relays ECM rigidity signals to control mechanosensitive cellular activities through YAP and TAZ. RAP2 is activated by low ECM stiffness, and deletion of RAP2 blocks the regulation of YAP and TAZ by stiffness signals and promotes aberrant cell growth. Mechanistically, matrix stiffness acts through phospholipase Cγ1 (PLCγ1) to influence levels of phosphatidylinositol 4,5-bisphosphate and phosphatidic acid, which activates RAP2 through PDZGEF1 and PDZGEF2 (also known as RAPGEF2 and RAPGEF6). At low stiffness, active RAP2 binds to and stimulates MAP4K4, MAP4K6, MAP4K7 and ARHGAP29, resulting in activation of LATS1 and LATS2 and inhibition of YAP and TAZ. RAP2, YAP and TAZ have pivotal roles in mechanoregulated transcription, as deletion of YAP and TAZ abolishes the ECM stiffness-responsive transcriptome. Our findings show that RAP2 is a molecular switch in mechanotransduction, thereby defining a mechanosignalling pathway from ECM stiffness to the nucleus.
Access options
Subscribe to Journal
Get full journal access for 1 year
$199.00
only $3.90 per issue
All prices are NET prices.
VAT will be added later in the checkout.
Tax calculation will be finalised during checkout.
Rent or Buy article
Get time limited or full article access on ReadCube.
from$8.99
All prices are NET prices.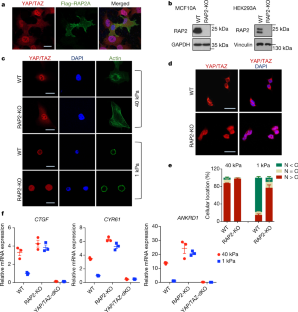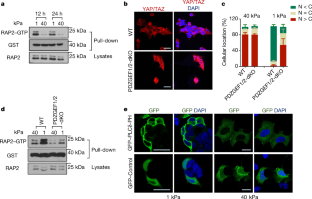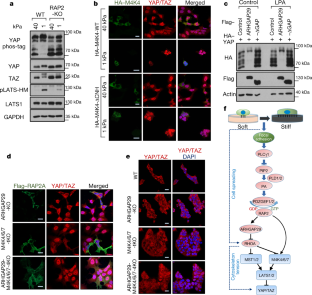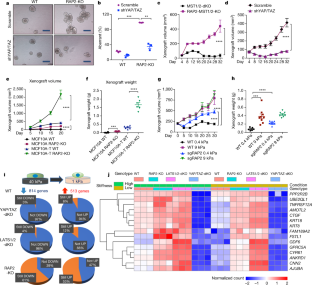 References
1.

Humphrey, J. D., Dufresne, E. R. & Schwartz, M. A. Mechanotransduction and extracellular matrix homeostasis. Nat. Rev. Mol. Cell Biol. 15, 802–812 (2014).

2.

Meng, Z., Moroishi, T. & Guan, K. L. Mechanisms of Hippo pathway regulation. Genes Dev. 30, 1–17 (2016).

3.

Halder, G., Dupont, S. & Piccolo, S. Transduction of mechanical and cytoskeletal cues by YAP and TAZ. Nat. Rev. Mol. Cell Biol. 13, 591–600 (2012).

4.

Aragona, M. et al. A mechanical checkpoint controls multicellular growth through YAP/TAZ regulation by actin-processing factors. Cell 154, 1047–1059 (2013).

5.

Codelia, V. A., Sun, G. & Irvine, K. D. Regulation of YAP by mechanical strain through Jnk and Hippo signaling. Curr. Biol. 24, 2012–2017 (2014).

6.

Wada, K., Itoga, K., Okano, T., Yonemura, S. & Sasaki, H. Hippo pathway regulation by cell morphology and stress fibers. Development 138, 3907–3914 (2011).

7.

Dupont, S. et al. Role of YAP/TAZ in mechanotransduction. Nature 474, 179–183 (2011).

8.

Cherfils, J. & Zeghouf, M. Regulation of small GTPases by GEFs, GAPs, and GDIs. Physiol. Rev. 93, 269–309 (2013).

9.

Wei, S. C. et al. Matrix stiffness drives epithelial–mesenchymal transition and tumour metastasis through a TWIST1–G3BP2 mechanotransduction pathway. Nat. Cell Biol. 17, 678–688 (2015).

10.

Benham-Pyle, B. W., Pruitt, B. L. & Nelson, W. J. Mechanical strain induces E-cadherin-dependent Yap1 and β-catenin activation to drive cell cycle entry. Science 348, 1024–1027 (2015).

11.

de Rooij, J. et al. PDZ-GEF1, a guanine nucleotide exchange factor specific for Rap1 and Rap2. J. Biol. Chem. 274, 38125–38130 (1999).

12.

Monteiro, A. C. et al. Trans-dimerization of JAM-A regulates Rap2 and is mediated by a domain that is distinct from the cis-dimerization interface. Mol. Biol. Cell 25, 1574–1585 (2014).

13.

Gloerich, M. et al. Rap2A links intestinal cell polarity to brush border formation. Nat. Cell Biol. 14, 793–801 (2012).

14.

Carloni, V., Romanelli, R. G., Pinzani, M., Laffi, G. & Gentilini, P. Focal adhesion kinase and phospholipase C gamma involvement in adhesion and migration of human hepatic stellate cells. Gastroenterology 112, 522–531 (1997).

15.

Zhang, X. et al. Focal adhesion kinase promotes phospholipase C-γ1 activity. Proc. Natl Acad. Sci. USA 96, 9021–9026 (1999).

16.

Plouffe, S. W. et al. Characterization of Hippo pathway components by gene inactivation. Mol. Cell 64, 993–1008 (2016).

17.

Meng, Z. et al. MAP4K family kinases act in parallel to MST1/2 to activate LATS1/2 in the Hippo pathway. Nat. Commun. 6, 8357 (2015).

18.

Myagmar, B. E. et al. PARG1, a protein-tyrosine phosphatase-associated RhoGAP, as a putative Rap2 effector. Biochem. Biophys. Res. Commun. 329, 1046–1052 (2005).

19.

Machida, N. et al. Mitogen-activated protein kinase kinase kinase kinase 4 as a putative effector of Rap2 to activate the c-Jun N-terminal kinase. J. Biol. Chem. 279, 15711–15714 (2004).

20.

Taira, K. et al. The Traf2- and Nck-interacting kinase as a putative effector of Rap2 to regulate actin cytoskeleton. J. Biol. Chem. 279, 49488–49496 (2004).

21.

Qiao, Y. et al. YAP regulates actin dynamics through ARHGAP29 and promotes metastasis. Cell Reports 19, 1495–1502 (2017).

22.

Porazinski, S. et al. YAP is essential for tissue tension to ensure vertebrate 3D body shape. Nature 521, 217–221 (2015).

23.

Li, Q. et al. Ingestion of food particles regulates the mechanosensing misshapen–yorkie pathway in Drosophila intestinal growth. Dev. Cell 45, 433–449 (2018).

24.

Debnath, J., Muthuswamy, S. K. & Brugge, J. S. Morphogenesis and oncogenesis of MCF-10A mammary epithelial acini grown in three-dimensional basement membrane cultures. Methods 30, 256–268 (2003).

25.

Yoh, K. E. et al. Repression of p63 and induction of EMT by mutant Ras in mammary epithelial cells. Proc. Natl Acad. Sci. USA 113, E6107–E6116 (2016).

26.

Dawson, P. J., Wolman, S. R., Tait, L., Heppner, G. H. & Miller, F. R. MCF10AT: a model for the evolution of cancer from proliferative breast disease. Am. J. Pathol. 148, 313–319 (1996).

27.

Serban, M. A., Scott, A. & Prestwich, G. D. Use of hyaluronan-derived hydrogels for three-dimensional cell culture and tumor xenografts. Curr. Protoc. Cell Biol. Ch. 10, Unit 10 14 (2008).

28.

Levental, K. R. et al. Matrix crosslinking forces tumor progression by enhancing integrin signaling. Cell 139, 891–906 (2009).

29.

Wen, J. H. et al. Interplay of matrix stiffness and protein tethering in stem cell differentiation. Nat. Mater. 13, 979–987 (2014).

30.

Tse, J. R. & Engler, A. J. Preparation of hydrogel substrates with tunable mechanical properties. Curr. Protoc. Cell Biol. Ch. 10, Unit 10 16 (2010).

31.

Kaushik, G., Fuhrmann, A., Cammarato, A. & Engler, A. J. In situ mechanical analysis of myofibrillar perturbation and aging on soft, bilayered Drosophila myocardium. Biophys. J. 101, 2629–2637 (2011).

32.

Dobin, A. et al. STAR: ultrafast universal RNA-seq aligner. Bioinformatics 29, 15–21 (2013).

33.

Anders, S., Pyl, P. T. & Huber, W. HTSeq—a Python framework to work with high-throughput sequencing data. Bioinformatics 31, 166–169 (2015).

34.

Love, M. I., Huber, W. & Anders, S. Moderated estimation of fold change and dispersion for RNA-seq data with DESeq2. Genome Biol. 15, 550 (2014).

35.

Dennis, G. Jr et al. DAVID: Database for annotation, visualization, and integrated discovery. Genome Biol. 4, 3 (2003).
Acknowledgements
K.C.L., A.W.H., and S.W.P. are supported by the T32 GM007752 training grant, A.K. by T32AR060712, and J.K.P. by F32HL126406. K.-L.G. is supported by grants from the NIH (CA196878, CA217642, GM51586, DEO15964) as is A.J.E. (R21CA217735, R01CA206880). A.J.E. is also supported by NSF grant 1463689, and A.K. is supported by the NSF graduate research fellowship program and an ARCS/Roche Foundation Scholar Award in Life Science. H.W.P. is supported by KHIDI grant HI17C1560.
Reviewer information
Nature thanks M. Sudol, V. Weaver and the other anonymous reviewer(s) for their contribution to the peer review of this work.
Ethics declarations
Competing interests
K.-L.G. is a co-founder of Vivace Therapeutics. The other authors declare no competing interests.
Additional information
Publisher's note: Springer Nature remains neutral with regard to jurisdictional claims in published maps and institutional affiliations.
Extended data figures and tables
Supplementary information
This file contains Supplementary Tables 1-4 and Supplementary Figure 1 (the uncropped images of western blot data.). Supplementary Table 1 shows small GTPase screening for YAP/TAZ localization regulators (related to Fig. 1a, Extended Data Fig. 1a). HEK293A cells were transfected with plasmids expression small GTPase, and then seeded onto soft (1 kPa) and stiff (40 kPa) poly-acrylamide hydrogels. The cells were cultured on hydrogels for 24 hours, and then fixed and subjected to immunofluorescence staining with anti-YAP/TAZ antibodies. Supplementary Table 2 contains gene ontology analysis of gene regulated by ECM stiffness (related to Fig. 4i). The differentially expressed genes in HEK293A cells at 1 kPa and 40 kPa were analyzed for their biological functions. The results were derived from 3 biologically independent samples for each cell line at 1 or 40 kPa. Supplementary Table 3 contains gene ontology analysis of genes co-regulated by ECM stiffness, Hippo pathway, and RAP2 GTPase (related to Extended Data Fig. 10g,h). The genes enriched in Extended Data Fig. 10g,h were analyzed for their biological functions. The results were derived from 3 biologically independent samples for each cell line at 1 or 40 kPa. Supplementary Table 4 lists all the antibodies used in the study. The vendor information and the details of how the antibodies were used have been provided.
About this article
Cite this article
Meng, Z., Qiu, Y., Lin, K.C. et al. RAP2 mediates mechanoresponses of the Hippo pathway. Nature 560, 655–660 (2018). https://doi.org/10.1038/s41586-018-0444-0
Received:

Accepted:

Published:

Issue Date:
Comments
By submitting a comment you agree to abide by our Terms and Community Guidelines. If you find something abusive or that does not comply with our terms or guidelines please flag it as inappropriate.