Abstract
SIRT6 acts as a longevity protein in rodents1,2. However, its biological function in primates remains largely unknown. Here we generate a SIRT6-null cynomolgus monkey (Macaca fascicularis) model using a CRISPR–Cas9-based approach. SIRT6-deficient monkeys die hours after birth and exhibit severe prenatal developmental retardation. SIRT6 loss delays neuronal differentiation by transcriptionally activating the long non-coding RNA H19 (a developmental repressor), and we were able to recapitulate this process in a human neural progenitor cell differentiation system. SIRT6 deficiency results in histone hyperacetylation at the imprinting control region of H19, CTCF recruitment and upregulation of H19. Our results suggest that SIRT6 is involved in regulating development in non-human primates, and may provide mechanistic insight into human perinatal lethality syndrome.
Access options
Subscribe to Journal
Get full journal access for 1 year
$199.00
only $3.90 per issue
All prices are NET prices.
VAT will be added later in the checkout.
Tax calculation will be finalised during checkout.
Rent or Buy article
Get time limited or full article access on ReadCube.
from$8.99
All prices are NET prices.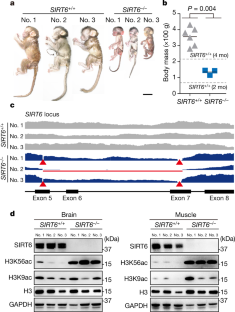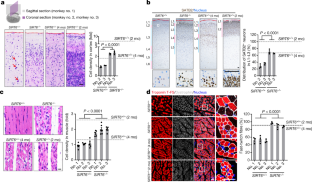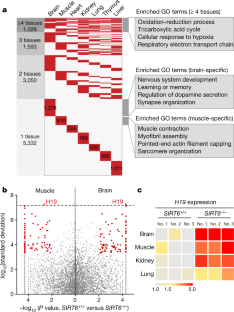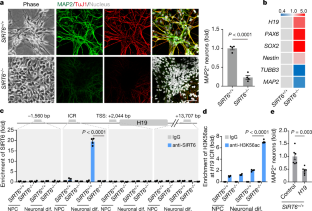 References
1.

Houtkooper, R. H., Pirinen, E. & Auwerx, J. Sirtuins as regulators of metabolism and healthspan. Nat. Rev. Mol. Cell Biol. 13, 225–238 (2012).

2.

Kanfi, Y. et al. The sirtuin SIRT6 regulates lifespan in male mice. Nature 483, 218–221 (2012).

3.

Niu, Y. et al. Generation of gene-modified cynomolgus monkey via Cas9/RNA-mediated gene targeting in one-cell embryos. Cell 156, 836–843 (2014).

4.

Wan, H. et al. One-step generation of p53 gene biallelic mutant cynomolgus monkey via the CRISPR/Cas system. Cell Res. 25, 258–261 (2015).

5.

Zuo, E. et al. One-step generation of complete gene knockout mice and monkeys by CRISPR/Cas9-mediated gene editing with multiple sgRNAs. Cell Res. 27, 933–945 (2017).

6.

Chalkiadaki, A. & Guarente, L. Sirtuins mediate mammalian metabolic responses to nutrient availability. Nat. Rev. Endocrinol. 8, 287–296 (2012).

7.

Kugel, S. et al. SIRT6 suppresses pancreatic cancer through control of Lin28b. Cell 165, 1401–1415 (2016)

8.

Schiaffino, S. & Reggiani, C. Fiber types in mammalian skeletal muscles. Physiol. Rev. 91, 1447–1531 (2011).

9.

Kugel, S. & Mostoslavsky, R. Chromatin and beyond: the multitasking roles for SIRT6. Trends Biochem. Sci. 39, 72–81 (2014).

10.

Giblin, W., Skinner, M. E. & Lombard, D. B. Sirtuins: guardians of mammalian healthspan. Trends Genet. 30, 271–286 (2014).

11.

Kernohan, K. D. et al. ATRX partners with cohesion and MeCP3 and contributes to developmental silencing of imprinted genes in the brain. Dev. Brain 18, 191−202 (2010).

12.

Gabory, A., Jammes, H. & Dandolo, L. The H19 locus: role of an imprinted non-coding RNA in growth and development. BioEssays 32, 473–480 (2010).

13.

Wakeling, E. L. et al. Diagnosis and management of Silver–Russell syndrome: first international consensus statement. Nat. Rev. Endocrinol. 13, 105–124 (2016).

14.

Pan, H. et al. SIRT6 safeguards human mesenchymal stem cells from oxidative stress by coactivating NRF2. Cell Res. 26, 190–205 (2016).

15.

Liu, G. H. et al. Progressive degeneration of human neural stem cells caused by pathogenic LRRK2. Nature 491, 603–607 (2012).

16.

Bell, A. C. & Felsenfeld, G. Methylation of a CTCF-dependent boundary controls imprinted expression of the Igf2 gene. Nature 405, 482–485 (2000).

17.

Kurukuti, S. et al. CTCF binding at the H19 imprinting control region mediates maternally inherited higher-order chromatin conformation to restrict enhancer access to Igf2. Proc. Natl Acad. Sci. USA 103, 10684–10689 (2006).

18.

Fedoriw, A. M., Stein, P., Svoboda, P., Schultz, R. M. & Bartolomei, M. S. Transgenic RNAi reveals essential function for CTCF in H19 gene imprinting. Science 303, 238–240 (2004).

19.

Schwer, B. et al. Neural sirtuin 6 (Sirt6) ablation attenuates somatic growth and causes obesity. Proc. Natl Acad. Sci. USA 107, 21790–21794 (2010).

20.

Ferrer, C. M. et al. An inactivating mutation in the histone deacetylase SIRT6 causes human perinatal lethality. Genes Dev. 32, 373–388 (2018).

21.

Yang, S. et al. Effects of rhFSH dose on ovarian follicular response, oocyte recovery and embryo development in rhesus monkeys. Theriogenology 67, 1194–1201 (2007).

22.

Niu, Y. et al. Transgenic rhesus monkeys produced by gene transfer into early-cleavage-stage embryos using a simian immunodeficiency virus-based vector. Proc. Natl Acad. Sci. USA 107, 17663–17667 (2010).

23.

Wang, H. et al. One-step generation of mice carrying mutations in multiple genes by CRISPR/Cas-mediated genome engineering. Cell 153, 910–918 (2013).

24.

Pyzocha, N. K., Ran, F. A., Hsu, P. D. & Zhang, F. RNA-guided genome editing of mammalian cells. Methods Mol. Biol. 1114, 269–277 (2014).

25.

Zhang, W. et al. A Werner syndrome stem cell model unveils heterochromatin alterations as a driver of human aging. Science 348, 1160–1163 (2015).

26.

Robinson, J. T. et al. Integrative genomics viewer. Nat. Biotechnol. 29, 24–26 (2011).

27.

Veres, A. et al. Low incidence of off-target mutations in individual CRISPR-Cas9 and TALEN targeted human stem cell clones detected by whole-genome sequencing. Cell Stem Cell 15, 27–30 (2014)

28.

Bae, S., Park, J. & Kim, J. S. Cas-OFFinder: a fast and versatile algorithm that searches for potential off-target sites of Cas9 RNA-guided endonucleases. Bioinformatics 30, 1473–1475 (2014).

29.

Mao, P. et al. Homologous recombination-dependent repair of telomeric DSBs in proliferating human cells. Nat. Commun. 7, 12154 (2016).

30.

Kim, D., Langmead, B. & Salzberg, S. L. HISAT: a fast spliced aligner with low memory requirements. Nat. Methods 12, 357–360 (2015).

31.

Trapnell, C. et al. Transcript assembly and quantification by RNA-seq reveals unannotated transcripts and isoform switching during cell differentiation. Nat. Biotechnol. 28, 511–515 (2010).

32.

Huang, D. W., Sherman, B. T. & Lempicki, R. A. Systematic and integrative analysis of large gene lists using DAVID bioinformatics resources. Nat. Protocols 4, 44–57 (2009).

33.

Huang, D. W., Sherman, B. T. & Lempicki, R. A. Bioinformatics enrichment tools: paths toward the comprehensive functional analysis of large gene lists. Nucleic Acids Res. 37, 1–13 (2009).

34.

Trapnell, C. et al. Differential gene and transcript expression analysis of RNA-seq experiments with TopHat and Cufflinks. Nat. Protocols 7, 562–578 (2012).

35.

Ocampo, A. et al. In vivo amelioration of age-associated hallmarks by partial reprogramming. Cell 167, 1719–1733.e12 (2016).

36.

Chalkiadaki, A., Igarashi, M., Nasamu, A. S., Knezevic, J. & Guarente, L. Muscle-specific SIRT1 gain-of-function increases slow-twitch fibers and ameliorates pathophysiology in a mouse model of duchenne muscular dystrophy. PLoS Genet. 10, e1004490 (2014).

37.

Nativio, R. et al. Cohesin is required for higher-order chromatin conformation at the imprinted IGF2-H19 locus. PLoS Genet. 5, e1000739 (2009).

38.

Kim, H. S. et al. The hsSsu72 phosphatase is a cohesin-binding protein that regulates the resolution of sister chromatid arm cohesion. EMBO J. 29, 3544–3557 (2010).
Acknowledgements
The authors acknowledge X. Wang, Y. Fu, L. Zhao, J. An and L. Wei for brain tissue analysis, S. Duan for western blotting, L. Sun from the Center for Biological Imaging for electron microscopy, R. Bai and P. Wang for technical assistance, L. Bai for administrative assistance, X. Liu for image processing using Vectra Automated Quantitative Pathology Imaging System, and P. Zhang for fluorescence in situ hybridization analysis. This work was supported by the Strategic Priority Research Program of the Chinese Academy of Sciences (XDA16010100), the National Key Research and Development Program of China (2015CB964800, 2017YFA0103304, 2017YFA0102802, 2014CB910503, 2014CB964600, 2018YFA0107203, 2016YFA0101403), the National Natural Science Foundation of China (91749202, 31471394, 31671429, 91749123, 81625009, 81330008, 81371342, 81471414, 81422017, 81601233, 81671377, 31601109, 31601158, 81771515, 81701388, 31571533, 31621004, 81422014), Program of Beijing Municipal Science and Technology Commission (Z181100001818002, Z151100003915072), Key Research Program of the Chinese Academy of Sciences (ZDRW-ZS-2017-5, KJZDEW-TZ-L05), Beijing Municipal Commission of Health and Family Planning (PXM2018_026283_000002) and Advanced Innovation Center for Human Brain Protection (117212).
Reviewer information
Nature thanks H. Cohen, H. Yang and the other anonymous reviewer(s) for their contribution to the peer review of this work.
Ethics declarations
Competing interests
The authors declare no competing interests.
Additional information
Publisher's note: Springer Nature remains neutral with regard to jurisdictional claims in published maps and institutional affiliations.
Extended data figures and tables
Supplementary information
About this article
Cite this article
Zhang, W., Wan, H., Feng, G. et al. SIRT6 deficiency results in developmental retardation in cynomolgus monkeys. Nature 560, 661–665 (2018). https://doi.org/10.1038/s41586-018-0437-z
Received:

Accepted:

Published:

Issue Date:
Comments
By submitting a comment you agree to abide by our Terms and Community Guidelines. If you find something abusive or that does not comply with our terms or guidelines please flag it as inappropriate.