Abstract
The initial fitness benefits of group living are considered to be the greatest hurdle to the evolution of sociality1, and evolutionary theory predicts that these benefits need to arise at very small group sizes2. Such benefits are thought to emerge partly from scaling effects that increase efficiency as group size increases3,4,5. In social insects and other taxa, the benefits of group living have been proposed to stem from division of labour5,6,7,8, which is characterized by between-individual variability and within-individual consistency (specialization) in task performance. However, at the onset of sociality groups were probably small and composed of similar individuals with potentially redundant—rather than complementary—function1. Self-organization theory suggests that division of labour can emerge even in relatively small, simple groups9,10. However, empirical data on the effects of group size on division of labour and on fitness remain equivocal6. Here we use long-term automated behavioural tracking in clonal ant colonies, combined with mathematical modelling, to show that increases in the size of social groups can generate division of labour among extremely similar workers, in groups as small as six individuals. These early effects on behaviour were associated with large increases in homeostasis—the maintenance of stable conditions in the colony11—and per capita fitness. Our model suggests that increases in homeostasis are primarily driven by increases in group size itself, and to a smaller extent by a higher division of labour. Our results indicate that division of labour, increased homeostasis and higher fitness can emerge naturally in social groups that are small and homogeneous, and that scaling effects associated with increasing group size can thus promote social cohesion at the incipient stages of group living.
Relevant articles
Open Access articles citing this article.
Zimai Li

,

Bhoomika Bhat

…

Yuko Ulrich

Nature Communications Open Access 26 August 2023

Barbara Casillas-Pérez

,

Katarína Boďová

…

Sylvia Cremer

Nature Communications Open Access 03 June 2023

Luke Hill

,

Maxence Gérard

…

Emily Baird

Behavioral Ecology and Sociobiology Open Access 16 February 2023
Access options
Access Nature and 54 other Nature Portfolio journals
Get Nature+, our best-value online-access subscription
$29.99 / 30 days
cancel any time
Subscribe to this journal
Receive 51 print issues and online access
$199.00 per year
only $3.90 per issue
Rent or buy this article
Prices vary by article type
from$1.95
to$39.95
Prices may be subject to local taxes which are calculated during checkout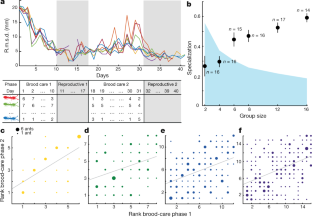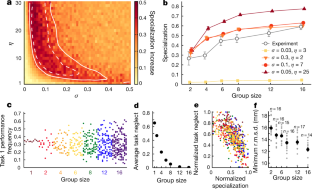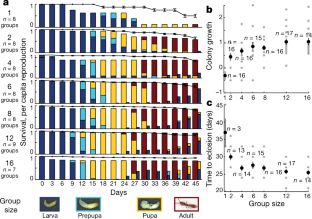 References
Queller, D. C. Cooperators since life began. Q. Rev. Biol. 72, 184–188 (1997).

Nowak, M. A., Tarnita, C. E. & Wilson, E. O. The evolution of eusociality. Nature 466, 1057–1062 (2010).

Berdahl, A., Torney, C. J., Ioannou, C. C., Faria, J. J. & Couzin, I. D. Emergent sensing of complex environments by mobile animal groups. Science 339, 574–576 (2013).

Morand-Ferron, J. & Quinn, J. L. Larger groups of passerines are more efficient problem solvers in the wild. Proc. Natl Acad. Sci. USA 108, 15898–15903 (2011).

Waters, J. S., Holbrook, C. T., Fewell, J. H. & Harrison, J. F. Allometric scaling of metabolism, growth, and activity in whole colonies of the seed-harvester ant Pogonomyrmex californicus. Am. Nat. 176, 501–510 (2010).

Dornhaus, A., Powell, S. & Bengston, S. Group size and its effects on collective organization. Annu. Rev. Entomol. 57, 123–141 (2012).

Brahma, A., Mandal, S. & Gadagkar, R. Emergence of cooperation and division of labor in the primitively eusocial wasp Ropalidia marginata. Proc. Natl Acad. Sci. USA 115, 756–761 (2018).

Fewell, J. H. & Harrison, J. F. Scaling of work and energy use in social insect colonies. Behav. Ecol. Sociobiol. 70, 1047–1061 (2016).

Jeanson, R., Fewell, J. H., Gorelick, R. & Bertram, S. M. Emergence of increased division of labor as a function of group size. Behav. Ecol. Sociobiol. 62, 289–298 (2007).

Gautrais, J., Theraulaz, G., Deneubourg, J. L. & Anderson, C. Emergent polyethism as a consequence of increased colony size in insect societies. J. Theor. Biol. 215, 363–373 (2002).

Oldroyd, B. P. & Fewell, J. H. Genetic diversity promotes homeostasis in insect colonies. Trends Ecol. Evol. 22, 408–413 (2007).

Jeanson, R. & Weidenmüller, A. Interindividual variability in social insects - proximate causes and ultimate consequences. Biol. Rev. Camb. Philos. Soc. 89, 671–687 (2014).

Ravary, F. & Jaisson, P. Absence of individual sterility in thelytokous colonies of the ant Cerapachys biroi Forel (Formicidae, Cerapachyinae). Insectes Soc. 51, 67–73 (2004).

Ravary, F., Jahyny, B. & Jaisson, P. Brood stimulation controls the phasic reproductive cycle of the parthenogenetic ant Cerapachys biroi. Insectes Soc. 53, 20–26 (2006).

Oxley, P. R. et al. The genome of the clonal raider ant Cerapachys biroi. Curr. Biol. 24, 451–458 (2014).

Sendova-Franks, A. B. & Franks, N. R. Spatial relationships within nests of the ant Leptothorax unifasciatus (Latr) and their implications for the division of labor. Anim. Behav. 50, 121–136 (1995).

Gordon, D. M. Dynamics of task switching in harvester ants. Anim. Behav. 38, 194–204 (1989).

Mersch, D. P., Crespi, A. & Keller, L. Tracking individuals shows spatial fidelity is a key regulator of ant social organization. Science 340, 1090–1093 (2013).

Heyman, Y., Shental, N., Brandis, A., Hefetz, A. & Feinerman, O. Ants regulate colony spatial organization using multiple chemical road-signs. Nat. Commun. 8, 15414 (2017).

Crall, J. D. et al. Spatial fidelity of workers predicts collective response to disturbance in a social insect. Nat. Commun. 9, 1201 (2018).

Weidenmüller, A. The control of nest climate in bumblebee (Bombus terrestris) colonies: interindividual variability and self reinforcement in fanning response. Behav. Ecol. 15, 120–128 (2004).

Campos, D., Bartumeus, F., Méndez, V., Andrade, J. S. Jr & Espadaler, X. Variability in individual activity bursts improves ant foraging success. J. R. Soc. Interface 13, 20160856 (2016).

Bonabeau, E., Theraulaz, G. & Deneubourg, J.-L. Quantitative study of the fixed threshold model for the regulation of division of labour in insect societies. Proc. R. Soc. Lond. B 263, 1565–1569 (1996).

Pacala, S. W., Gordon, D. M. & Godfray, H. C. J. Effects of social group size on information transfer and task allocation. Evol. Ecol. 10, 127–165 (1996).

Franks, N. R. & Tofts, C. Foraging for work: how tasks allocate workers. Anim. Behav. 48, 470–472 (1994).

Gorelick, R., Bertram, S. M., Killeen, P. R. & Fewell, J. H. Normalized mutual entropy in biology: quantifying division of labor. Am. Nat. 164, 677–682 (2004).

Teseo, S., Châline, N., Jaisson, P. & Kronauer, D. J. C. Epistasis between adults and larvae underlies caste fate and fitness in a clonal ant. Nat. Commun. 5, 3363 (2014).

Crall, J. D. et al. Social context modulates idiosyncrasy of behaviour in the gregarious cockroach Blaberus discoidalis. Anim. Behav. 111, 297–305 (2016).

Freund, J. et al. Emergence of individuality in genetically identical mice. Science 340, 756–759 (2013).

Holbrook, C. T., Kukuk, P. F. & Fewell, J. H. Increased group size promotes task specialization in a normally solitary halictine bee. Behaviour 150, 1449–1466 (2013).

Ravary, F. & Jaisson, P. The reproductive cycle of thelytokous colonies of Cerapachys biroi Forel (Formicidae, Cerapachyinae). Insectes Soc. 49, 114–119 (2002).

R Core Team. R: A Language and Environment for Statistical Computing http://www.R-project.org/ (R Foundation for Statistical Computing, Vienna, 2008).

Dodds, P. S. & Watts, D. J. Universal behavior in a generalized model of contagion. Phys. Rev. Lett. 92, 218701 (2004).

Bonabeau, E., Theraulaz, G. & Deneubourg, J.-L. Fixed response thresholds and the regulation of division of labor in insect societies. Bull. Math. Biol. 60, 753–807 (1998).
Acknowledgements
We thank A. Gal for advice on data analysis, O. Feinerman and M. Liu for contributions to the tracking algorithms, S. Leibler, Z. Frentz, and D. Jordan for helpful discussions. This work was supported by grant 1DP2GM105454-01 from the NIH, a Searle Scholar Award, a Klingenstein-Simons Fellowship Award in the Neurosciences, and a Pew Biomedical Scholar Award to D.J.C.K.; Swiss National Science Foundation Early Postdoc.Mobility (PBEZP3-140156) and Advanced Postdoc.Mobility (P300P3-147900) fellowships, and a Rockefeller University Women & Science fellowship to Y.U.; a Kravis Fellowship to J.S.; the National Science Foundation Graduate Research Fellowship under Grant No. DGE1656466 to C.K.T. This is Clonal Raider Ant Project paper number 8.
Reviewer information
Nature thanks J. O'Dwyer and the other anonymous reviewer(s) for their contribution to the peer review of this work.
Ethics declarations
Competing interests
The authors declare no competing interests.
Additional information
Publisher's note: Springer Nature remains neutral with regard to jurisdictional claims in published maps and institutional affiliations.
Extended data figures and tables
Supplementary information
This file contains Supplementary Methods, Supplementary Notes and Supplementary References. The Supplementary Methods describe the experimental design and statistical analyses used for control experiments (effect of tagging, effect of density, effect of larvae number, effect of worker morphology), and detailed information on theoretical analyses (average task performance frequency, specialization, behavioural variation, fit of simulation runs, indicators of colony fitness, and effect of stochastic elements in the model). The Supplementary Notes show the results of statistical analyses (GLMs) performed on the main experiment data, and detailed results of theoretical analyses (rank correlation specialization and group size, model predictions for larger group sizes, comparison with other specialization metrics, indicators of fitness benefits, and effects of stochastic elements in the model).
About this article
Cite this article
Ulrich, Y., Saragosti, J., Tokita, C.K. et al. Fitness benefits and emergent division of labour at the onset of group living. Nature 560, 635–638 (2018). https://doi.org/10.1038/s41586-018-0422-6
Received:

Accepted:

Published:

Issue Date:

DOI: https://doi.org/10.1038/s41586-018-0422-6
Comments
By submitting a comment you agree to abide by our Terms and Community Guidelines. If you find something abusive or that does not comply with our terms or guidelines please flag it as inappropriate.