Abstract
The early evolution of turtles continues to be a contentious issue in vertebrate palaeontology. Recent reports have suggested that they are diapsids1,2,3,4,5,6, but the position of turtles within Diapsida is controversial7,8,9,10,11,12 and the sequence of acquisition of turtle synapomorphies remains unclear1,2,3. Here we describe a Triassic turtle from China that has a mixture of derived characters and plesiomorphic features. To our knowledge, it represents the earliest known stem turtle with an edentulous beak and a rigid puboischiadic plate. The discovery of this new form reveals a complex early history of turtles.
Access options
Access Nature and 54 other Nature Portfolio journals
Get Nature+, our best-value online-access subscription
$29.99 per month
cancel any time
Subscribe to this journal
Receive 51 print issues and online access
$199.00 per year
only $3.90 per issue
Rent or buy this article
Get just this article for as long as you need it
$39.95
Prices may be subject to local taxes which are calculated during checkout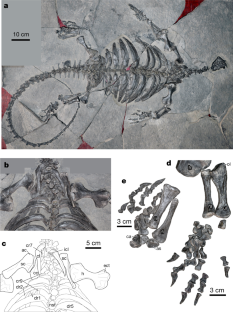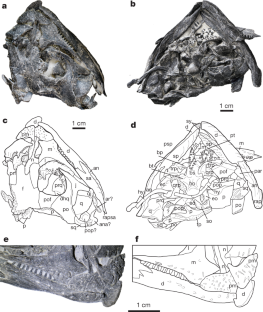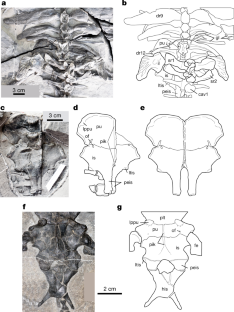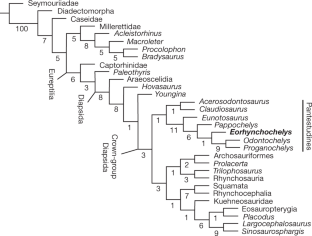 References
Bever, G. S., Lyson, T. A. & Bhullar, B.-A. Fossil evidence for a diapsid origin of the anapsid turtle skull. Soc. Vert. Paleont. Abstr. 2014, 91 (2014).

Schoch, R. R. & Sues, H.-D. A Middle Triassic stem-turtle and the evolution of the turtle body plan. Nature 523, 584–587 (2015).

Bever, G. S., Lyson, T. R., Field, D. J. & Bhullar, B.-A. Evolutionary origin of the turtle skull. Nature 525, 239–242 (2015).

Schoch, R. R. and Sues, H.-D. Osteology of the Middle Triassic stem-turtle Pappochelys rosinae and the early evolution of the turtle skeleton. J. Syst. Palaeontol. 16, 927–965 (2017).

de Braga, M. & Rieppel, O. Reptile phylogeny and the affinities of turtles. Zool. J. Linn. Soc. 120, 281–354 (1997).

Rieppel, O. & Reisz, R. R. The origin and early evolution of turtles. Annu. Rev. Ecol. Syst. 30, 1–22 (1999).

Hedges, S. B. & Poling, L. L. A molecular phylogeny of reptiles. Science 283, 998–1001 (1999).

Lyson, T. R., Bever, G. S., Bhullar, B.-A. S., Joyce, W. G. & Gauthier, J. A. Transitional fossils and the origin of turtles. Biol. Lett. 6, 830–833 (2010).

Lyson, T. R., Bever, G. S., Scheyer, T. M., Hsiang, A. Y. & Gauthier, J. A. Evolutionary origin of the turtle shell. Curr. Biol. 23, 1113–1119 (2013).

Rieppel, O. in Morphology and Evolution of Turtles (eds Brinkman, D. B. et al.) 51–61 (Springer, Dordrecht, 2013).

Lee, M. S. Y. Turtle origins: insights from phylogenetic retrofitting and molecular scaffolds. J. Evol. Biol. 26, 2729–2738 (2013).

Hirasawa, T. et al. The evolutionary origin of the turtle shell and its dependence on the axial arrest of the embryonic rib cage. J. Exp. Zool. B Mol. Dev. Evol. 324, 194–207 (2015).

Li, C., Wu, X.-C., Rieppel, O., Wang, L.-T. & Zhao, L.-J. An ancestral turtle from the Late Triassic of southwestern China. Nature 456, 497–501 (2008).

Joyce, W. G. & Gauthier, J. A. Palaeoecology of Triassic stem turtles sheds new light on turtle origins. Proc. R. Soc. B 271, 1–5 (2004). 

Gaffney, E. S. The comparative osteology of the Triassic turtle Proganochelys. Bull. Am. Mus. Nat. Hist. 194, 1–263 (1990).

Goloboff, P., Farris, J. & Nixon, K. TNT. A free program for phylogenetic analysis. Cladistics 24, 774–786 (2008).

Lyson, T. R. et al. Fossorial origin of the turtle shell. Curr. Biol. 26, 1887–1894 (2016).

Jenkins, F. A. Jr. Anatomy and function of expanded ribs in certain edentates and primates. J. Mamm. 51, 288–301 (1970).

Fraser, N. C. Palaeontology: a hook to the past. Curr. Biol. 26, R922–R925 (2016).

Scheyer, T. M. & Sander, P. M. Shell bone histology indicates terrestrial palaeoecology of basal turtles. Proc. R. Soc. B 274, 1885–1893 (2007).
Acknowledgements
We thank Z.-Y. Sun and Sanya Museum of Marine Paleontology for access to the specimen, J.-Z. Ding (IVPP) for skilful preparation of the specimen, W. Gao (IVPP) for photographic assistance, Y.-S. Lou (IVPP) for laboratory assistance during the course of the study, L.-T. Wang (Guizhou Geological Survey) for field assistance, and R.R. Schoch, H.-D. Sues, G.S. Bever and T.R. Lyson for providing information or references. X.-C.W., N.F. and O.R. thank the IVPP for hospitality during their visits. This work was supported by the Strategic Priority Research Programs of Chinese Academy of Sciences (XDA19050102 and XDB26000000 to C.L.), the National Science Foundation of China (41772006 to C.L.) together with support from the IVPP and the Canadian Museum of Nature (RCP09 to X.-C.W.).
Reviewer information
Nature thanks G. S. Bever, R. R. Schoch and H.-D. Sues for their contribution to the peer review of this work.
Ethics declarations
Competing interests
The authors declare no competing interests.
Additional information
Publisher's note: Springer Nature remains neutral with regard to jurisdictional claims in published maps and institutional affiliations.
Extended data figures and tables
Supplementary information
This file contains Supplementary Data sections 1-3 and Supplementary References.
About this article
Cite this article
Li, C., Fraser, N.C., Rieppel, O. et al. A Triassic stem turtle with an edentulous beak. Nature 560, 476–479 (2018). https://doi.org/10.1038/s41586-018-0419-1
Received:

Accepted:

Published:

Issue Date:

DOI: https://doi.org/10.1038/s41586-018-0419-1
Comments
By submitting a comment you agree to abide by our Terms and Community Guidelines. If you find something abusive or that does not comply with our terms or guidelines please flag it as inappropriate.