Abstract
Dysfunction in prosocial interactions is a core symptom of autism spectrum disorder. However, the neural mechanisms that underlie sociability are poorly understood, limiting the rational development of therapies to treat social deficits. Here we show in mice that bidirectional modulation of the release of serotonin (5-HT) from dorsal raphe neurons in the nucleus accumbens bidirectionally modifies sociability. In a mouse model of a common genetic cause of autism spectrum disorder—a copy number variation on chromosome 16p11.2—genetic deletion of the syntenic region from 5-HT neurons induces deficits in social behaviour and decreases dorsal raphe 5-HT neuronal activity. These sociability deficits can be rescued by optogenetic activation of dorsal raphe 5-HT neurons, an effect requiring and mimicked by activation of 5-HT1b receptors in the nucleus accumbens. These results demonstrate an unexpected role for 5-HT action in the nucleus accumbens in social behaviours, and suggest that targeting this mechanism may prove therapeutically beneficial.
Relevant articles
Open Access articles citing this article.
Masaaki Sato

,

Nobuhiro Nakai

…

Toru Takumi

Molecular Psychiatry Open Access 24 August 2023

Sangwon Jang

,

Inah Park

…

Kyungjin Kim

Experimental & Molecular Medicine Open Access 03 August 2023

Savannah Kilpatrick

,

Courtney Irwin

&

Karun K. Singh

Translational Psychiatry Open Access 21 June 2023
Access options
Access Nature and 54 other Nature Portfolio journals
Get Nature+, our best-value online-access subscription
$29.99 / 30 days
cancel any time
Subscribe to this journal
Receive 51 print issues and online access
$199.00 per year
only $3.90 per issue
Rent or buy this article
Prices vary by article type
from$1.95
to$39.95
Prices may be subject to local taxes which are calculated during checkout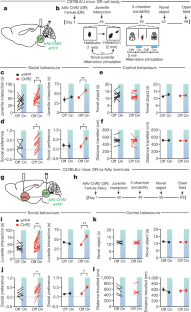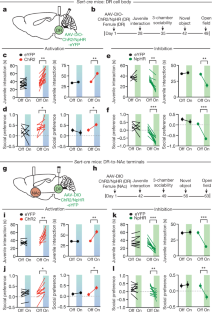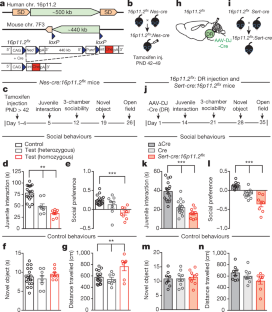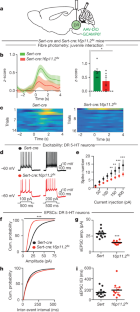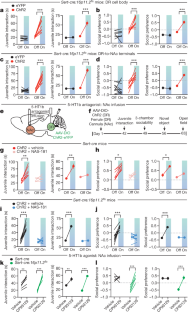 References
Christensen, D. L. et al. Prevalence and characteristics of autism spectrum disorder among children aged 8 years–autism and developmental disabilities monitoring network, 11 Sites, United States, 2012. MMWR Surveill. Summ. 65, 1–23 (2016).

Chevallier, C., Kohls, G., Troiani, V., Brodkin, E. S. & Schultz, R. T. The social motivation theory of autism. Trends Cogn. Sci. 16, 231–239 (2012).

Dölen, G., Darvishzadeh, A., Huang, K. W. & Malenka, R. C. Social reward requires coordinated activity of nucleus accumbens oxytocin and serotonin. Nature 501, 179–184 (2013).

Brown, S.-L. & Praag, H. M. v. The Role of Serotonin in Psychiatric Disorders (Brunner/Mazel, New York, 1991).

Charney, D. S., Sklar, P. B., Buxbaum, J. D. & Nestler, E. J. Charney & Nestler's Neurobiology of Mental Illness 5th edn (Oxford Univ. Press, 2018).

Furay, A. R., McDevitt, R. A., Miczek, K. A. & Neumaier, J. F. 5-HT1B mRNA expression after chronic social stress. Behav. Brain Res. 224, 350–357 (2011).

Kane, M. J. et al. Mice genetically depleted of brain serotonin display social impairments, communication deficits and repetitive behaviors: possible relevance to autism. PLoS One 7, e48975 (2012).

Challis, C. et al. Raphe GABAergic neurons mediate the acquisition of avoidance after social defeat. J. Neurosci. 33, 13978–13988, 13988a (2013).

Li, Y. et al. Serotonin neurons in the dorsal raphe nucleus encode reward signals. Nat. Commun. 7, 10503 (2016).

Muller, C. L., Anacker, A. M. J. & Veenstra-VanderWeele, J. The serotonin system in autism spectrum disorder: From biomarker to animal models. Neuroscience 321, 24–41 (2016).

Schain, R. J. & Freedman, D. X. Studies on 5-hydroxyindole metabolism in autistic and other mentally retarded children. J. Pediatr. 58, 315–320 (1961).

Weiss, L. A. et al. Association between microdeletion and microduplication at 16p11.2 and autism. N. Engl. J. Med. 358, 667–675 (2008).

Kumar, R. A. et al. Recurrent 16p11.2 microdeletions in autism. Hum. Mol. Genet. 17, 628–638 (2008).

Sanders, S. J. et al. Multiple recurrent de novo CNVs, including duplications of the 7q11.23 Williams syndrome region, are strongly associated with autism. Neuron 70, 863–885 (2011).

Christoffel, D. J. et al. IκB kinase regulates social defeat stress-induced synaptic and behavioral plasticity. J. Neurosci. 31, 314–321 (2011).

Walsh, J. J. et al. Stress and CRF gate neural activation of BDNF in the mesolimbic reward pathway. Nat. Neurosci. 17, 27–29 (2014).

Gunaydin, L. A. et al. Natural neural projection dynamics underlying social behavior. Cell 157, 1535–1551 (2014).

Francis, T. C. et al. Nucleus accumbens medium spiny neuron subtypes mediate depression-related outcomes to social defeat stress. Biol. Psychiatry 77, 212–222 (2015).

Wallace, D. L. et al. CREB regulation of nucleus accumbens excitability mediates social isolation-induced behavioral deficits. Nat. Neurosci. 12, 200–209 (2009).

Luo, M., Zhou, J. & Liu, Z. Reward processing by the dorsal raphe nucleus: 5-HT and beyond. Learn. Mem. 22, 452–460 (2015).

Gong, S. et al. Targeting Cre recombinase to specific neuron populations with bacterial artificial chromosome constructs. J. Neurosci. 27, 9817–9823 (2007).

Veenstra-VanderWeele, J. et al. Autism gene variant causes hyperserotonemia, serotonin receptor hypersensitivity, social impairment and repetitive behavior. Proc. Natl Acad. Sci. USA 109, 5469–5474 (2012).

Portmann, T. et al. Behavioral abnormalities and circuit defects in the basal ganglia of a mouse model of 16p11.2 deletion syndrome. Cell Reports 7, 1077–1092 (2014).

Burns, K. A. et al. Nestin-CreER mice reveal DNA synthesis by nonapoptotic neurons following cerebral ischemia hypoxia. Cereb. Cortex 17, 2585–2592 (2007).

Horev, G. et al. Dosage-dependent phenotypes in models of 16p11.2 lesions found in autism. Proc. Natl Acad. Sci. USA 108, 17076–17081 (2011).

Grimm, D. et al. In vitro and in vivo gene therapy vector evolution via multispecies interbreeding and retargeting of adeno-associated viruses. J. Virol. 82, 5887–5911 (2008).

Tsai, H. C. et al. Phasic firing in dopaminergic neurons is sufficient for behavioral conditioning. Science 324, 1080–1084 (2009).

Stuber, G. D., Britt, J. P. & Bonci, A. Optogenetic modulation of neural circuits that underlie reward seeking. Biol. Psychiatry 71, 1061–1067 (2012).

Steinberg, E. E. & Janak, P. H. Establishing causality for dopamine in neural function and behavior with optogenetics. Brain Res. 1511, 46–64 (2013).

Lammel, S., Lim, B. K. & Malenka, R. C. Reward and aversion in a heterogeneous midbrain dopamine system. Neuropharmacology 76 Pt B, 351–359 (2014).

Steinbusch, H. W., van der Kooy, D., Verhofstad, A. A. & Pellegrino, A. Serotonergic and non-serotonergic projections from the nucleus raphe dorsalis to the caudate-putamen complex in the rat, studied by a combined immunofluorescence and fluorescent retrograde axonal labeling technique. Neurosci. Lett. 19, 137–142 (1980).

Steinbusch, H. W. Distribution of serotonin-immunoreactivity in the central nervous system of the rat-cell bodies and terminals. Neuroscience 6, 557–618 (1981).

Hornung, J. P. The human raphe nuclei and the serotonergic system. J. Chem. Neuroanat. 26, 331–343 (2003).

Michelsen, K. A., Prickaerts, J. & Steinbusch, H. W. The dorsal raphe nucleus and serotonin: implications for neuroplasticity linked to major depression and Alzheimer's disease. Prog. Brain Res. 172, 233–264 (2008).

Politte, L. C., Henry, C. A. & McDougle, C. J. Psychopharmacological interventions in autism spectrum disorder. Harv. Rev. Psychiatry 22, 76–92 (2014).

Heifets, B. D. & Malenka, R. C. MDMA as a probe and treatment for social behaviors. Cell 166, 269–272 (2016).

Volkow, N. D., Fowler, J. S., Wang, G. J. & Swanson, J. M. Dopamine in drug abuse and addiction: results from imaging studies and treatment implications. Mol. Psychiatry 9, 557–569 (2004).

Qi, J. et al. A glutamatergic reward input from the dorsal raphe to ventral tegmental area dopamine neurons. Nat. Commun. 5, 5390 (2014).

Liu, Z. et al. Dorsal raphe neurons signal reward through 5-HT and glutamate. Neuron 81, 1360–1374 (2014).

McDevitt, R. A. et al. Serotonergic versus nonserotonergic dorsal raphe projection neurons: differential participation in reward circuitry. Cell Reports 8, 1857–1869 (2014).

Matthews, G. A. et al. Dorsal raphe dopamine neurons represent the experience of social isolation. Cell 164, 617–631 (2016).

Warden, M. R. et al. A prefrontal cortex-brainstem neuronal projection that controls response to behavioural challenge. Nature 492, 428–432 (2012).

Fonseca, M. S., Murakami, M. & Mainen, Z. F. Activation of dorsal raphe serotonergic neurons promotes waiting but is not reinforcing. Curr. Biol. 25, 306–315 (2015).

Correia, P. A. et al. Transient inhibition and long-term facilitation of locomotion by phasic optogenetic activation of serotonin neurons. eLife 6, e20975 (2017).

Marcinkiewcz, C. A. et al. Serotonin engages an anxiety and fear-promoting circuit in the extended amygdala. Nature 537, 97–101 (2016).

Franklin, K. B. J. & Paxinos, G. The Mouse Brain in Stereotaxic Coordinates 4th edn (Academic, 2012).

Sharp, T., Bramwell, S. R., Clark, D. & Grahame-Smith, D. G. In vivo measurement of extracellular 5-hydroxytryptamine in hippocampus of the anaesthetized rat using microdialysis: changes in relation to 5-hydroxytryptaminergic neuronal activity. J. Neurochem. 53, 234–240 (1989).

Hayashi, K., Nakao, K. & Nakamura, K. Appetitive and aversive information coding in the primate dorsal raphé nucleus. J. Neurosci. 35, 6195–6208 (2015).

Kaidanovich-Beilin, O., Lipina, T., Vukobradovic, I., Roder, J. & Woodgett, J. R. Assessment of social interaction behaviors. J. Vis. Exp. 48, 2473 (2011).

Lammel, S. et al. Input-specific control of reward and aversion in the ventral tegmental area. Nature 491, 212–217 (2012).
Acknowledgements
This study was supported by the Simons Foundation Autism Research Initiative (award 305112 to R.C.M.) and NIMH (F32 MH103949 to J.J.W.).
Reviewer information
Nature thanks G. Feng, M. Lobo and the other anonymous reviewer(s) for their contribution to the peer review of this work.
Ethics declarations
Competing interests
R.C.M. and K.D. are cofounders and on the scientific advisory board of Circuit Therapeutics, Inc.
Additional information
Publisher's note: Springer Nature remains neutral with regard to jurisdictional claims in published maps and institutional affiliations.
Extended data figures and tables
Supplementary information
About this article
Cite this article
Walsh, J.J., Christoffel, D.J., Heifets, B.D. et al. 5-HT release in nucleus accumbens rescues social deficits in mouse autism model. Nature 560, 589–594 (2018). https://doi.org/10.1038/s41586-018-0416-4
Received:

Accepted:

Published:

Issue Date:

DOI: https://doi.org/10.1038/s41586-018-0416-4
Comments
By submitting a comment you agree to abide by our Terms and Community Guidelines. If you find something abusive or that does not comply with our terms or guidelines please flag it as inappropriate.