Abstract
RNA abundance is a powerful indicator of the state of individual cells. Single-cell RNA sequencing can reveal RNA abundance with high quantitative accuracy, sensitivity and throughput1. However, this approach captures only a static snapshot at a point in time, posing a challenge for the analysis of time-resolved phenomena such as embryogenesis or tissue regeneration. Here we show that RNA velocity—the time derivative of the gene expression state—can be directly estimated by distinguishing between unspliced and spliced mRNAs in common single-cell RNA sequencing protocols. RNA velocity is a high-dimensional vector that predicts the future state of individual cells on a timescale of hours. We validate its accuracy in the neural crest lineage, demonstrate its use on multiple published datasets and technical platforms, reveal the branching lineage tree of the developing mouse hippocampus, and examine the kinetics of transcription in human embryonic brain. We expect RNA velocity to greatly aid the analysis of developmental lineages and cellular dynamics, particularly in humans.
Access options
Subscribe to Journal
Get full journal access for 1 year
$199.00
only $3.90 per issue
All prices are NET prices.
VAT will be added later in the checkout.
Tax calculation will be finalised during checkout.
Rent or Buy article
Get time limited or full article access on ReadCube.
from$8.99
All prices are NET prices.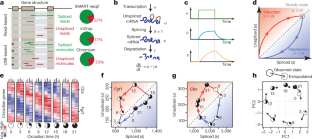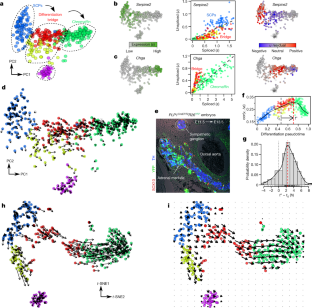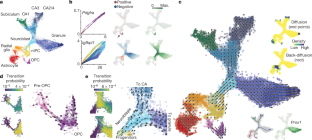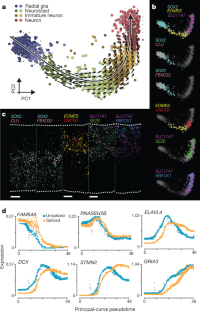 References
1.

Linnarsson, S. & Teichmann, S. A. Single-cell genomics: coming of age. Genome Biol. 17, 97 (2016).

2.

Zeisel, A. et al. Coupled pre-mRNA and mRNA dynamics unveil operational strategies underlying transcriptional responses to stimuli. Mol. Syst. Biol. 7, 529 (2011).

3.

Gray, J. M. et al. SnapShot-Seq: a method for extracting genome-wide, in vivo mRNA dynamics from a single total RNA sample. PLoS ONE 9, e89673 (2014).

4.

Gaidatzis, D., Burger, L., Florescu, M. & Stadler, M. B. Analysis of intronic and exonic reads in RNA-seq data characterizes transcriptional and post-transcriptional regulation. Nat. Biotechnol. 33, 722–729 (2015).

5.

Picelli, S. et al. Smart-seq2 for sensitive full-length transcriptome profiling in single cells. Nat. Methods 10, 1096–1098 (2013).

6.

Islam, S. et al. Quantitative single-cell RNA-seq with unique molecular identifiers. Nat. Methods 11, 163–166 (2013).

7.

Klein, A. M. M. et al. Droplet barcoding for single-cell transcriptomics applied to embryonic stem cells. Cell 161, 1187–1201 (2015).

8.

Zheng, G. X. Y. et al. Massively parallel digital transcriptional profiling of single cells. Nat. Commun. 8, 14049 (2017).

9.

Schwalb, B. et al. TT-seq maps the human transient transcriptome. Science 352, 1225–1228 (2017).

10.

Islam, S. et al. Characterization of the single-cell transcriptional landscape by highly multiplex RNA-seq. Genome Res. 21, 1160–1167 (2011).

11.

The Tabula Muris Consortium, Quake, S. R., Wyss-Coray, T., & Darmanis, S. Single-cell transcriptomic characterization of 20 organs and tissues from individual mice creates a Tabula Muris. Preprint at https://biorxiv.org/content/early/2018/03/29/237446 (2018).

12.

Vollmers, C. et al. Circadian oscillations of protein-coding and regulatory RNAs in a highly dynamic mammalian liver epigenome. Cell Metab. 16, 833–845 (2012).

13.

Furlan, A. et al. Multipotent peripheral glial cells generate neuroendocrine cells of the adrenal medulla. Science 357, eaal3753 (2017).

14.

Kriegstein, A. & Alvarez-Buylla, A. The glial nature of embryonic and adult neural stem cells. Annu. Rev. Neurosci. 32, 149–184 (2009).

15.

Malatesta, P. et al. Neuronal or glial progeny: regional differences in radial glia fate. Neuron 37, 751–764 (2003).

16.

Johnston, R. J. & Desplan, C. Stochastic mechanisms of cell fate specification that yield random or robust outcomes. Annu. Rev. Cell Dev. Biol. 26, 689–719 (2010).

17.

Iwano, T., Masuda, A., Kiyonari, H., Enomoto, H. & Matsuzaki, F. Prox1 postmitotically defines dentate gyrus cells by specifying granule cell identity over CA3 pyramidal cell fate in the hippocampus. Development 139, 3051–3062 (2012).

18.

Plass, M. et al. Prox1 postmitotically defines dentate gyrus cells by specifying granule cell identity over CA3 pyramidal cell fate in the hippocampus. Science 360, eaaq1723 (2018).

19.

Petukhov, V. et al. dropEst: pipeline for accurate estimation of molecular counts in droplet-based single-cell RNA-seq experiments. Genome Biol. 19, 78 (2018).

20.

Zeisel, A. et al. Molecular architecture of the mouse nervous system. Preprint at https://biorxiv.org/content/early/2018/04/06/294918 (2018).

21.

Hrvatin, S. et al. Single-cell analysis of experience-dependent transcriptomic states in the mouse visual cortex. Nat. Neurosci. 21, 120–129 (2018).

22.

Haber, A. L. et al. A single-cell survey of the small intestinal epithelium. Nature  551, 333–339 (2017).

23.

Hochgerner, H., Zeisel, A., Lönnerberg, P. & Linnarsson, S. Conserved properties of dentate gyrus neurogenesis across postnatal development revealed by single-cell RNA sequencing. Nat. Neurosci.  21, 290–299 (2018).

24.

Lein, E. S. et al. Genome-wide atlas of gene expression in the adult mouse brain. Nature 445, 168–176 (2007).
Acknowledgements
The work reported here was supported by the Swedish Foundation for Strategic Research (RIF14-0057 and SB16-0065), the Knut and Alice Wallenberg Foundation (2015.0041), the Erling Persson Foundation (HumDevCellAtlas) and the Wellcome Trust (108726/Z/15/Z) to S.L.; Center for Innovative Medicine (CIMED) to K.L. and P.C.; Swedish Research Council, Marie Curie Integration Grant EPIOPC, 333713, European Research Council EPIScOPE, 681893, Swedish Brain Foundation, Ming Wai Lau Centre for Reparative Medicine, Cancerfonden and Karolinska Institutet to G.C.-B. P.V.K. was supported by NIH R01HL131768 from NHLBI and CAREER (NSF-14-532) award from NSF.
Reviewer information
Nature thanks A. Klein, R. Satija, M. Stadler and the other anonymous reviewer(s) for their contribution to the peer review of this work.
Ethics declarations
Competing interests
The authors declare no competing interests.
Additional information
Publisher's note: Springer Nature remains neutral with regard to jurisdictional claims in published maps and institutional affiliations.
Extended data figures and tables
Supplementary information
Theory and Computational Methods: This Supplementary Note describes the theoretical formulation of the employed transcriptional model, underlying assumptions, mathematical and computational details of the estimation procedure, and provides additional details related to processing of individual datasets.
Considerations for accurate determination and visualization of RNA velocity: This Supplementary Note illustrates simulations of the underlying model under different scenarios, details various ways in which velocity can be estimated and visualized, and discusses known limitations of both procedures. It is divided into 11 sections and includes Supplementary Figures 1-20.
About this article
Cite this article
La Manno, G., Soldatov, R., Zeisel, A. et al. RNA velocity of single cells. Nature 560, 494–498 (2018). https://doi.org/10.1038/s41586-018-0414-6
Received:

Accepted:

Published:

Issue Date:
Comments
By submitting a comment you agree to abide by our Terms and Community Guidelines. If you find something abusive or that does not comply with our terms or guidelines please flag it as inappropriate.